M5/M5A1 Stuart Light Tank World War Two Production Serial and Registration Numbers, and Monthly Production Statistics

This page added 12-6-2017.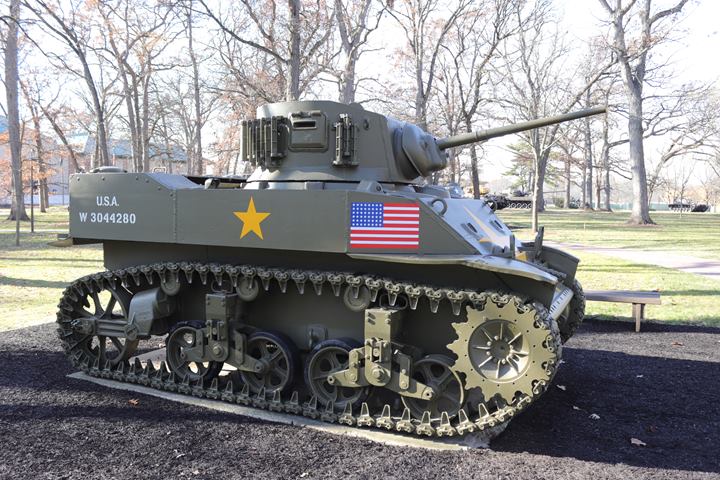 This Cadillac built M5 came off the assembly line in September 1942. It is serial number 644 with registration number 3044078. Author's photo from the First Division Museum in Wheaton, IL taken 12-2-2017.
M5/M5A1 Production Information
Courtesy of Joe DeMarco

Production is listed by ascending serial numbers as distributed by Army Ordnance.

Author's Note: Some sources credit the M5 and M5A1 Stuart tanks built by the Southern California Division of General Motors at South Gate, CA to the Cadillac Division of GM. This is incorrect, as the Southern California Division of GM was its own entity within the GM corporate family. For more information on this, visit the Southern California Division in the General Motors section. On that page the Southern California's War Division's "War Production History" shows that it was a contractor to Army Ordnance, and was not a part of or being managed by Cadillac Division.

Serial Numbers
Manufacturer and Model
Date
M5 Monthly Production
M5A1 Monthly Production
USA Registration Numbers
Purchase Order
1

Cadillac M5

12-42
1
3046702
T-3013
2 - 4
Cadillac M5
4-1942
3
3043436 - 3043438
T-3159-1
5 - 20
5-1942
16
3043439 - 3043454
21 - 80
6-1942
60
3043555 - 3043514
81 - 203
7-1942
123
3043515 - 3043637
204 - 443
8-1942
240
3043638 - 3043877
444 - 825
9-1942
382
3043878 - 3044259
826 - 1290
10-1942
465
3044260 - 3044724
1291 - 1470
11-1942
180
3044725 - 3044904
Total Cadillac M5
1470
1471 - 1706
Cadillac M5A1
11-1942
236
3044905 - 3045140
T-3159-1
1707 - 2000
12-1942
294
3045141 - 3045434
2001
2-1943
1
3045435
2002 - 2175
12-1942
174
3045436 - 3045609
T-3110
2176 - 2267
1-1943
92
3045610 - 3045701
2268 - 2288
Southern California Division M5
8-1942
21
3045702 - 3045722
T-3159-2
2289 - 2339
9-1942
51
3045723 - 3045773
2340 - 2417
10-1942
78
3045774 - 3045851
2418 - 2522
11-1942
105
3045852 - 3045956
2523 - 2621
12-1942
99
3045957 - 3046055
Total Southern California Division Total M5
354
2622 - 2694
Southern California Division M5A1
12-1942
73
3046056 - 3046128
2695 - 2819
1-1943
125
3046129 - 3046253
2820 - 2969
2-1943
150
3046254 - 3046403
2970 - 3119
3-1943
150
3046404 - 304655
3120 - 3244
4-1943
125
3046534 - 3046678
3245 - 3267
5-1943
23
3046679 - 3046701
3268 - 3271
Massey-Harris M5
7-1942
4
3064984 - 3064987
T-3347
3272 - 3278
8-1942
7
3064988 - 3064994
3279 - 3294
9-1942
16
3064995 - 3065010
3295 - 3344
10-1942
50
3065011 - 3065060
3345 - 3428
11-1942
84
3065061 - 3065144
3429 - 3517
12-1942
89
3065145 - 3065233
Total Massey-Harris M5
250
3518 - 3524
Massey-Harris M5A1
12-1942
7
3065234 - 3065240
T-3347
3525 - 3585
1-1943
61
3065241 - 3065301
3586 - 3645
2-1943
60
3065302 - 3065361
3646 - 3707
3-1943
62
3065362 - 3065423
3708 - 3765
4-1943
58
3065424 - 3065481
3766 - 3767
5-1943
2
3065482 - 3065483
3768 - 3890
Cadillac M5A1
1-1943
123
3046880 - 3047002
T-3578
3891 - 4079
2-1943
189
3047003 - 3047191
4080 - 4269
3-1943
190
3047192 - 3047381
4270 - 4379
4-1943
110
3047382 - 3047491
4380 - 4479
5-1943
100
3047492 - 3047591
4480 - 4579
6-1943
100
3047592 - 3047691
4580 - 4685
7-1943
106
3047692 - 3047797
4686 - 4831
8-1943
146
3047798 - 3047943
4832 - 4969
9-1943
138
3047944 - 3048081
4970 - 5115
10-1943
146
3048082 - 3048227
5116 - 5253
11-1943
138
3048228 - 3048365
5254 - 5446
12-1943
193
3048366 - 3048558
5447 - 5676
1-1944
230
3048559 - 3048788
5677 - 5906
2-1944
230
3048789 - 3049018
5907 - 6176
3-1944
270
3049019 - 3049288
6324 - 6426
4-1944
250
3049289 - 3049538
T-7067 starts with SN 6324
6427 - 6500
5-1944
74
3049539 - 3049612
Total Cadillac M5A1
3,530
3518 - 3524
Massey-Harris M5A1
12-1942
7
3065234 - 3065240
T-3347
3525 - 3585
1-1943
61
3065241 - 3065301
3586 - 3645
2-1943
60
3065302 - 3065361
3646 - 3707
3-1943
62
3065362 - 3065423
3708 - 3765
4-1943
58
3065424 - 3065481
3766 - 3767
5-1943
2
3065482 - 3065483
8118 - 8194
Southern California Division Total M5A1
5-1943
77
3051229 - 3051305
T-3578-2
8195 - 8317
6-1943
123
3051306 - 3051428
8318 - 8476
7-1943
159
3051429 - 3051587
8477 - 8667
8-1943
191
3051588 - 3051778
Total Southern California Division Total M5A1
1,196
9768 - 9825
Massey-Harris M5A1
5-1943
58
3059072 - 3059129
T-3886
9826 - 9885
6-1943
60
3059130 - 3059189
9886 - 997
7-1943
86
3059190 - 3059275
9972 - 10037
8-1943
66
3059276 - 3059341
10038 - 10097
9-1943
60
3059342 - 3059401
10098 - 10157
10-1943
60
3059402 - 3059461
10158 - 10217
11-1943
60
3059462 - 3059521
10218 - 10267
12-1943
50
3059522 - 3059571
10268 - 10312
American Car and Foundry - Berwick
10-1943
45
3067486 - 3067530
T-4139
10313 - 10411
11-1943
99
3067531 - 3067629
10412 - 10462
11-1943
51
3089217 - 3089267
T-4317
10463 - 10682
12-1943
220
3089268 - 3089487
10683 - 10882
1-1944
200
3089488 - 3089687
10883 - 11050
2-1944
168
3089688 - 3089855
11051 - 11233
3-1944
183
3089856 - 3090038
11234 - 11267
4-1944
34
3090039 - 3090072
Total American Car and Foundry M5A1
1000
15501 - 15510
Massey Harris M5A1
12-1943
10
30102715 - 30102724
T-8089
15511 - 15570
1-1944
60
30102725 - 30102784
15571 - 15630
2-1944
60
30102785 - 30102844
15631 - 15690
3-1944
60
30102845 - 30102904
15691 - 15750
4-1944
60
30102905 - 30102964
15751 - 15810
5-1944
60
30102965 - 30103024
15811 - 15834
6-1944
24
30103025 - 30103048
Total Massey Harris M5A1
1,084
Total M5 and M5A1
2,074
6,810