Detroit Transmission Division of General Motors Corporation in World War Two / WWII
Detroit, MI
1939-1990
This page updated 2-19-2015.
Even though Detroit Transmission made what became one of GM's most recognizable products in the Hydra-Matic and later Turbo-Hydramatic transmission, its name has for the most part been lost to history. This is due to the fact the name of the Division was at some point changed to Hydra-Matic which was in 1990 was absorbed into GM Powertrain.

Detroit Transmission Division of General Motors first began in 1939 for the production of the new shiftless transmission know as Hydra-Matic for introduction in the 1940 Oldsmobile. The following year Cadillac introduced it on its vehicles and when automobile production stopped in February of 1942 for the duration of World War Two, 200,000 transmissions had been sold. During the war Hydra-Matics were used in various tanks and armored vehicles. After the war it continued to increase sales as drivers switched from manual shifting to the ease of automatic shifting and on September 22nd, 1947 Detroit Transmission shipped its 500,000th Hydra-Matic.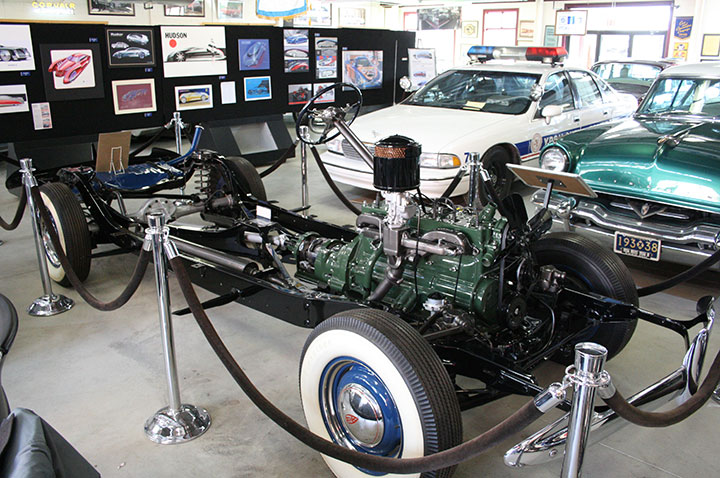 This is a 1940 Oldsmobile chassis and drive train that is on display at the Ypsilanti Automobile Heritage Museum in Ypsilanti, MI. What is significant about the this 1940 Olds is that it was part of the first year introduction of the Hydra-Matic transmission, the first fully automatic transmission to be offered for sale. Author's photo.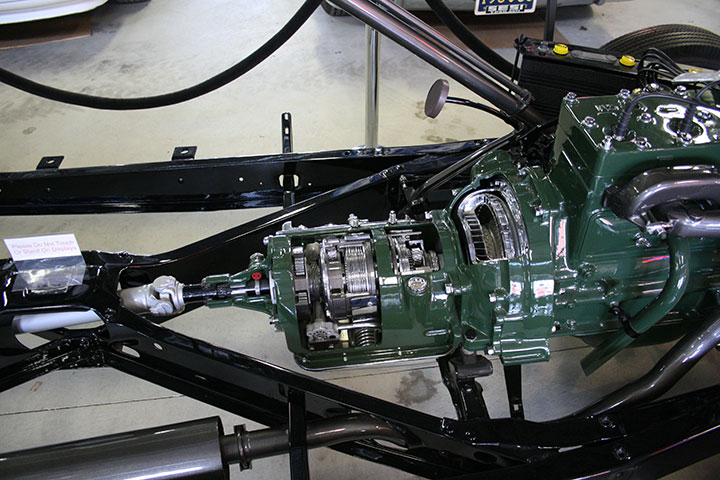 The development of the automatic transmission lead to the forming of the Detroit Transmission Division by GM management to manufacture the units. Author's photo.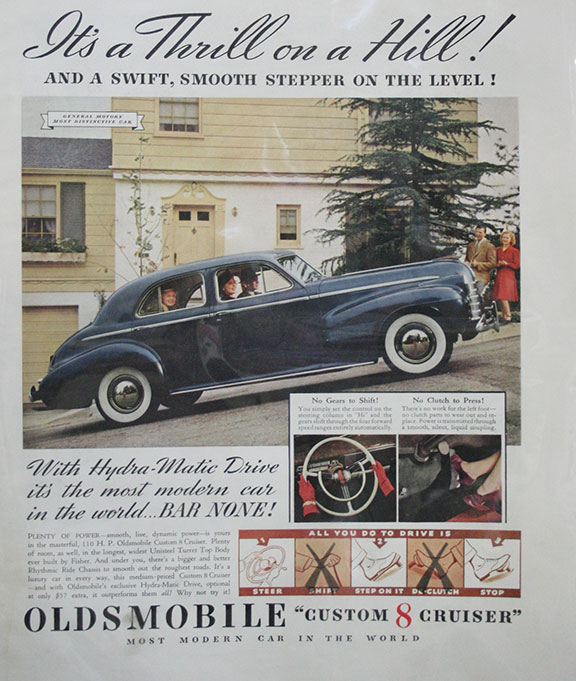 General Motors policy was and still may be for one car division to introduce a new product for sale rather than all of them. This allows the corporation to monitor acceptance by the public and keep any issues that arise confined to the the one particular division. In the case of the Hydra-Matic the rough shifting issues did not prevent excellent acceptance by the public, and the introduction of the product at Cadillac for the 1941 model year. Author's photo at the Ypsilanti Automobile Heritage Museum.
After WWII the Division moved from its original location on Riopelle Street in Detroit to a 34.5 acre plant in Livonia, MI. The Livonia plant was then the scene for the August 12th, 1953 fire that destroyed the plant and temporarily shut down production of Hydra-Matics for 12 weeks while new equipment was made by all GM divisions. Simultaneously Detroit Transmission moved into the former Ford Willow Run bomber plant and made Hydra-Matics there until the it was vacated by GM in 2010 during the Great US Automobile Industry Meltdown.
When I went to work for Lansing Fisher Body on Plant Protection in the late sixties while working my way through college, the Hydra-Matic fire was still something talked about and dictated much of what we did. As a result of the fire that was started by sparks from a welder igniting nearby flammable liquids, GM standard policy required on location approval by a Plant Protection fire inspector before any welding or cutting was done. Fire prevention within GM was driven by the Livonia fire. When I arrived at Delco-Remy and became a supervisor in one of many tool rooms, I heard stories from the "old timers" as to working 7 days a week 12 hours a day remaking the tooling to restart production Hydra-Matic production. All GM tool rooms were involved in this massive tooling endeavor. Not only were Cadillac and Oldsmobile Divisions affected but Pontiac, Nash, Hudson, Kaiser and Lincoln were by then offering the Hydra-Matic at that time.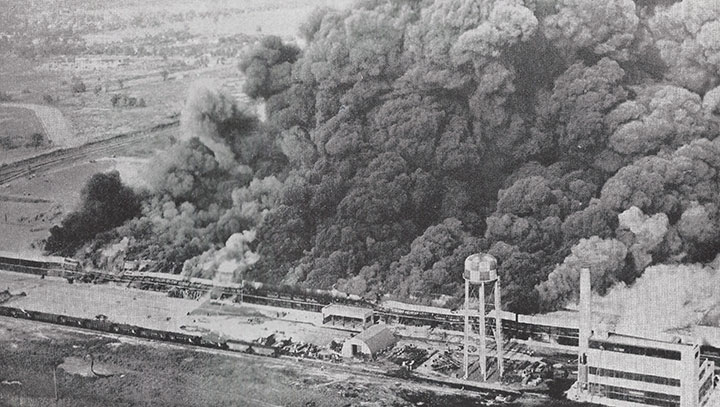 An aerial photo of the infamous Detroit Transmission fire in Livonia, MI on August 12, 1953.
In 1990 Hydra-Matic Division of GM, as it was then known, was merged into GM Powertrain and lost its individuality and identity.
Detroit Transmission Division World War Two / WWII Production Numbers / Statistics: At least (49,862) Hydra-Matic transmissions for various armored vehicles during the conflict, usually if not exclusively being matched with an engine from another GM division. Below are the applications for the Hydra-Matic Transmission that I have been able to find. The 49,862 production total for war production transmissions seems to indicate that the plant was put to manufacturing other products for before the war it had a capacity of around 100,000 transmissions per year. The unused transmission capacity was used in part, or maybe completely in producing Browning machine guns parts for the 1,218,837 weapons that four other GM divisions built during the war.
Detroit Transmission Division of GM World War Two Applications

Application
Transmissions per application
Total Transmissions
(1,824) M5 Stuart tanks
2
(3,648)
(6,800) M5A1 Stuart tanks
2
(13,600)
(1,778) M8 3 inch howitzer motor carriages
2
(3,556)
(4,731) M24 Chaffee tanks
2
(9,462)
(3,844) Staghound Armored Cars
2
(7,688)
(5,924) LVT(3)s
2
(11,848)
(30) T18E2 Boarhounds
2
(60)
Total
(49,862)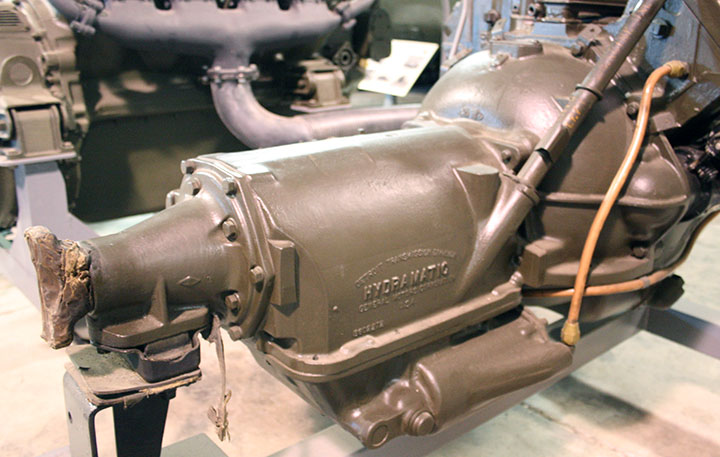 This World War Two Hydra-Matic Transmission can be seen at the Ropkey Armor Museum in Crawfordsville, IN. The transmission is attached to a Cadillac V-8 and would have seen applications in the M5 series tanks, M8 motor gun carriages, M24 Chaffee tank, and the LVT(3). Author's photo.

Note that not only does it say Hydra-Matic on the case, it also says Detroit Transmission Division on it. One person on the internet stated irrevocably in an email chain that Detroit Transmission never existed. Just another case of someone thinking they were an expert on something they don't know anything about. Author's photo.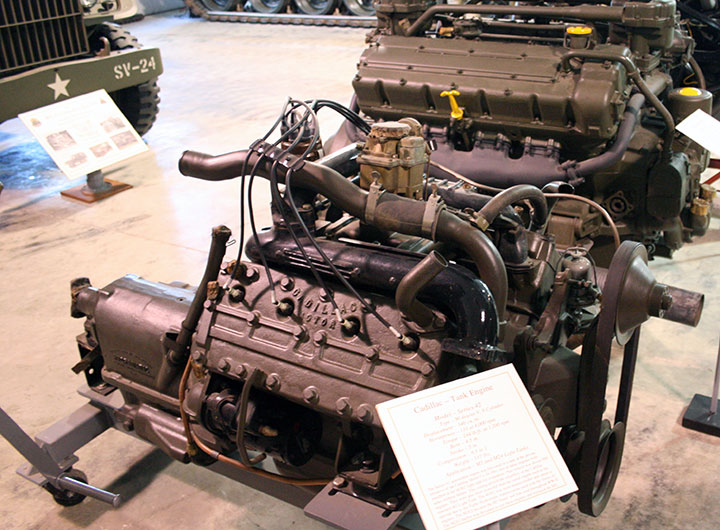 This photo shows Cadillac a V-8 attached to the Hydra-Matic transmission. Author's photo.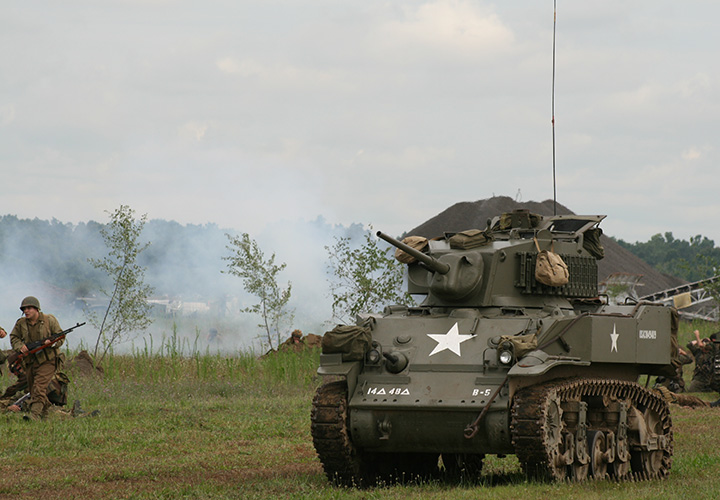 Two Detroit Transmission Hydra-Matics each were used in M5 Stuart tanks like this one seen at the 2013 Thunder over Michigan Airshow. Author's photo.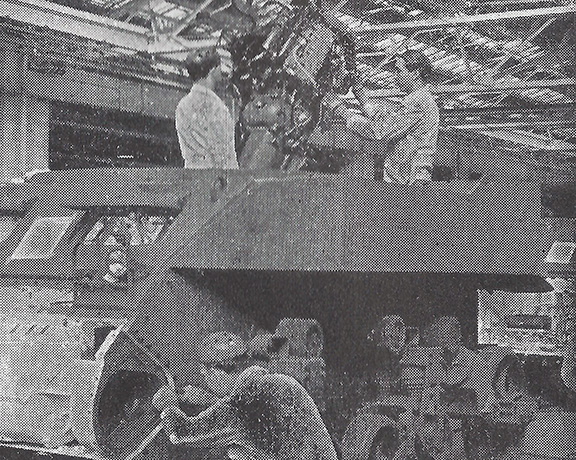 This photo show a Detroit Transmission Hydra-Matic transmission being installed into an M5 Stuart tank. Photo added 2-19-2015.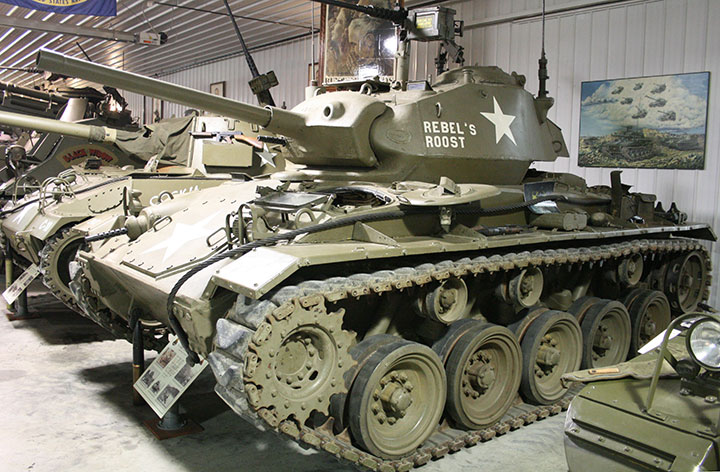 This M24 Chaffee tank seen at Ropkey Armor Museum also has two Hydra-Matics in it. Author's photo.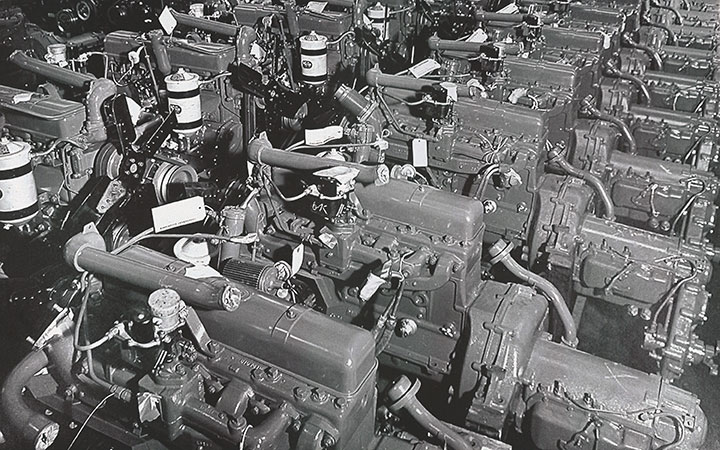 Here can be seen rows of Detroit Transmission Hydra-Matics mated to GMC 270 cubic inch engines that are awaiting installation into Chevrolet Staghound armored cars. Photo courtesy of the Military History Institute in Carlisle, PA.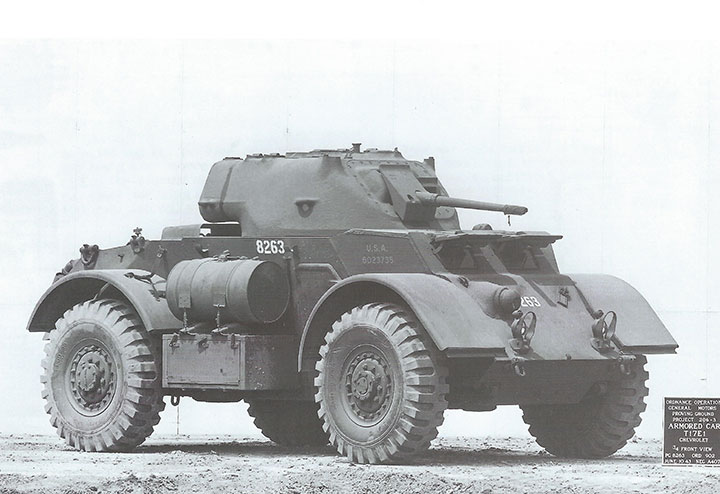 This Staghound (T17E1) with two Hydra-Matic transmissions was photographed at the GM Milford Proving Grounds in June of 1943.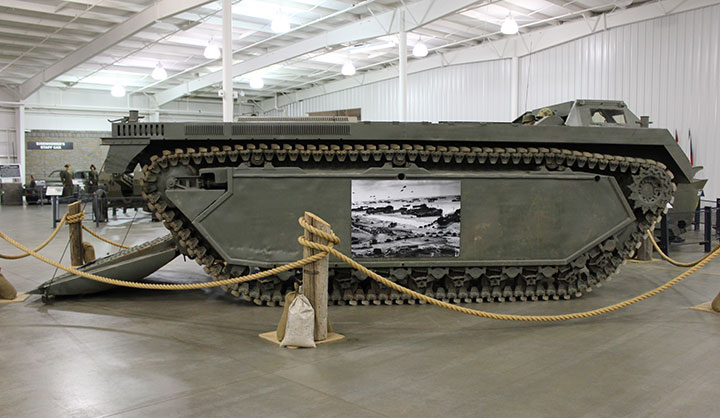 Borg-Warner built 5,924 LVT(3)s like this one seen at the National Military History Center in Auburn, IN. Each one had two Detroit Transmission Hydra-Matics in it. Author's photo.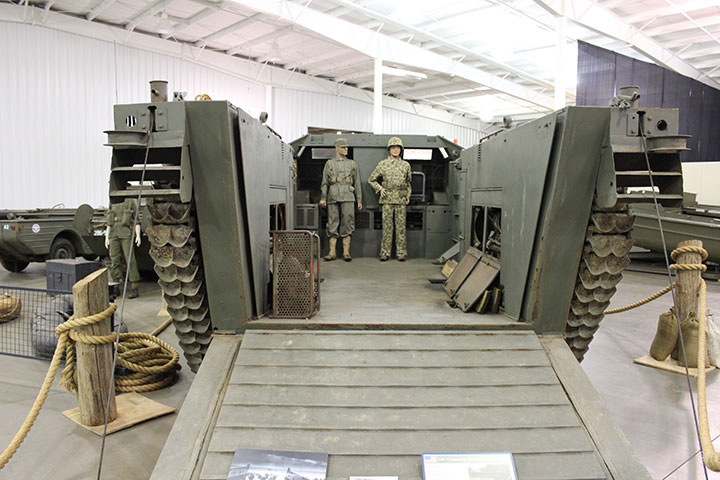 Looking into the landing craft from the rear ramp area one can see the engine and transmission covers have been removed on each side. Author's photo.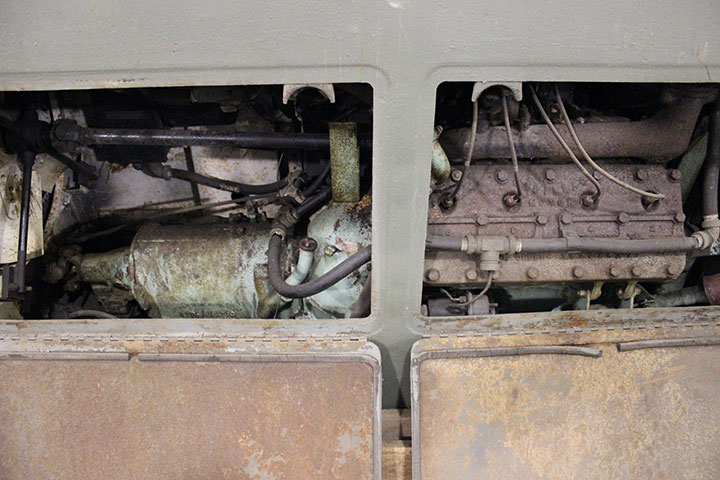 This photo shows the Hydra-Matic transmission connected to the Cadillac V-8 on the right or starboard side of the LVT(3). Author's photo.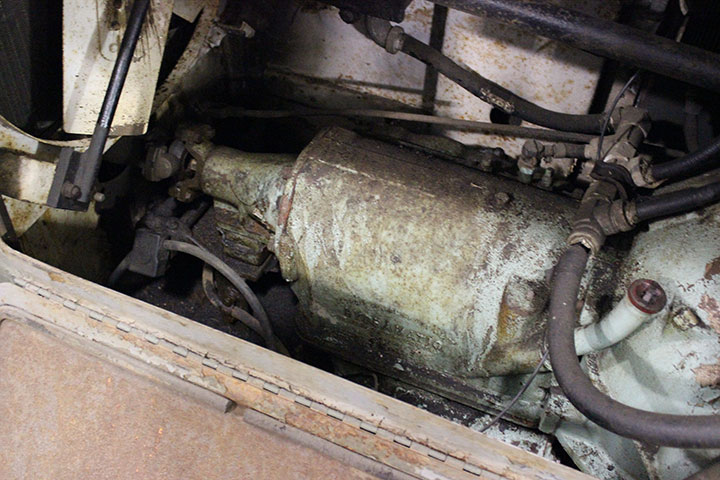 Author's photo.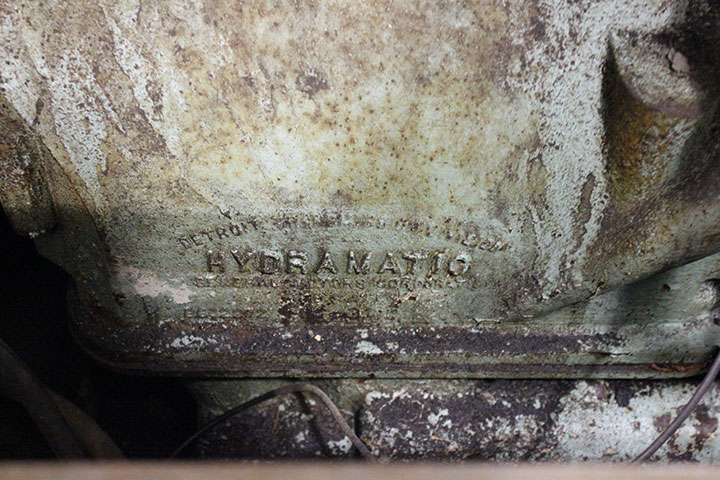 Here one can actually see the Hydramatic embossed in the casting. Author's photo.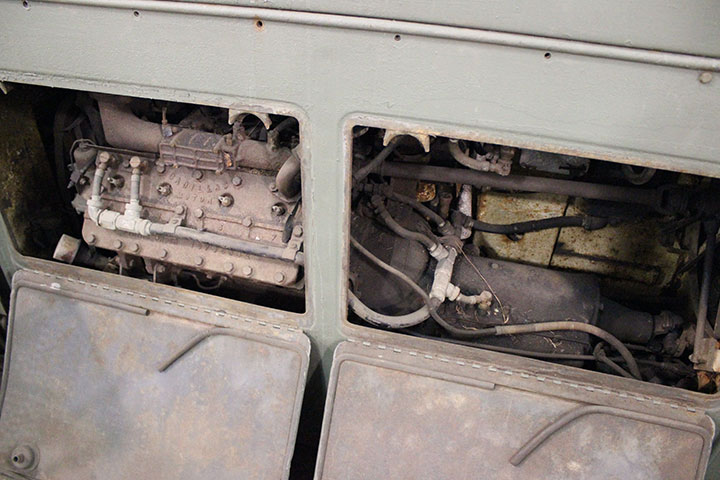 The left or port side engine/transmission bay. Author's photo.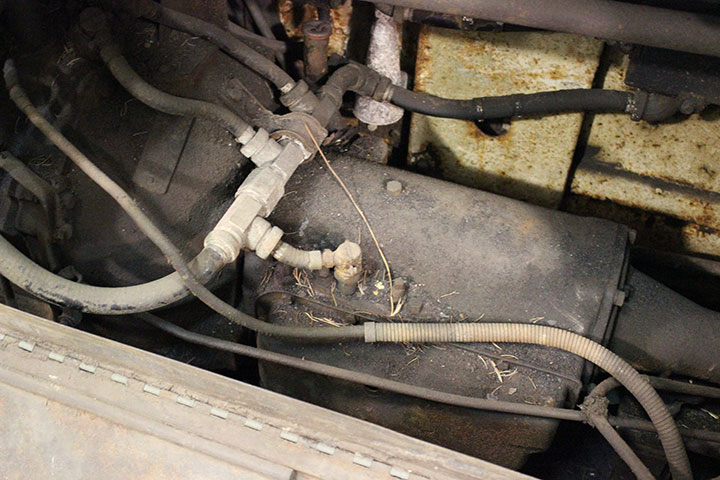 The Hydra-Matic on the port side had a coating of dirt and oil on it. Author's photo.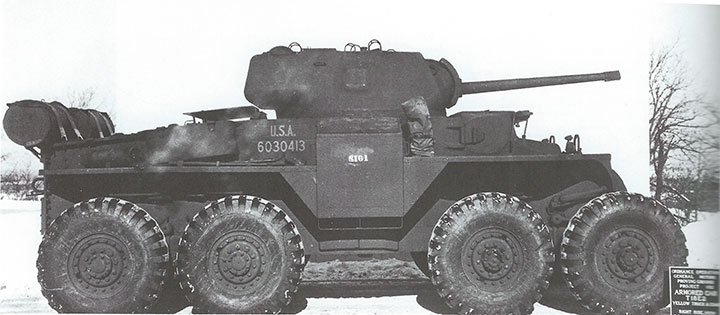 This T18E2 GMC built Boarhound used two Hydra-Matic transmissions and was photographed at the GM Proving Grounds on January 19, 1943.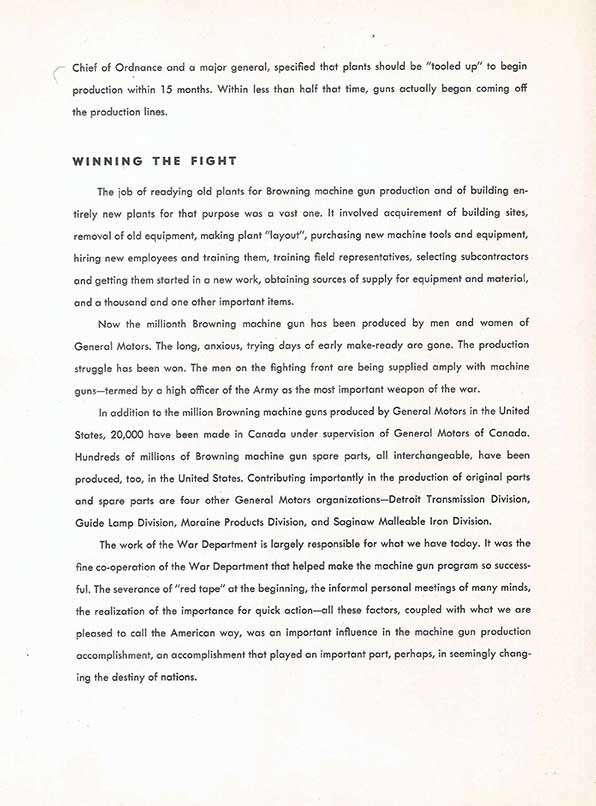 The next two pages are from my page "One Million Browning Machine Guns" located on the main GM page. Note above that Detroit Transmission is listed as one of four GM divisions some of the 270 parts that went into a .50 cal Browning and 159 parts that made up the .30 cal Browning machine gun. Photo added 2-19-2015.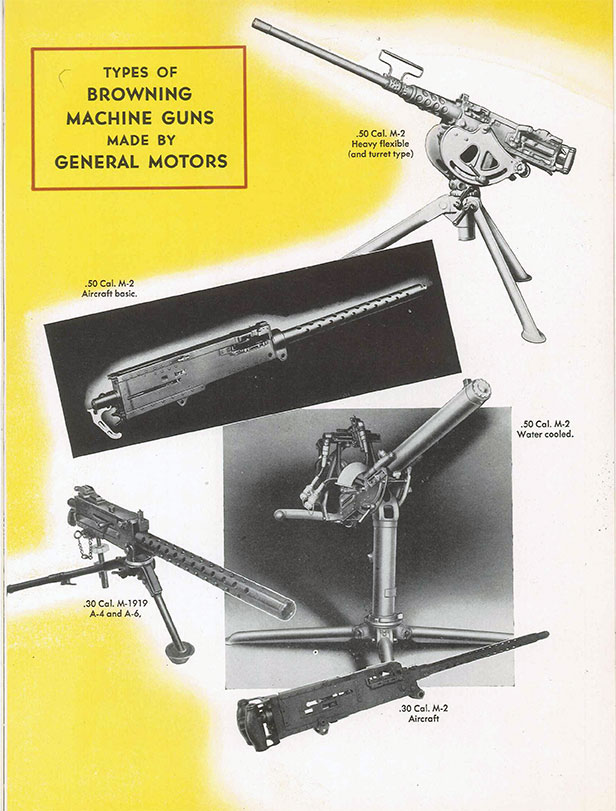 Detroit Transmission manufactured parts went to the the type weapons shown above. Photo added 2-19-2015.