Graham-Paige Motors Corporation
Detroit, MI
1927-1947- As Graham-Paige Motors Corporation
1947-1952 - As Kaiser-Frazer Corporation
1952-1953 - As Kaiser Motors
1953-1963 - As Kaiser-Willys Corporation
1963-1970 - As Kaiser Jeep Corporation (Purchased by American Motors)
Rest in Peace
This page updated on 9-30-2016.
This is an interesting and convoluted story of a small vehicle manufacturer that stopped production of automobiles in 1940 with the limited production of the Graham Hollywood after only 1,378 were built. While this great looking automobile (See Below.) had plenty of initial orders plant production problems prevented the filling of the customer orders and most were cancelled. Production was stopped on the Hollywood and the plant closed. However, it quickly opened back up and started on war contracts, with a good percentage of its plant being leased to Chrysler and the remaining for its own war output.
(DeSoto Division of Chrysler leased Graham-Paige's West Warren Avenue Plant in Detroit for the first war contracts taken on by the Chrysler Corporation. Starting before the US became involved in WWII, DeSoto began with the construction of Martin B-26 rear fuselages. Later it would build Curtiss SB2C Helldiver wing center sections in the plant along with forward end fuselages for the Boeing B-29 Superfortress. In 1946 Chrysler bought the plant and it became the DeSoto Warren Plant.)
After WWII in 1947 the automobile portion of Graham-Paige was sold to what became Kaiser-Frazer Corporation that started up car production in the Ford Willow Run, MI, WWII B-24 Bomber Plant. This, like most of the factories built or added on to for WWII production were financed by the US Government and its taxpayers. No longer needed by Ford, the government took the plant back and then sold it to the new Kaiser-Frazer Corporation. Production of Kaisers and Frazers ran at Willow Run until 1953, when it shifted to Toledo at what had been Willys-Overland. Mr. Kaiser and Mr. Frazer had a dispute in 1948 and Mr. Frazer quit as president of the company with the Frazer nameplate running until 1951. In 1953 the company became the Kaiser Motors Corporation and then when it purchased Willys-Overland later in 1953 it renamed itself again, this time as Willys Corporation and moved production of the Kaiser to Toledo, OH for its last two years of production. The last Kaiser was a 1955 nameplate.
After 1947 the remaining non-automotive portion of Graham-Paige invested in real estate and in 1962 changed its name to Madison Square Garden Corporation.
Graham-Paige also produced and coined the name Rototiller, which is now synonymous with many manufacturers' garden implements for tilling the soil in home gardens.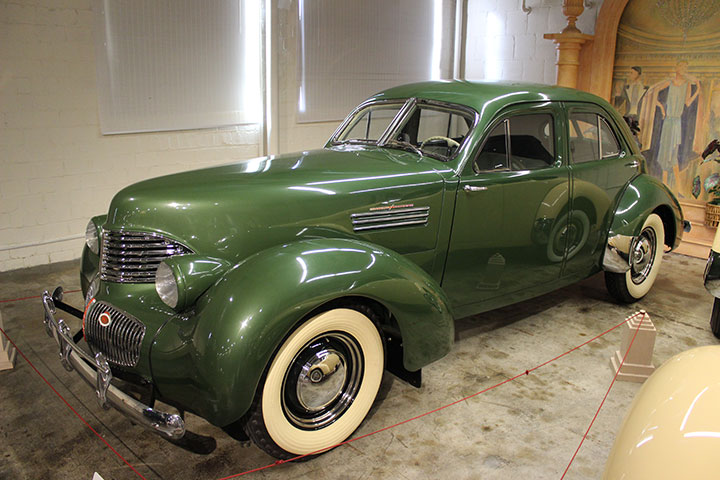 A 1941 Graham Hollywood Supercharged as seen at the Auburn Cord Duesenberg Automobile Museum in Auburn, IN. This was a very nice looking car, but production issues in the plant lead to its demise. Author's photo.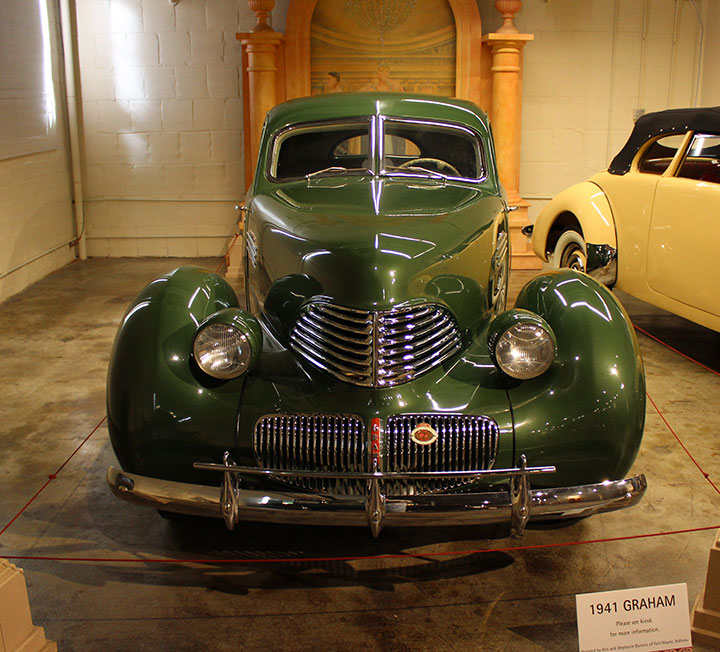 There were (1,378) built at a cost of $1,250 in 1940-1941. It was the last vehicle produced by the company before WWII and also the last Graham vehicle produced. Author's photo.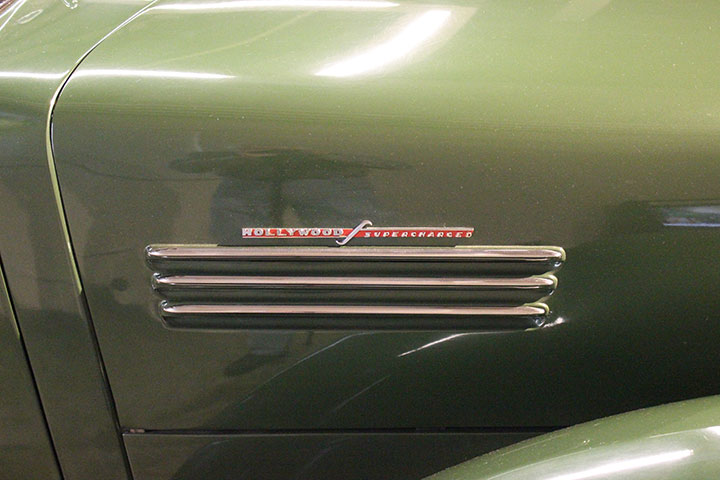 Author's photo.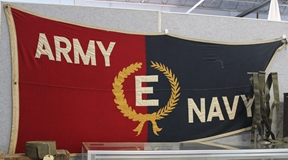 Graham-Paige won the Army-Navy "E" Award once during WWII.
Graham-Paige World War Two / WWII Production Numbers: (A portion of 1,225 from 1941-1943) LVT-1s, (A portion of 2,963 from 1942-1944) LVT-2s, (A portion of 8,448 from 1943-1945) LVT-4s, precision machined parts for both Packard 4M2500 marine engines and Packard built Rolls-Royce V-1650 Merlin aircraft engines, precision machined parts for torpedoes. (The nearest torpedo manufacturer was Pontiac Motor Division of GM.)
To date I have not been able to find production for the individual companies that built the LVT-1,2,and 4 during WWII. Only total production numbers are known and this is why I can only say a portion of the total number for each of these was built by Graham-Page during WWII.
LVT-1 - (1,225) were built by FMC, subcontractor for Roeburg which invented the LVT concept, Graham-Paige and St. Louis Car from 1941-1943. First application of this type was used at Guadalcanal. It did not have a ramp.
LVT-2 - (2,963) were constructed by FMC, Graham-Paige, Ingersoll and St. Louis Car from 1942-1944. This one did not have a ramp either.
LVT-4 - (8,448) were produced by FMC, Graham-Paige, and St. Louis Car from 1943-1945. This had a rear ramp that allowed the troops to exit and also allowed the vehicles to carry a jeep or small truck.
There are very limited references to Graham-Paige making parts for marine and aircraft engine and torpedoes. I have assumed that because the Graham-Paige plant on West Warren in Detroit, MI was just a couple of miles from the Packard plant that it supplied parts for the Packard built 4M42500 Marine Engine and the Packard built Rolls-Royce Merlin V-1850. Also, Pontiac Motor Division of GM produced aerial torpedoes to the north of Detroit in Pontiac, MI. So the assumption is that the torpedo parts were for that location.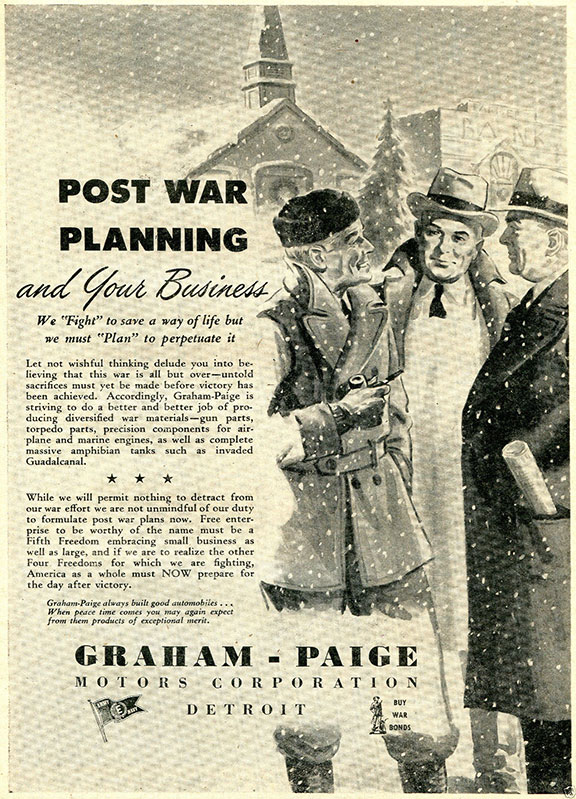 Graham-Paige won the highly coveted Army-Navy "E for Excellence" Award during WWII. This period advertisement shows the award. The company would not have been able to use this in the ad unless it had won the award.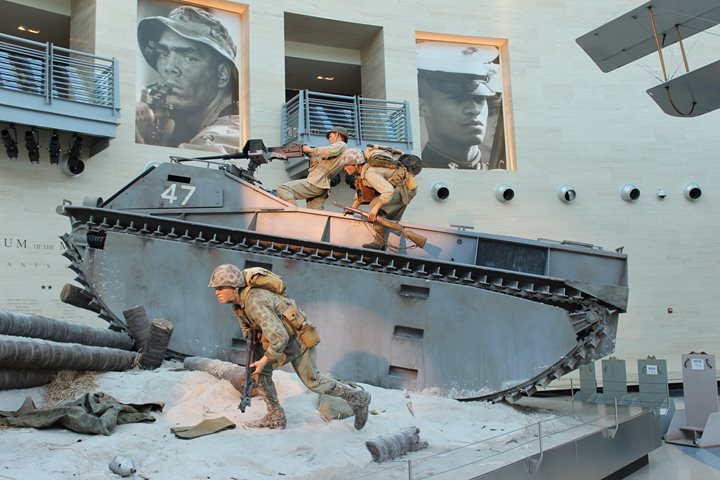 Graham-Paige built a portion of the1,225 LVT-1's that were built from 1941 to 1943. This diorama at the National Museum of the USMC depicts a LVT-1 going over a log barricade at Tarawa. Author's photo added 9-30-2016.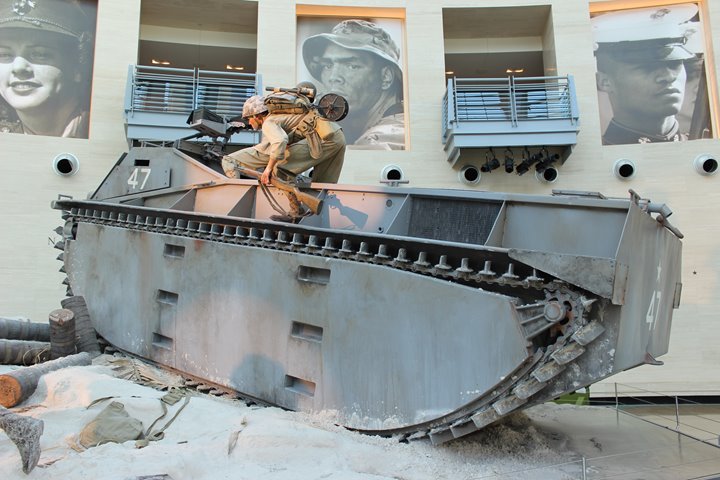 This and the following photo show that the rear is a solid piece with no ramp. The Marines had to go over the side as shown here and jump down eight feet to the sand. Author's photo added 9-30-2016.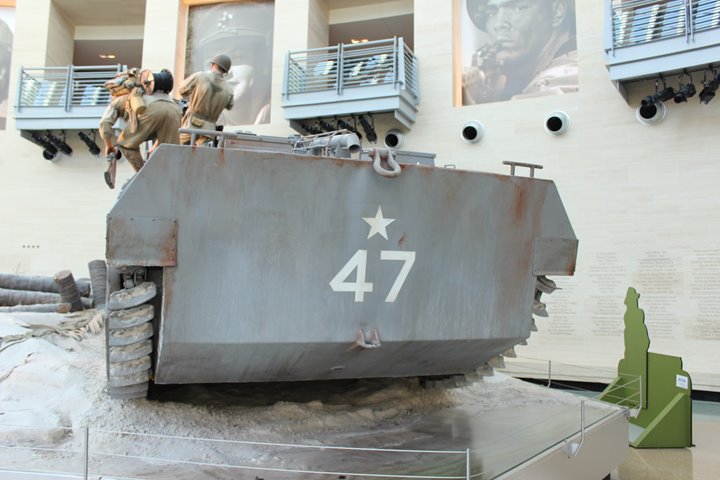 Author's photo added 9-30-2016.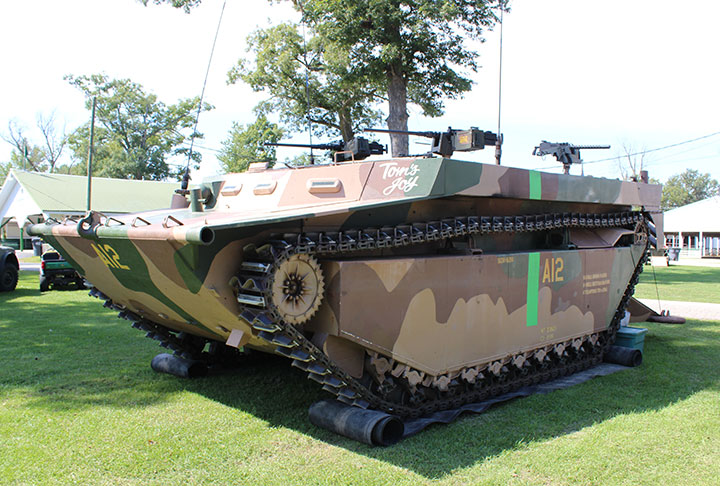 This is a 1945 LVT-4 "Water Buffalo" that was built by St. Louis Car, one of the two other manufacturers of this type besides Graham-Paige. And this one is a movie star, having been used in the 2005 movie "Flags of our Fathers". Author's photo from the 2014 Portland, IN Military Vehicle Show.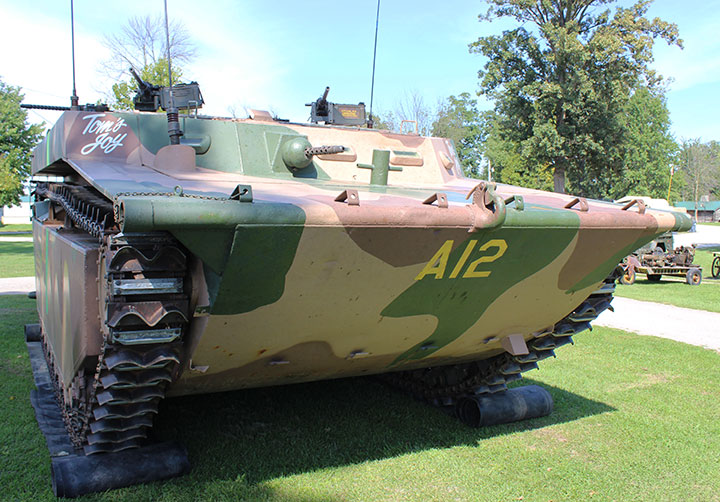 Note the internal and external armament. While this is not a Graham-Paige built unit, it does show the huge size and complexity of building this landing craft. Author's photo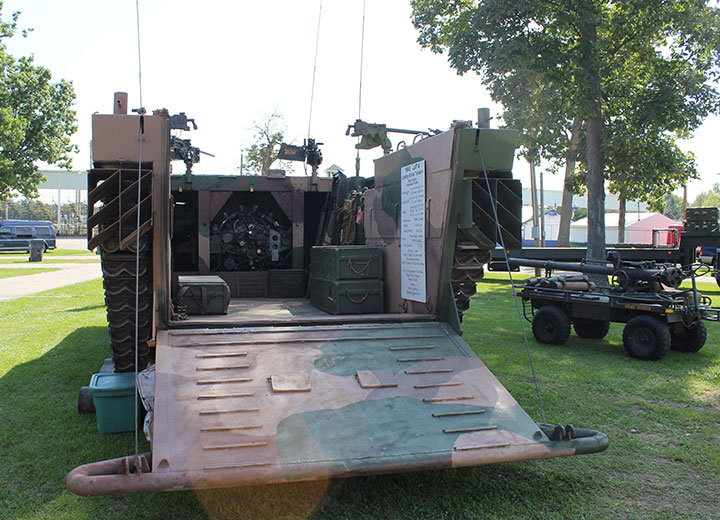 The LVT-4 was the first in the series to have a ramp. On the LVT-1 and 2 the soldiers and marines had to make a eight foot jump over the side to get out. And small vehicles could not be carried as on this type. Author's photo.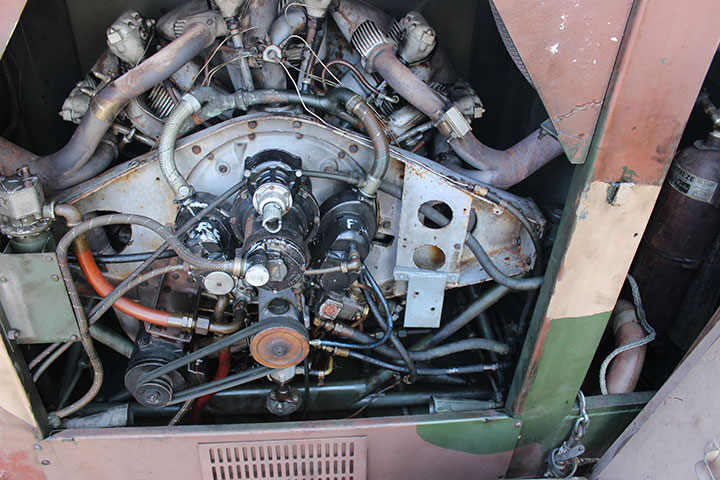 The LVT-4 was powered by a Continental R-670-9A seven cylinder radial aircraft engine producing 250 hp. The radial engines, being originally designed to operate at relatively constant speeds for aircraft, did not work out well when having to constantly change RPMs when being shifted through the five speeds of the Spicer transmission. Author's photo.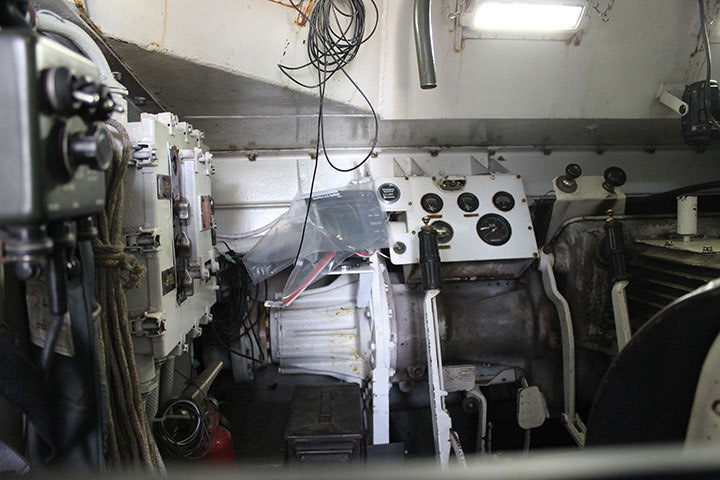 The driver's station with the Spicer transmission just visible to the right and the powered axle in front of the controls and instrument panel. Author's photo.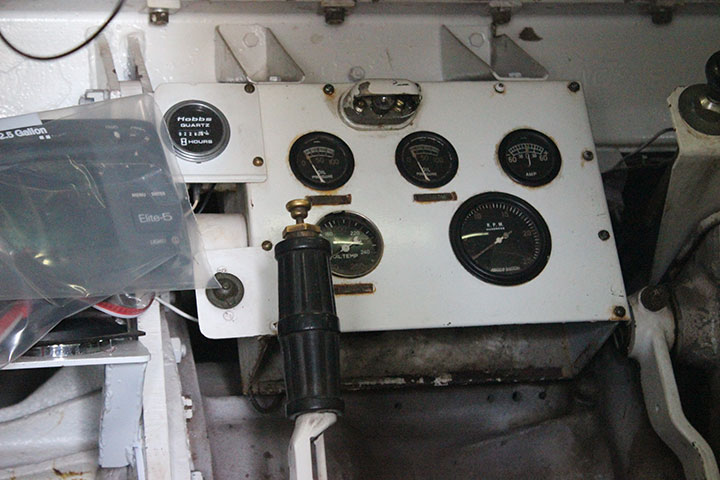 The instrument panel inside the LVT-4. Author's photo.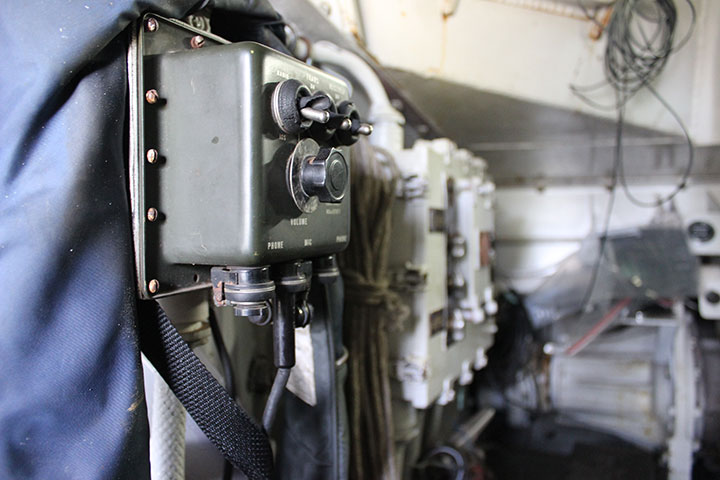 The radio control box is at the left. Author's photo.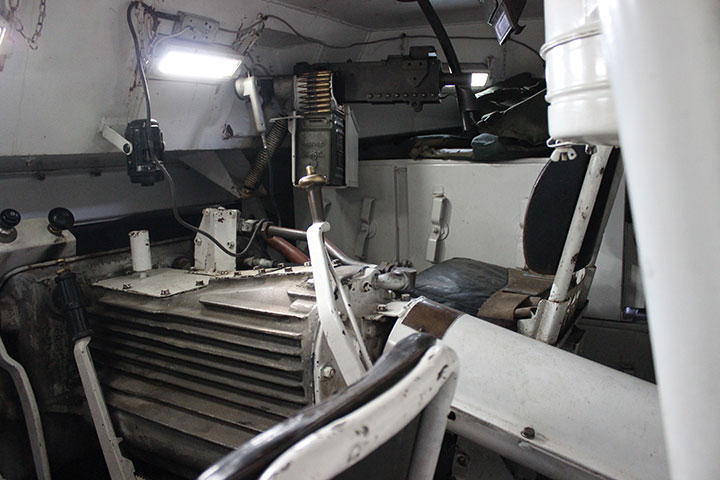 The gunner's position with the .30 caliber machine gun. One can seen the transmission better in this photo and the covering over the driveshaft from the engine. Author's photo.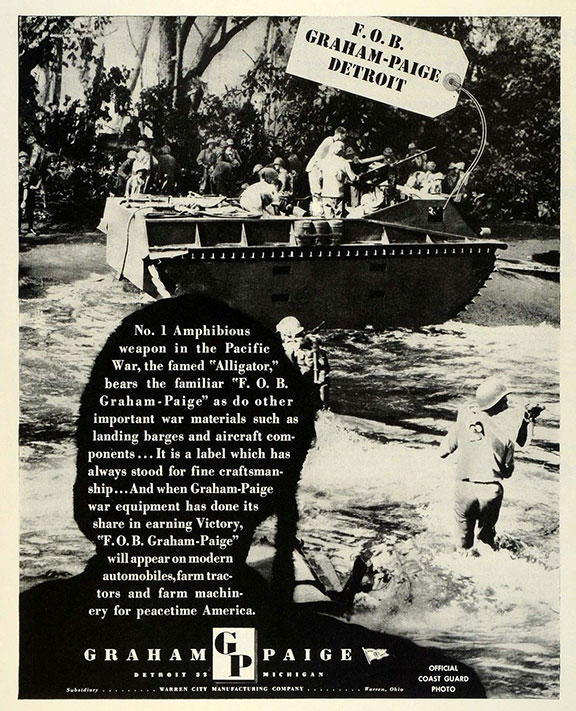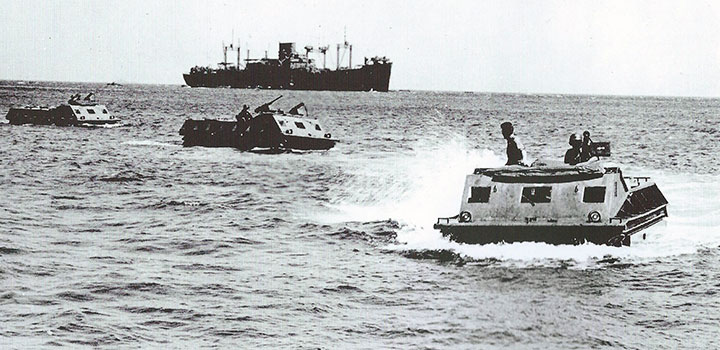 First use of the LVT was at the landings at Guadalcanal on August 7, 1942. Graham-Paige LVT-1's and LVT-2's could me among those pictured here. Photo added 4-14-2015.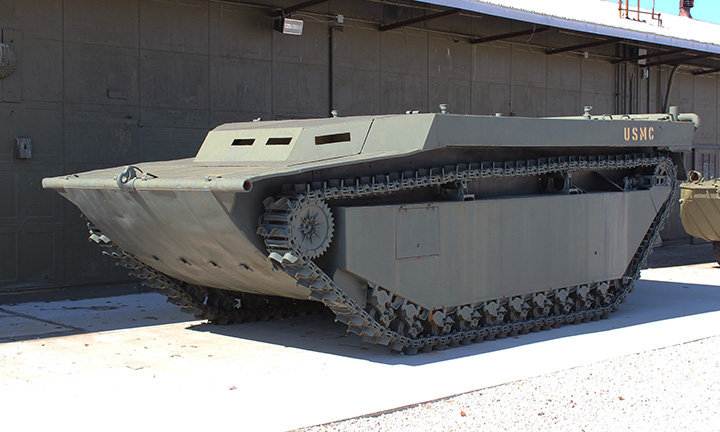 This is another LVT-4 that is on display at the Indiana Military Museum in Vincennes, IN. No information is known on which of the three companies, FMC, Graham-Page, or St. Louis Car, actually built this particular unit. Author's photo.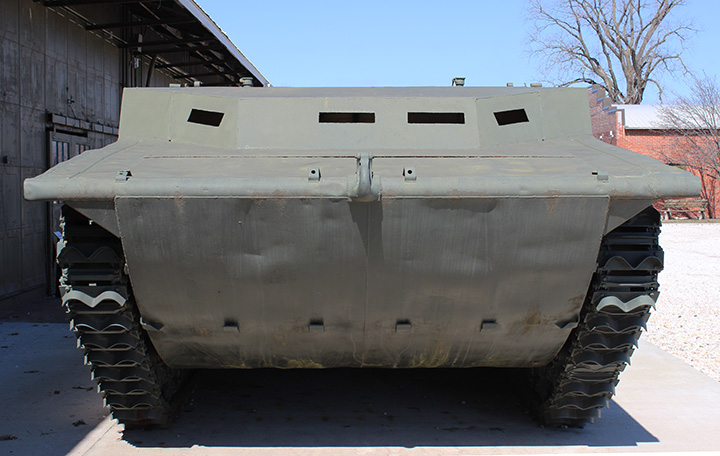 Author's photo.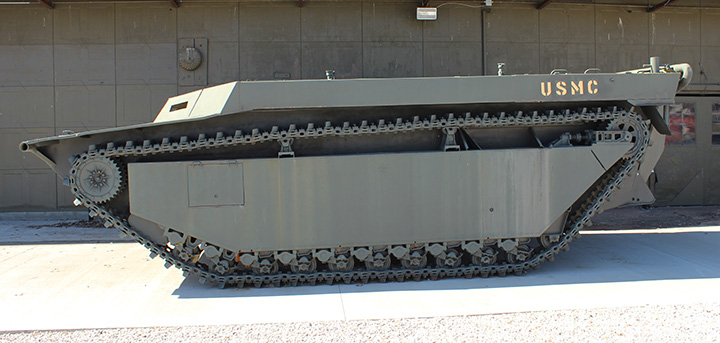 The LVT-4 is 8 feet tall. It differs from the earlier LVT-1 and LVT-2 in that it has a stern ramp and the troops did not have to make the long 8 foot jump to the beach on landing. Author's photo.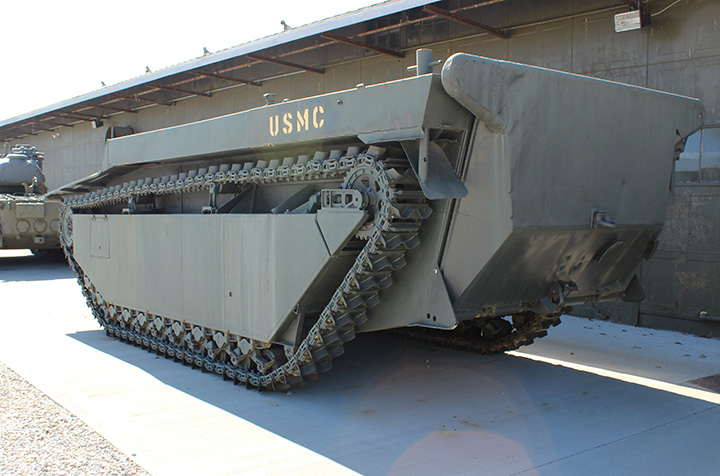 Author's photo.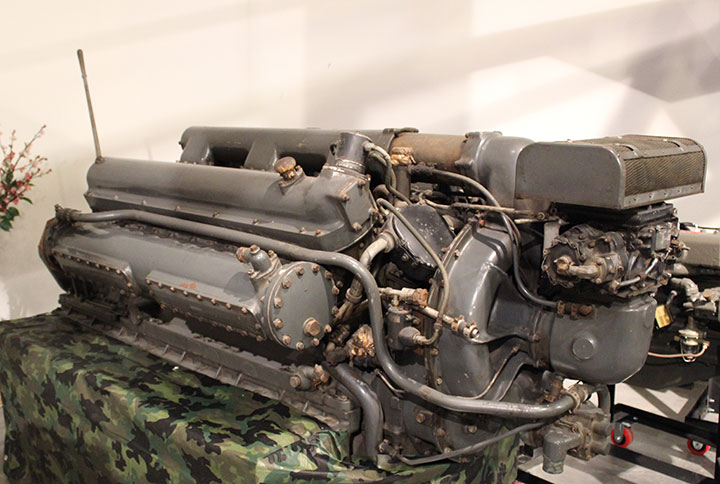 Here is a Packard 4M2500 Marine Engine that Graham-Paige built precision machined parts for, Three each of these engines went to PT boats and two each into pilot rescue boats. Author's photo from the National Packard Museum in Warren, OH.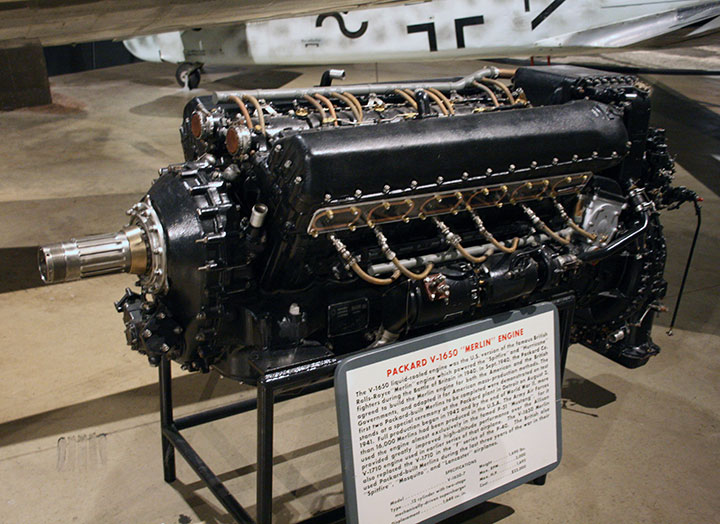 A Packard built V-6150 Rolls-Royce built aircraft engine that Graham-Paige also built parts for. Author's photo from the National Museum of the United States Air Force in Dayton, OH.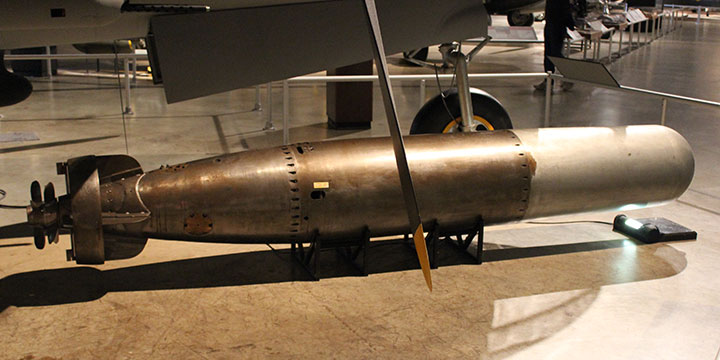 Pontiac built aerial torpedoes with Graham-Paige components. Author's photo from the National Museum of the United States Air Force in Dayton, OH.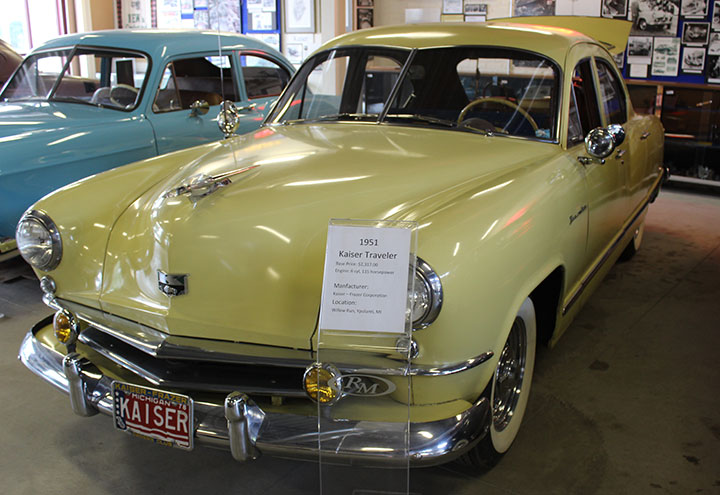 A 1951 Kaiser Traveler that was produced by Kaiser-Frazer after it purchased the automotive assets of Graham-Paige. This vehicle was built in the Willow Run plant a couple of miles to the east of the Ypsilanti Automotive Heritage Museum in Ypsilanti, MI. Author's photo.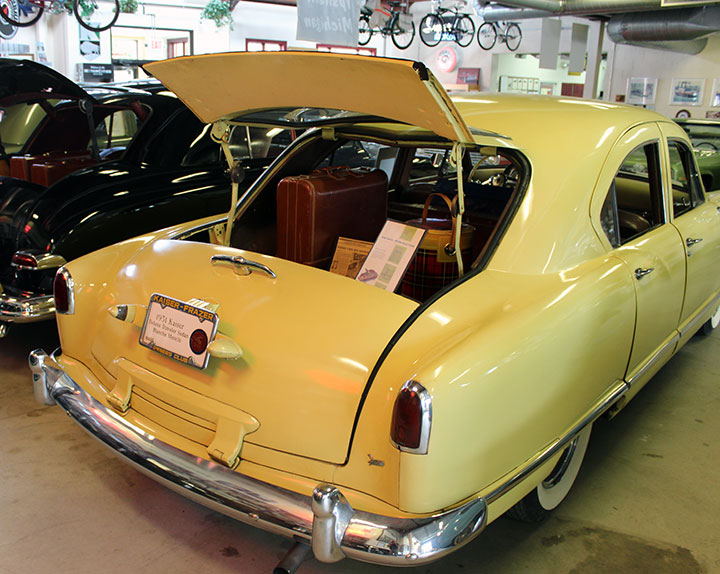 Author's photo.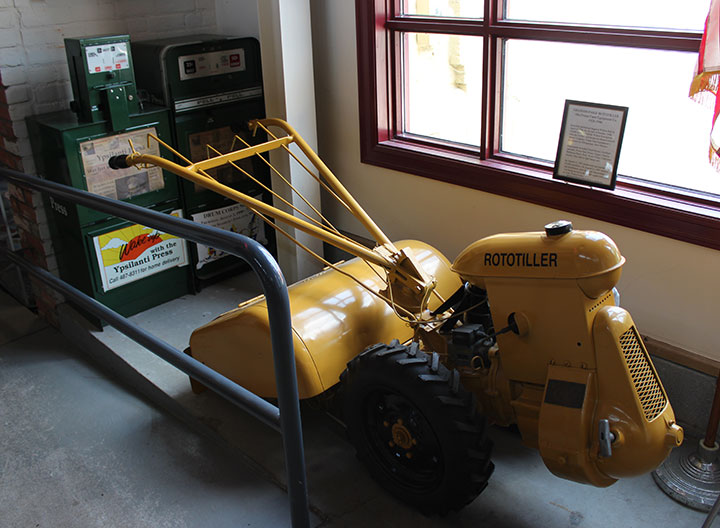 This 1947 Frazer B1-6 Rototiller was built under license from the Rototiller Company of Troy, NY by the Farm Division of the Graham-Paige Motors Corporation in the Willow Run Plant. Author's photo from the Ypsilanti Automotive Heritage Museum in Ypsilanti, MI.