General Motors of Canada in World War Two / WWII
1918-Current

This page updated 1-31-2016.
General Motors of Canada, during WWII to present, is still an assembly operation for vehicles designed by the GM car and truck divisions located within the United States. During World War Two the Canadian automobile industry supplied over 800,000 trucks for Great Britain. The Canadians not only built vehciles and armaments in GM plants, but also in Ford and Chrysler plants located in the country. GM of Canada had plants in Windsor and Oshawa Ontario, and Regina Saskatchewan. The Division included Canadian Modified Conventional Pattern Trucks, which were basically civilian trucks for military use, and Canadian Military Pattern Trucks that were designed and manufactured specifically for military use.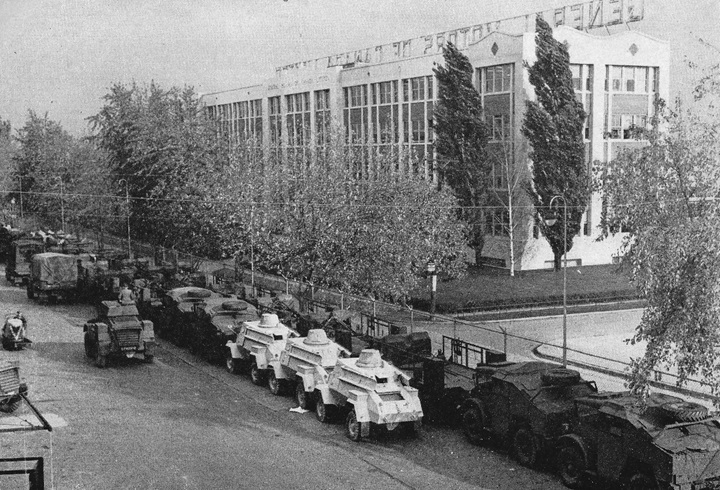 This October 1942 photo shows the street behind the GM of Canada office building in Oshawa, ONT lined with Otter light reconnaissance cars and Canadian Pattern Military Trucks. Oshawa built 1,781 of the Otters used by the British in North Africa and Europe.
General Motors of Canada World War Two / WWII Production Numbers / Statistics: (1,506) Mark 1 "Fox" Armored Cars, (1,781) "Otter" Light Reconnaissance Cars, (3,961) GM CT15A Armored Trucks, Modified Canadian Military Pattern Trucks, (201,000) Canadian Military Pattern Trucks (CMPT), (1,032) De Havilland Mosquito aircraft fuselages, machine guns, gun sights, anti-tank gun carriages, and tooling for naval gun mounts and 3.7 cm anti-aircraft gun carriages.
Locations:
Oshawa, ONT - All of the vehicles were built in this plant. A close read of page 16 of "The Motor Car Business makes Victory its Business" below indicates that the Oshawa tool room made the tooling and fixtures for the 3.7 cm anti-aircraft gun carriages which were then supplied to another company. It also states that Oshawa supplied tooling and fixtures to an un-named Montreal which was first to make mounts for naval guns.

Border Cities plant in Windsor, ONT - This was a Canadian government owned plant managed by GM of Canada. Built in 1942, the plant produced Browning machine guns. The caliber of the weapons is not clear. Only one source states that the weapons were .50 caliber; other sources say do not give a caliber. Photos shown below in the "The Motor Car Industry Makes Victory its Business" also do not reveal the caliber, claiming it is a government secret. There are no photos showing the actual finished product allowing the weapon to be identified as either a .50 or .303 caliber machine gun. The plant built 25,000 of the machine guns.

Walkerville plant in Windsor, ONT - This plant was adjacent to the Border Cities plant and was first used by GM of Canada in 1919. During WWII it produced naval gun mounts.
Regina, Saskatchewan - Normally a car assembly plant this location produced gun carriages for anti-tank guns. The gun carriage for the 6 pounder was one of them. More information can be found in the "The Motor Car Industry Makes Victory its Business" below.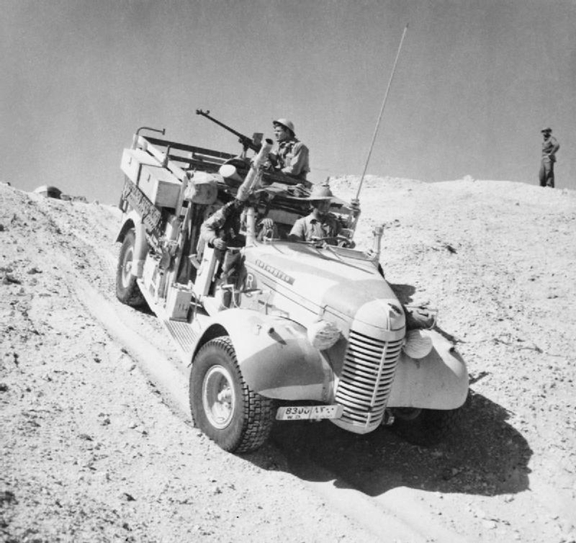 GM of Canada built the Chevrolet 3 ton 4x2 trucks used by the famous Long Range Desert Group in North Africa. This particular model is a radio truck with a Boys 20mm anti-tank gun for armament.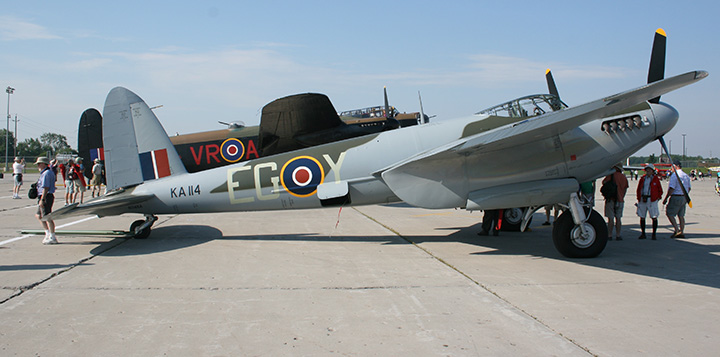 De Havilland Mosquito KA 114 is one of 1,032 of this type built by De Havilland during the Second World Warat its Downsview plant in Toronto, Ontario. The aircraft was constructed mostly of wood, including the fuselages made by General Motors of Canada. The only flying Mosquito in the world, KA114, is seen here at the 2013 Hamilton, Ontario Airshow.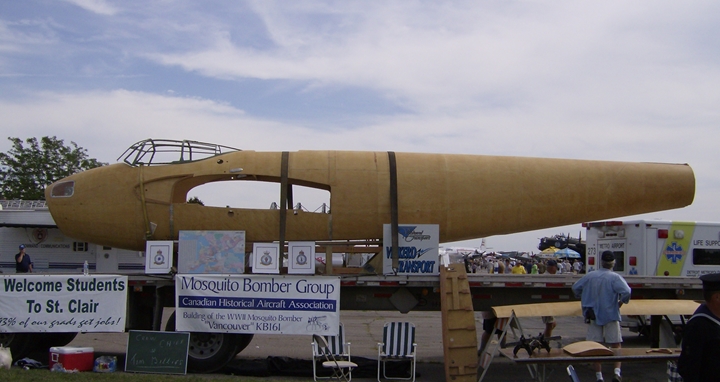 This Mosquito all wood fuselage built by the Mosquito Bomber Group was on display at the 2006 Selfridge Air National Guard Base Airshow. GM of Canada made 1,032 wooden fuselages like this during WWII. Author's photo added 12-24-2015.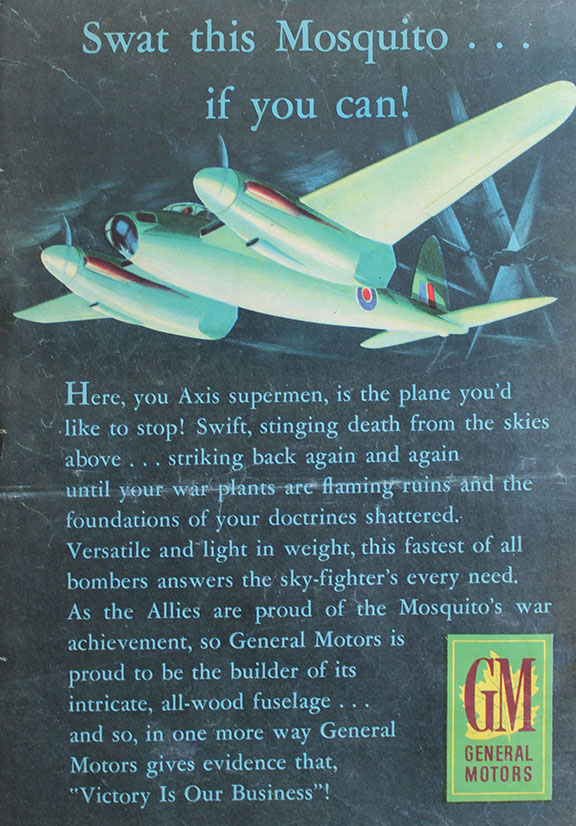 This GM of Canada advertisement states that it is the builder of the all wooden fuselages for the Canadian built Mosquitoes. It is unknown which plant built the fuselages.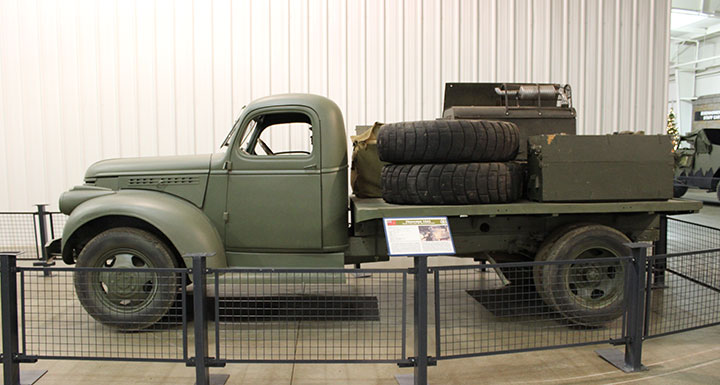 This 1941 Chevrolet three ton truck was built in Oshawa, Ontario as a service truck for the RAF . Due to the loss of 75,000 of its 80,000 vehicles at Dunkirk, trucks like these became very important to the British in rebuilding its national stock of trucks. Manufacturing continued until 1943. Because the trucks were not four-wheel-drive, many, like this one, were used by the RAF at its airfields. As seen at the National Military History Center in Auburn, IN.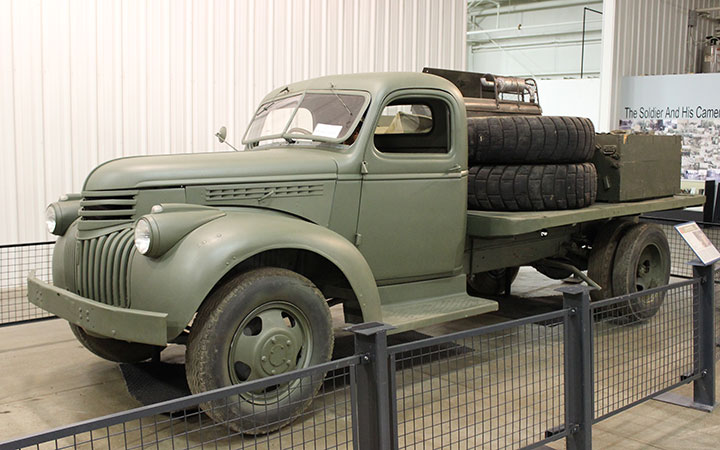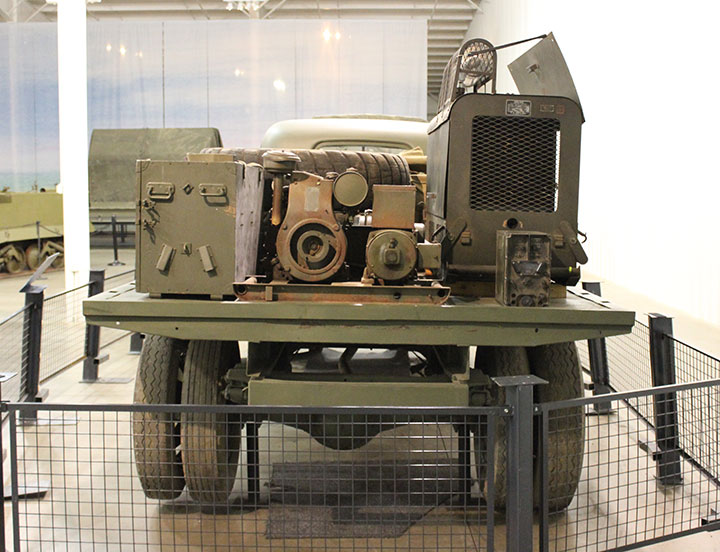 For some reason, when the truck axles were lifted off the floor for display, the truck did not end up level.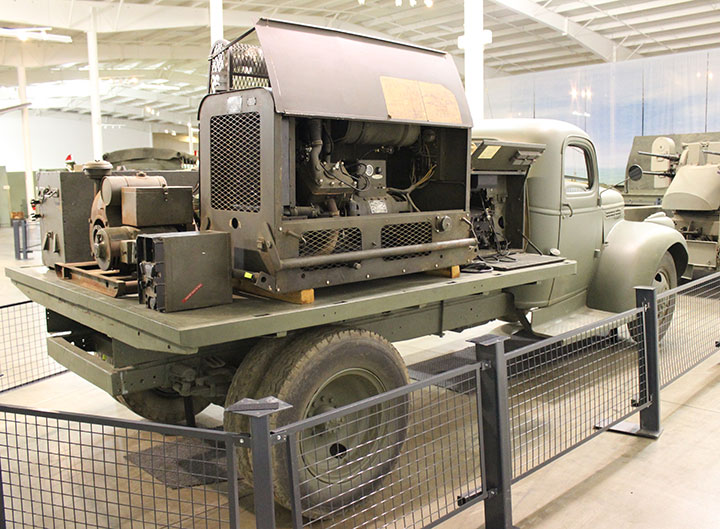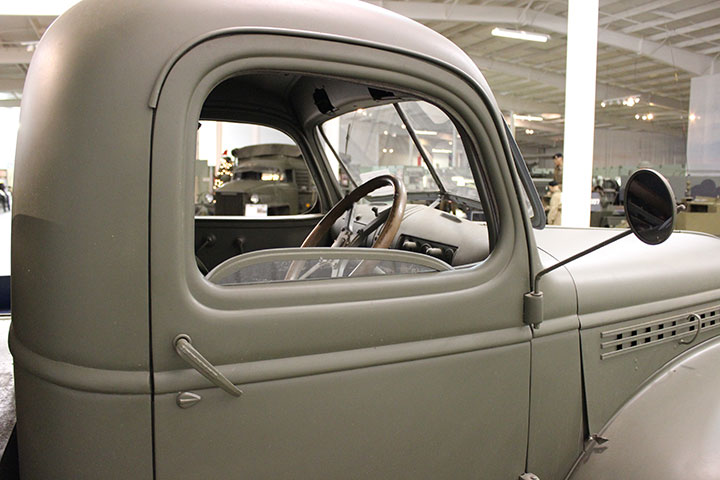 Note that this has right hand steering.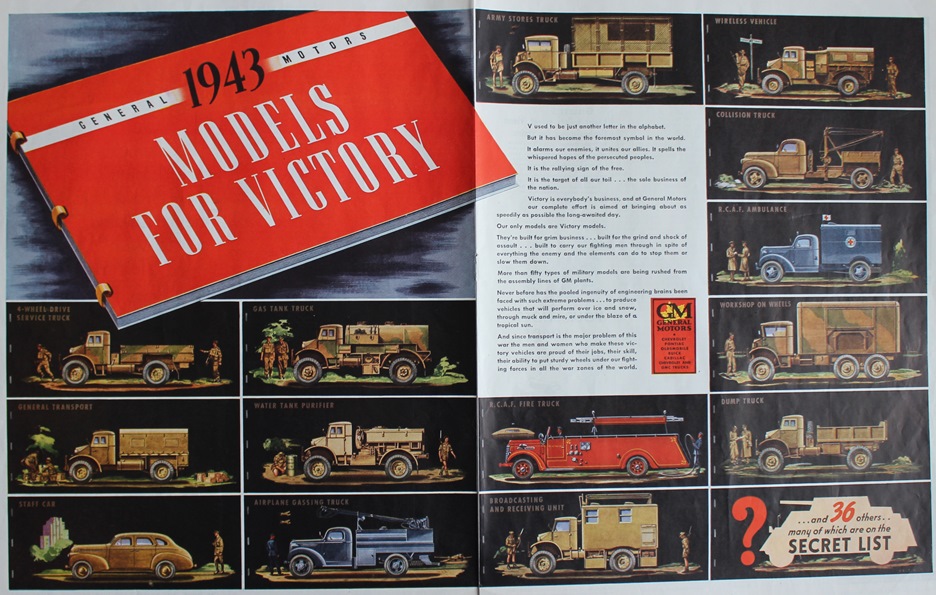 This two page magazine advertisement from 1943 shows all of the vehicles Oshawa produced at that time for the Commonwealth military forces.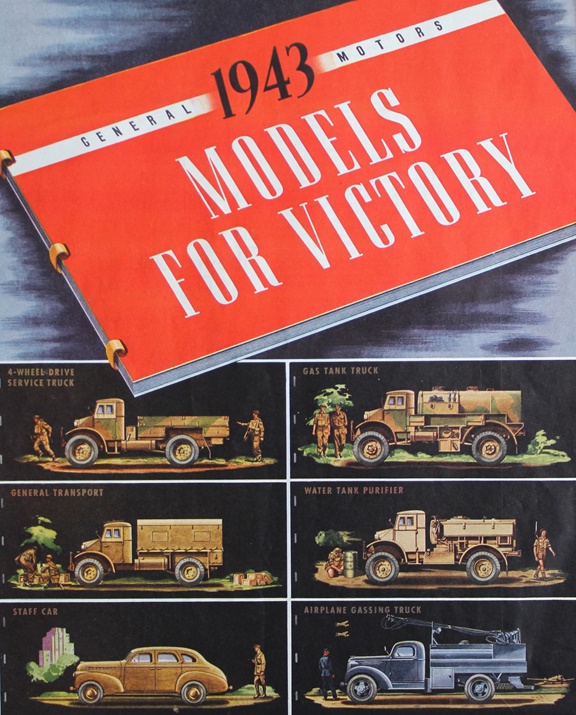 Above (L-R) are water color renderings of a four wheel drive service truck, a gas tank truck, a general transport truck, a water tank purifier truck, a staff car and an aircraft gas truck.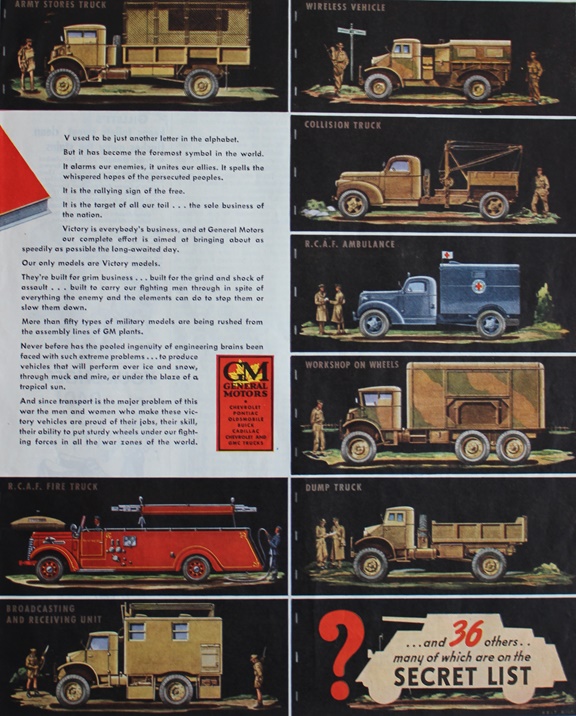 Starting at the top and working across and down is an army stores truck, wireless truck, collision truck, RCAF ambulance, workshop on wheels, RCAF fire truck, dump truck, broadcast and receiving truck and then 36 others on the "secret" list. One of those is the armored ambulance pictured below.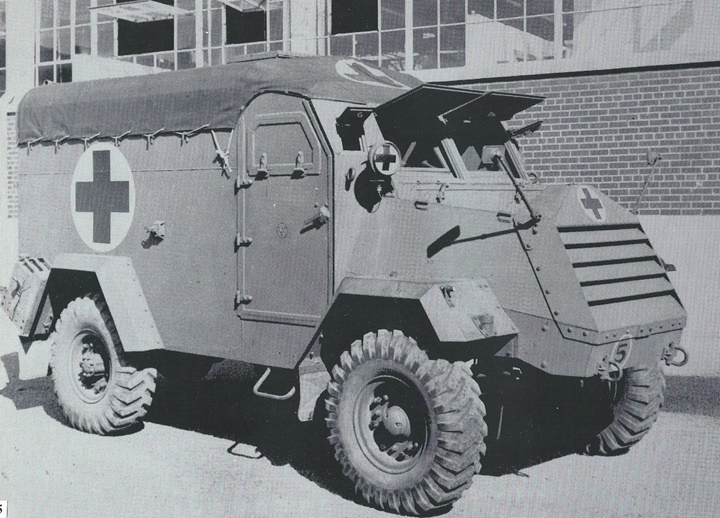 This armored ambulance was built late in the war and could carry four stretchers.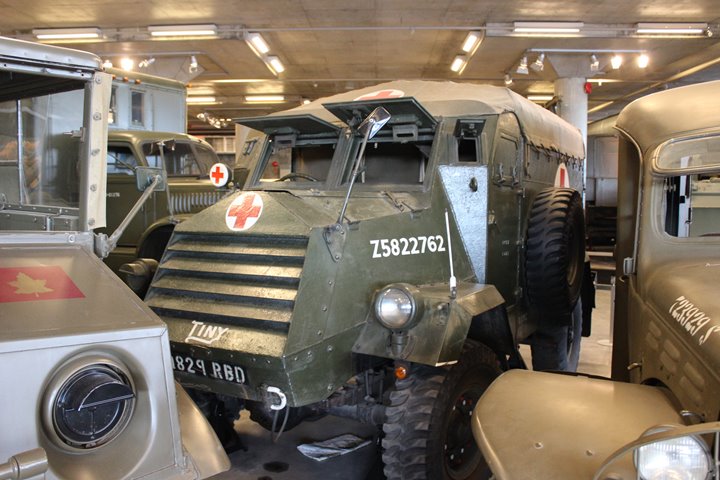 The Canadian War Museum in downtown Ottawa has an armored ambulance on display. Author's Photo added 1-8-2017.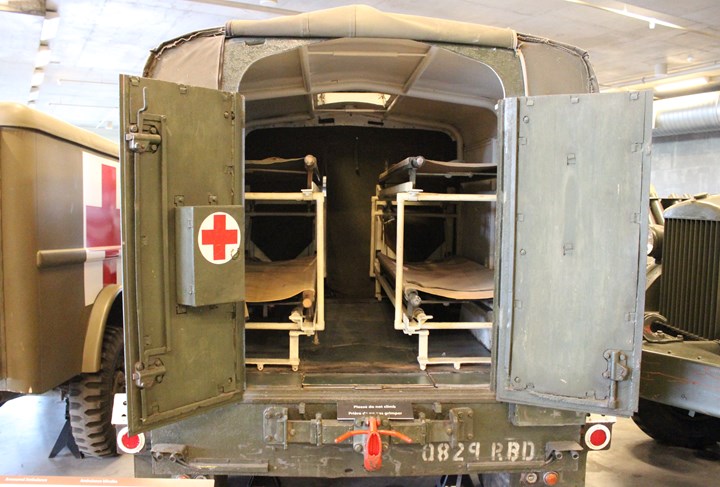 Author's Photo added 1-8-2017.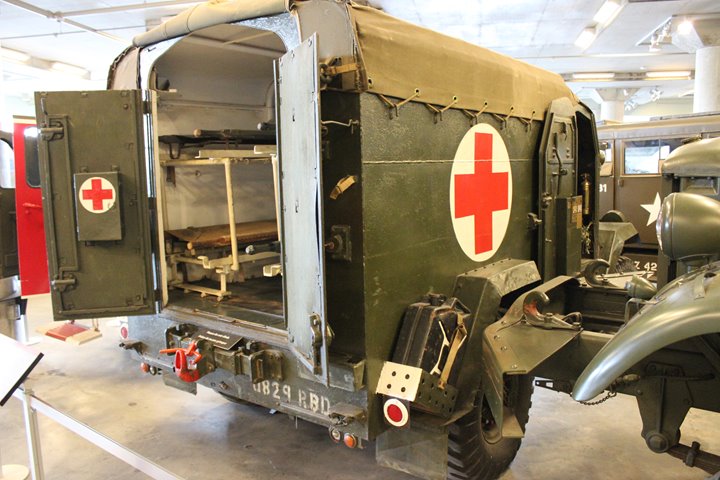 Author's Photo added 1-8-2017.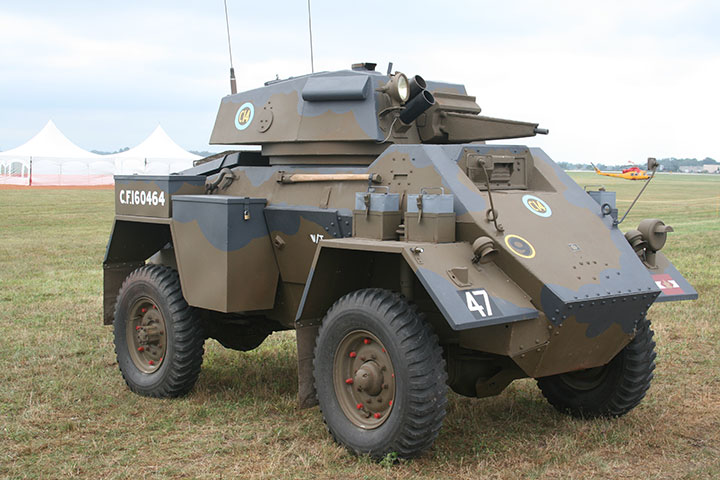 This Fox Armored Car seen at 2009 Windsor, Ontario Airshow that was designated as a GM MK.1 was another product of GM of Canada. Chevrolet designed the chassis, GMC Division supplied the 270 cubic inch gas powered engine from the US, and final assembly was done by GM of Canada.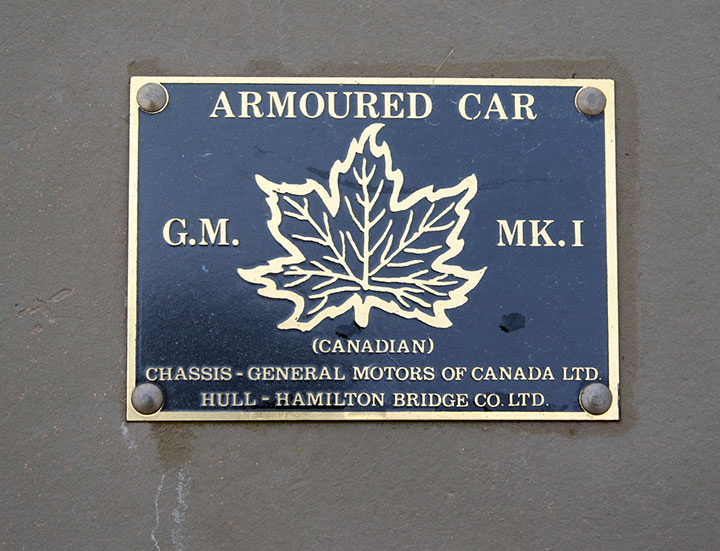 The Fox armored car was built during 1943.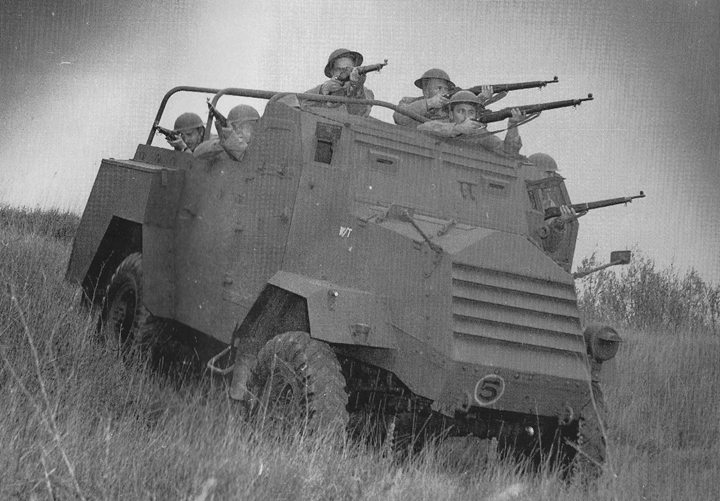 3,961 CT15A GM of Canada Armored Trucks like this one were built in 1944 and 1945 for service with British Empire armies. This would have been another of the 36 "secret" trucks referred to in the 1943 advertisement above.
"The Motor Car Industry
makes
Victory its Business"
This short eighteen page monograph, published by GM of Canada in December of 1942, gives an excellent overview of what the Canadian auto industry was doing to support the war effort. Canada had been supporting Great Britain with desperately needed military vehicles and weapons for several years by this time. The monograph is a reprint of an article that appeared in the December 1942 issue of Canadian Geographic. It generally describes the actions of the entire Canadian auto industry; it uses GM as the prime example.
The pages below provide information and photos of the Otter light reconnaissance car that was being built in Oshawa during 1942. The article also notes that the GM plant in Regina, Saskatchewan was producing gun carriages for six pounder anti-tank guns. The Border Cities Industries plant of GM Canada is identified as the producer of Browning machine guns. The caliber of the weapons is not revealed as it is considered in 1942 to be a military secret. While some sources indicate these were .50 caliber machine guns, they may very well have been the .303 caliber Browning machine gun used in great numbers by the Commonwealth militaries. McKinnon Industries Limited, which was separate from GM of Canada as a subsidiary of GM, is identified as producing fuses for the war effort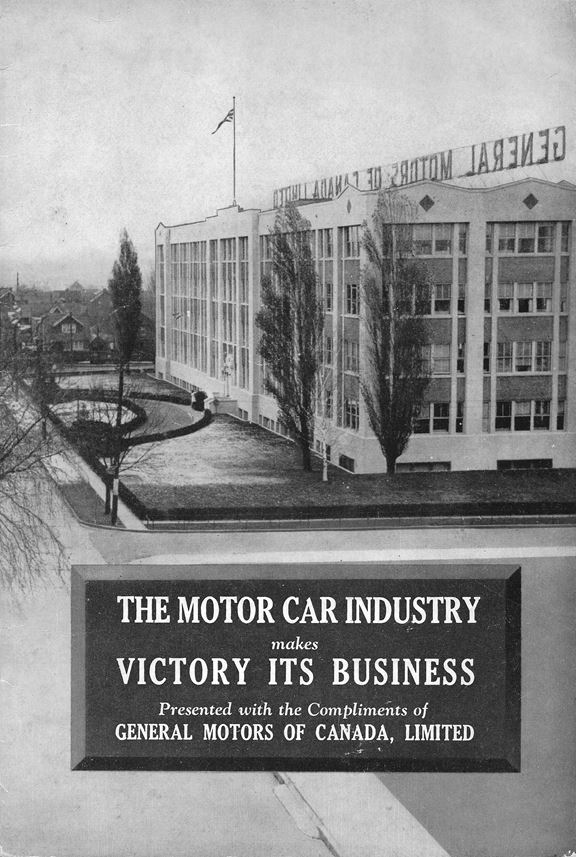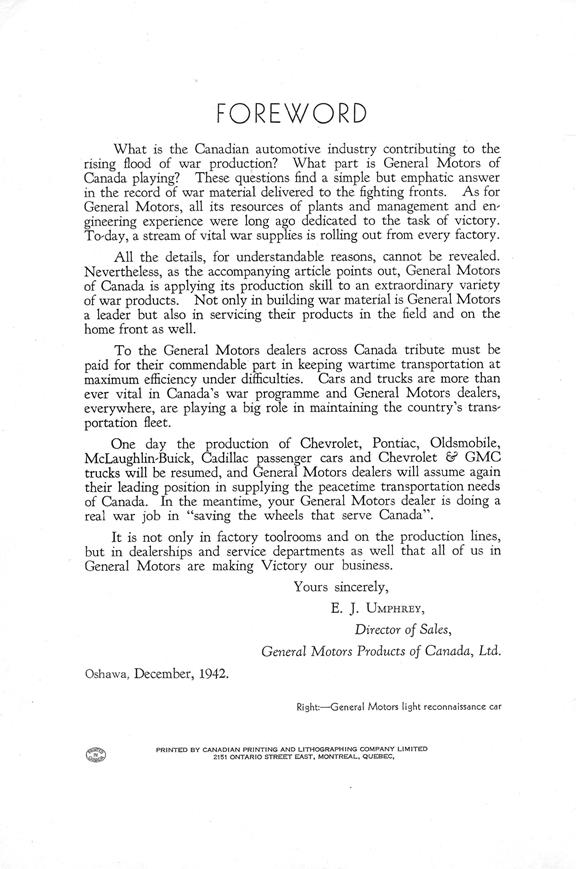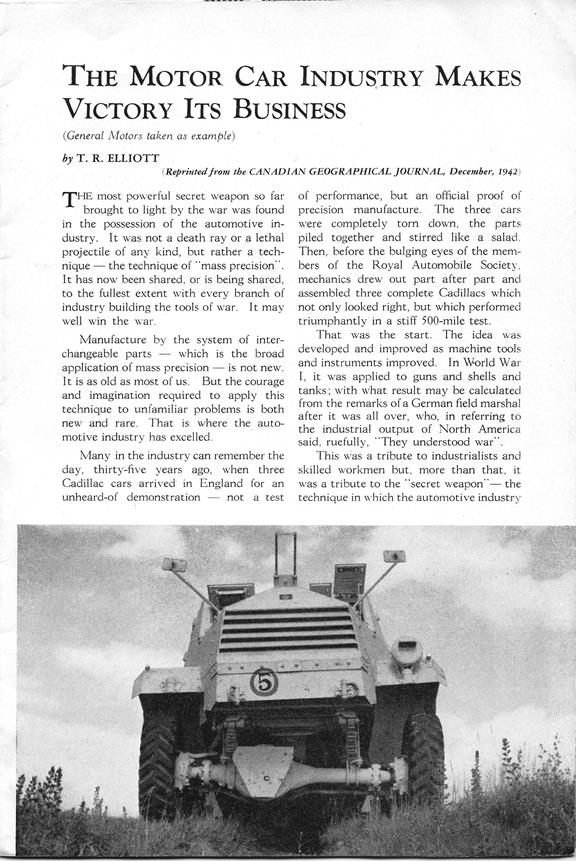 This photo shows the heavy duty front wheel drive of the Otter.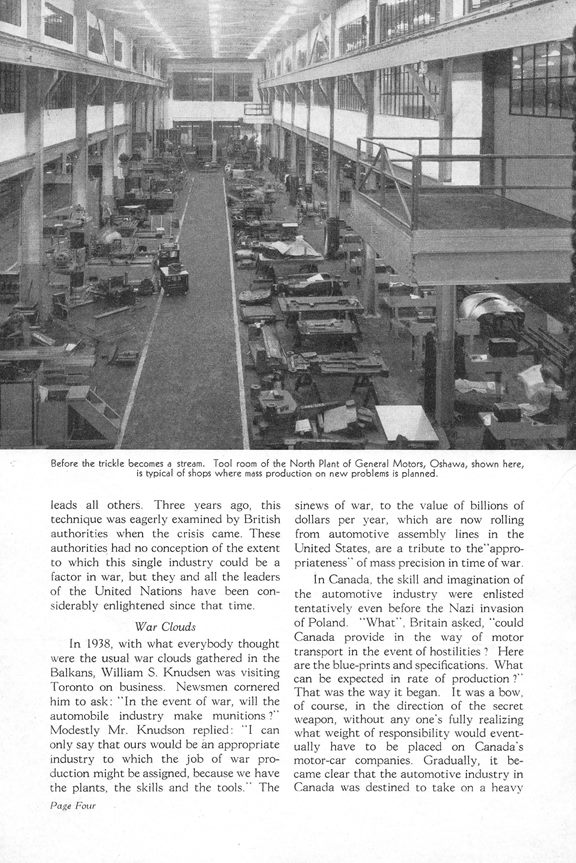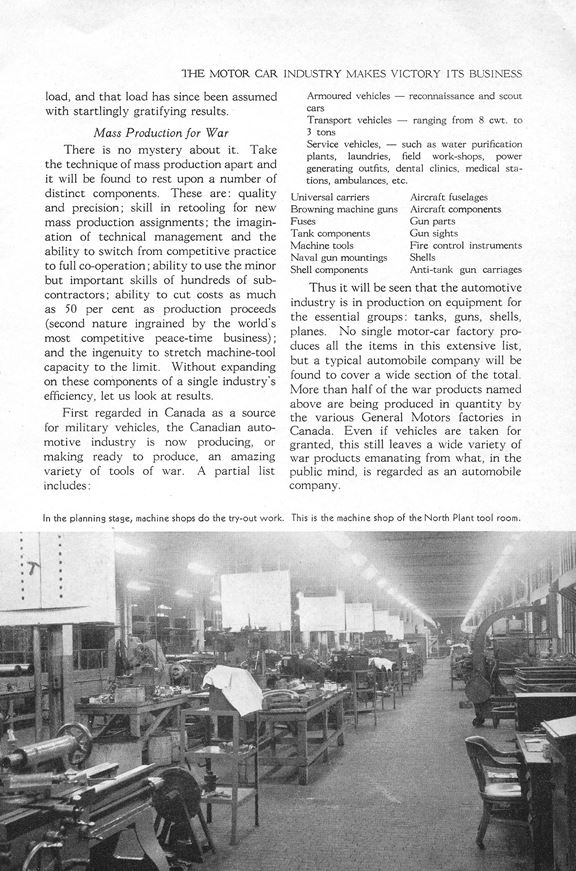 Half of the items listed on this page were built by GM of Canada. Those known to have been built by this Division include armored vehicles, transport vehicles, Browning machine guns, fuses, aircraft fuselages and gun carriages.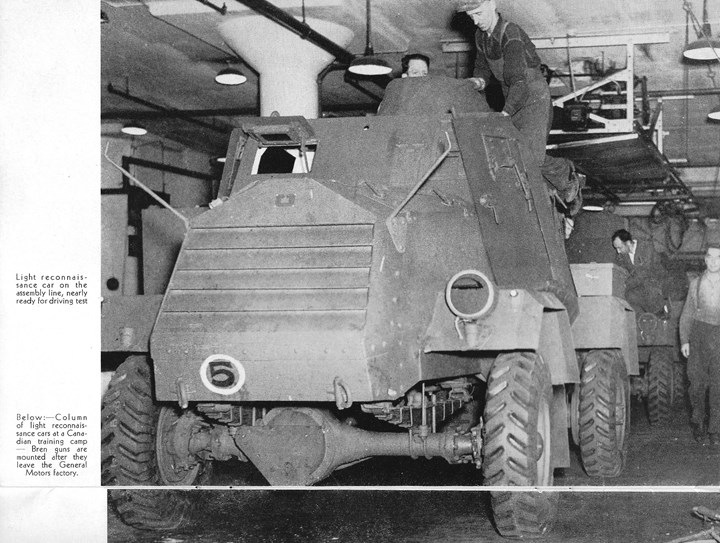 Coming down the assembly line are two of the 1,781 Otter light reconnaissance vehicles that were produced by GM of Canada at its Oshawa plant.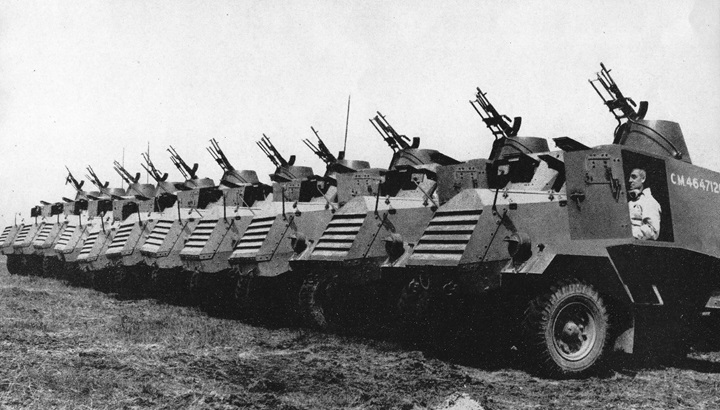 Eleven of the Otters have been equipped with their standard armament of a Bren gun. Others were also armed with a Boys 20mm anti-tank guns.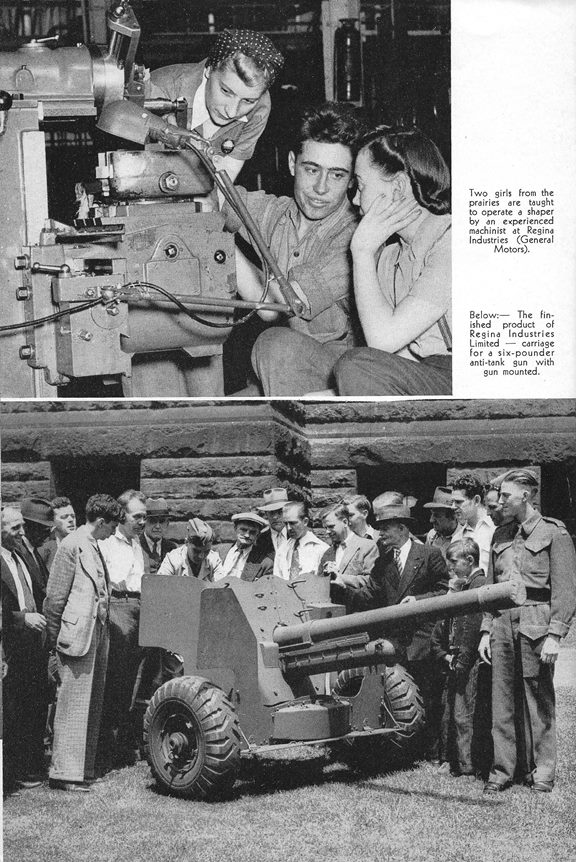 The Regina plant of GM of Canada during 1942 produced the carriages for the six pounder anti-tank gun. The photo below implies that the plant also built carriages for types of anti-tank gun, which could have been for the 17 pounder among others.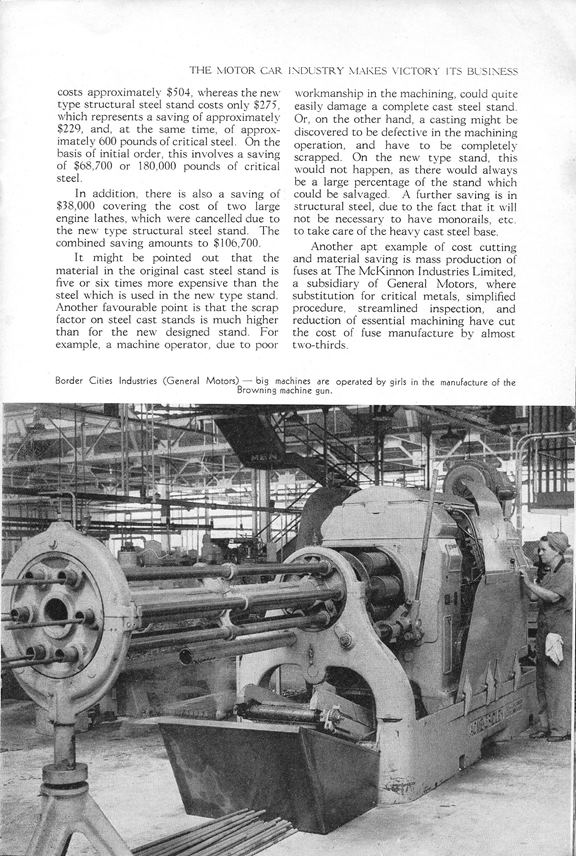 The machine is either boring out the barrel or rifling the bore itself. Using multi-spindle machines such as this one sped up production. The last paragraph of the text introduces McKinnon Industries, which was separate from GM of Canada as a subsidiary of GM as themanufacturer of fuses for the military.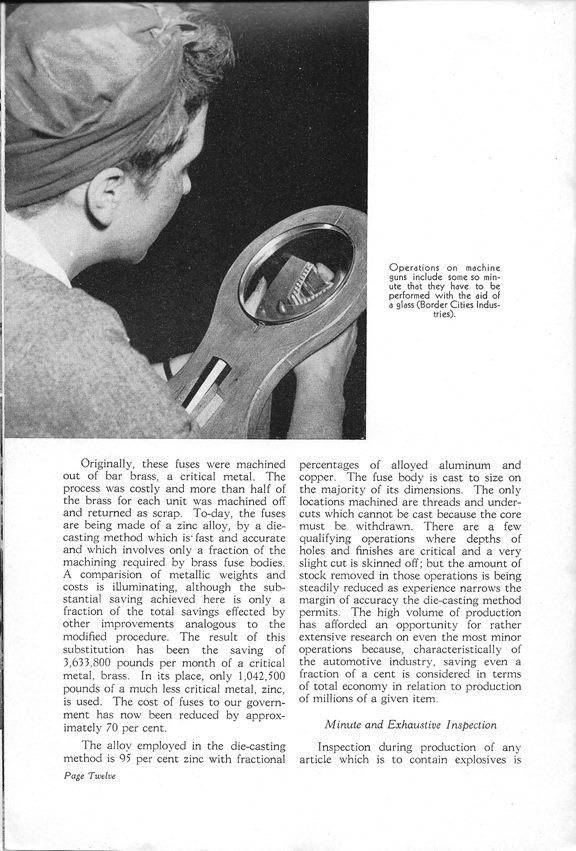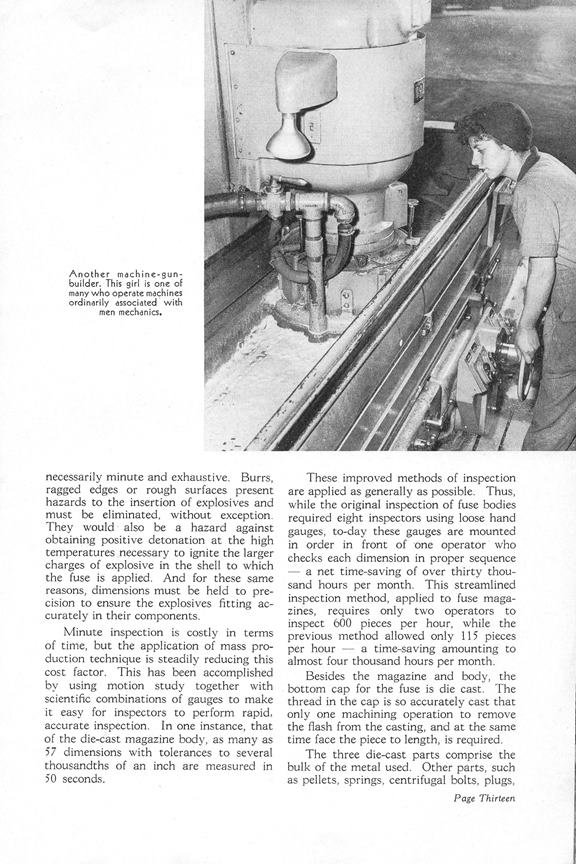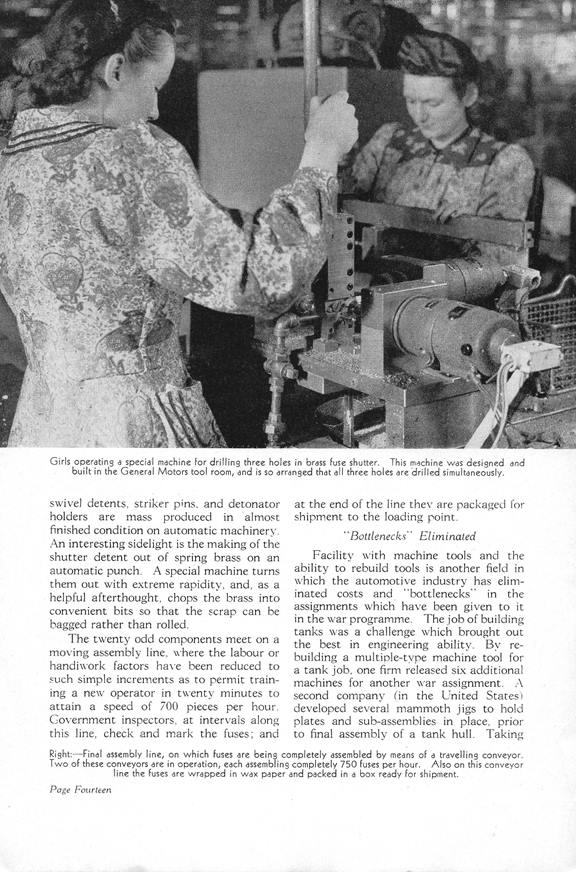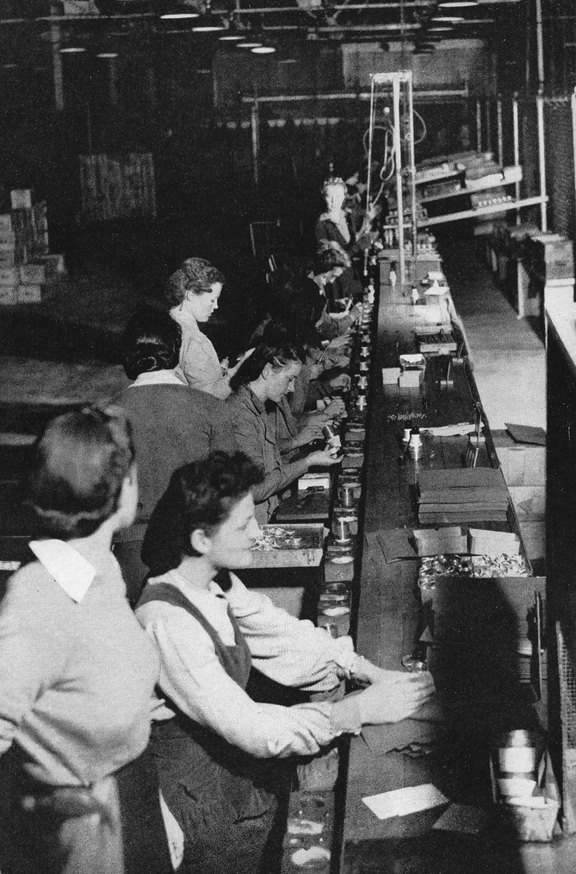 This 1942 photo of the final assembly line for fuses at McKinnon Industries. It had a run rate is 375 units per hour. This is one of two conveyors producing fuses for the military at a combined output of 750 per hour.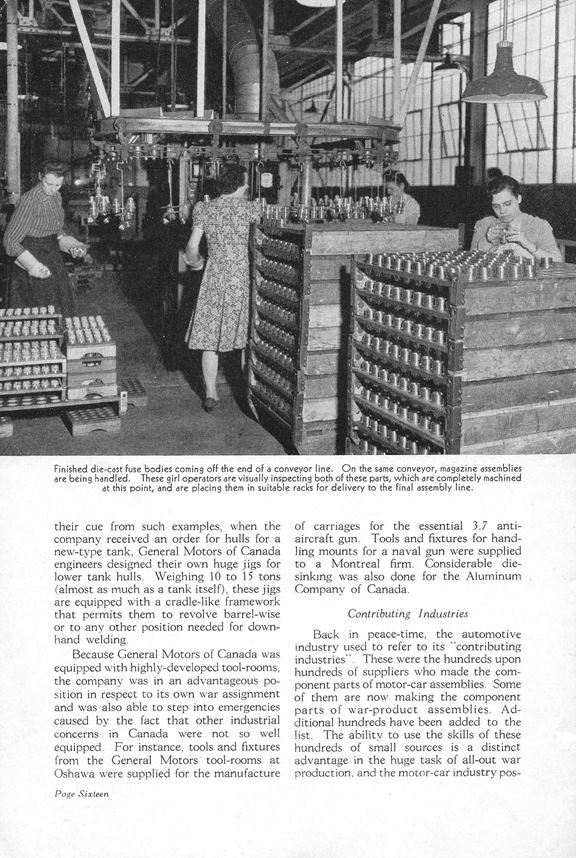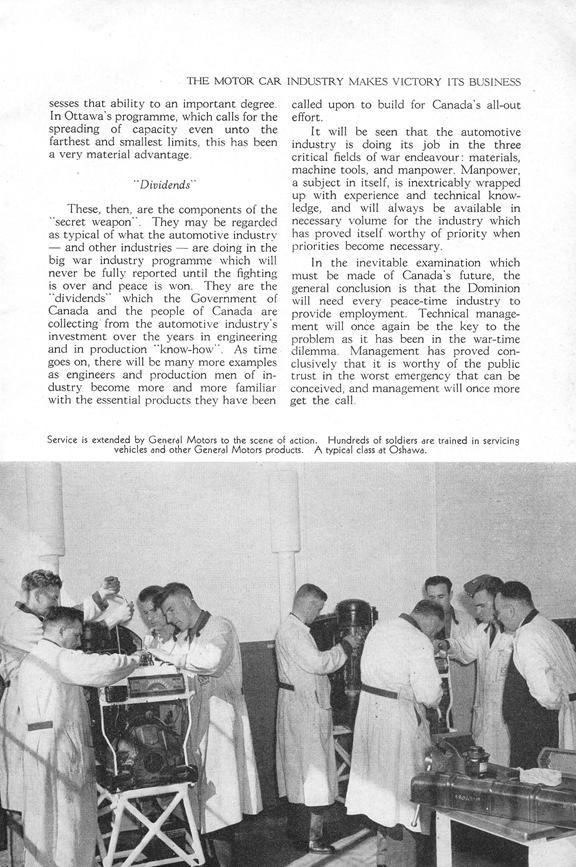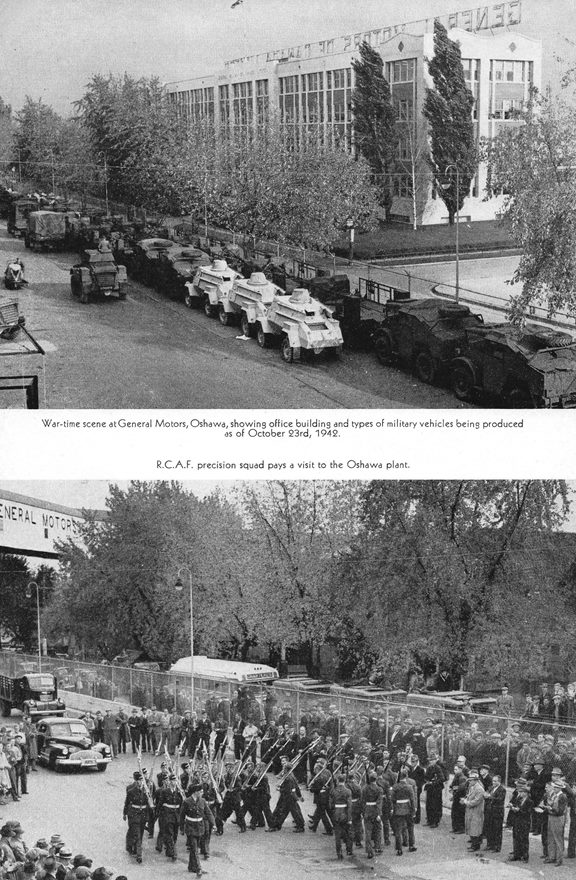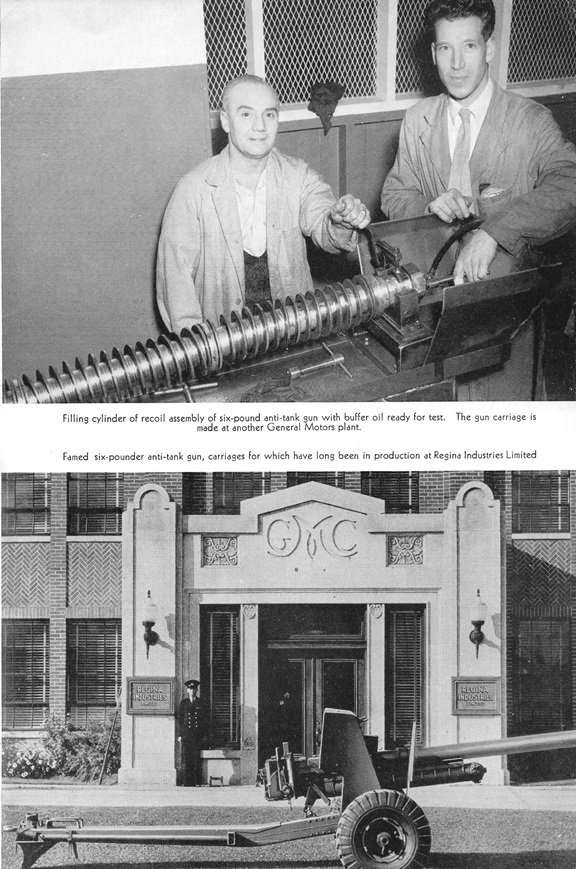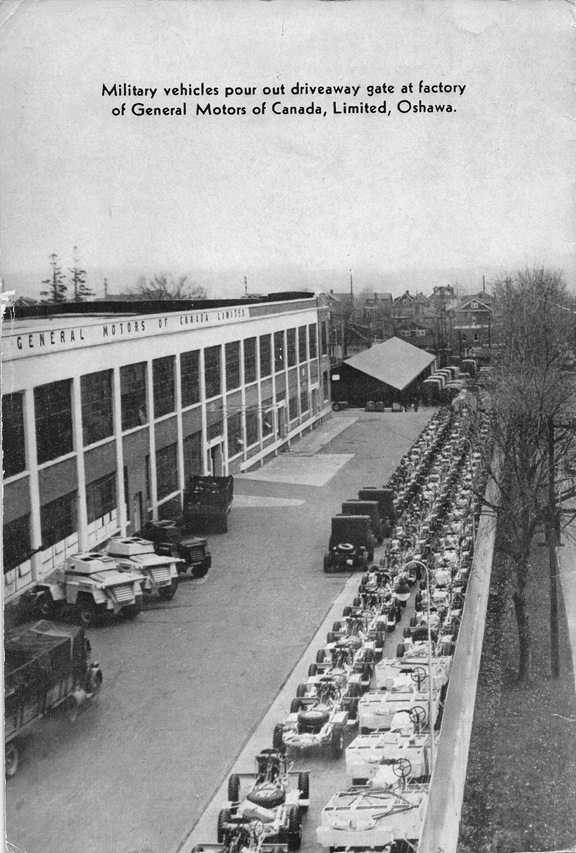 Truck chassis and Otters are seen here after coming off the assembly line at Oshawa.