Electro-Motive Division of General Motors Corporation in World War Two / WWII
LaGrange, IL
1930-2005
This page updated 8-17-2016.
Electro-Motive (EMD) originally started in 1922 in Cleveland, OH as Electro-Motive Engineering Company which designed and built gasoline powered rail cars. In 1930 Electro-Motive Company, as it was renamed in 1925, and Winton Engine in Cleveland were purchased by GM as it decided to get into the gasoline railcar market. Winton was making a gasoline engine for locomotives, and EMD was its prime customer its locomotive engines.

Right after that development of diesel engines by GM Research in 1934 lead to Winton in Cleveland beginning production of this type engine for the US Navy and then later for locomotives. In 1941 the locomotive diesel portion of Cleveland was folded into EMD and the equipment moved to LaGrange, IL. Cleveland Diesel Division continued to make maritime engines at Cleveland until the early 1960s.
In 2005 Electro-Motive was sold by GM and is now known as Electro-Motive Diesel, is a wholly owned subsidiary of Progress Rail Services Corporation with its locomotive manufacturing facilities in Muncie, IN. Progress Rail Services, itself owned by Caterpillar started production of locomotives in 2011 in that location. It turns out the Muncie plant is only 13 miles from my residence.
According to the 1945 GM Annual Report, all three of its Diesel Divisions, Cleveland Diesel, Detroit Diesel and EMD produced a total of 198,000 engines for the US Army and Navy. It would appear that EMD produced about 1,800-2,000 of those engines from the data below.
Starting in November of 1939 and ending in November of 1945 EMD produced 1,350 hp V16-567 FT diesel locomotives. EMD was the only company allowed to manufacture freight locomotives during the war and they were built to assist the transportation of military material. There were 555 cab equipped "A" units made and 541 cabless "B" units for a total of 1,096 units and V16-567 engines produced. This brings the total number of EMD diesel engines not including spares manufactured to around 3,000 for World War Two.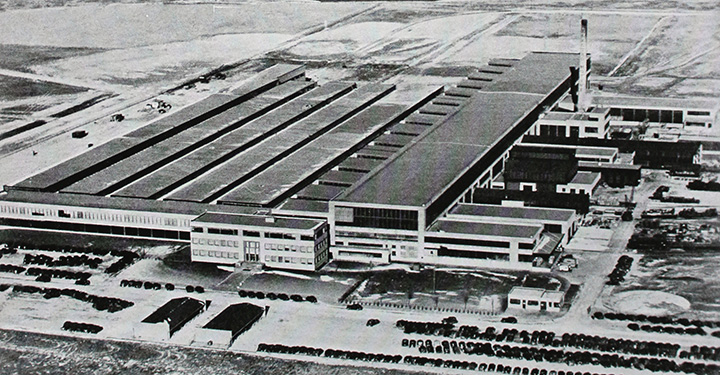 The EMD plant in LaGrange, IL just before WWII in 1938.
Electro-Motive Division of General Motors World War Two / WWII Production Numbers / Statistics:
110 Foot Subchasers: (544) Pancake Diesel 16 cylinder 16-184A Electro-Motive 1,200 hp for (243) 110 Foot Subchasers. The Pancake engine replaced the heavier GM Cleveland Diesel 700 hp 8-268 engines and increased top speed from 17 to 22 knots. This does not include any spare engines. This was the only application of the pancake engine, due to apparently frequent engine rebuilds and maintenance.

LSTs (Landing Ship, Tanks): Electro-Motive provided two 12-567 900 hp diesel engines for 525 LSTs. EMD was one of the two manufacturers supplying engines for this ship. Fairbanks-Morse supplied the other engines for the remaining 525 LSTs.
180 Foot PCE (Patrol Craft Escort): (136) 12-567 900hp for engines 68 ships built with two engines each. Research indicates all 68 ships had the EMD engines.
Army DPC 86 foot Tugboats: (100) 8-567 Diesel Engines. Each tugboat had one engine and the DPC stood for Defense Plant Corporation that ordered not only the tugboats but barges and towboats for its use. Once the tugboats were finished DPC found it did not need them as planned and many were turned over to other organizations. Five went to the US Navy as YTs, (27) went to the War Shipping Administration as WSAs and (21) went to the US Army as STs.
LCI(L) (Landing Ship, Infantry (Large)): (1,098) sets of reduction gears, propellers, drive shafts and control units. Detroit Diesel built the Quad Four engine which consisted of four twin 6-71 tank engines assembled into a single unit. Two Quad Fours were supplied for each LCI(L).
Generators: (967) Delco Products Division of GM 100KW generators for for uses on US Navy Landing Craft. This work was taken over from Delco Products and the contract was completed by mid 1943.
Locomotives: Information available is inconsistent. EMD did build locomotives during the Second World War to assist in the transportation of war production. At the end of 1940 there were 617 EMD locomotive units in service. At the end of 1942 there were 1,115 units in service giving a production of 498 for 1941 and 1942. No information has been found on 1943 but in 1944 EMD produced 500 locomotives and had a production goal of 72 units per month or 864 per year. This would take total units produced through 1943 to 1,615. The final data point is that as of 7-31-1947 there were 3,238 locomotives in service or 2,621 units produced from 1941 through the middle of 1947.


Electro-Motive won the Army-Navy "E" Award five times.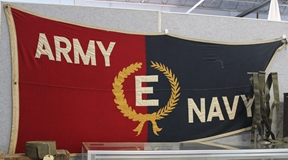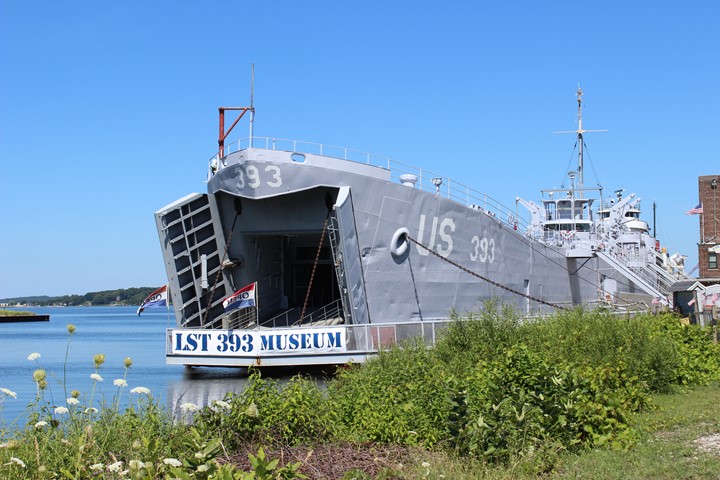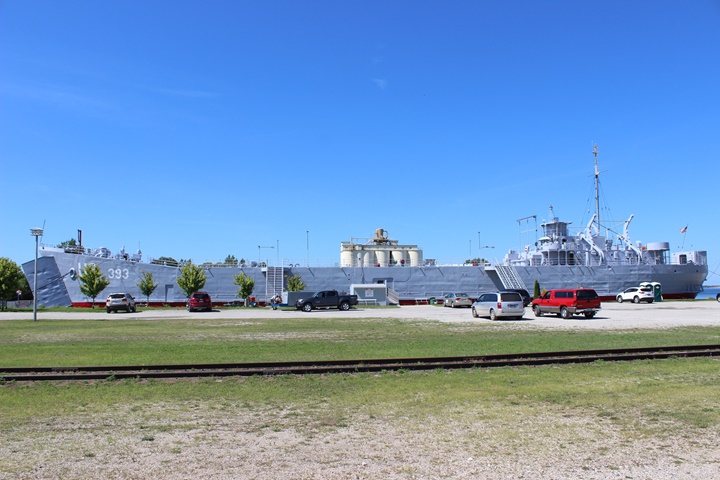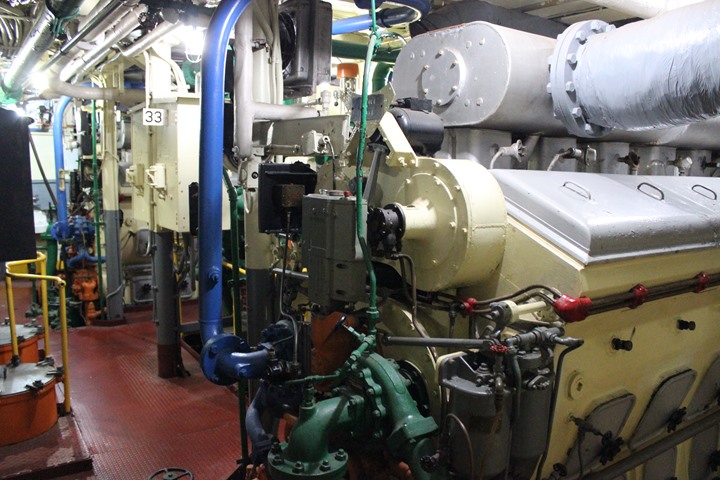 Inside the engine room of LST-393 are two Electro-Motive 12-567ATLP/S (P=Port Engine and S=Starboard Engine) 900 BHP diesel engines. Both were built in 1942 when LST-393 was constructed. This photo as the port engine nearest to the camera. The starboard engine can be seen in the background.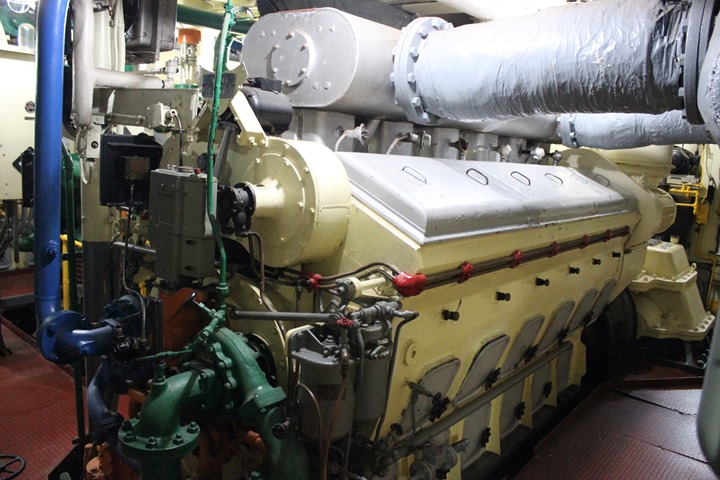 The port engine.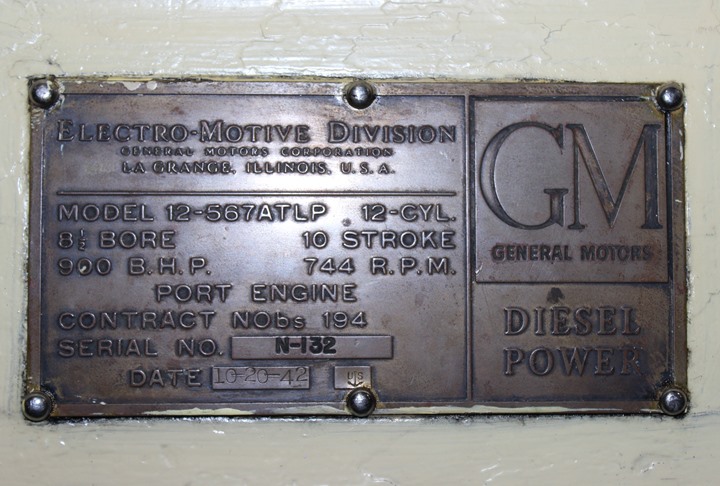 The original data tag on the Electro-Motive port engine on LST-393. The model number 12-567 indicates that the engine has twelve cylinders, each on displacing 567 cu. in. or 6,804 cu. in. of total engine displacement. Serial number N-132 was built on October 20, 1942.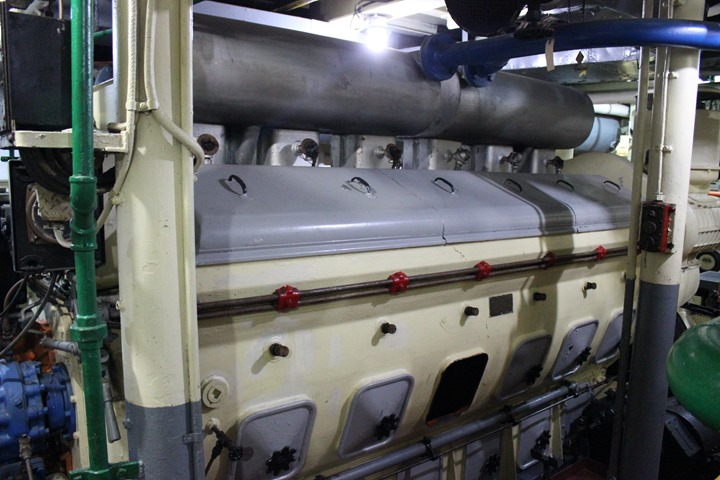 The starboard Electro-Motive engine on LST-393. The engine was designed to be accessible to work on while on the ship. The gray painted panels all give access to internal engine components.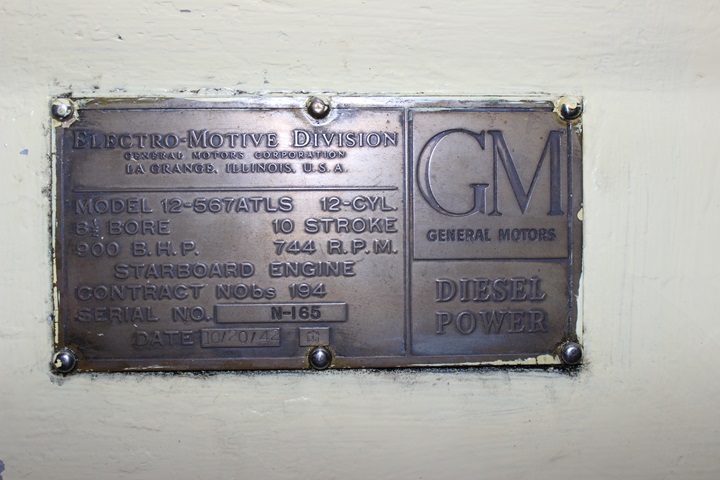 The starboard engine on LST-393 was also built on October 20, 1942 and is serial number N-165. The model number for this engine is 12-567ATLS. If one figures on the volume of one cylinder, which is (3.14)(4.25**2)(10), one arrives at 567 cubic inches.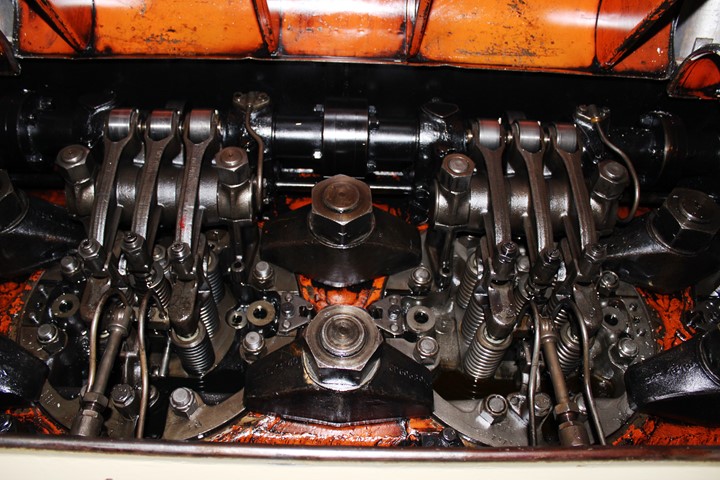 The valve covers can be lifted up and the valve train examined and worked on.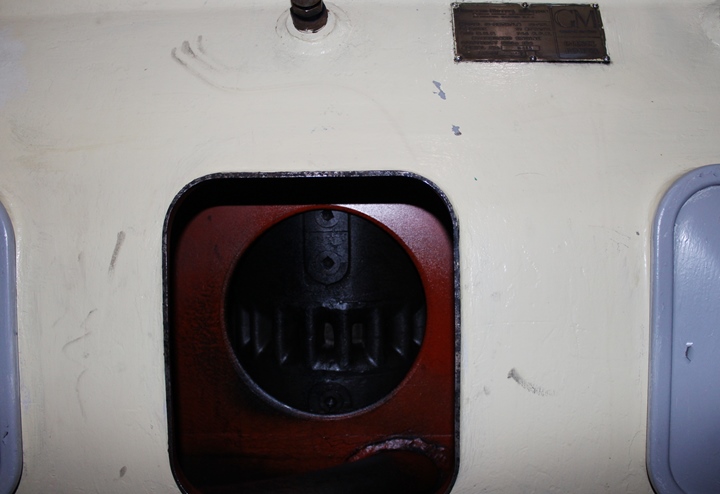 The open shows access to the piston inside the engine.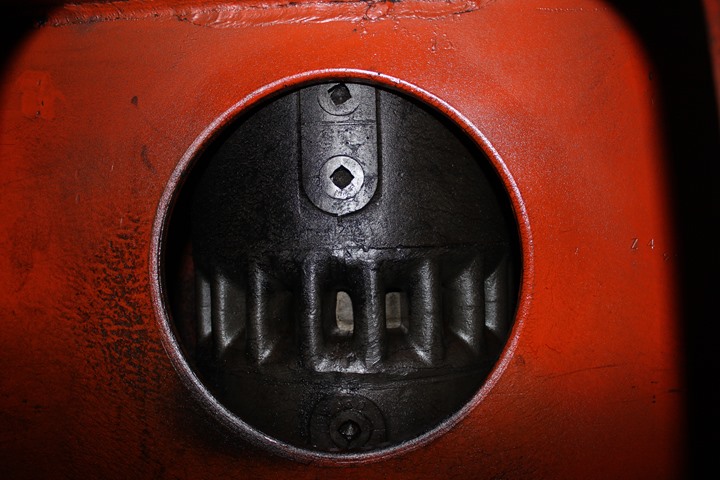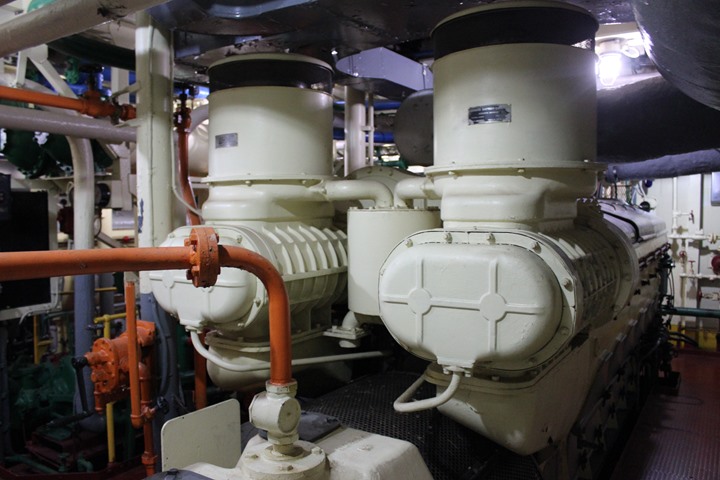 This photo looks at the starboard engine from the output end. Each side of the engine has an air intake, filter and supercharger.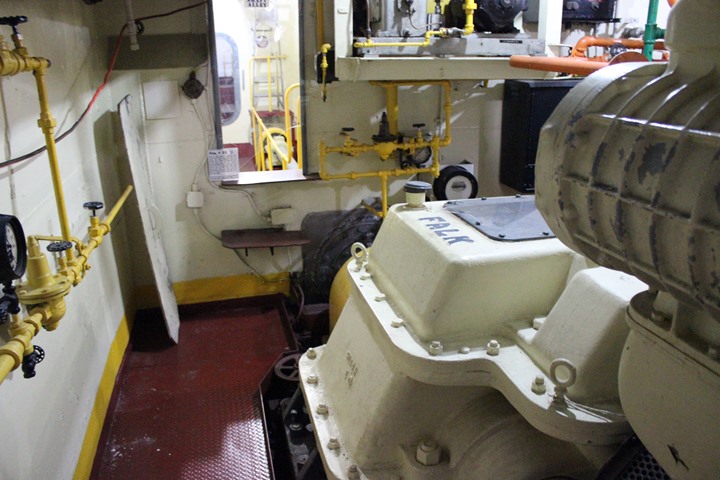 This photo was taken standing next to the supercharger and looking back at the gear Falk gear reduction unit and the propeller shaft in the background.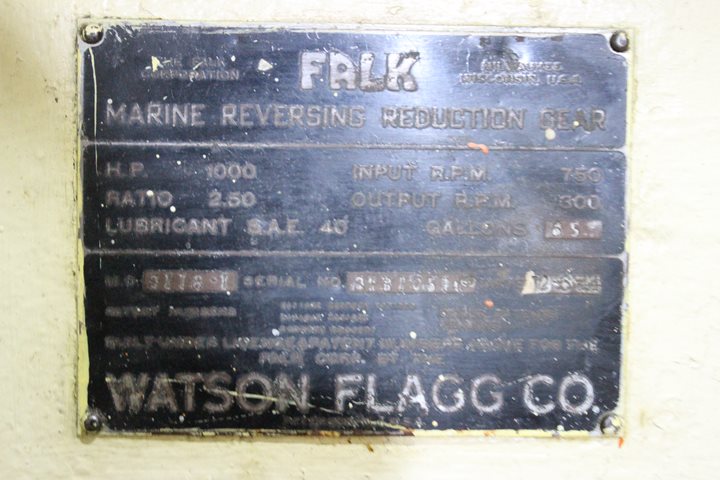 In the LST the EMD 12-567 was connected to the propeller with a Falk Marine Reversing Reduction Gear. This reduced the higher output speed of the engine to one more suitable for the propeller speed. It also allowed the propeller to run in reverse. This was especially important when the LST needed to back off the beach.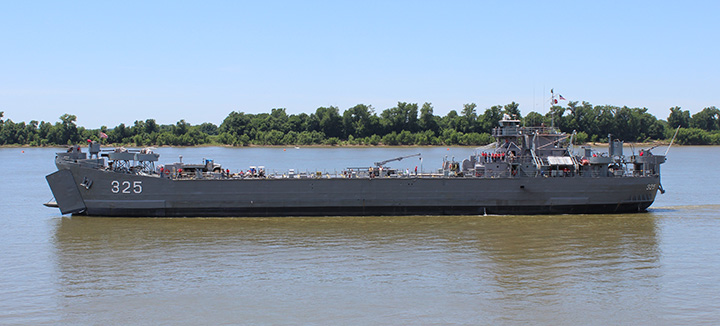 LST-325 is another one of the approximately 525 Landing Ship Tanks built during WWII that came equipped with two 12-567 900 hp Electro-Motive diesel engines. LST-325 is the last LST still operating and she is seen here on the Ohio River in 2014. Author's photograph added 10-12-2015.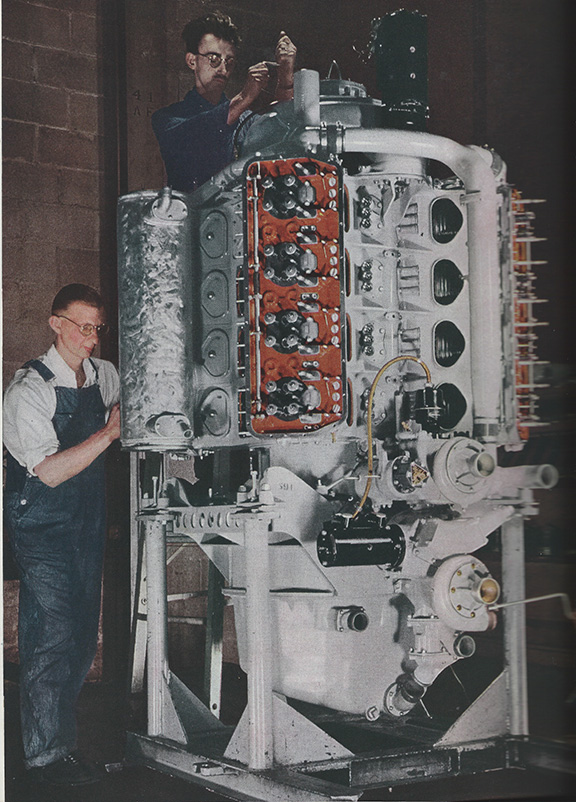 The Pancake engine under construction at EMD during WWII. Output came out at a right angle to the engine at the bottom.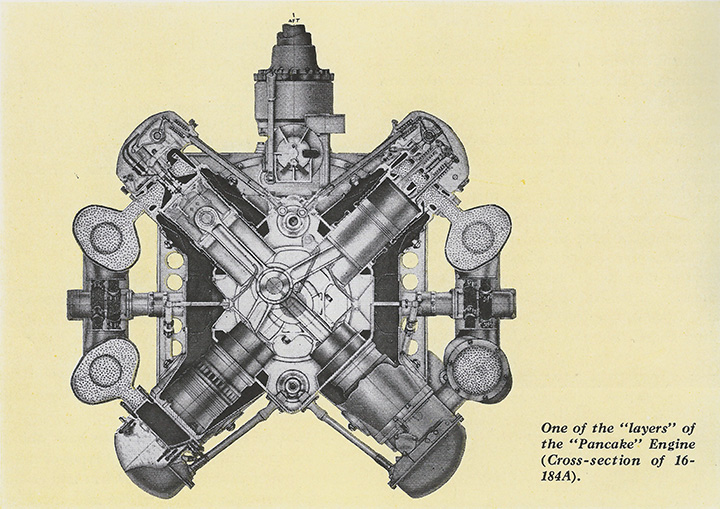 A 110 foot Subchaser during WWII which was powered by two EMD Pancake engines.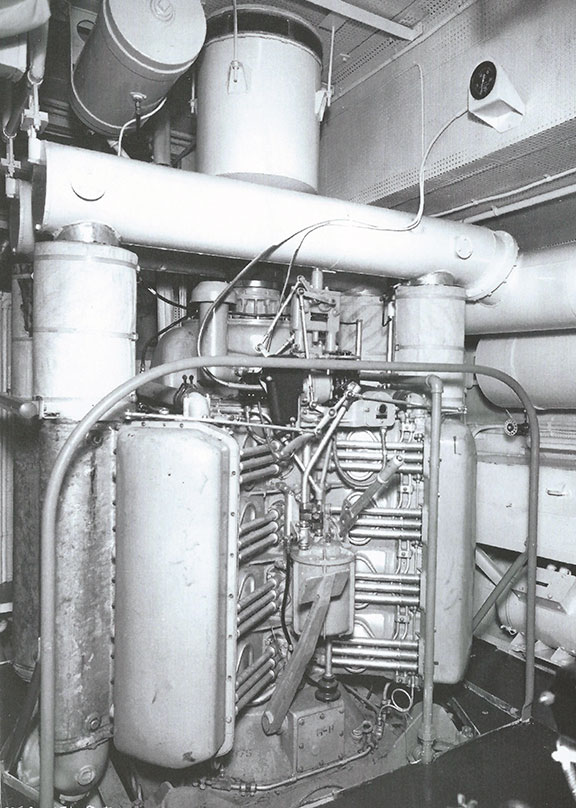 The EMD 16 cylinder 184A Pancake Engine in a 110 foot Subchaser's engine room.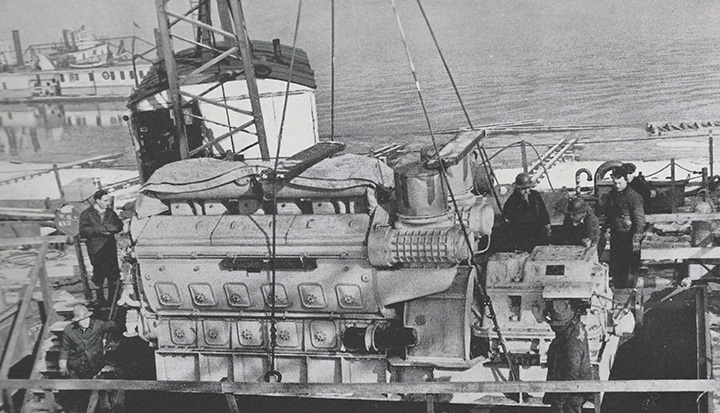 Here an EMD 12-567 900 hp diesel engine is being installed in an LST during WWII.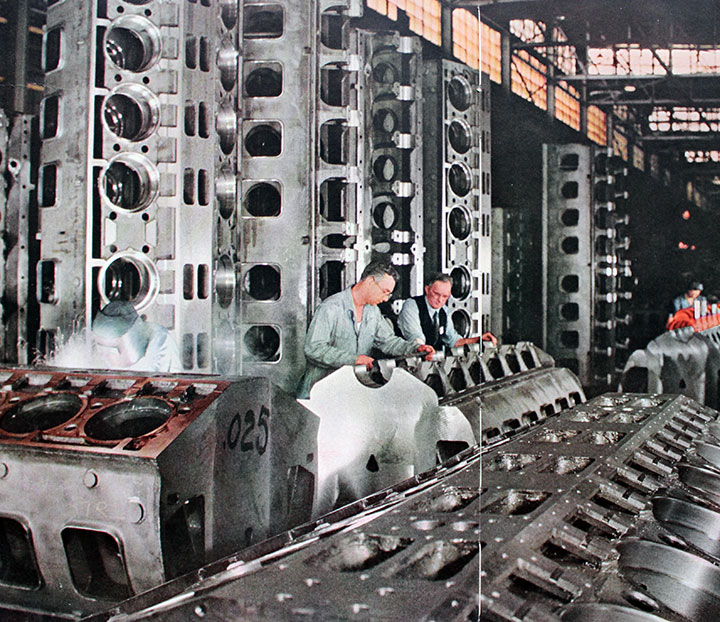 EMD 12-567 900 hp diesel engine blocks being worked on during WWII.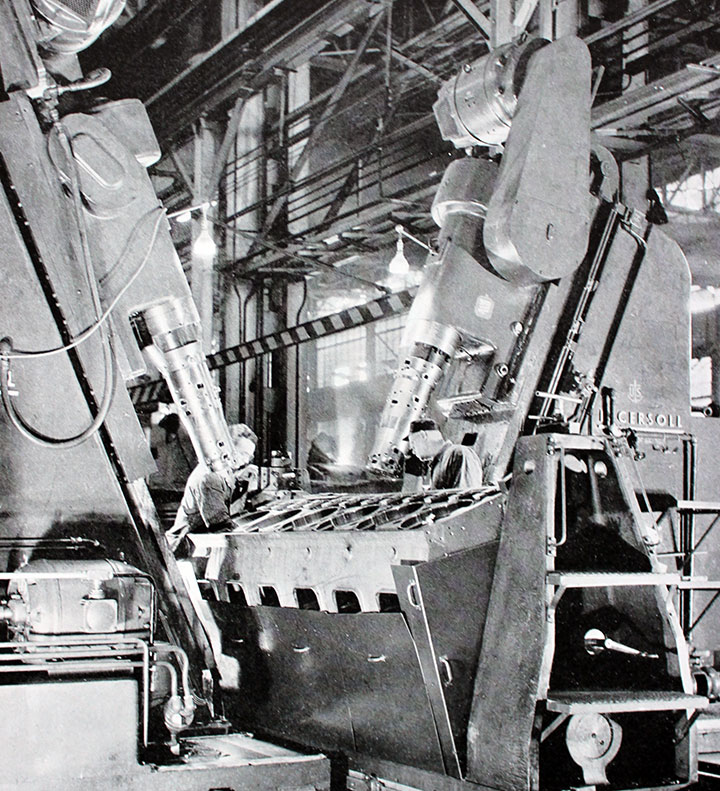 Here an EMD 12-567 engine block is being machined.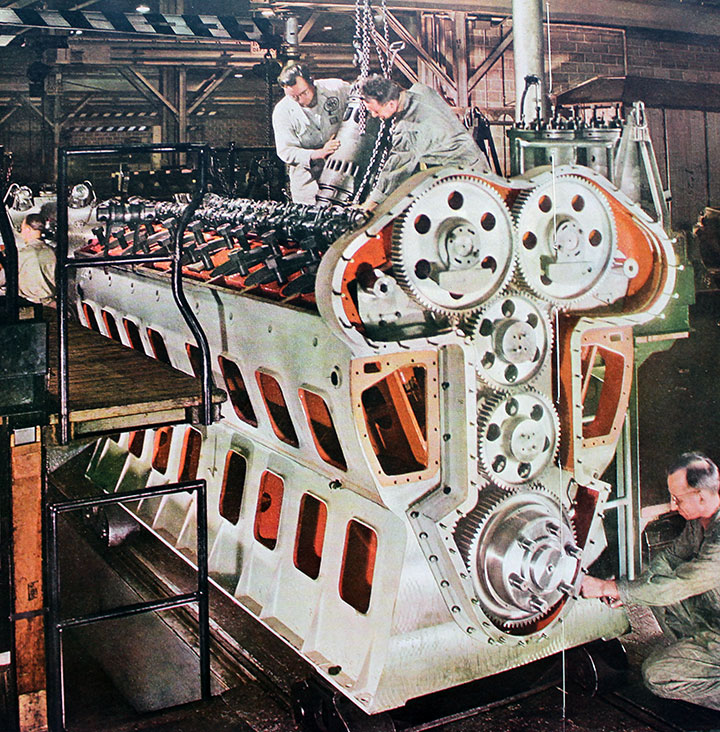 Final assembly of a EMD 12-567 in LaGrange, IL during WWII.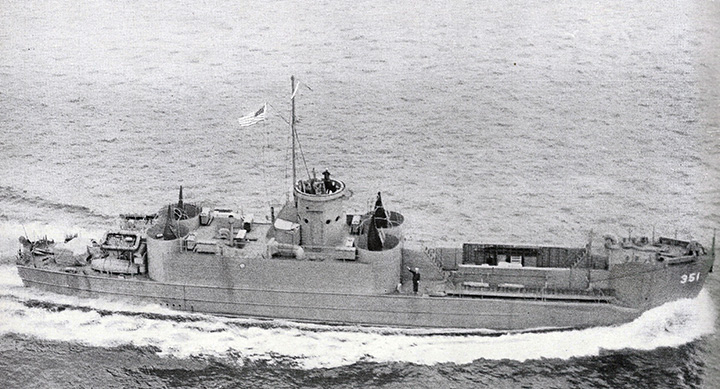 A US Navy LCI(L) (Landing Ship, Infantry (Large)) underway during WWII with EMD supplied reduction gears, propellers, drive shafts and control units.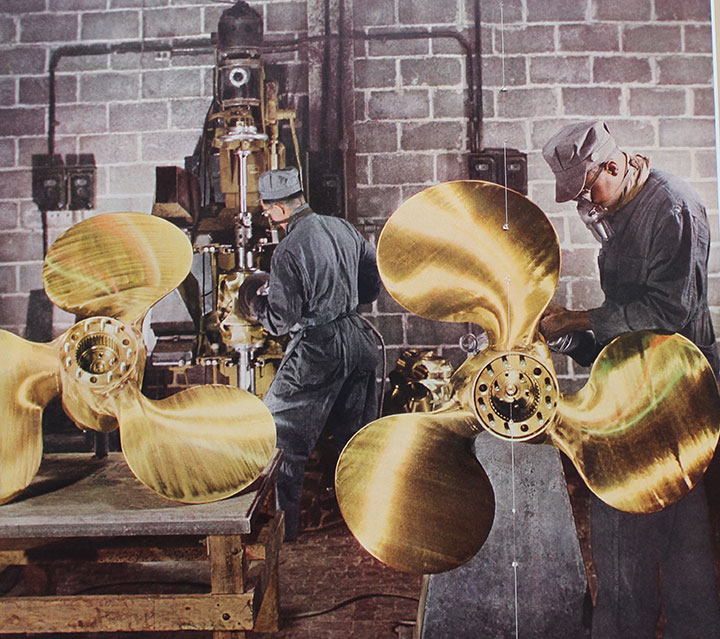 Final balancing and polishing of the LCI(L) propellers by EMD workers during WWII. EMD supplied 2,190 brass propellers like this for the landing craft.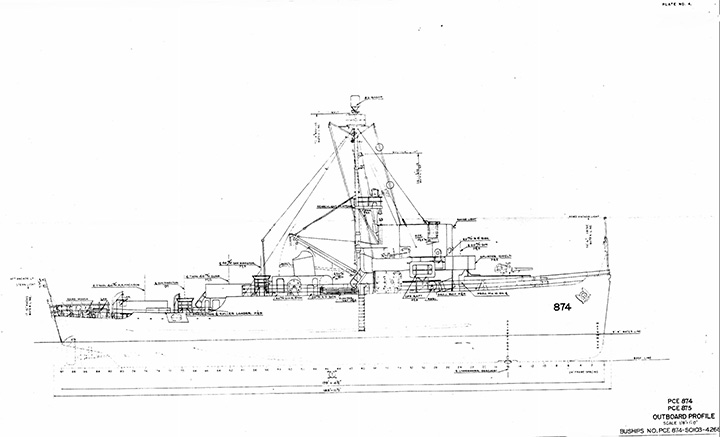 An outline drawing of a 180 foot Patrol Craft Escort.


This drawing the 180 foot PCE shows the location of the two EMD 12-567 900hp diesel engines.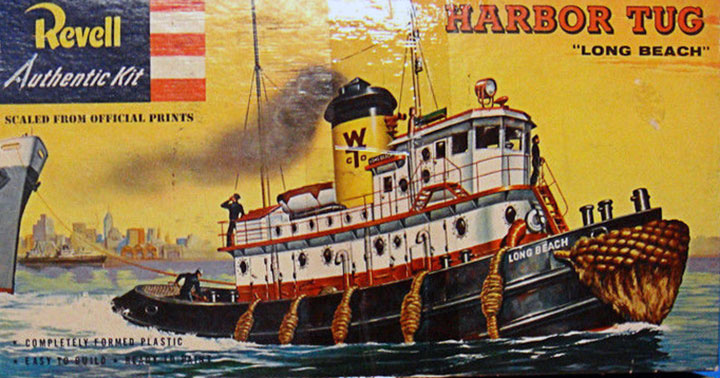 It turns out as a boy growing up in the late fifties, I built the Harbor Tug "Long Beach" after receiving it as either a birthday or Christmas present. It turns out the "Long Beach" was built in Decatur, AL in 1944 as DPC 68 with an EMD 8-567 Diesel Engine. It was then turned over to the War Shipping Administration as WSA 26 and then sold as surplus in 1946.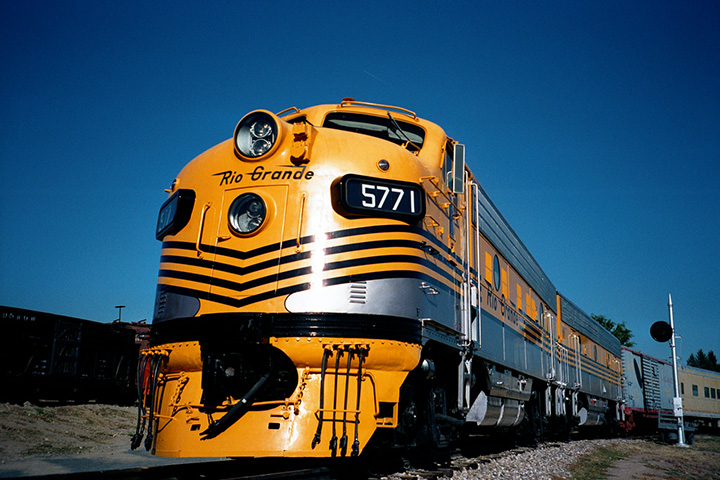 This a 1955 EMD F unit which is very similar to the World War Two era FT units it produced. Author's photo at the Colorado Railroad Museum.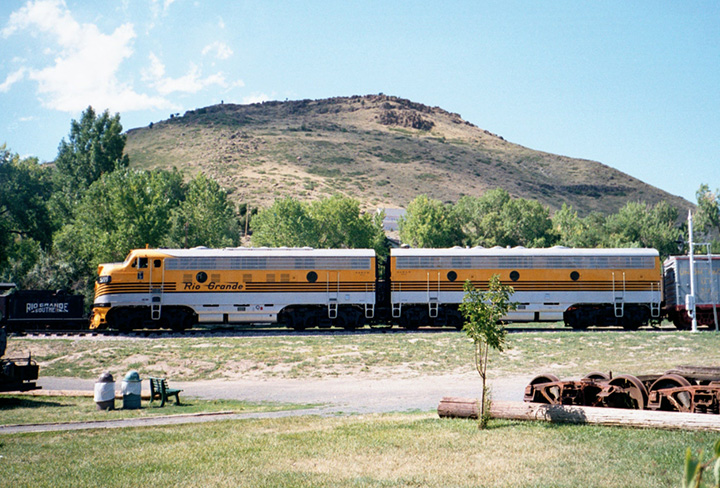 This photo shows better both the cab and cabless booster units. Author's photo at the Colorado Railroad Museum.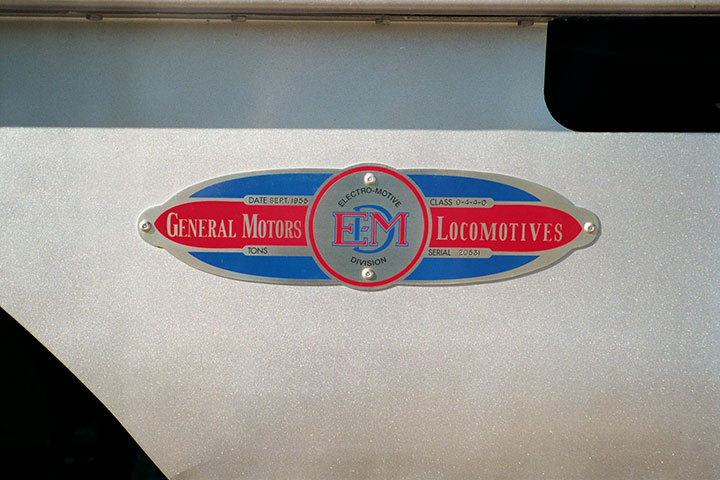 This not only shows it is a 1955 model but more important the EMD name tag. Author's photo at the Colorado Railroad Museum.