Studebaker Proving Ground Studebaker South Bend Plant Photos Studebaker in World War One Studebaker World War Two Vehicle Photos
Studebaker in World War Two / WWII
South Bend, IN
1852-1963
Rest in Peace
Studebaker Proving Ground and Studebaker South Bend Plant Photo pages added 1-25-2015.
Studebaker in World War One and Studebaker World War Two Vehicle Photos added 2-12-2015.
This page last updated 2-12-2015.
Studebaker had 17,000 employees during WWII and had all of its production facilities in South Bend at this time, having moved out of a second plant in Detroit during the Great Depression. The company's total contract value for the war was $1.2 billion.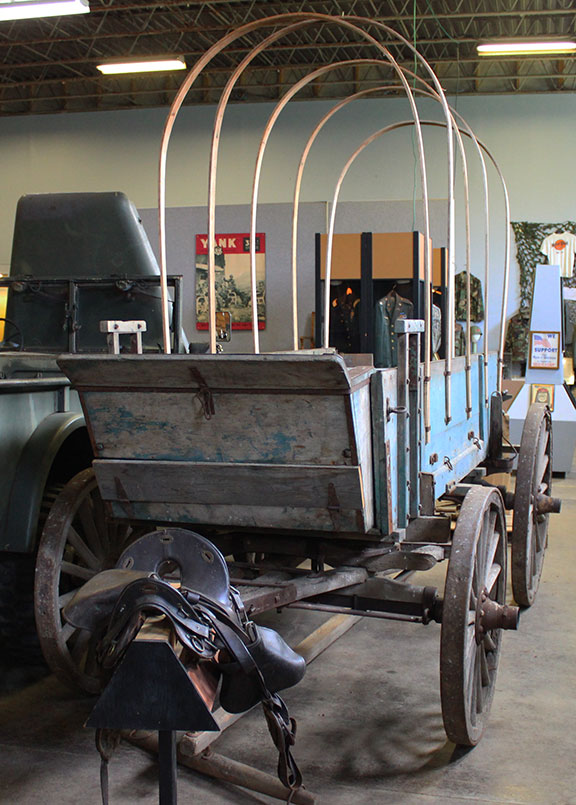 Studebaker started as a wagon manufacturer in South Bend, IN in 1852 before making the conversion to trucks and automobiles in the early 20th century. Seen here at the Museum of the Soldier in Portland, IN is a Studebaker Wagon Company built Army Escort Wagon 1899-1917. Author's photo added 9-30-2014.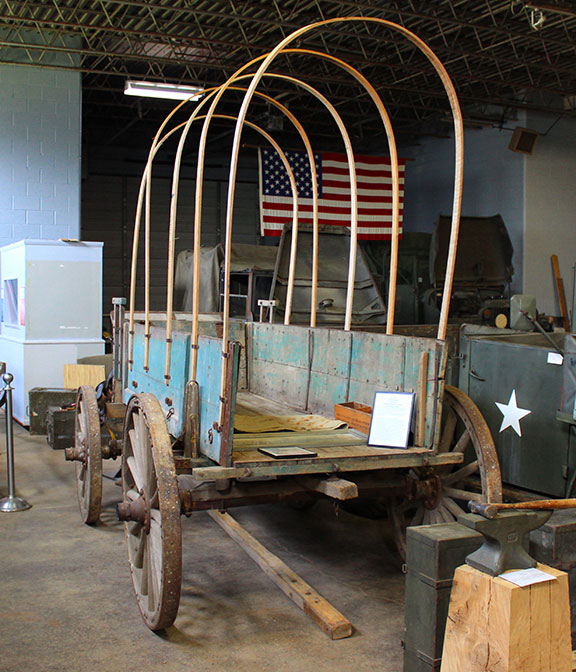 This type of Escort Wagon was pulled by four mules and accompanied soldiers in the field by carrying their personal belongings, food and other essentials and suppliers. Author's photo added 9-30-2014.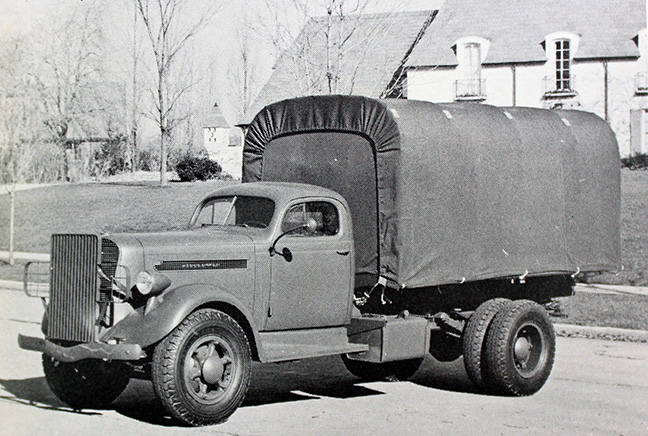 Long before the US became involved in WWII Studebaker was supplying 4x2 1-1/2 ton K-Series trucks to the Netherlands, France and Belgium. Most were captured by the Germans and used by them during the conflict. Photo added 2-12-2015.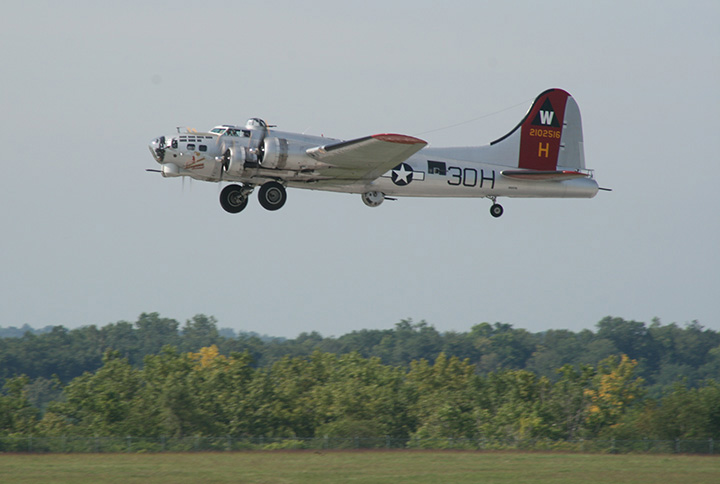 All of the Studebaker production of radial aircraft engines went into this type aircraft, the Boeing B-17 Flying Fortress. All B-17s manufactured after January of 1944 came equipped with Studebaker built R-1830 engines with the last engines coming off the South Bend, IN assembly line in June of 1945.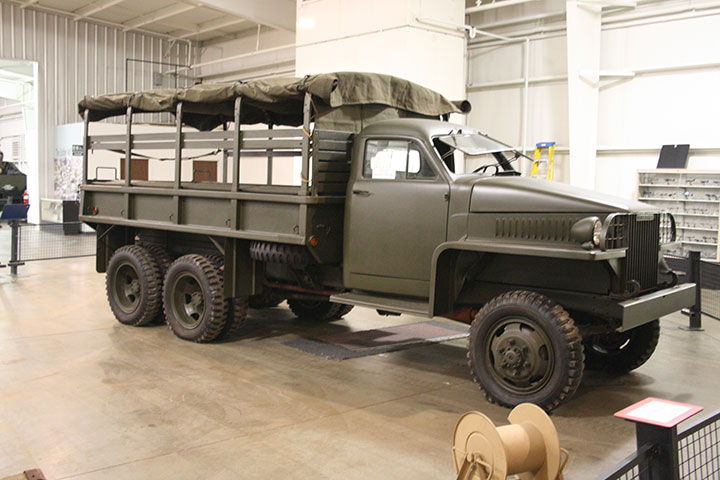 Another big WWII product line that Studebaker is remembered for is the 2 1/2 ton truck. This Studebaker US6 2-1/2 ton truck is located at the National Military Historical Center, Auburn, IN, and is on loan from the National Studebaker Museum in South Bend. It was built in 1942 and is one of 197,678 that were built by the company. It was never used so is in near brand new condition.
Studebaker World War Two / WWII Production Numbers / Statistics:
(63,789) of the Wright R-1820 Cyclone aircraft engines used exclusively in the Boeing B-17 Flying Fortress Bomber. Starting in January of 1944 and continuing to the end of B-17 production in the summer of 1945, Studebaker supplied all of the engines installed the B-17s.
For production of the radial aircraft engines the Defense Plants Corporation provided a $50,000,000 for a new plant on Chippewa Avenue on the south side of South Bend, the ground breaking ceremony taking place in January of 1941. Studebaker did not need the facility after WWII as it was too large for its intended car production. However, during Korea it did again make post war M35 2-1/2 ton military trucks in the facility. After Studebaker went out of business Kaiser-Willys and then AM General used the plant for the manufacture of the M35.
(15,124) M29 Weasels: (766) T15/M28-1942-43, (1,002) T24-1943, (523) M29-1943, (2,951) M29-1944, (4,201) M29C-1944, (6,446) M29C-1945. The M29 Weasel was invaluable to the military as it had the ability to move through sand, mud and snow and negotiate up, down and sideways across hills in any of the three. It was totally designed and built by Studebaker in its main plant in South Bend.
(197,678) US6 / M16A 2-1/2 ton trucks - Most of the production went to Russia which desperately needed good reliable heavy duty trucks and in appreciation for the supply of trucks, Joseph Stalin sent Studebaker an official letter of thanks. The trucks came in either a 148 in. or 162 in. wheelbase. There was also a 6x4 version that was rated at 5 tons but this was for over the road use only. The 6x6 was rated 2 1/2 tons for off road travel and five tons for on road travel. Around 10,000 trucks were manufactured as open cab starting in December of 1942 but production reverted back to the covered cab in March of 1943 after the Russian Army expressed its dissatisfaction with the change. It gets cold in Russia in the winter! Studebaker US6 trucks were not only manufactured as cargo trucks but as 750 gallon water tankers, semi-tractors (6x4) and dump trucks.
What didn't happen: Originally the Chippewa Street Plant was to produce the Wright R-2600 engine for the North American B-25. After much of the tooling was built the Army Air Corp had a more urgent need for the R-1820 for the B-17. The original tooling was scrapped and the process started over to tool up for R-1820 production.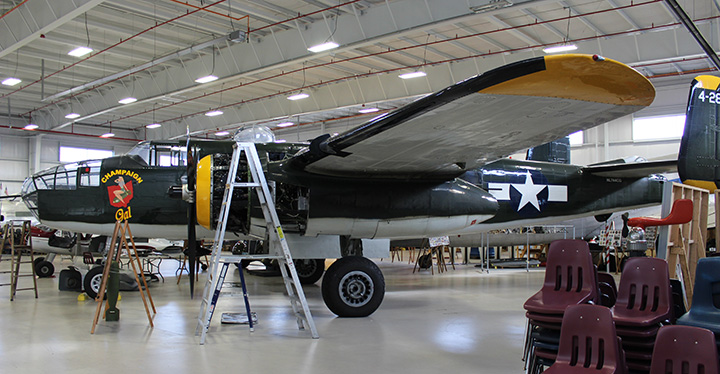 B-25 "Champaign Gal" at the Champaign Air Museum in Urbana, OH. Studebaker originally was contracted to build the engines for this type aircraft. Photo added 2-12-2015.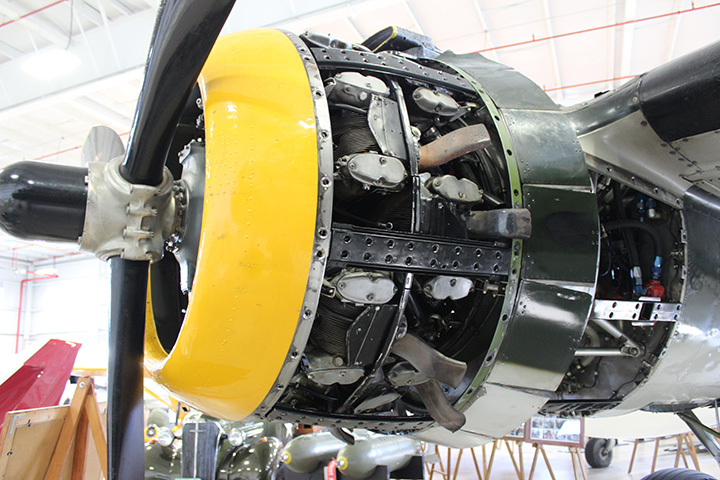 The R-2600 had two rows of cylinders vs. the one row in the R-1820. Photo added 2-12-2015.

This undated four page brochure on Studebaker's contribution to the war effort would appear to be 1943.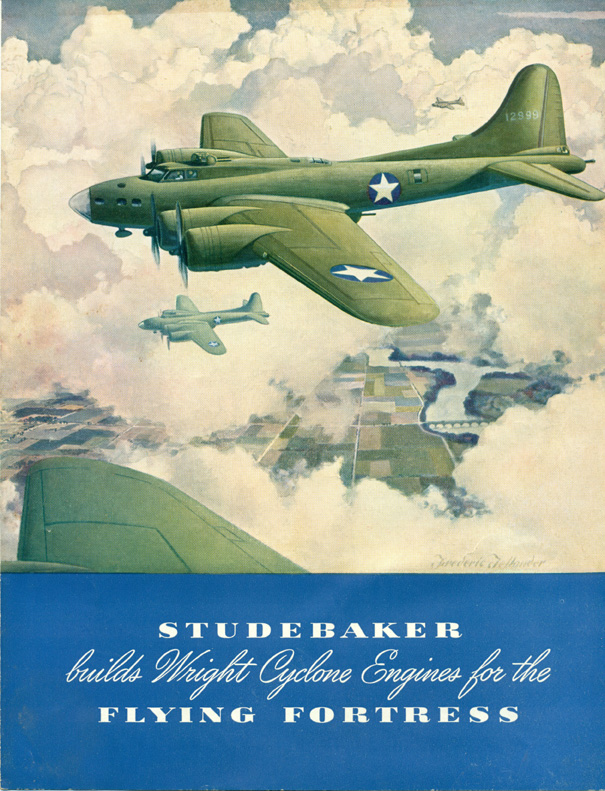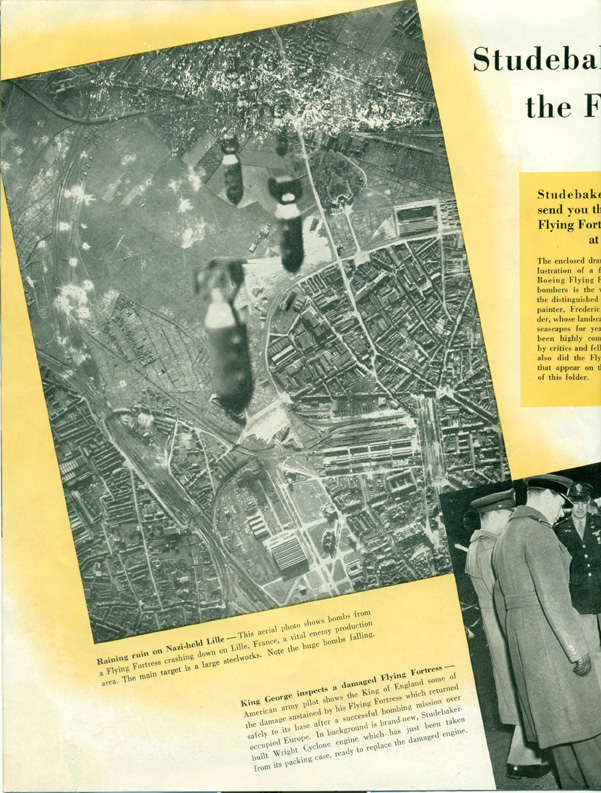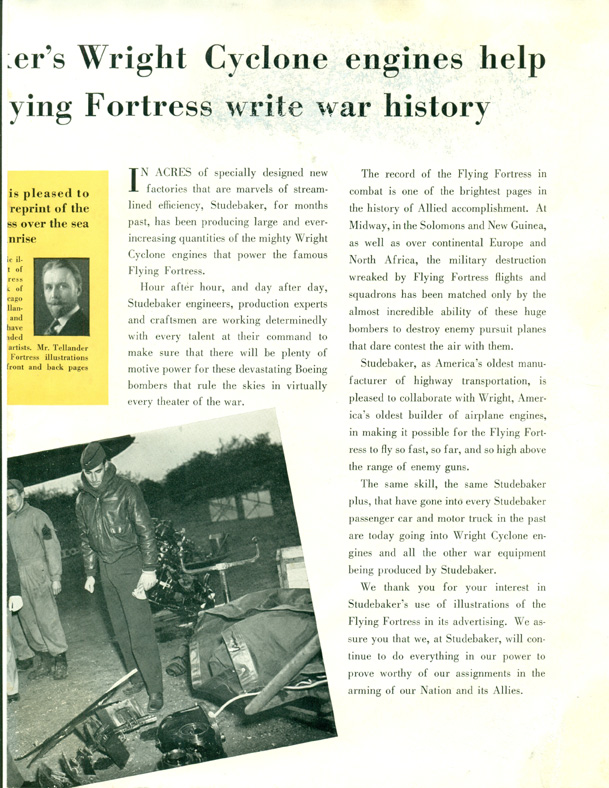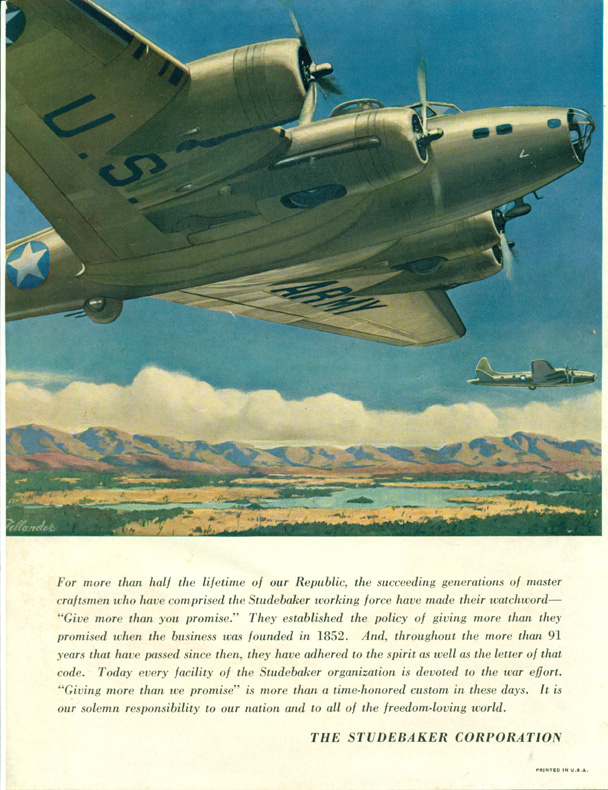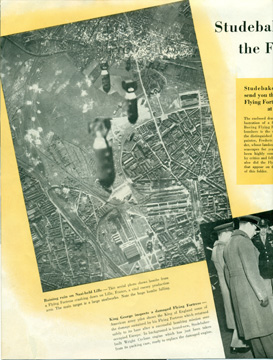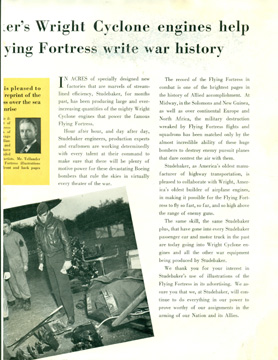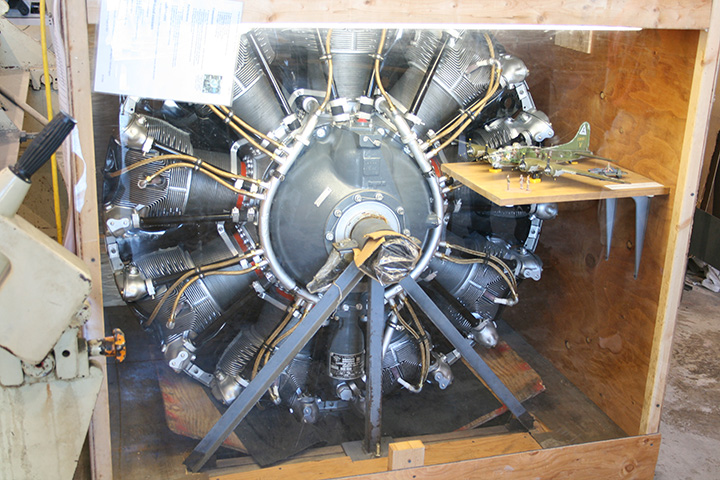 This is a Studebaker built R-1820 engine that is at the Champaign Aviation Museum in Urbana, OH that will end up as one of the four power plants that will go onto the B-17 "Champaign Lady" when she is fully restored to flying condition by the Museum.
Magazine Advertisements - Studebaker is one of the manufacturers that elected to advertise its war effort in the magazines of the period to keep its name in front of the car buying public, knowing there was going to be pent-up demand for the automobiles after hostilities ceased. Looking the ads helps give more insight into the war products produced.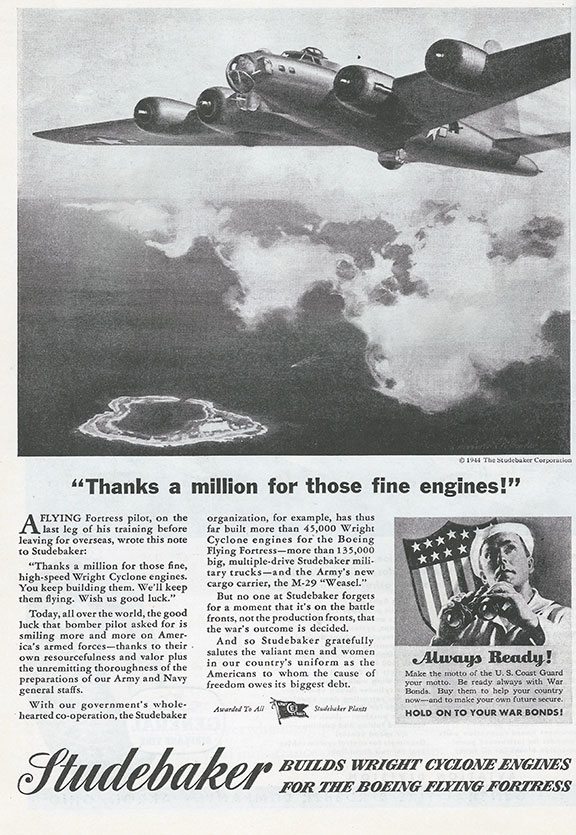 This ad from October of 1944 gives some Studebaker production numbers to that date. 45,000 R-1830 aircraft engines out of a total of 63,789 and 135,000 trucks out of 197,678 had been produced by that date.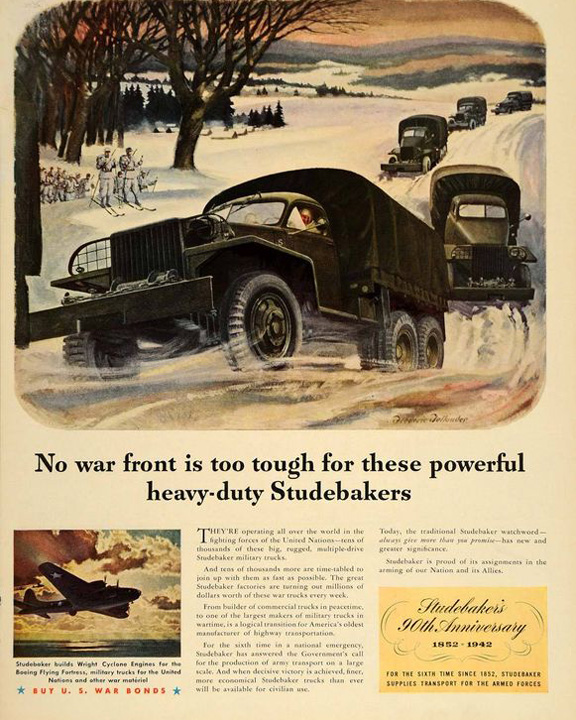 Studebaker built 197,678 trucks during WWII, most of them going to the Soviet Union as part of the Lend-Lease program.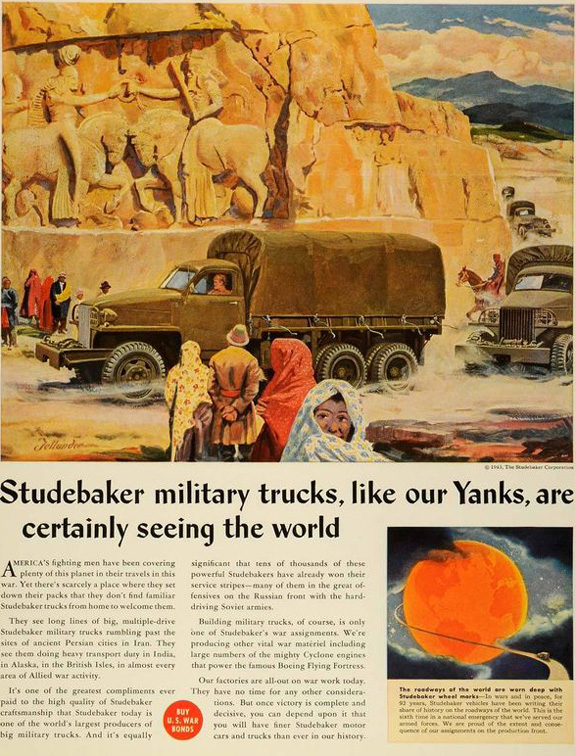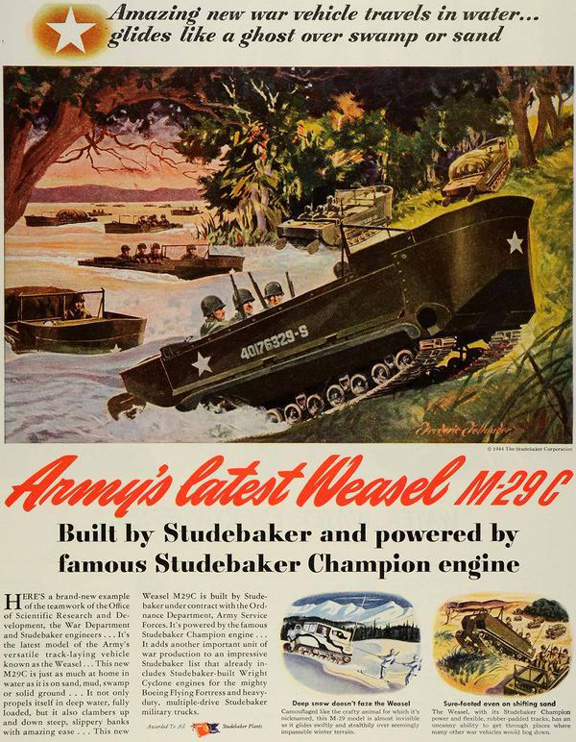 15,124 M29 Weasels were produced during WWII. This was a Studebaker design and it was the only company to manufacture them.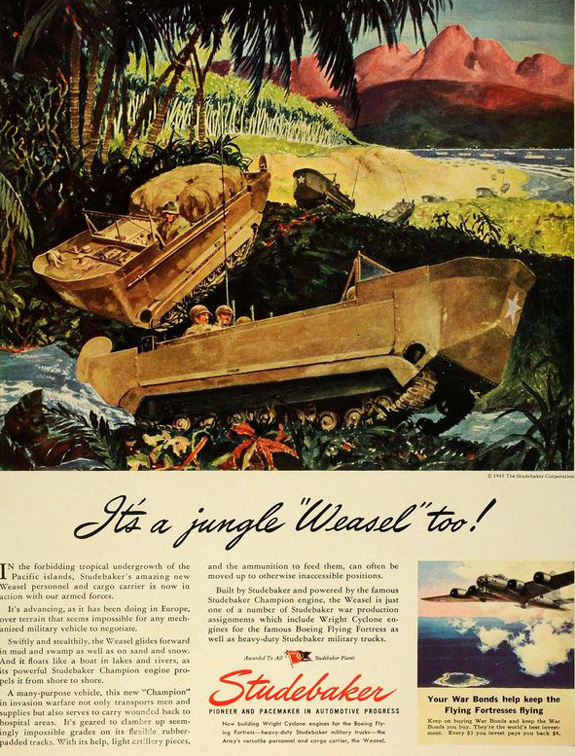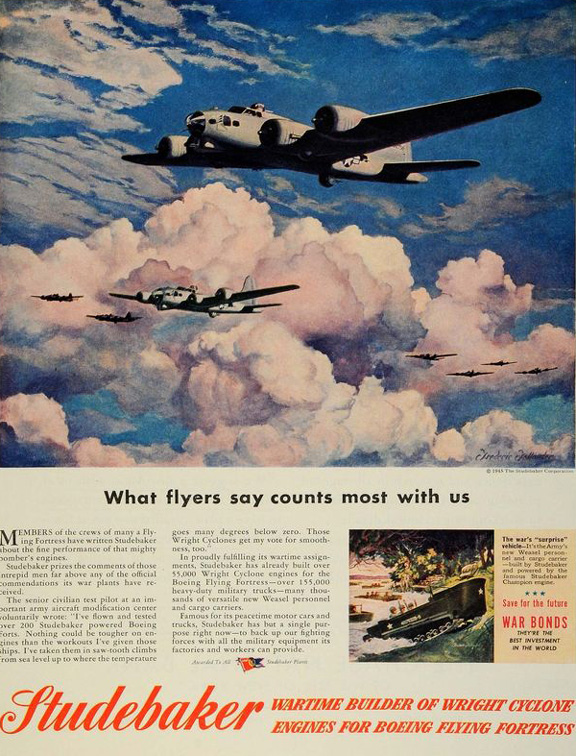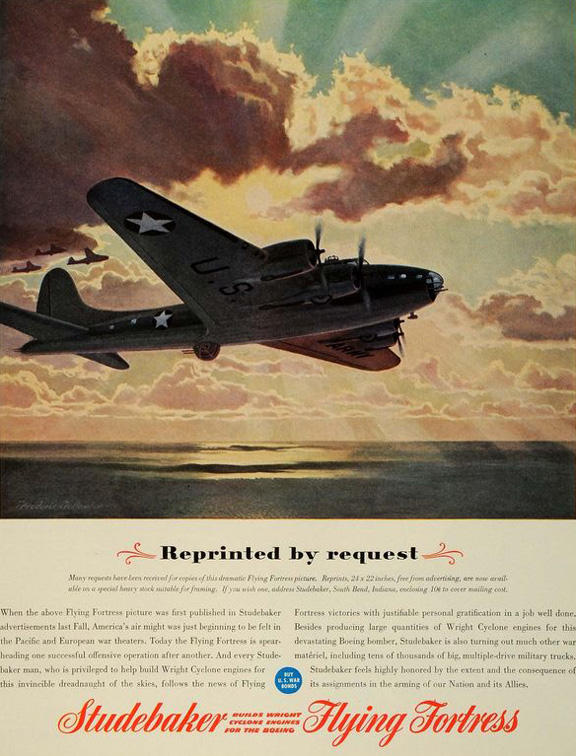 Photos from the Studebaker Museum in South Bend, IN. This is an excellent museum and is well worth the trip to South Bend to visit it. Composed of three floors, there are all sort of vehicles in the brand new facility. The WWII items are in the basement which is a combination display and storage area for vehicles as they are rotated through the main museum displays.
The M29/T15/T24 Weasel: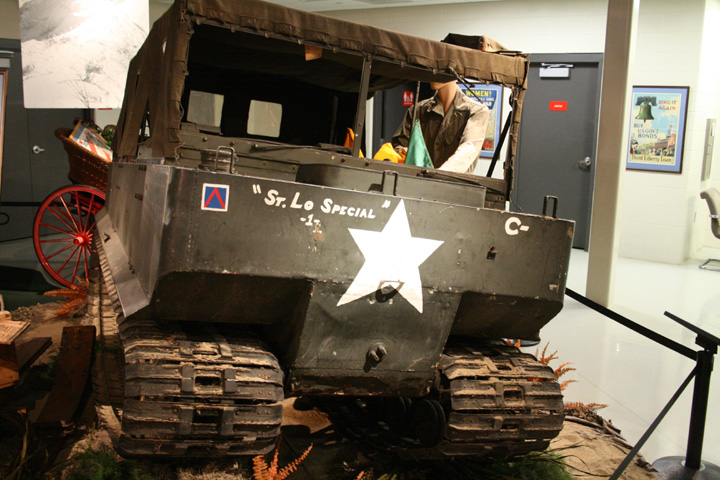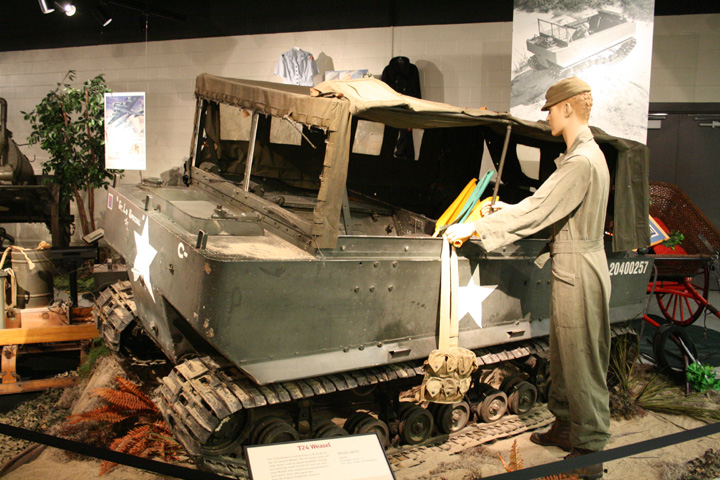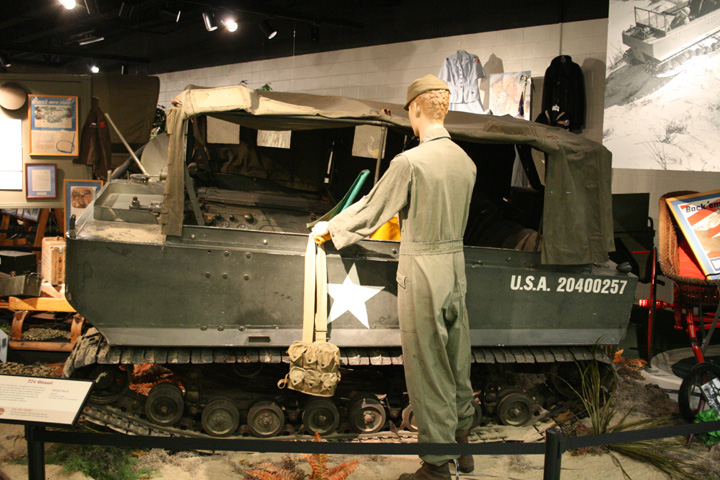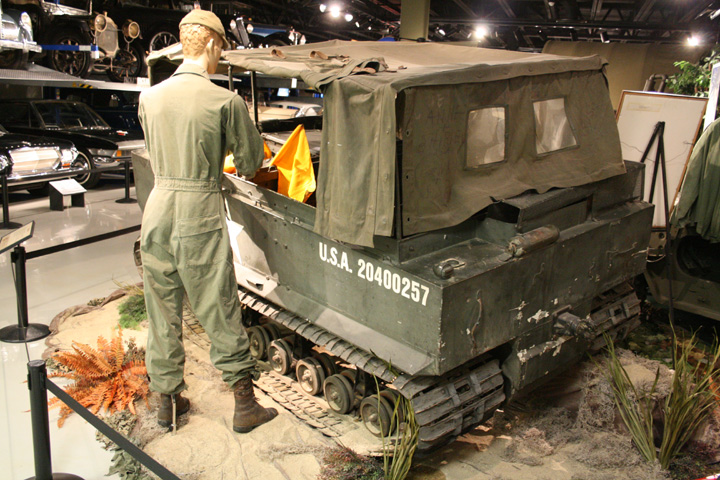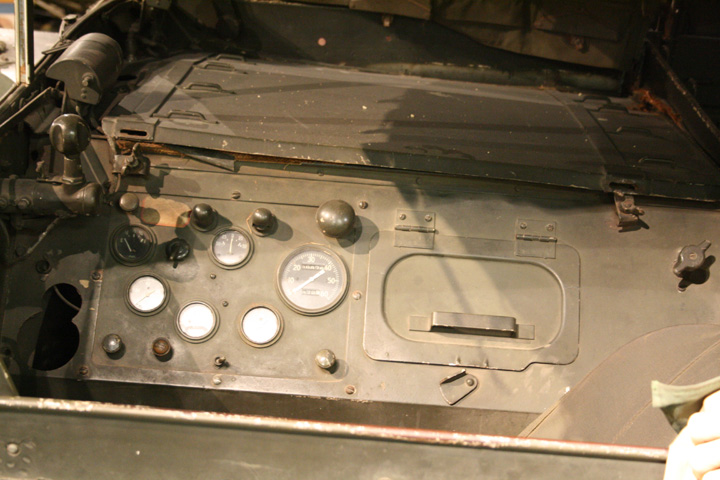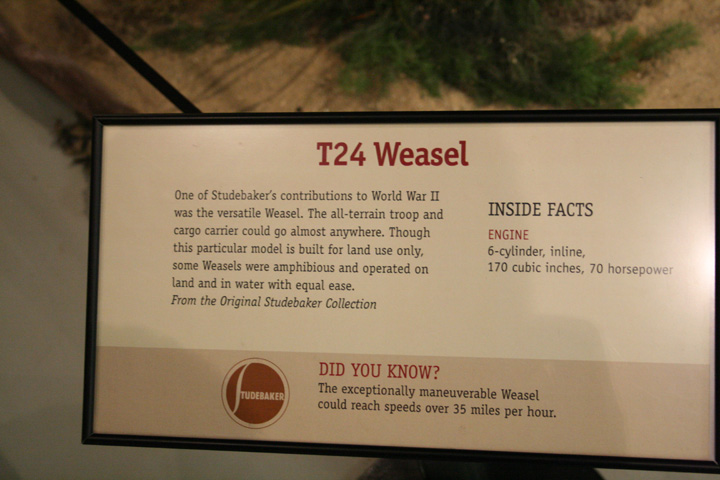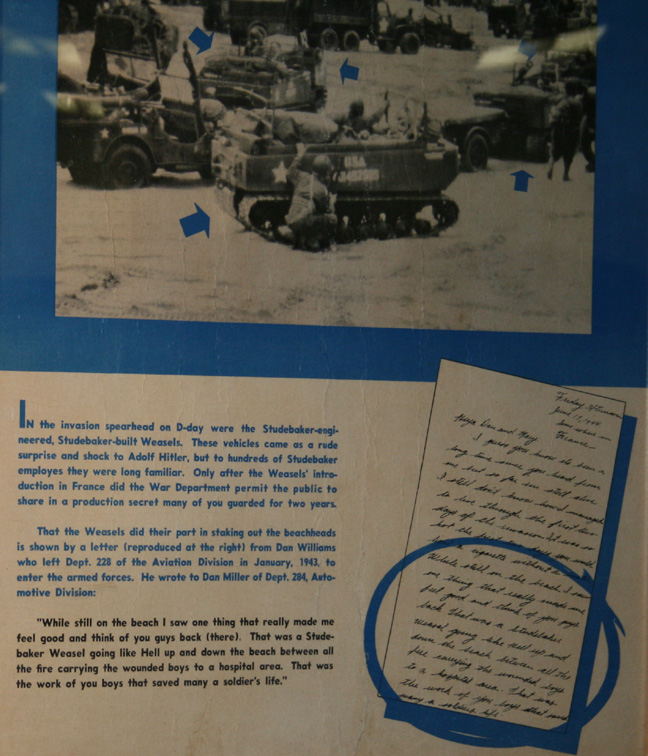 The Wright 1820 Radial Aircraft Engine: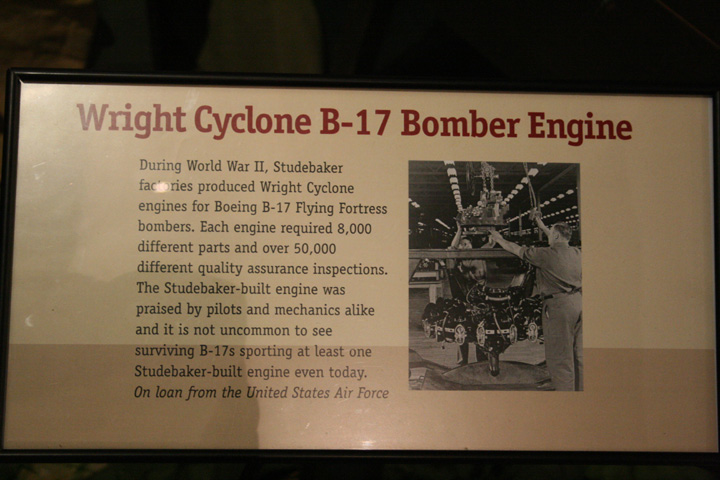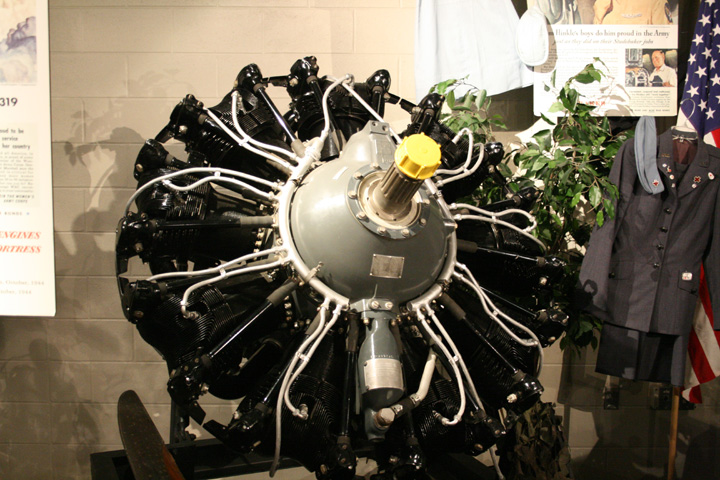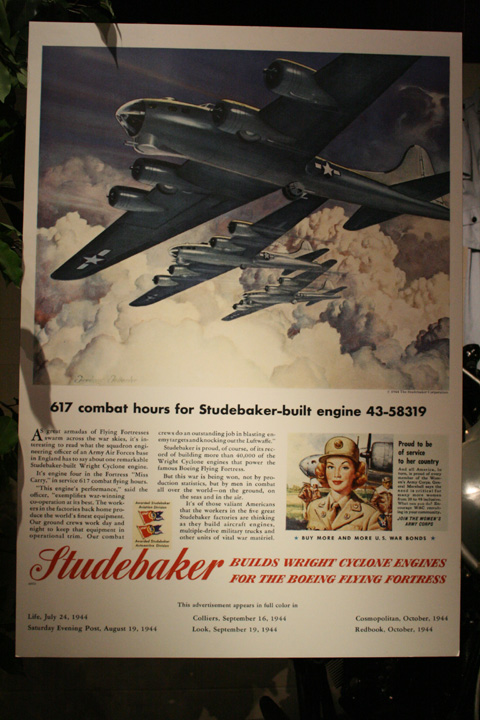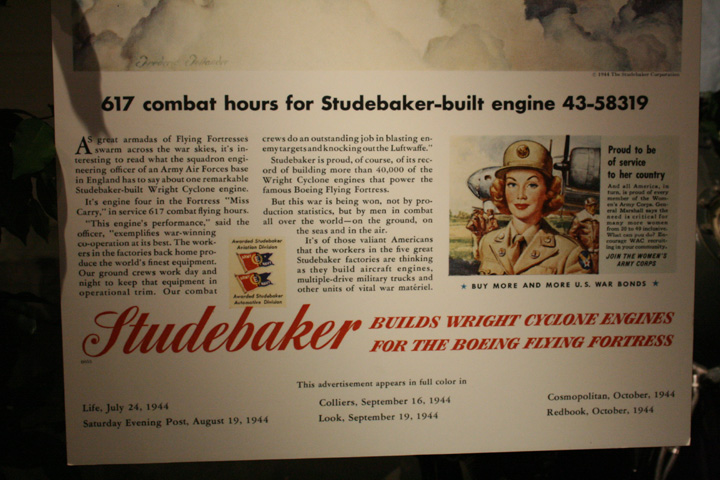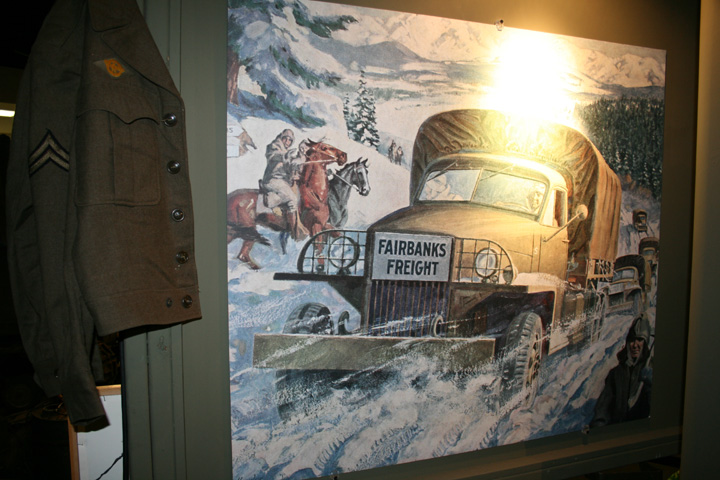 There is no US6 /M16A truck on display but there was this photo of one. See photo below.
Photos from the National Military Historical Center, Auburn, IN.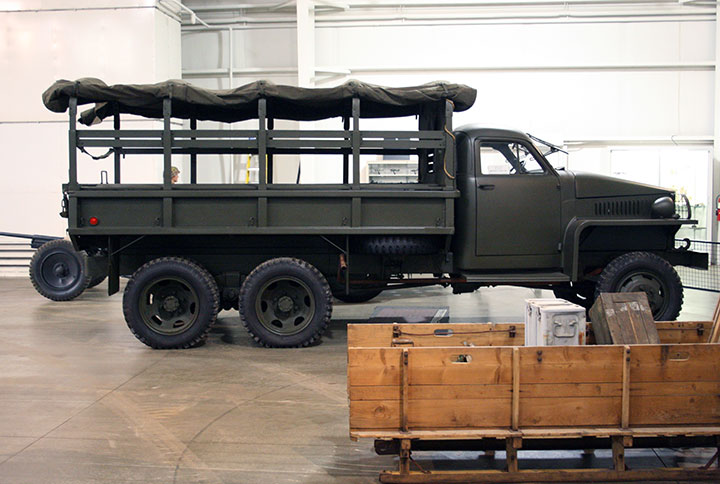 Another view of the Studebaker US6 2.5 ton truck that is on loan from the National Studebaker Museum in South Bend.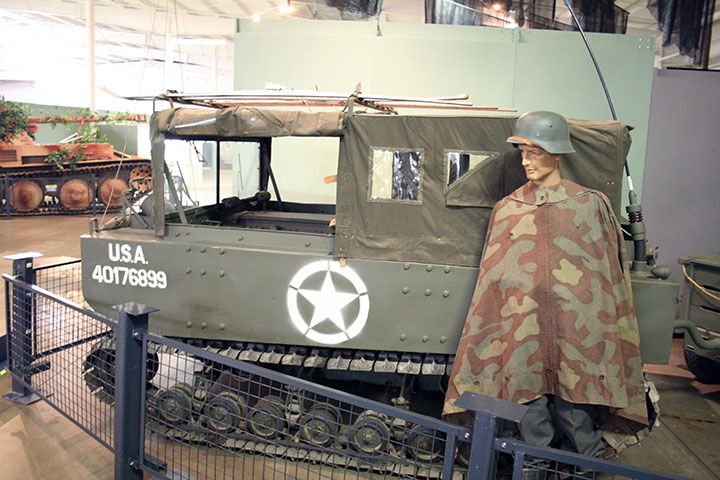 The National Military Historical Center also has a Studebaker T24 on display also.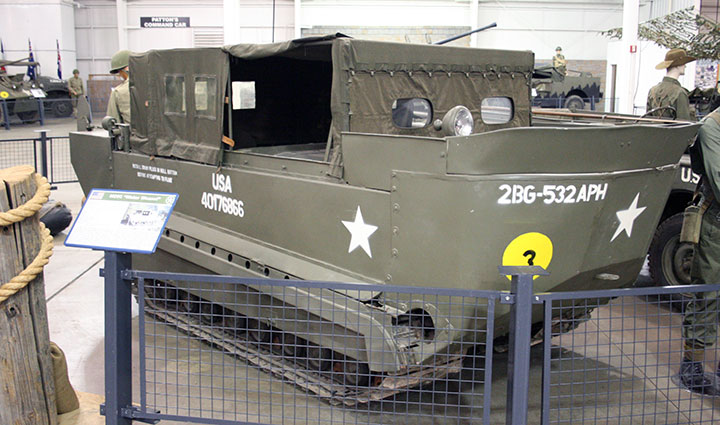 The National Military Historical Center also has a Studebaker M29C "Water Weasel" which was the amphibious version.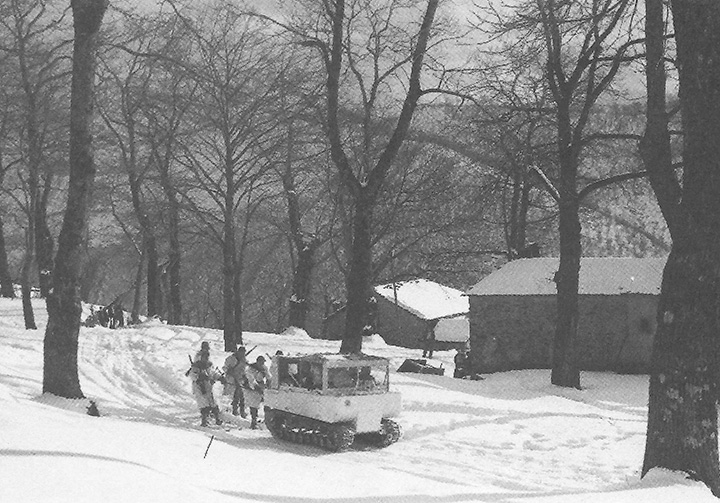 Here a Studebaker built M29 Weasel is pulling troops behind it on skies with a tow rope in Italy in early 1945.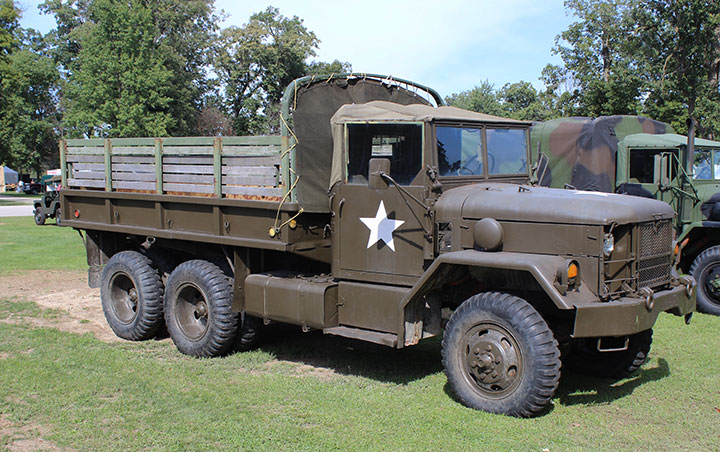 At the end Studebaker, actually Studebaker-Packard, was still turning out military trucks. This M35A1 was built by the company in South Bend, IN in 1962. A year later the company was gone. Author's photo from the 2014 MVPA Portland, IN gathering added 9-30-2014.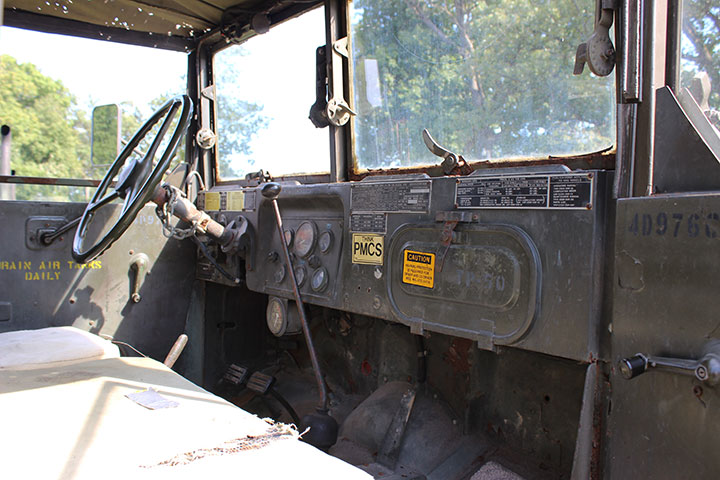 Interesting is the fact that in WWII Studebaker designed the US6, which Reo in Lansing, MI then also manufactured. After WWII Reo then designed the M35 which not only Studebaker built, like this one, but other companies as well. Author's photo added 9-30-2014.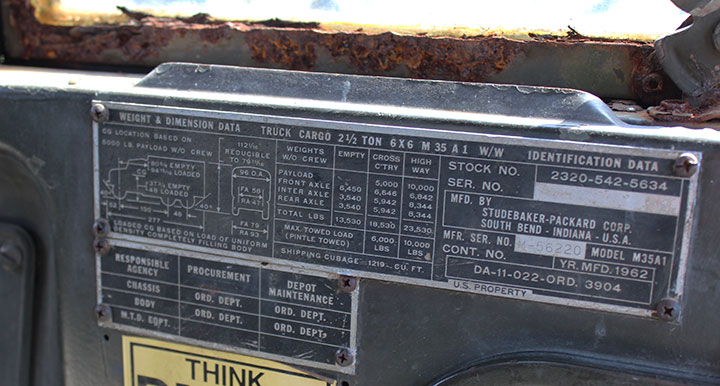 Author's photo added 9-30-2014.

You can see real Studebaker US6 Trucks below:
YouTube Video of seventeen Studebaker Trucks in Queensland, Australia, 2007