Nash-Kelvinator Lansing Michigan World War Two Propeller Plants
Nash-Kelvinator in World War Two / WWII
Detroit, MI
1937-1954
(1916-1937- Nash Motors)
Rest in Peace

Updated 3-14-2016.
Nash-Kelvinator came into being in 1937 when Nash Motors, an automobile manufacturer in Kenosha, WI since 1916, merged with Kelvinator Appliance, a maker of home appliances in Detroit, MI. Then in 1954 Nash-Kelvinator merged with Hudson to form what became American Motors. Hence the reason for the two dates above. Also, even though in the merger Nash was the senior partner in the merger, company headquarters were in Detroit, rather than Kenosha, because the CEO was from the Kelvinator side and wanted to remain there.
Nash-Kelvinator during WWII with the exception of 1 ton truck trailers did not manufacture products related to its pre-war product lines. In fact, it was one of only three American automobile manufacturers to build complete aircraft, in this case the Sikorsky R-6A helicopter. In fact, Nash-Kelvinator built more helicopters during WWII than Sikorsky and the rest of the aviation industry put together.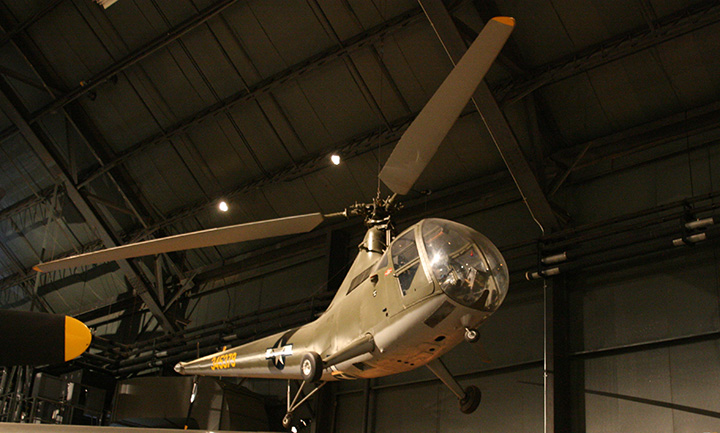 Nash-Kelvinator built more helicopters during WWII in the United States than the rest of the industry combined. It built the most advanced Sikorsky Helicopter design of the war, the R-6A Hoverfly II, which is shown above at the Air Force Museum in Dayton, OH. Author's photo.
The Nash-Kelvinator Plant in Lansing, MI won the Army-Navy "E" Award on September 17, 1943.
The Nash-Kelvinator Ranco Division in Columbus, OH won the Army-Navy "E" Award in January 1943.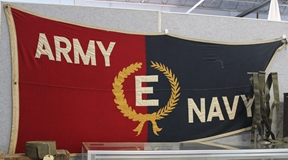 Nash-Kelvinator World War Two / WWII Production Numbers / Statistics:
(17,012) R-2800 Pratt & Whitney Radial Aircraft engines which included the R-2800-8 for the Vought F4U Corsair, the R-2800-10 for the Grumman F6F Hellcat and the R-2800-65 for the Northrop P-61 Black Widow. Production of the R-2800 actually began in the former Reo Truck plant at Mt. Hope Ave and Washington Street in Lansing, MI in late 1941. However, due to increased production demand for both Hamilton-Standard Propellers also being built by by Nash-Kelvinator in Lansing the engine manufacture was transferred to Kenosha, WI and Lansing concentrated on propeller production. In Kenosha the Defense Plant Corporation spent $31.4 million on a new 204,800 square foot plant and equipment to produce the Double Wasp engine. An average of 9,125 employees worked at the plant during the war with peak employment reaching 11,500.
(158,134) Hamilton-Standard Propellers Hamilton Standard Props. Original production began in the former Reo plant on South Cedar Street to the east of the main Reo complex and after WWII became John Bean. After expansion to the Mt. Hope plant propeller hubs were the main product. Production later expanded to another former Reo Truck plant at Mt. Hope and Washington. Motor Wheel used it for a while after WWII and then about 1960 it was the site of the first big box discount store in Lansing. This plant became propeller manufacturing and final assembly for Nash-Kelvinator during WWII.
Besides the 158,134 propeller assemblies completed here were another 85,656 spare blades. Note that this plant, at which my grandfather was in charge of propeller balancing, produced the second highest amount of props by the US in WWII. The propellers produced where both three and four blade configurations that included the four bladed type for the Vought F4U Corsair and Douglas A-26 Invader.
(Over 200) R-6A Sikorsky Helicopters. While many of the production numbers from WWII are somewhat "soft" and depend on which source or production record, the R-6A helicopter production seem to vary more than normal.

The National Museum of the US Air Force (Air Force Museum): 219
Buying Aircraft: Material Procurement for the Army Air Forces by Irving Brinton Holley, Jr: 201 This was part of a post WWII study by the Center of Military History - United States Army that has become the guidepost for World War Two production numbers and facts.
Storied Independent Automakers: Nash, Hudson and American Motors by Charles K. Pride (Google Books): 262
Actually other numbers beyond these three have been seen. What is really important is not so much the numbers, which are 200+, but the fact that Nash-Kelvinator built more helicopters than any other company during the Second World War and that it was technology that was in its infancy and leading edge at the same time.
Twenty more were apparently partially complete at contract cancelation in August 1945. All were produced at the Nash-Kelvinator Plant on Plymouth Road in Detroit.
(650,000) bomb fuses, (204,000) rocket motors, (200,000) M3 6x30 binoculars and cases (There is also an M13 Nash-Kelvinator built 6X30 type binoculars which is not documented in the historical literature. See the example below.), and (44,628) one ton two wheel cargo trailers along with aviation items which included pressure gauges and .
What wasn't built but was planned. Plans early in the war called for Nash-Kelvinator to build under license a Sikorsky designed four engine sea plane. All or most of the WWII magazine advertisements indicated that this was one of the product lines along with aircraft engines and propellers. However, due to changing military requirements the need for this particular type aircraft decreased and the project was dropped. The aircraft had an experimental designation of XJRK-1 and would have carried 37 passengers. Artist's renditions as shown below in the advertisement are the Sikorsky JR2S that was in production and not a military secret. Final assembly of the SJRK-1 aircraft would have been in New Orleans, where the assumption is that it would have been built adjacent to Lake Pontchartrain and then launched from the lake. Sub-assemblies would have been made in Grand Rapids, MI and Kenosha, WI.
Nash-Kelvinator was 27th among United States corporations in the value of World War II production contracts.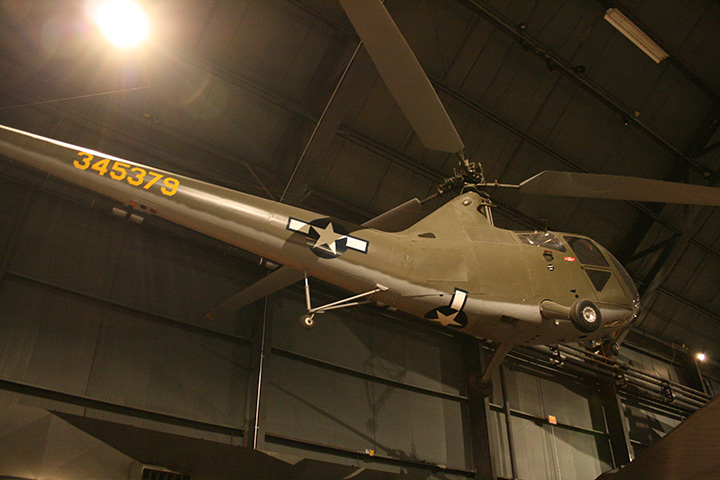 Another view of the Nash-Kelvinator built R-6A Hoverfly II at the Air Force Museum. Author's photo.


Author's photo.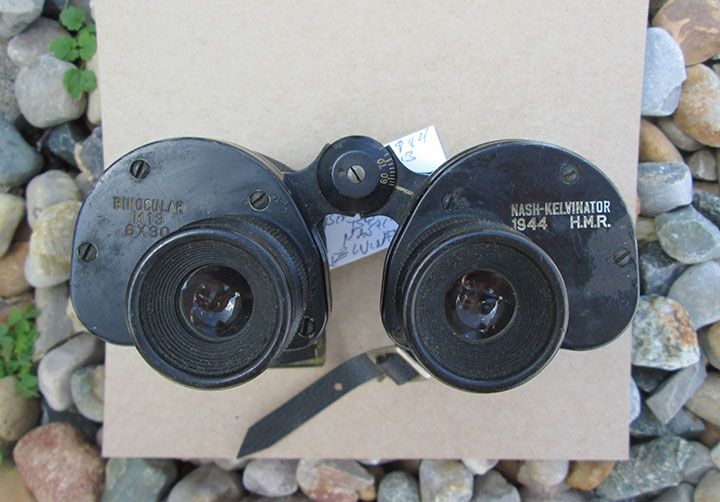 This is a Nash-Kelvinator built pair of M13 6X30 Binoculars for the war effort in World War Two. All of the documentation shows that Nash-Kelvinator made M3 6X30 Binoculars and very little information can be found on the M13 and no information can be found on the difference between the two types. Looking at online auctions both types were made and for sale. This set built in 1944 was found at a military show in Fishers, IN in 2013. The person selling them kindly let me take them outside for better light. Author's photo.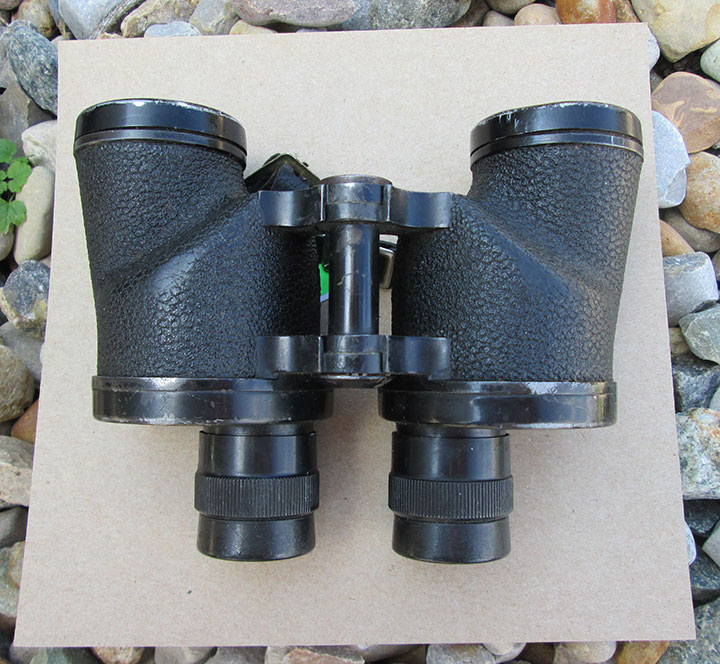 This pair was on sale for $79.50. Author's photo.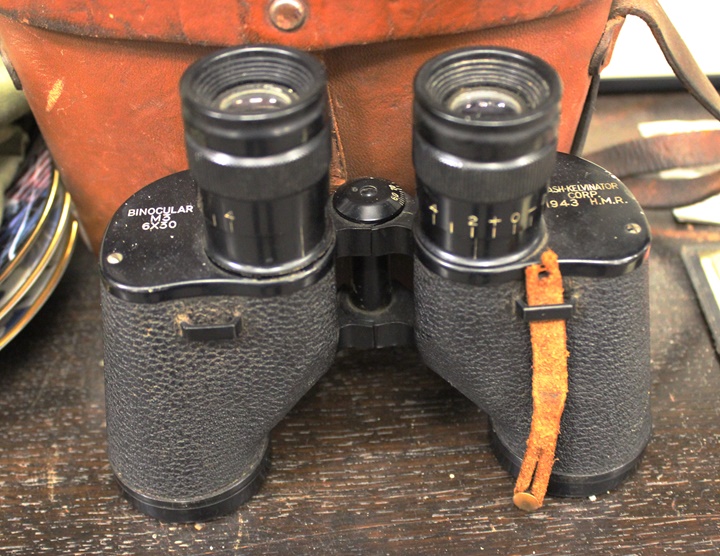 On display at the Vermillion County War Museum is this pair of 1943 Nash-Kelvinator M3 6x50 binoculars, one of 200,000 made at the Ranco Division in Columbus, OH. Author's photo added 11-2-2015.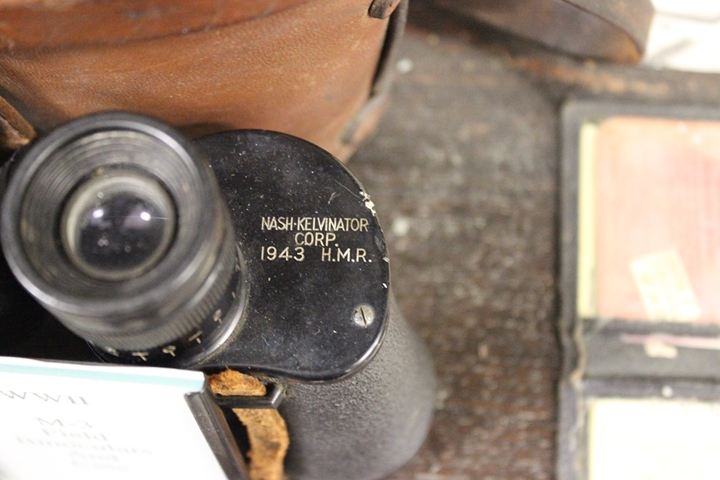 Author's photo added 11-2-2015.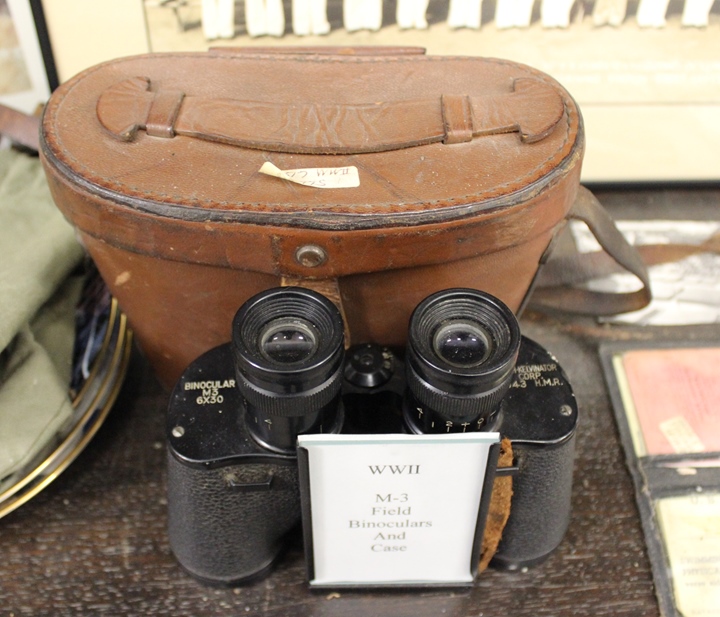 The Ranco Division also made the cases for the binoculars along with aviation items, to include altitude controls and pressure gauges. Author's photo added 11-2-2015.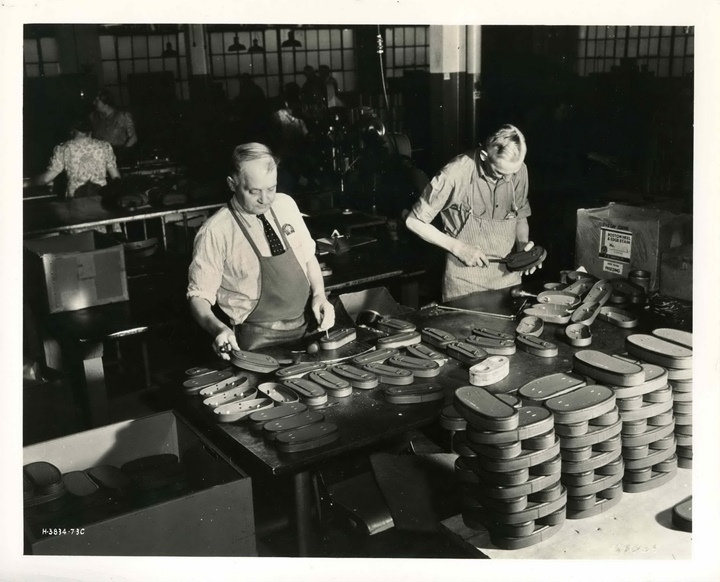 The binocular cases being manufactured in the Nash-Kelvinator body plant in Milwaukee, WI. Photo courtesy of Ken Schroeder added 3-14-2016.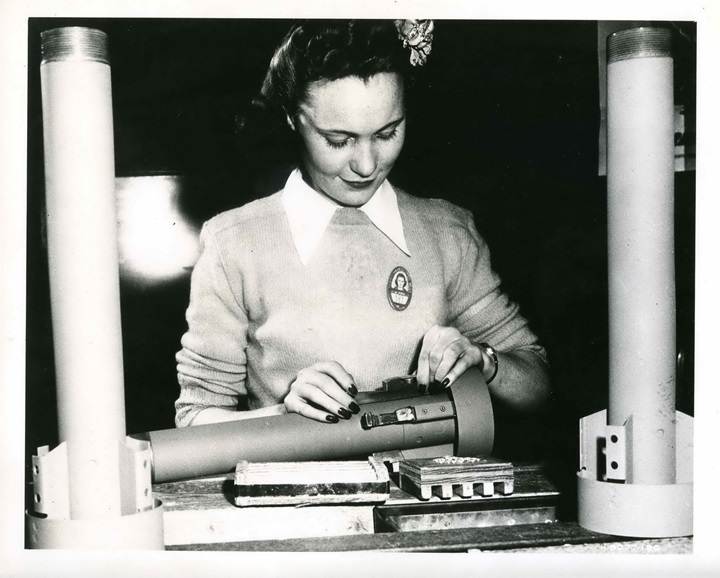 This worked is building one of 204,000 rocket motors manufactured by Nash-Kelvinator during WWII. Photo courtesy of Ken Schroeder added 3-14-2016.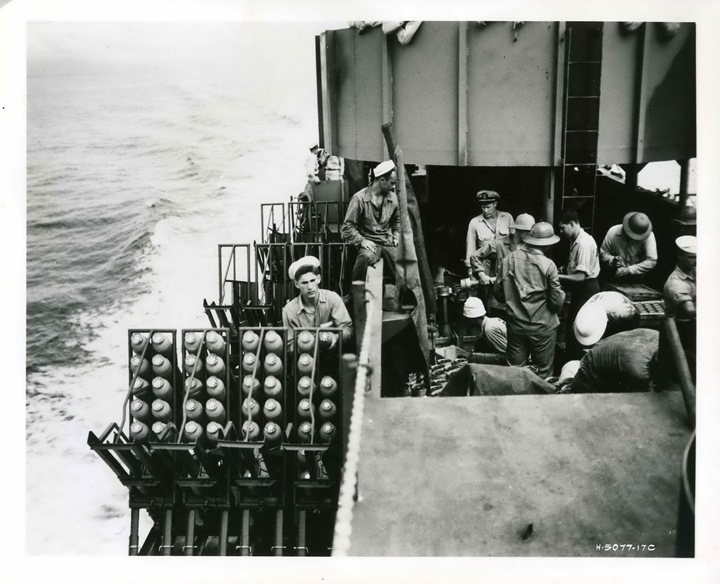 This publicity photo from Nash-Kelvinator shows the warhead added to the its rocket motors ready to fire on a beach landing in the South Pacific. Photo courtesy of Ken Schroeder added 3-14-2016.
Nash-Kelvinator (Mt. Hope Ave Plant) in Lansing, MI - See the link above for a complete story on the company's Lansing propeller operation in WWII.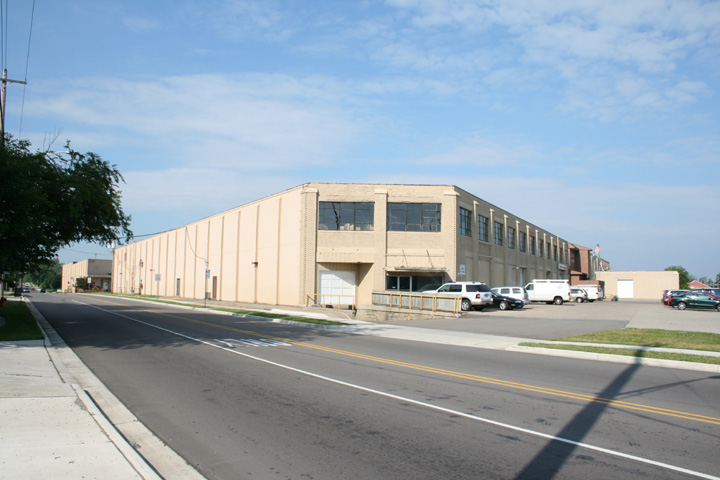 Author's photo.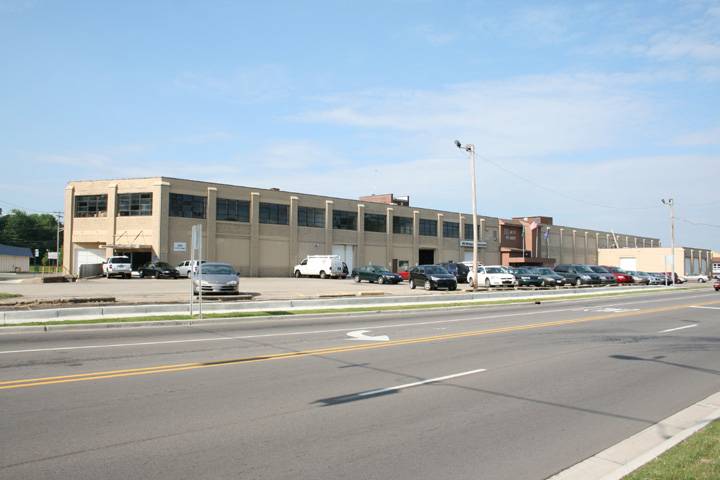 Author's photo.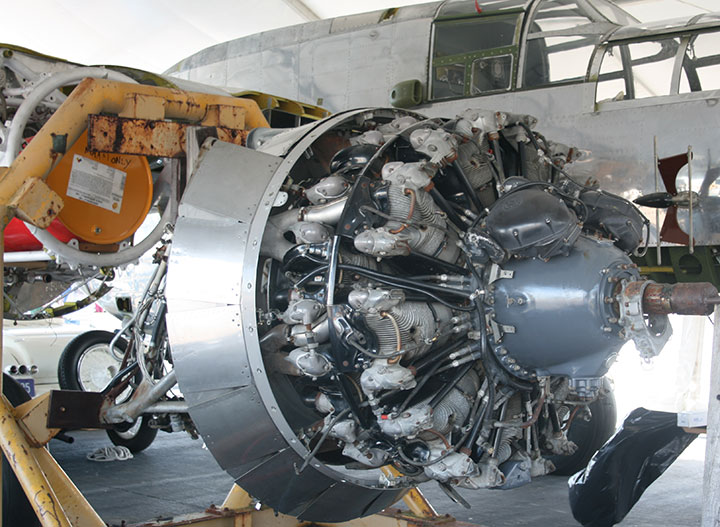 Nash-Kelvinator built 17,012 of the Pratt & Whitney R-2800 like this one shown here at P-61 display at WWII Weekend in Reading, PA in a new government plant in Milwaukee, WI during WWII. The models built by Nash-Kelvinator, first built in Lansing, MI and then Kenosha, WI went into the Hellcat, Corsair and Black Widow fighters. The R-2800-65 version of the 2,000 horsepower engine was on display with the Black Widow restoration in 2011. Author's photo.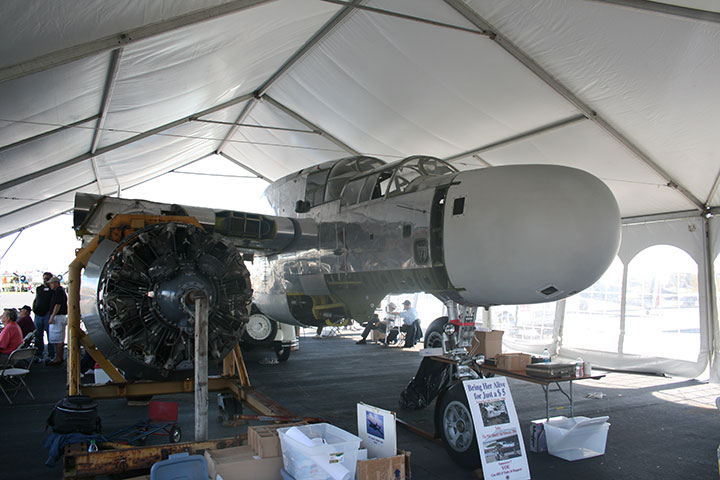 This is one of only four Northrop P-61s "Black Windows" that still exist in the world and the only one that will ever fly again. This P-61 is being rebuilt by the Mid Atlantic Air Museum in Reading, PA and is seen here on display at the Museum's annual WWII Weekend in June of 2011. The engine to the left that could very well be a Nash built R-2800-65 Model that the company built for the "Black Widows" during the Second Word War. Author's photo.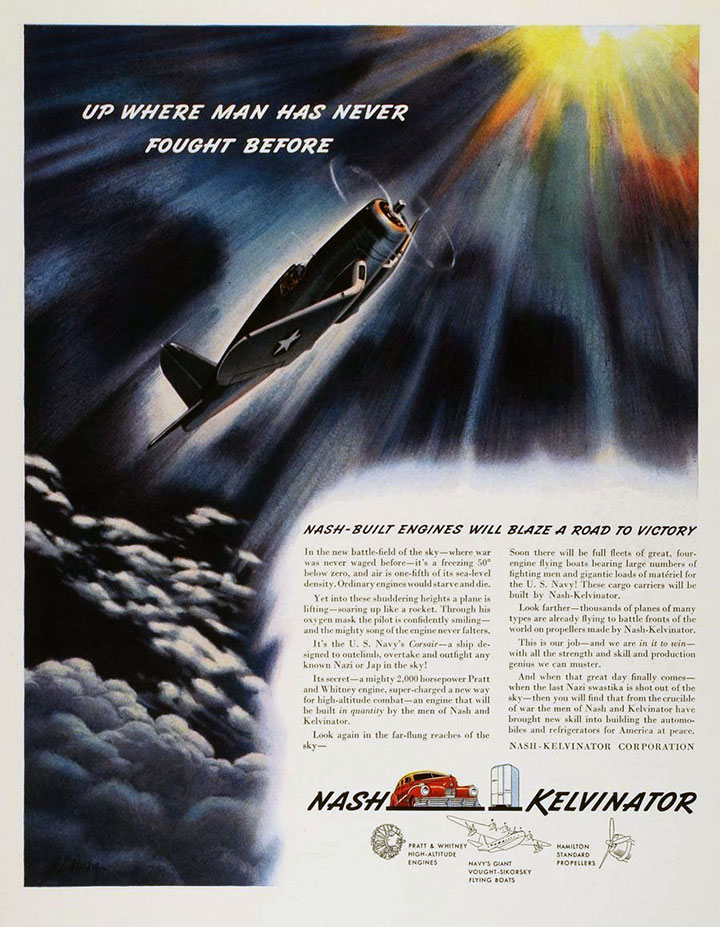 A WWII ad showing the Vought F4U Corsair climbing towards the sun powered by not only by Nash-Kelvinator R-2800 built engine but quite possibly a propeller built in Lansing, MI by my grandfather.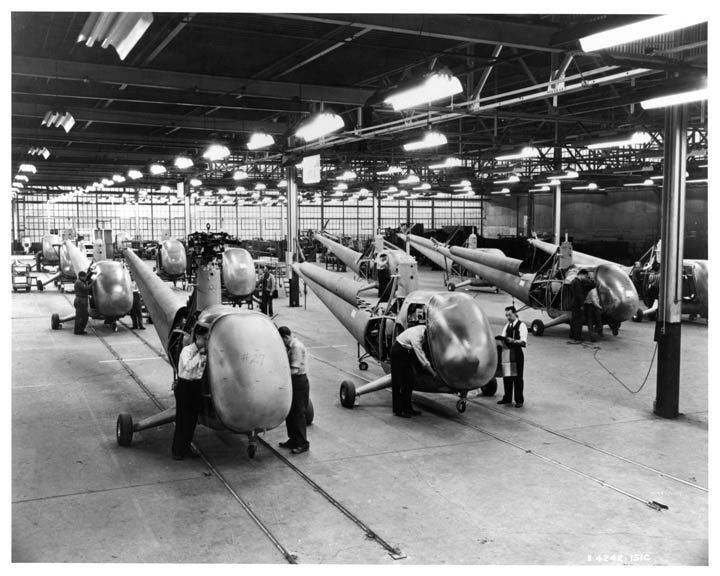 Seen here are eleven R-6 helicopters under construction in this WWII photo of the Nash-Kelvinator Plant on Plymouth Road in Detroit, MI. Depending on the source the company either built 201, 219,or 262 of these during the war. In any of the cases the key thing is that Nash-Kelvinator was the largest produce of helicopters during the war. Sikorsky built 151 helicopters during the war.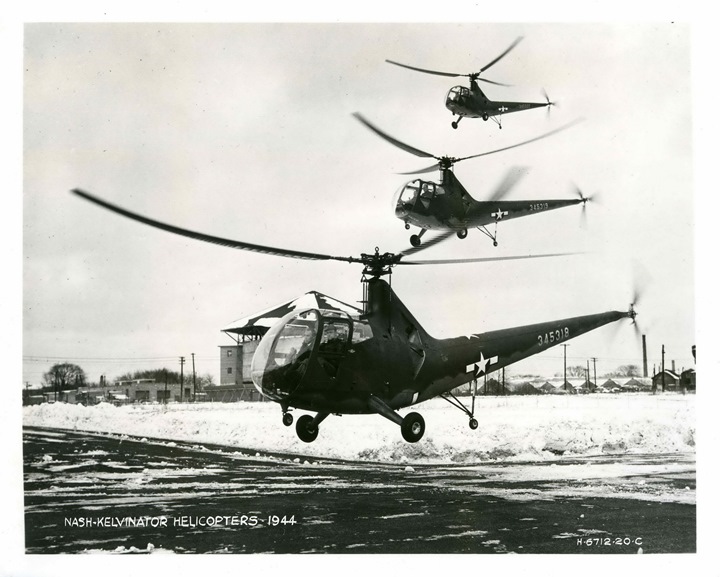 Three Nash-Kevinator built Sikorsky R-6 helicopters airborne at the same time in 1944. Photo courtesy of Ken Schroeder added 3-14-2016.

This ad along with other Nash-Kelvinator ads show and make reference to a Sikorsky four engine flying boat that the Nash was to build with final assembly being in a new plant in New Orleans, LA. The need for this type aircraft diminished as the war progressed and more and larger aircraft carriers were built and the use of long range land based patrol aircraft. The aircraft pictured here is a JR2S.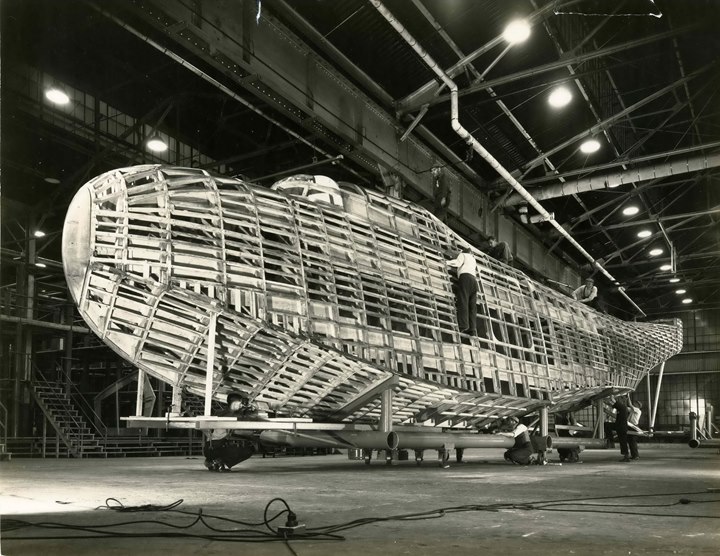 In spite of the fact that Nash-Kelvinator never built the proposed flying boat in production, it did spend a lot of time and money on this wooden mock-up at its Milwaukee plant. Photo courtesy of Ken Schroeder added 3-14-2016.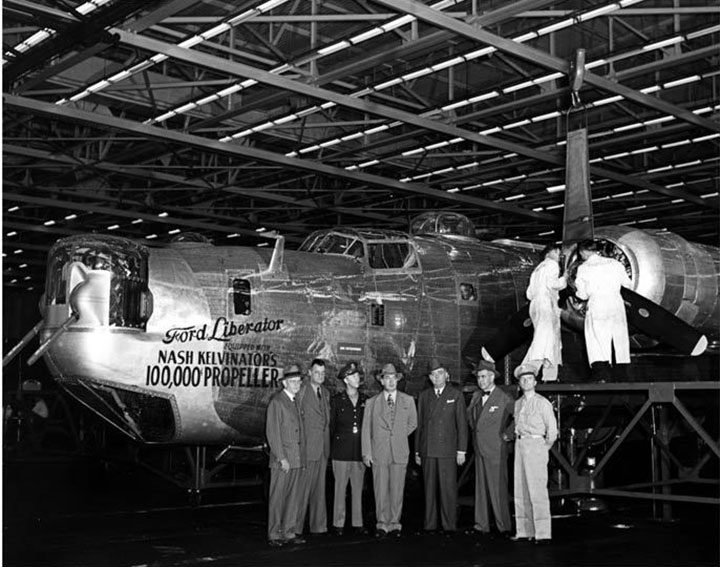 This photo is interesting due to the American automotive industry's importance in the construction of this late model B-24 (J, L, or M model). First of all, this is a Ford built B-24 at the Willow Run, MI plant. Obviously the Lansing, MI Nash-Kelvinator plant built the propellers being installed and the 100,000th milestone has been reached. My grandfather, Frank Dominik, while not in the photo, played an important part in this, in that he was the supervisor of the propeller balancing department back in Lansing. It was his responsibility to make sure that when the engines on this B-24 fired up, there were no vibration issues due to out of balance blades. Also, the engines on this aircraft were also provided by US auto companies. Both Buick and Chevrolet built the Pratt & Whitney R-1830 engines that powered the Liberator. The .50 caliber machine guns that defended this aircraft the air against attacking fighters could have been manufactured by any one of three General Motors Divisions; AC Spark Plug, Frigidaire and Saginaw Steering.