The US Auto Industry produced all of the 9,400 US Army's fully tracked tank destroyers in WWII. Since the war, many a forest has been felled, and much ink has been spilled since the war on their actual usefulness; and the philosophy of separate tank destroyer units tasked with destroying enemy tanks. It is considered by many to have been a flawed policy. After WWII the tank destroyer philosophy disappeared. The destruction of enemy tanks was assigned totally to American tanks. Regardless, Buick, Fisher Body and Ford built the tank destroyers that the Army Ordnance wanted in a timely manner. They were used not only in their originally conceived role to destroy enemy tanks, but also for close fire support and for long range artillery.
American Auto Industry Tank Destroyer Production

Manufacturer
Quantity
Comments
Buick M18 Hellcat
2,507
76mm main gun, Wright R-975 aircraft engine, Detroit Transmission Torqmatic automatic transmission with three forward speeds and one reverse gear
Fisher Body M10 Wolverine
4,993
3-inch main gun, twin Detroit Diesel 6-71 diesel engines, manual transmission with five forward speeds and on reverse gear
Fisher Body M10A1 Wolverine
375
3-inch main gun, Ford GAA V-8 gasoline engine, manual transmission with five forward speeds and on reverse gear
Fisher Body M36B1 Jackson
187
90mm main gun, Ford GAA V-8 gasoline engine, manual transmission with five forward speeds and on reverse gear This was a Fisher built M4A3 with an M36 turret.
Fisher Body M36 Jackson
300
90mm main gun, Ford GAA V-8 gasoline engine, manual transmission with five forward speeds and on reverse gear
Ford M10A1 Wolverine
1,038
Originally armed with a 3-inch main gun. When converted to the M36 it was armed with a 90mm cannon, Ford GAA V-8 gasoline engine, manual transmission with five forward speeds and on reverse gear
Totals
9,400
American Auto Industry Tank Destroyers in Europe 1944-1945 - Strength and Losses

Jun44
Jul44
Aug44
Sept44
Oct44
Nov44
Dec44
Jan45
Feb45
Mar45
Apr45
May45
Total
Buick M18 Hellcat
Strength
146
141
176
170
189
252
306
312
448
540
427
427
Losses
Losses
0
0
6
6
14
7
44
27
16
21
55
21
217
Fisher Body M10 Wolverine
Strength
691
743
758
763
486
573
790
760
686
684
427
427
Losses
Losses
1
17
28
40
71
45
62
69
106
27
37
37
540
Ford And Fisher Body M36 Jackson and Fisher Body M36B1
Strength
-
-
-
-
170
183
236
365
826
884
1,054
1,029
Losses
Losses
-
-
-
-
2
5
21
26
18
21
34
25
152
Total Strength
837
158
934
944
845
1008
1332
1437
1960
2108
1908
1883
Total Losses
Total Losses
1
17
34
46
87
57
127
122
140
69
126
83
809
Buick M18 Hellcats in Action: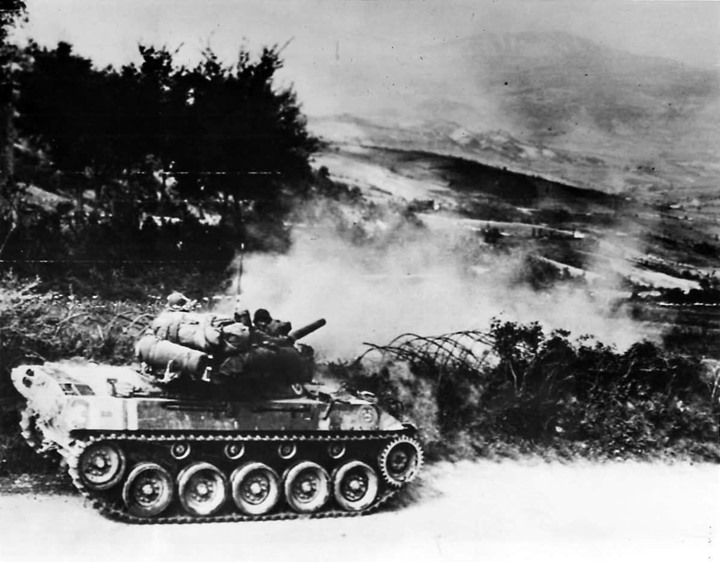 This Buick built M18 is providing long range fire support with its 75mm main gun on the Italian front in 1945.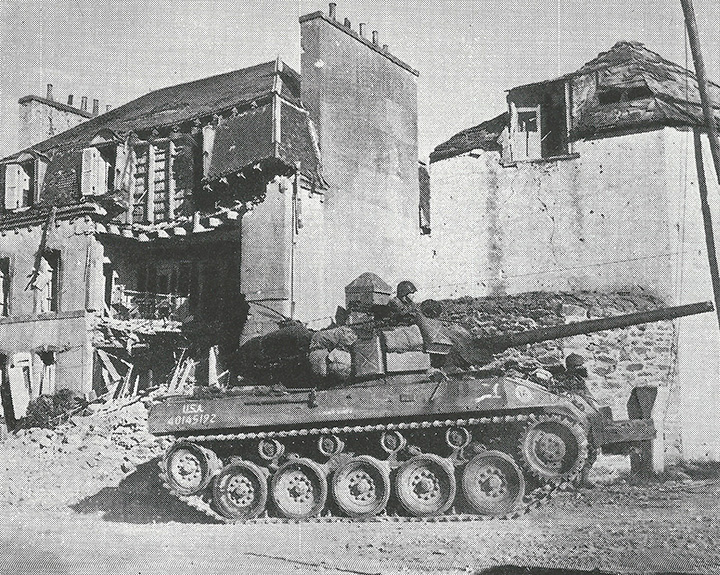 A M18 Hellcat in action in Europe.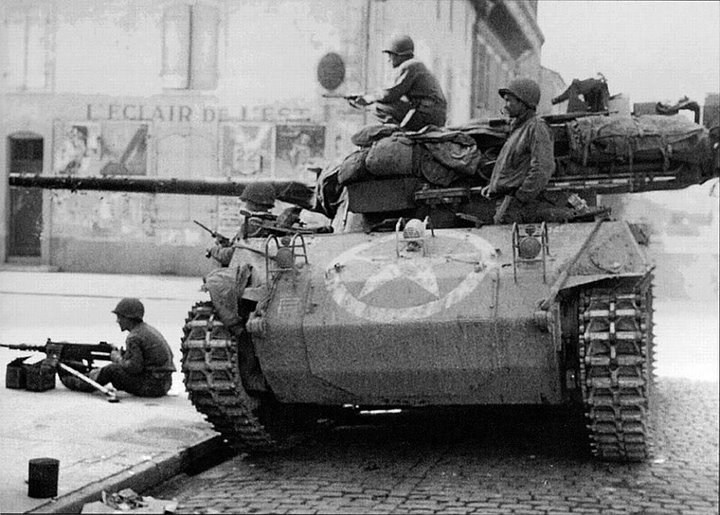 603rd Tank Destroyer Battalion, 6th Armored Division M18 Hellcat guards an intersection at Rue Carnot facing Frambois in September 1944.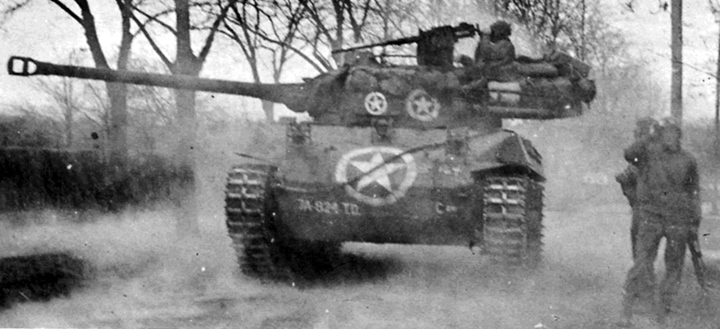 An M18 of the 824th Tank Destroyer Battalion recoils from the fire of its 75mm gun as it fires on German positions in Wiestoch, Germany in April 1944.

Fisher Body M10 Wolverines in Action: The Fisher Body built M10 and the Ford/Fisher Body built M10A1 had different engines. To avoid confusion in the field, and because the Fisher Body Grand Blanc Tank Arsenal built five times the number of Wolverines as Ford, the Fisher Body M10 was picked by the Army to go into combat. Therefore, all M10 photos are of the Fisher Body built M10. The M10A1 stayed in the US for training, but would see combat later when it was converted to the M36.

A Fisher Body M10 built in Grand Blanc, MI fires its three inch Oldsmobile built gun at a target in Normandy, France in July 1944. This was one of 743 deployed with US forces in Europe in July 1944.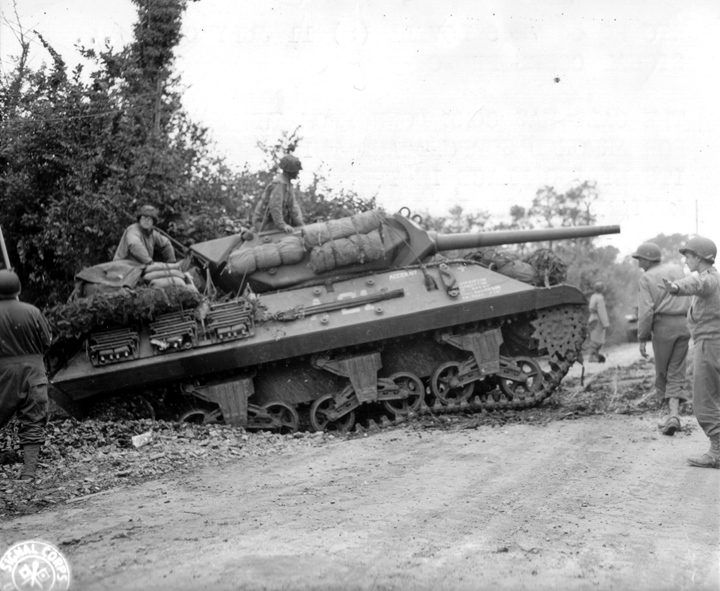 This photo provides an excellent profile view of another Fisher Body built M10 Wolverine as it comes out of hedgerow in Normandy. This particular vehicle belonged to the 889th Tank Destroyer Battalion.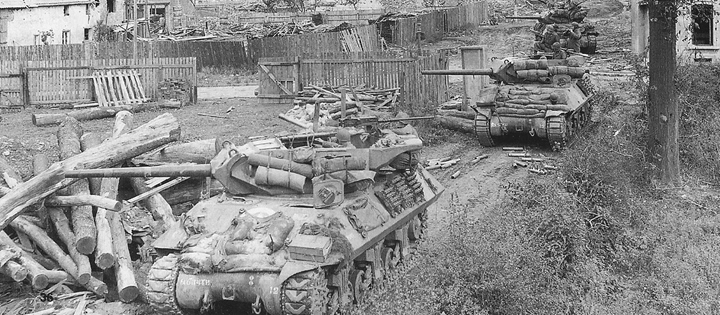 Three M10 Wolverine tank destroyers are moving into position to fire on a German observation post in Aachen Germany in October 1944. This was the first German city to be captured by the US Army and the Grand Blanc M10s were there. As can be seen in this series of photos, the M10 was used for general fire support along with its main mission of destroying tanks.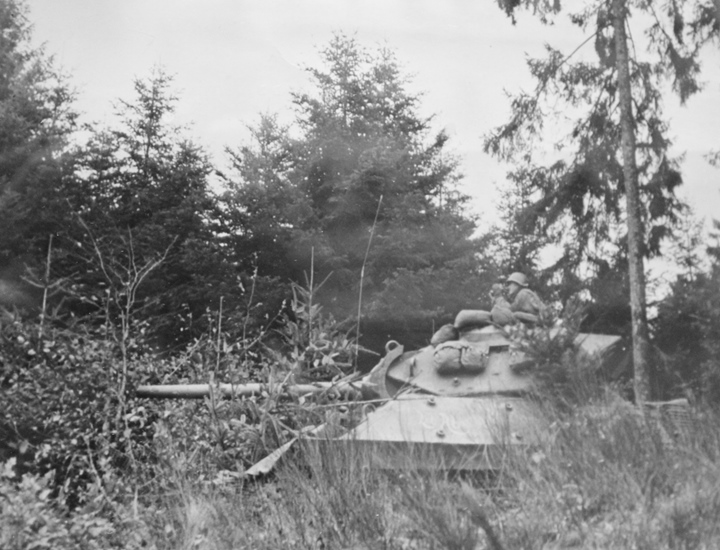 Another Fisher Body Grand Blanc built M10 in action in Europe during WWII.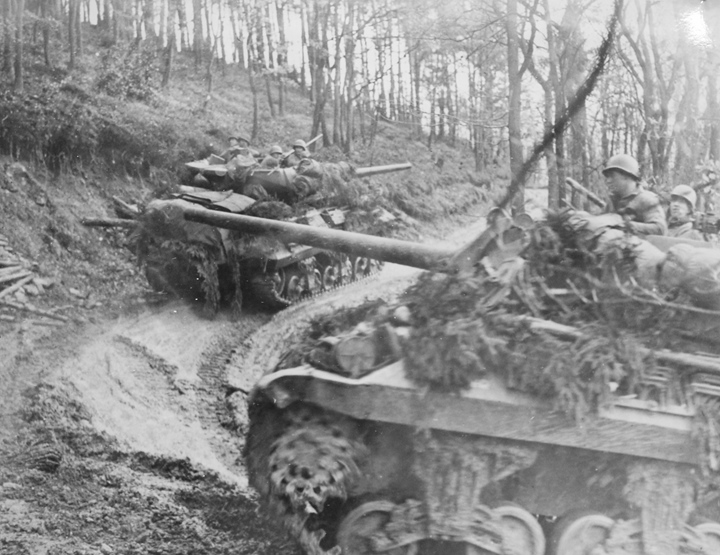 Two Grand Blanc M10 tank destroyers are slogging through the Hurtgen forest.

A Fisher Body built M10 assists members of the 90th Infantry Division flush out a German soldier from a pillbox at Mainz, Germany on March 22, 1945.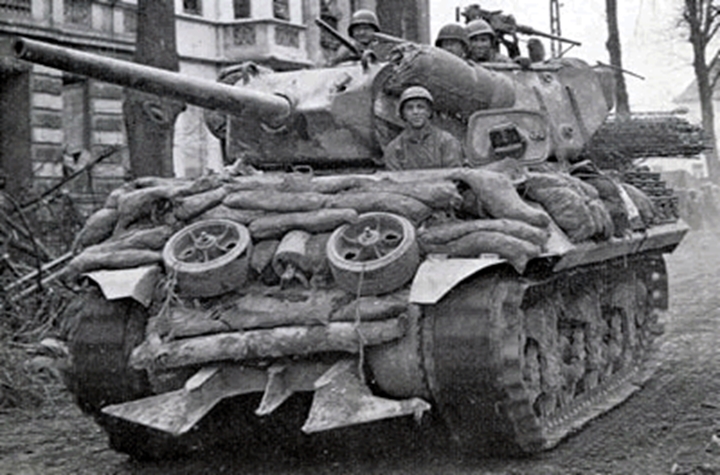 The WWII tank destroyer was designed to not be well armored; and was to rely on speed in combat with enemy tanks. It fell into the category of "it sounded like a good idea of time." There have been innumerable books and articles written ad nauseum about the US WWII misguided tank and tank destroyer theory. Whatever the official policy and theory, the M10 tank destroyer crews in their Grand Blanc, MI built vehicles were in the thick of the battle, doing whatever it took to win the war. This particular M10 has attached sandbags, wheels, and logs to the vehicle to help defend against enemy anti-tank projectiles. Also, steel from the Normandy beach obstacles was cut up and welded to the front of the M10 to allow it to penetrate the hedgerows of Normandy. This was known as a Culin hedgerow cutter.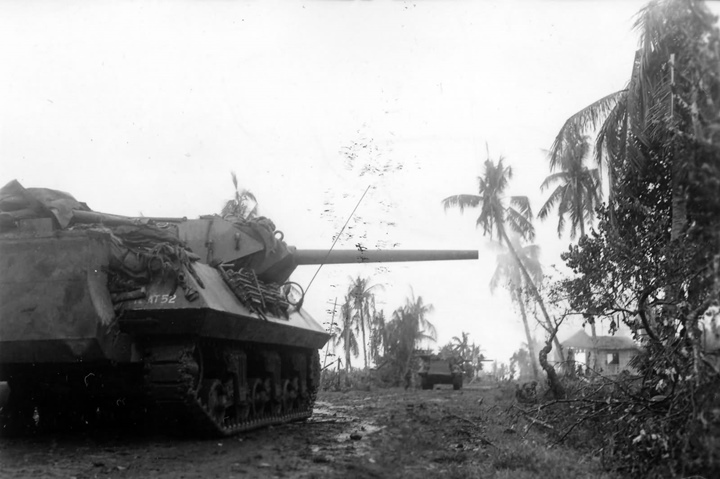 The Fisher Body built M10 also served in the Pacific. Here, two Wolverines are in action with the 77th Infantry Division on Leyte Island in 1944.

M36 Jacksons in Action: The 1,038 Ford M10A1s Wolverines that remained in the US for training were quickly gathered up in 1944 and converted to M36 Jacksons. The conversions took place between April and December 1944. They were sent to Europe as soon as they were completed. Also converted were the 375 Fisher Body built M10A1s. Fisher Body also built 300 M36 Jacksons on the assembly line using the last 300 M10A1 chassis it built. The photos below could be M36 Jacksons on ether Ford or Fisher Body M10A1 chassis.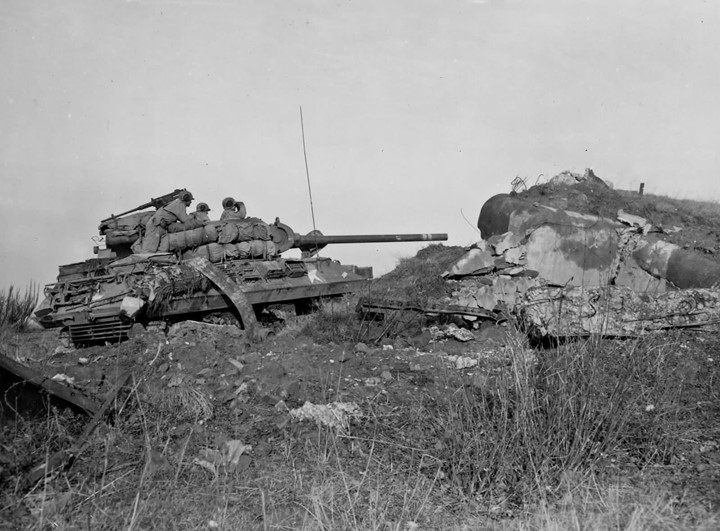 An M36 Jackson in action with the 776th Tank Destroyer Battalion at Hottviller, France in 1944. Next to the M36 are the remains of a pillbox from the ill-fated French Maginot Line.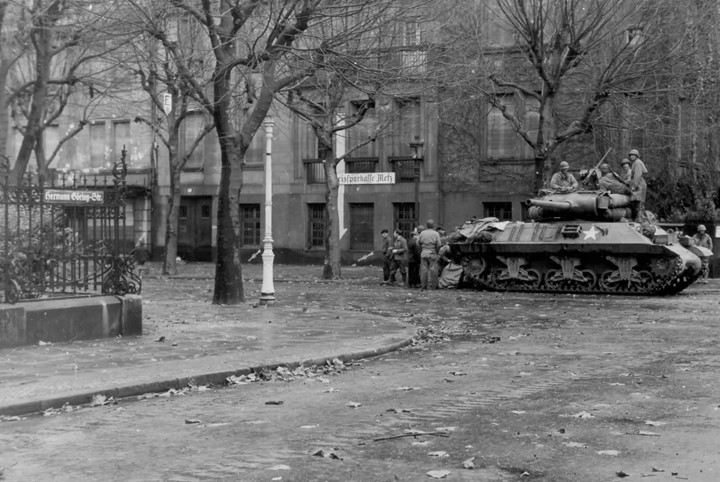 This M36 Jackson is guarding a street intersection in Metz on November 21, 1944.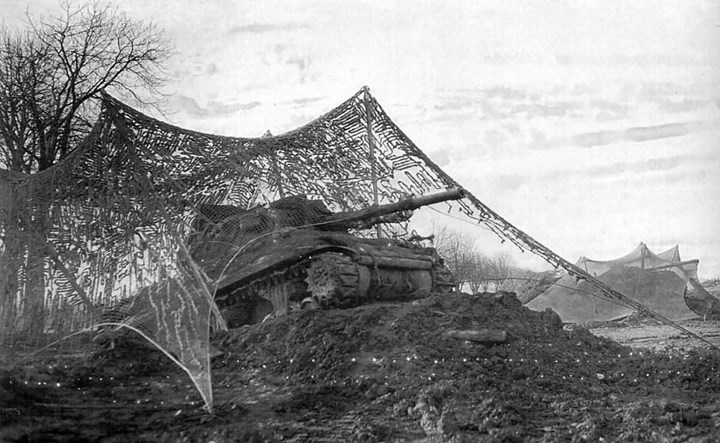 Under camouflage netting, M36 Jacksons of the 702 Tank Destroyer Battalion are set up as artillery support. They located at the Roer River in 1944.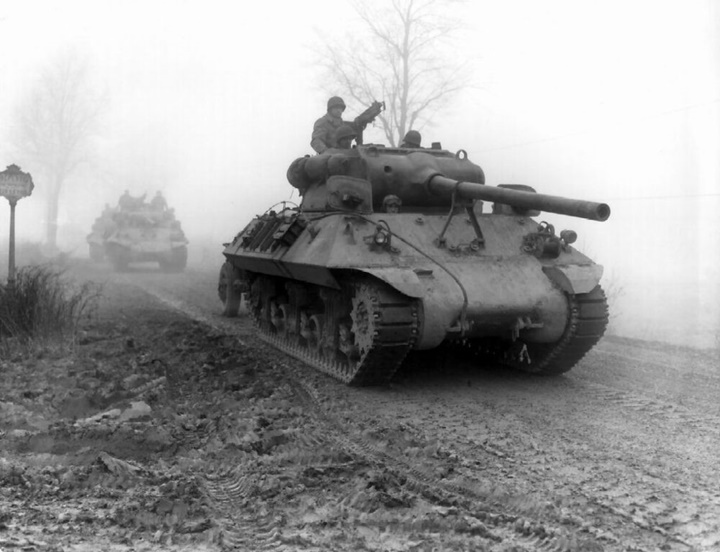 M36 Jackson's on the road to Bastogne, Belgium.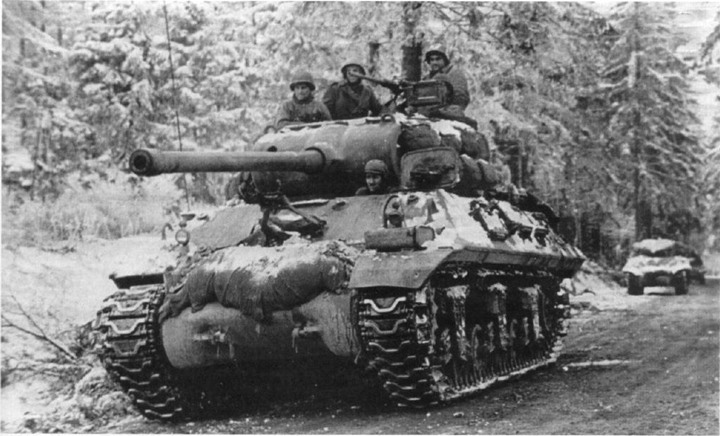 M36s on a cold winter day in Europe.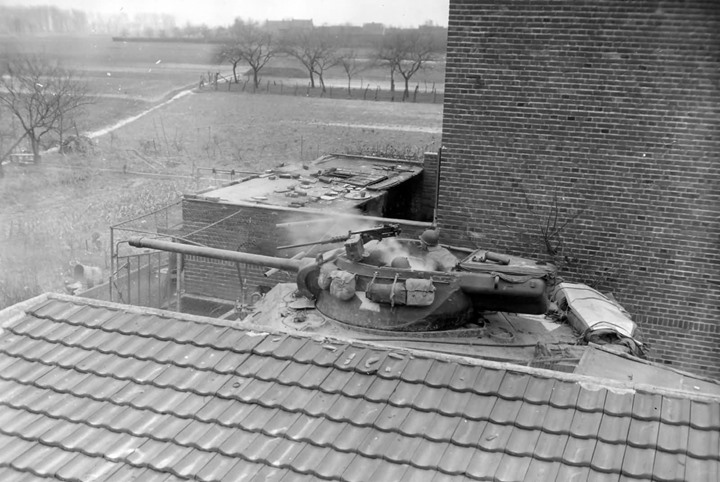 What a photograph! The US Army Signal Corp photographer climbed up on the roof of the building to get this shot of the hot exhaust gases escaping from the breech as the empty shell casing is expended. Allowing this type of photo is the only good thing that can be said about the unprotected top of the tank destroyer. If the photographer had been an enemy sniper, the crew would have been totally exposed. This photograph was taken in Oberbrauch, Germany in 1945. The M36 belongs to the 654th Tank Battalion of 35th Infantry Division.
M36B1 Jacksons in Action: Only 187 M26B1s were built by Fisher Body in Grand Blanc, MI. Because the M10A1s were not being converted fast enough once found at US training bases, Army Ordnance ordered the M36B1. To speed up the process and get more M36s into combat quickly, Fisher Body installed the 90mm main gun and tank destroyer turret to M4A3 chassis's already coming down the assembly line.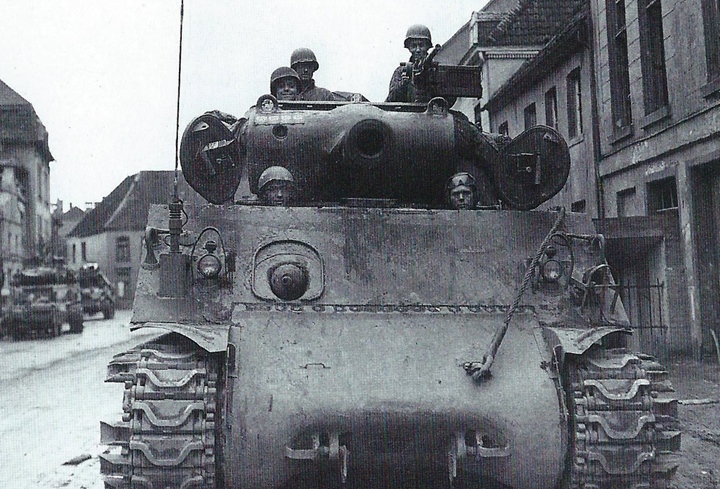 This is a rare photo of one of the 187 Fisher Body built M36B1 Jackson tank destroyers in the European combat zone. Note on the turret are four victory markings indicating this M36B1 has destroyed two German Tiger tanks and two Panzer IVs. The new 90mm main gun was doing its job! This Grand Blanc built unit was serving with the 654th Tank Destroyer Battalion.