Seagrave Fire Apparatus in World War Two
Currently Clintonville, WI
1881-Present

This page added 2-4-2018.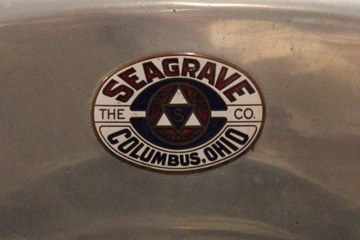 Seagrave Fire Apparatus is the longest surviving American manufacturer of fire suppression equipment in the United States. Originally formed by Fredric Seagrave in 1881 in Detroit, MI, the company has gone through several moves and ownership changes. Today Seagrave is owned by ELB Capital Company with manufacturing plants in Clintonville, WI, and Rock Hill, SC. During World War Two, Seagrave was located in Columbus, OH, after moving there in 1891. In 1963 it was purchased by FWD Company and moved to Clintonville, WI.
Seagrave Fire Apparatus World War Two Production Statistics: Seagrave Fire Apparatus fire equipment can be found at various fire museums in the United States. There are usually some on display, and pumping water at musters. Finding Seagrave Fire Apparatus that served the US military during WWII is another story, as they are almost non-existent. Only one has been found by the author to date, as can be seen below.
Authors note: I have traveled to many places in the course of researching World War Two vehicles, weapons, and equipment to photograph for this website. I have been to museums, veterans' organizations, ships, salvage yards, airshows, military collector shows and conventions, parks, memorials, and cemeteries. In order to provide photos of the 1942 Seagrave fire truck below, the destination was the hot sauce department of a grocery store in Cincinnati, OH. One finds World War Two equipment where one can. This was a unique photo shoot to say the least.

1942 Seagrave US Navy Fire Truck: The photos below were taken in the hot sauce department of the Jungle Jim's International Market in Cincinnati, OH store.
The vehicle below served with the US Navy in San Diego. It is unknown whether it was at the naval base, North Island Naval Air Station, or at the amphibious base on Coronado Island. It was part of a local collection when purchased by Jungle Jim's for its display. The vehicle was in running order. However, for safety, the gas tank was removed before placement in its current position. The photos below show it is in excellent condition.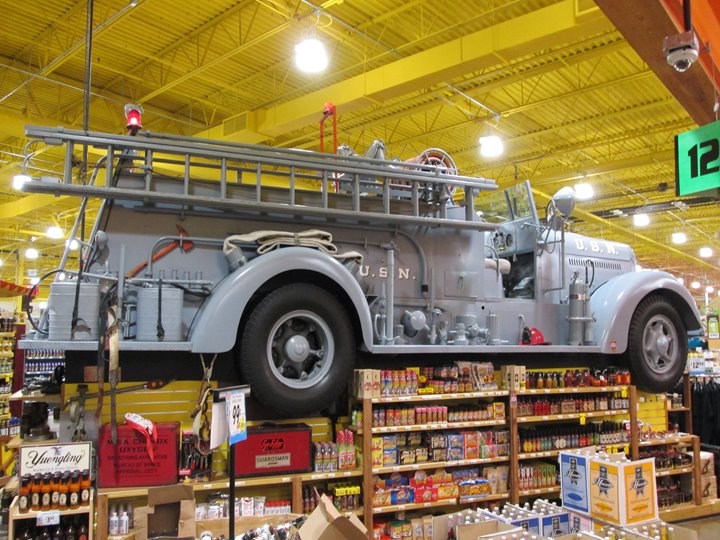 The US Navy Seagrave fire truck sits atop a hot sauce display in the store. Author's photo.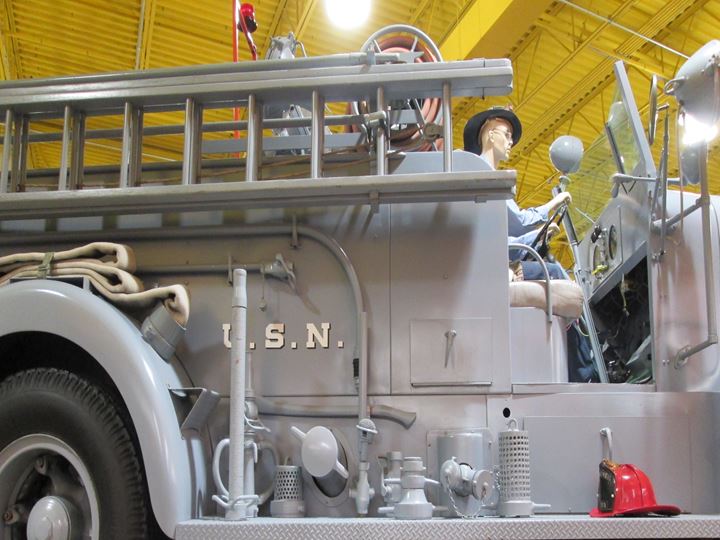 Author's photo.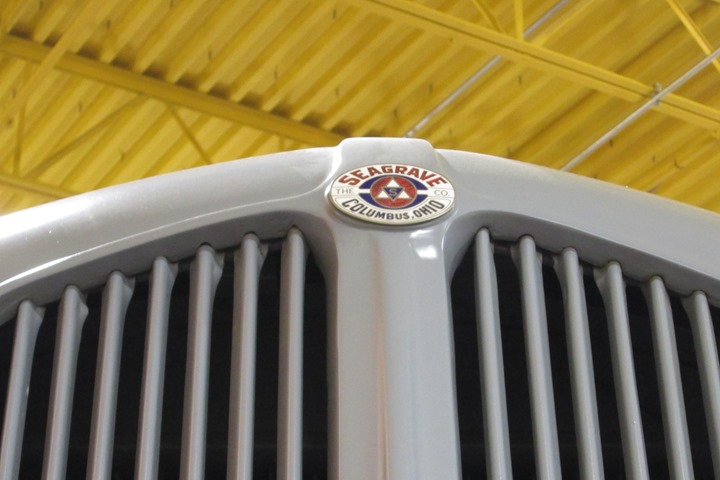 Author's photo.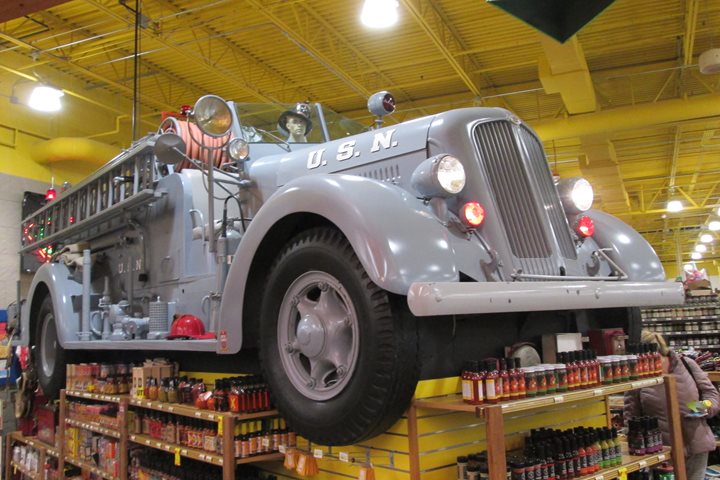 In the lower right corner, a customer is picking out her favorite hot sauce. Author's photo.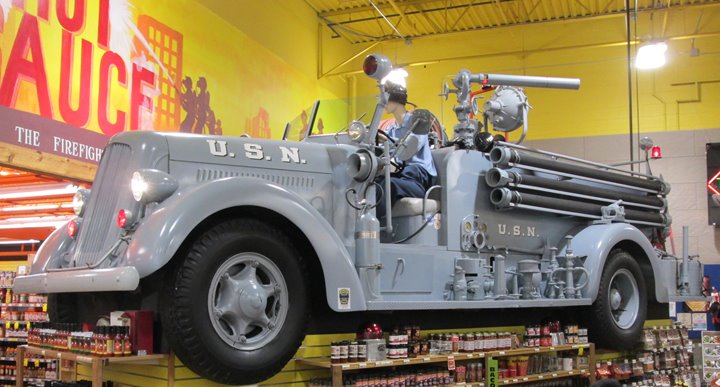 Author's photo.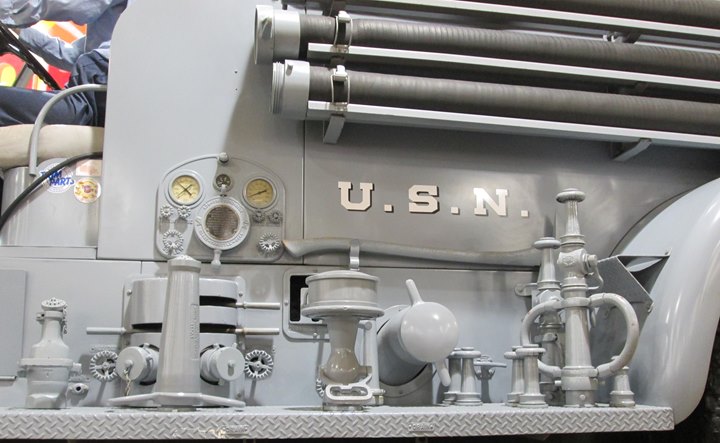 Author's photo.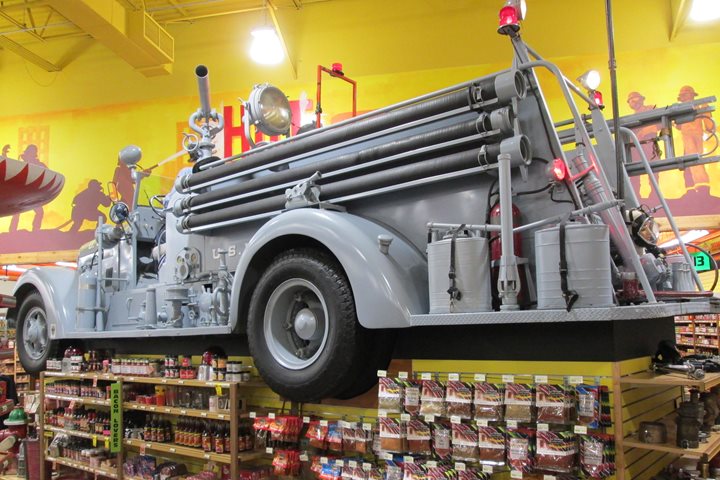 Author's photo.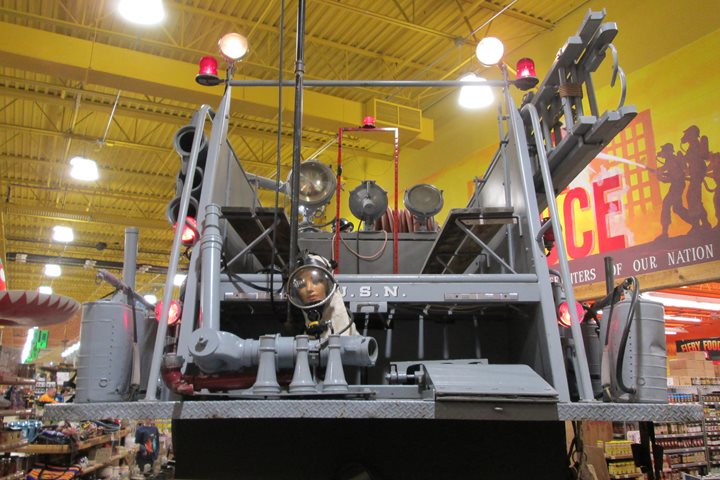 Author's photo.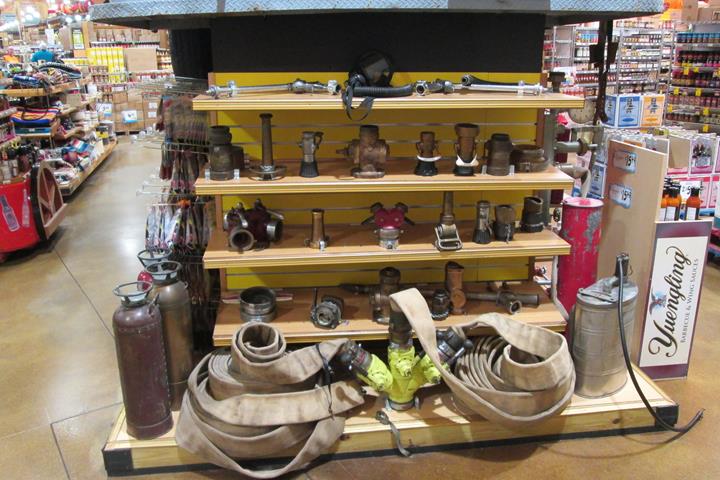 The store has added this display of fire nozzles, extinguishers, and hose below the rear of the truck. Author's photo.
Historical Seagrave Fire Apparatus at the Central Ohio Fire Museum in Columbus, OH: The museum has four Seagrave pieces of apparatus on display built when the company was in Columbus, OH.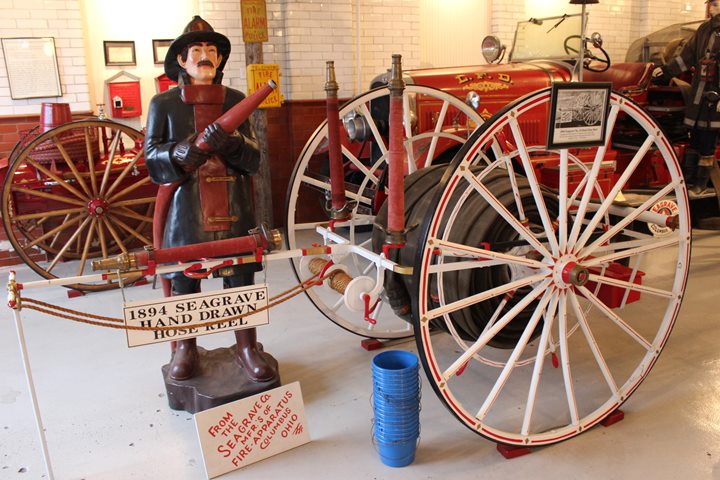 This 1894 Seagrave Hand Drawn Hose Reel has 600 feet of hose and cost $75 new. Author's photo.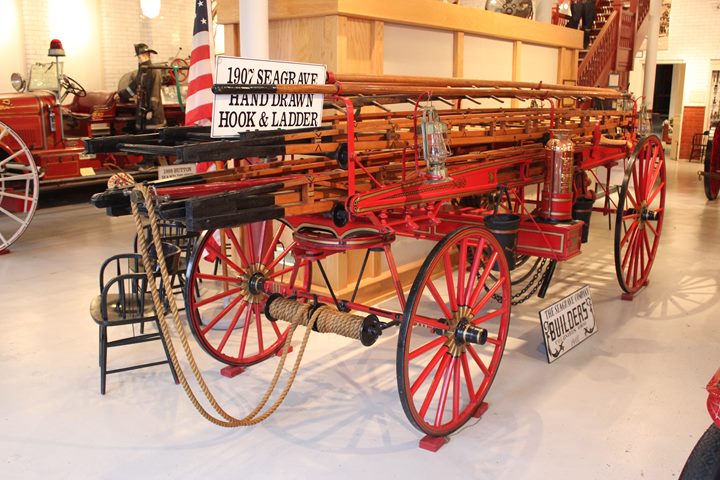 This is a 1907 Hand Drawn Hook and Ladder. Author's photo.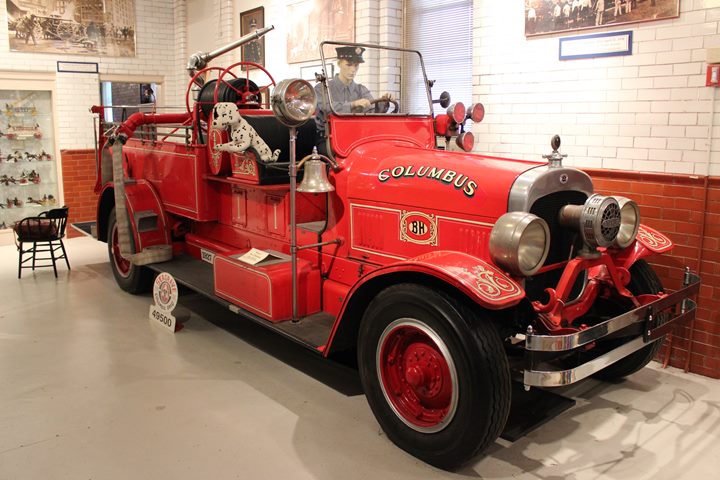 The Columbus, OH Fire Department used this 1927 Seagrave pumper. Author's photo.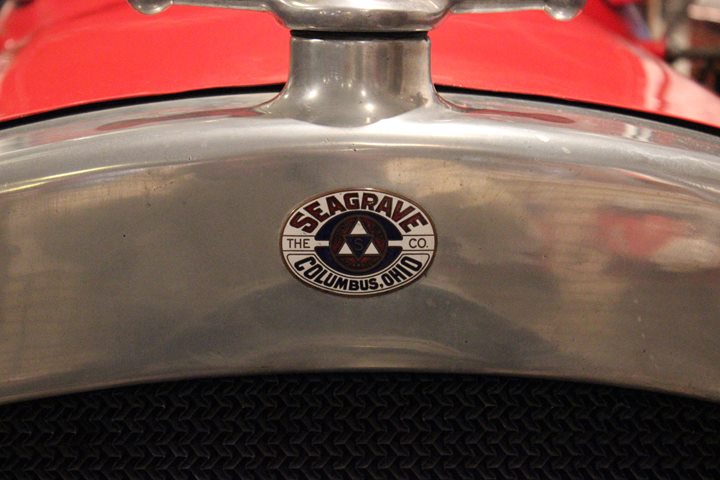 Author's photo.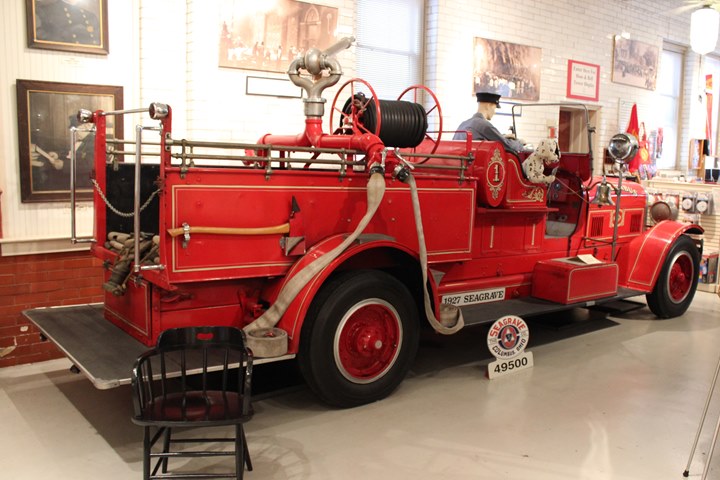 Author's photo.



The 1935 Seagrave 65-foot aerial ladder truck on display was purchased by the Lancaster, OH fire department. Author's photo.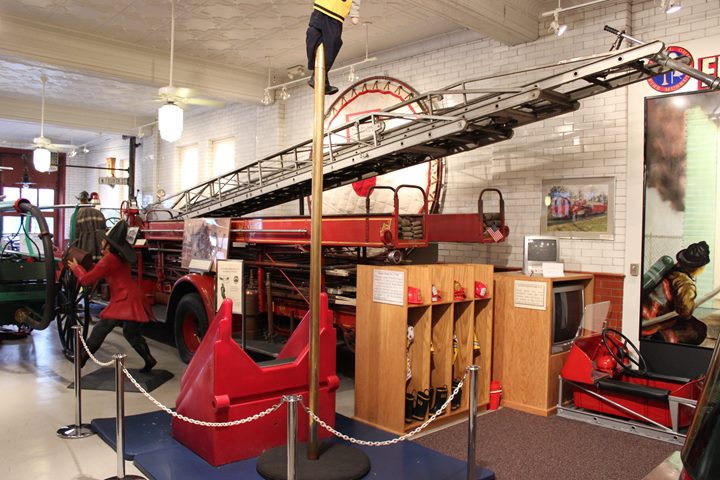 Author's photo.