Howe Fire Apparatus Company in World War Two
Anderson, IN
1872-1978

This page added 7-9-2020.
Howe Fire Apparatus was located in Anderson, IN from 1872 to 1978. When I arrived in Anderson in the early 1970s, I was aware that Howe was building fire trucks on the the north side of Anderson on North Madison Ave. I would drive by it from time-to-time

I was unaware that Howe had only moved into the Madison Ave. plant in 1970. It had been located at 1402 22nd Street on the west side of Anderson for many years. This all came to my attention as I was researching another company that built fire equipment during World War Two, and found a couple of references to Howe's contribution to winning World War Two. I also found several photos of Howe-built equipment from the era. Coincidentally, I had an appointment the next morning on the south-west section of Anderson. So, on the way home, I stopped by the two former Howe plants for a photo shoot. These combined events led to this webpage.
Howe Fire Apparatus in World War Two: Information on Howe in the war is limited and, I think inaccurate. Two sources indicate that Howe built 979 pumpers for the U.S. Army during World War Two. Another source states Howe built almost 1,000 fire trucks and 2,000 Civil Defense trailers with pumps for both the U.S. and Britain. I find it hard to believe that Howe could have built 979 pumpers and 2,000 trailers during World War Two. Below are my reasons.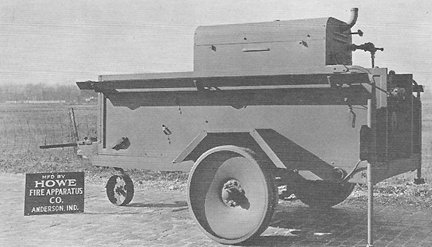 This is a 1942 Howe fire trailer. The photo comes from the "The History of Howe - 1872 to 1972" which was published by Howe Fire Apparatus Company in 1972. Here is the attached photo caption states: "Howe Fire Trailer built originally in 1942 for the Office of Civilian Defense with steel wheels and plywood body. Later models had rubber tires and steel bodies. More than 2,000 were manufactured during World War II. Trailers were used during German air blitz in London."
My interpretation of this caption is that Howe didn't start making the trailers until 1942. The London Blitz was from 9-7-1940 to 5-11-1941. If Howe didn't start making them until 1942, they were a year too late for that battle. The caption just says trailers were used during the Blitz, not Howe trailers. Also, it notes that 2,000 trailers were manufactured during World War Two, not that Howe made 2,000 of them.
Howe was a job shop, like many fire apparatus companies were at the time, and still are. To build that number of units, Howe would have had to have an assembly-line operation. After visiting its former plant on West 22nd Street in Anderson, IN, I don't think the place was big enough to build nearly 3,000 units in four years.

Two World War Two period photos of Howe fire trucks show them on Sterling chassis. My previous research into the Sterling Motor Truck Company finds no references to the company providing chassis to Howe, or any other fire apparatus company during the war. If Sterling had provided a significant number of chassis to Howe, I would think it would have been documented. Sterling did provide some chassis, as shown in the photos below.

Labor was tight. Men were being drafted into the war, and General Motors had the Guide Lamp and Delco-Remy Divisions in Anderson. Chevrolet also had a plant in Anderson later in the war. The GM plants would have paid higher wages than what Howe would have been able to afford.

The website "Fire Trucks at War" is the best resource for fire apparatus in World War Two. It shows that Howe at a minimum built Class 500 fire trucks on Ford chassis and Class 750 units on Sterling chassis. "Fire Trucks at War" names seven companies that built the apparatus for both the Class 500 and Class 750 fire trucks on chassis by various truck companies. Howe is not named although there are a couple of photos of Howe apparatus on the website.

Before the U.S. became involved in World War Two, and then especially after the country entered the conflict in December 1942, the U.S. Army opened new bases that needed fire trucks immediately, So, it contracted with multiple fire apparatus companies to provide them in an expeditious manner. It could not wait on Howe to build the number needed.

Howe was also building civilian fire trucks during World War Two.
I believe Howe built a small portion of the 979 units mentioned above. It should be noted there is no known primary source for this number. Production numbers for fire apparatus purchased by the U.S. military during World War Two is almost non-existent. Howe undoubtedly built a portion of the 2,000 trailers as noted above. But the immediate need for equipment during the war world have kept a small company like Howe from building all of them.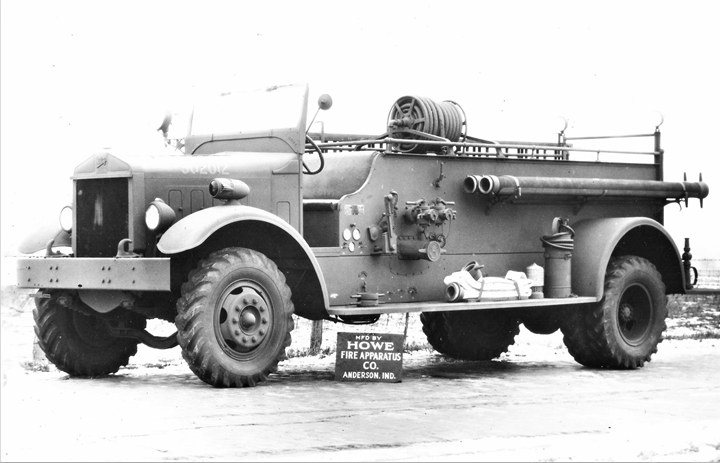 This is a 1942 Sterling/Howe Class 750 pumper with USA number 502012. This photo was taken in Anderson and the truck served at Lewiston, MT Army Air Field during World War Two. Howe always took a photo of each unit it built. An estimated 25 of these were built by Howe for the Army Air Forces. Photo courtesy of Ted Heinbuch via Warren Richardson.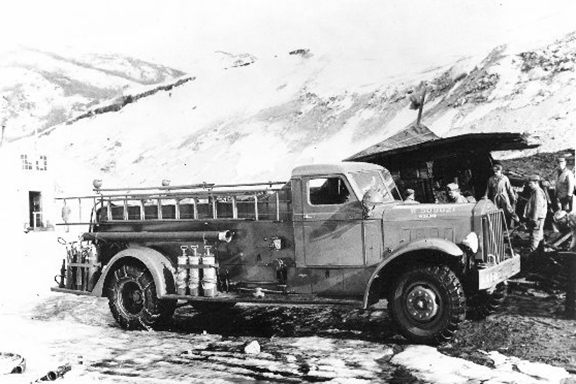 This is another Sterling/Howe pumper on duty in the Aleutian Islands. It is USA number 502023. The USA numbers were for the Sterling chassis. Assuming that Sterling had consecutive numbers for this series of chassis, it would have furnished at least twelve chassis to Howe. Photo courtesy of "Fire Trucks at War."
The only known surviving Howe fire truck from World War Two is owned by Jason Cleary of New Hampshire. It is a 1941 Ford-Howe Class 500 that served at Camp Langdon, NH during World War Two. It is USA number 501020.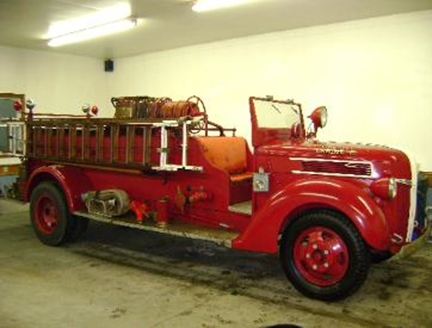 Photo courtesy of "Fire Trucks at War."
The Howe Plants: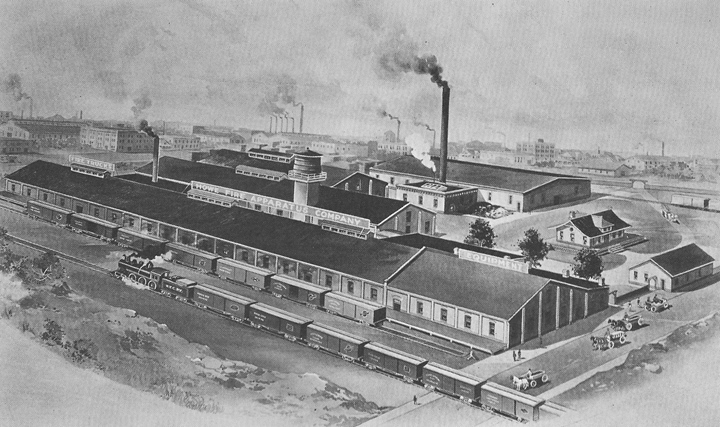 This is an artist's rendering of the 22nd Street Plant that it occupied from 1936 to 1970. I would have thought that there would have been more cars and fewer horse-drawn wagons on the road in 1936.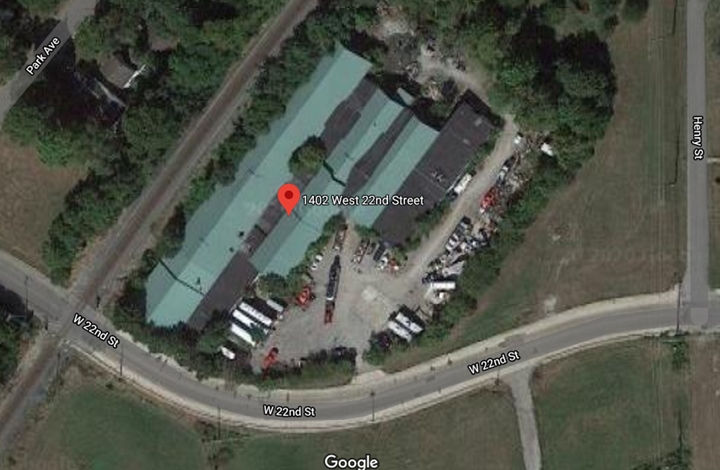 The former Howe plant at 1402 West 22nd still exists. Note that three of the buildings have green roofs and one a black one. Image courtesy of Google Maps.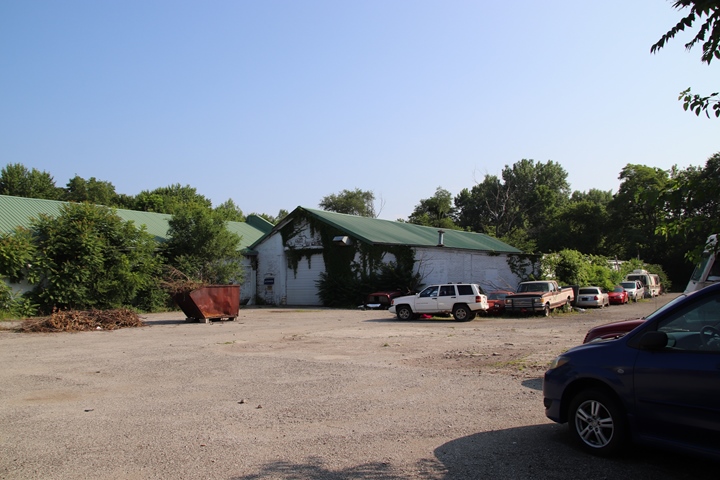 Currently, the facility is owned by a local wrecker service and is being used as vehicle storage yard. This photo is looking east. The smallest of the three buildings can plainly be seen. What is not obvious is the building to the right or south of it that has the vehicles parked along side it. It is a lean-to type building and is the one with the black roof. Author's photo.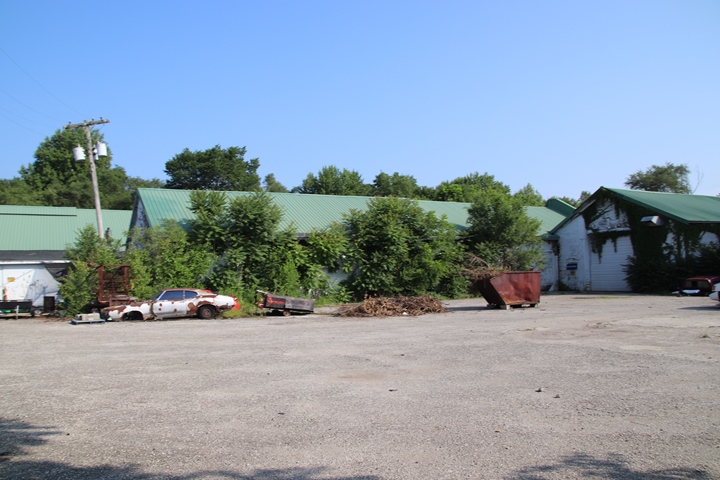 The buildings with the green roofs are steel. The current or a past owner spent the money to reroof these buildings. This would imply that there was or are items of value inside that need protection from the elements. Author's photo.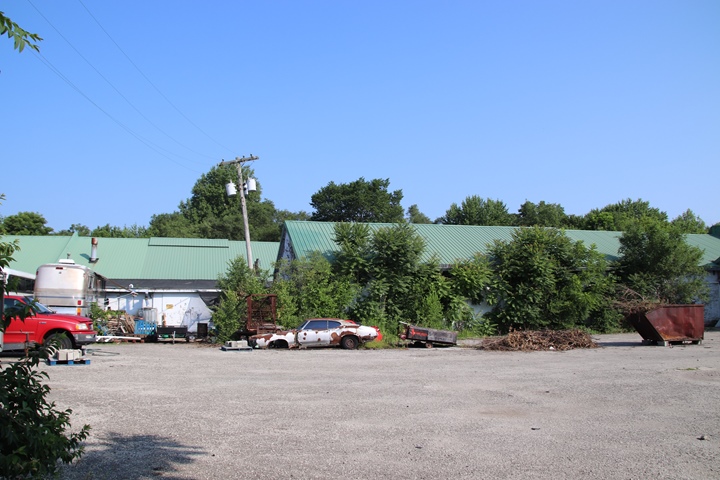 Author's photo.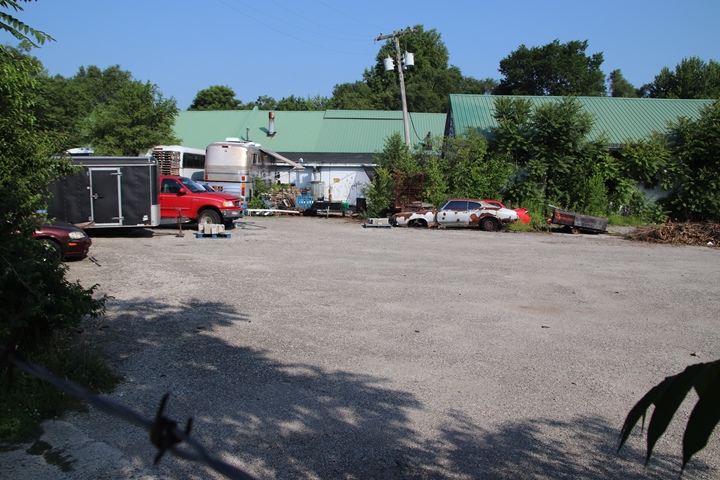 Author's photo.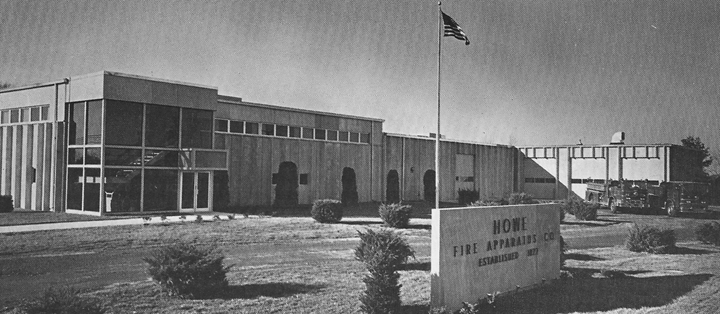 The new Howe plant in 1970.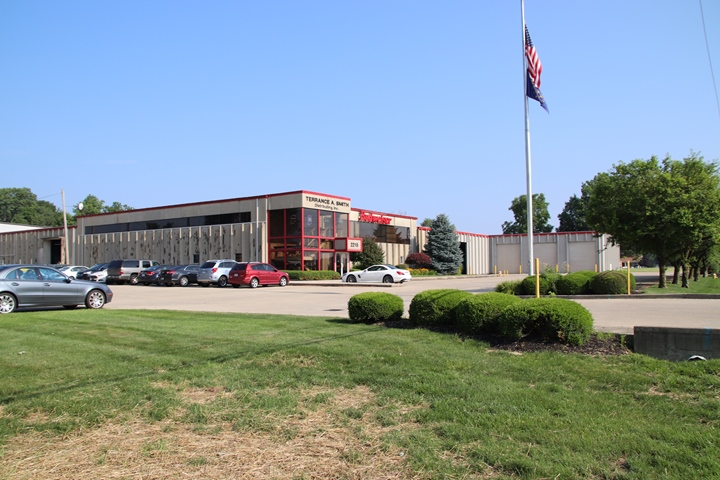 The former Howe plant on North Madison Ave. in Anderson, IN. This photo looks like the one above from 50 years ago except there are some new trees out in front. Author's photo.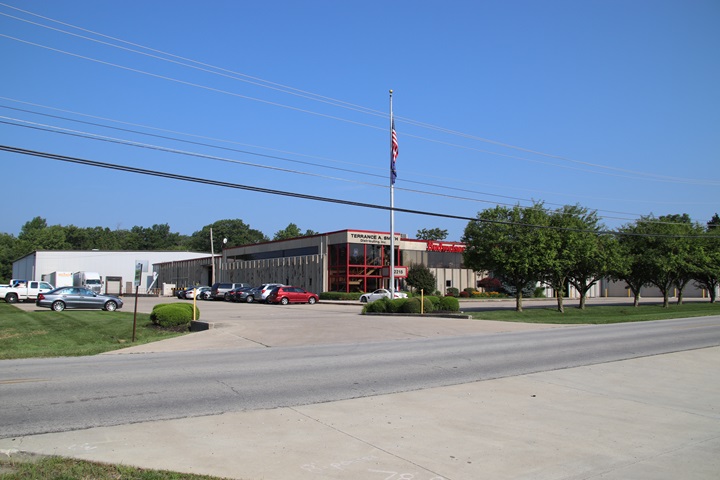 It has been 42 years since Howe left this facility. I cannot remember whether the steel building in the back was there in the 1970s. It appears to have been added since then. Author's photo.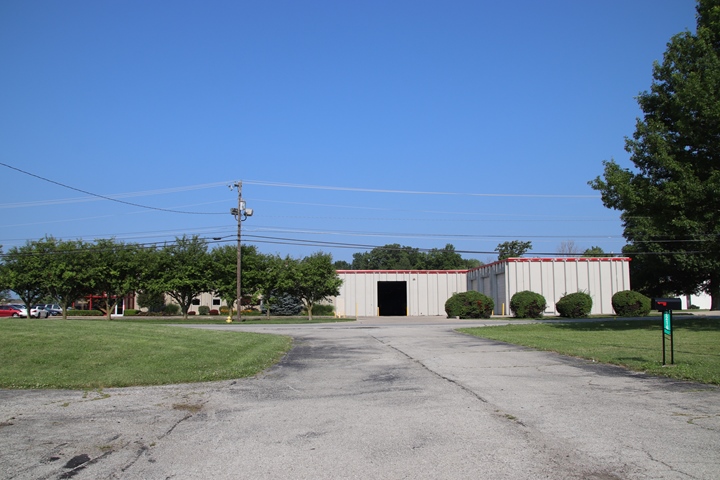 Author's photo.
Howe Defender: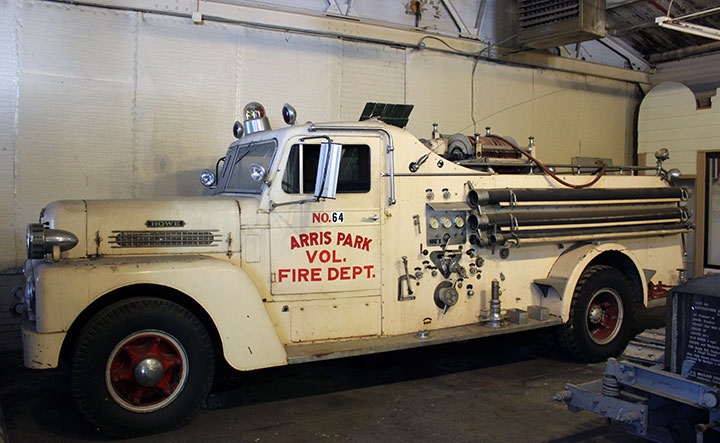 I have only ever found one Howe Fire Truck. This post-World War Two Howe Defender was on display in 2014 at the former McClain Military Museum in Anderson, IN. Author's photo.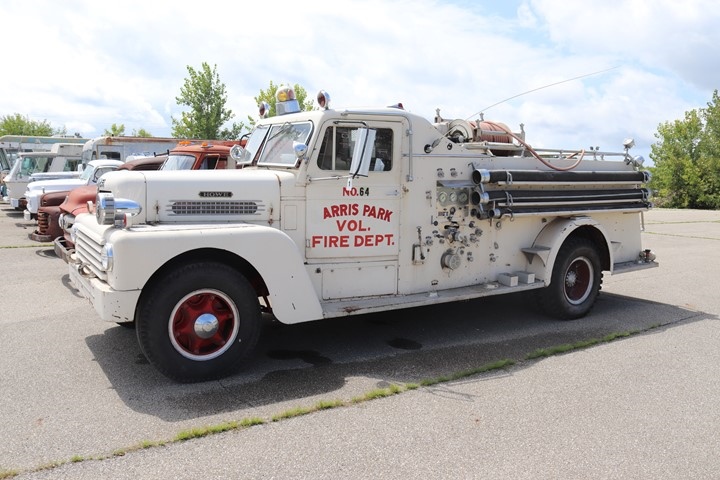 The McClain Military Museum closed in 2016 for not paying its property taxes. It had to auction off the museum collection to pay the back taxes. Unfortunately, no collector wanted the Howe Defender. In August 2018, I found it at Vic's Antiques in Edinburgh, IN, along with three other items from the museum. This was still there in March 2020. Hopefully, a collector will purchase this Howe Defender and get it out of the elements. Author's photo.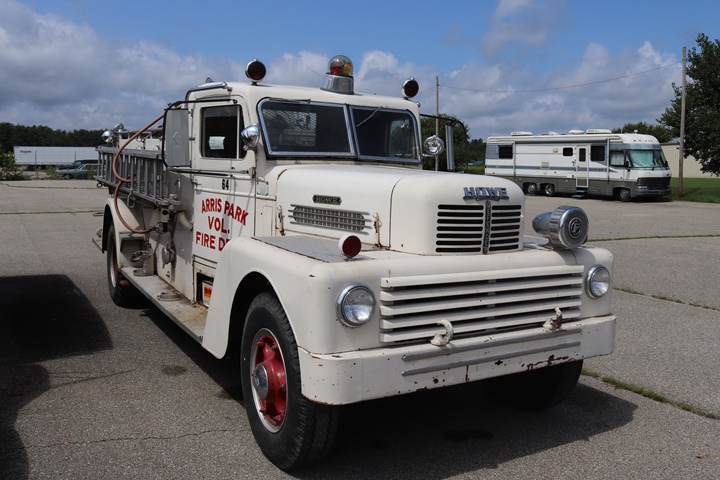 Author's photo.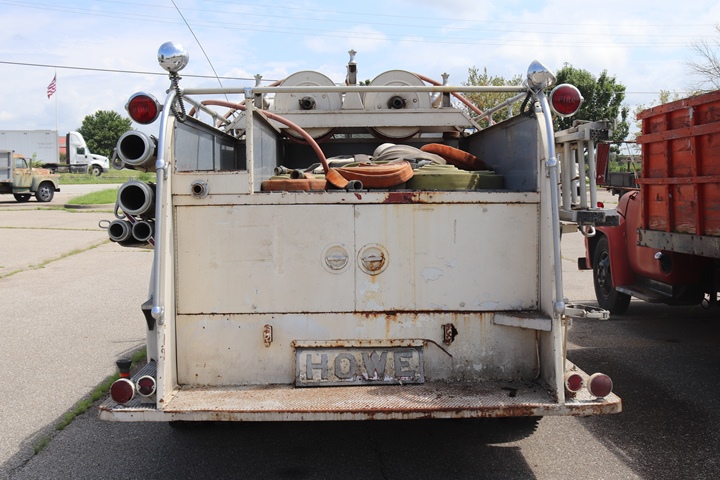 Author's photo.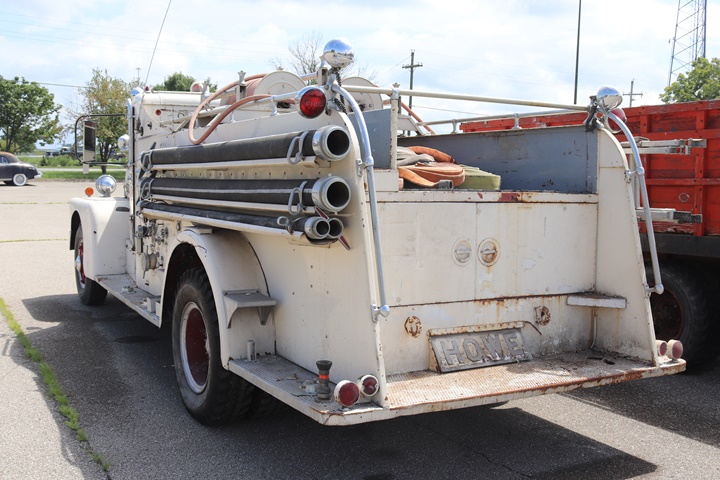 Author's photo.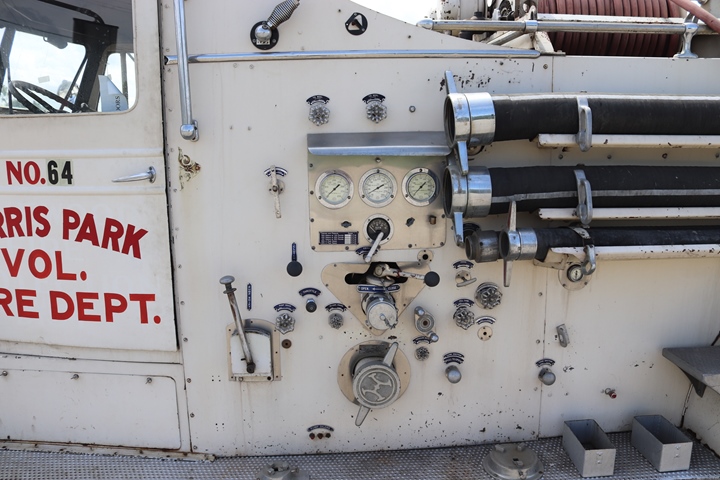 Author's photo.