Rochester Products Division of General Motors in World War Two / WWII
Rochester, NY
1939-1988

Rochester Products World War Two / WWII Production Numbers / Statistics: (75) types of Aircraft generators, (60) types of relays, controls, radio filters, and carbon pile and contract voltage regulators, naval alternators, voltage boosters, (60) types of aircraft starting motors, hydraulic pump motors, tank generator, starters and control units.
Rochester Products Division won the Army-Navy "E" for Excellence Award on February 8, 1943 and added the first of four stars on September 4, 1943.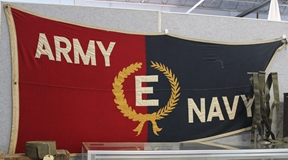 "Contributing to Victory on Every Front"