Checker Car Company in World War II
Kalamazoo, MI
1922-2009
Rest in Peace
This page last updated 8-16-2018.

Checker was known for its taxi cabs. I remember growing up seeing them on the streets in Lansing, MI. I always thought they looked a lot like a mid 50's Chevrolet. The company stopped making taxicabs in 1981, but was still a supplier to the auto industry until 2009 when it went bankrupt.
Checker Car Company World War Two Products: Truck cabs for Ford Motor Company, (46,759) of various types of trailers, and Army Signal Corps bodies. Checker had about 800 employees on the payroll during World War Two.
AS shown in the table below, Checker built 46,749 trailers of various types under direction of the Detroit Ordnance Department of the U.S. Army. Not shown are trailers ordered by the U.S. Army Signal Corps. One is shown below.
Checker Car Company World War Two Trailers Accepted by Detroit Ordnance, US Army
The information below comes from "Summary Report of Acceptances, Tank-Automotive Material, 1940-1945."
Published by Army Services Forces, Office, Chief of Ordnance-Detroit, Production Division, Requirements and Progress Branch
January 21, 1946.
Type
Checker Model
1940
1941
1942
1943
1944
1945
Total
Semi Trailer, 3-ton two wheel Van
CC-3
191
191
Semi Trailer, 3 1/2-ton two Wheel 16 foot Stake and Platform
CC-4
242
242
Semi Trailer, 6-ton Two Wheel Van
610
610
Trailer, 1/4-ton Two Wheel Cargo
774
774
Trailer, 1-ton Two wheel Cargo
CC5, CC5A
5,500
28,791
3,672
37,963
Trailer, 1-ton Two wheel 250 gallon Water Tanker
CC1A, CC1B
1,491
4,000
1172
6,664
45 ton 12 Wheel trailer M9
D45LF1
334
334
Total
7,406
32,791
4,844
1,718
46,759
Author's Note and Disclaimer: The Detroit Office of Ordnance of the U.S. Army was the primary purchasing entity for vehicles for the U.S. Army during WWII. It also purchased vehicles for the USMC, US Navy, and for Lend-Lease. However, there were other organizations that also purchased vehicles including the Army Corps of Engineers, U.S. Army Air Force, U.S. Army Signal Corps, Navy Bureau of Ordnance, Navy Bureau of Aeronautics, and foreign countries making direct purchases. In this case it is known that the Signal Corps ordered its own trailers from Checker, and they are not comprehended in the numbers above.
Checker made three prototype Jeeps for the original competition. It was a four wheel steering design. When tested, the military considered to be unsafe. The body design was then sold to Willys-Overland, which mated it with its four-wheel drive truck chassis to became the basis for the famous Willys World War Two jeep. This is still made for the civilian market today. One of the remaining Checker Car Company jeeps still exists.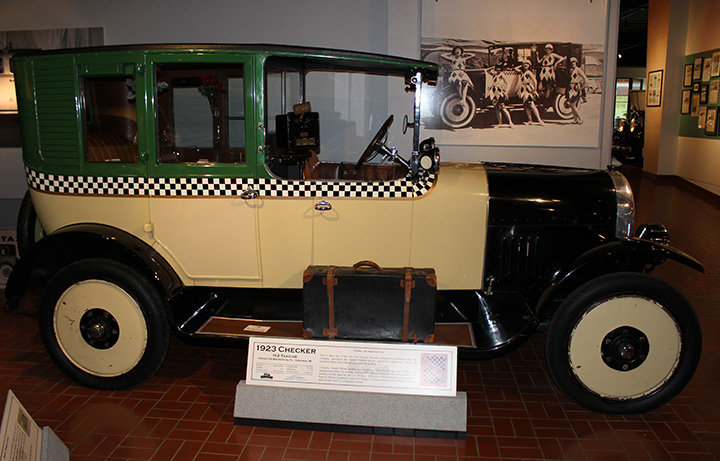 This is a 1923 Checker H-2 taxicab, probably the oldest one still in existence. This can be seen at the Gilmore Car Museum in Hickory Corners, MI. Author's photo.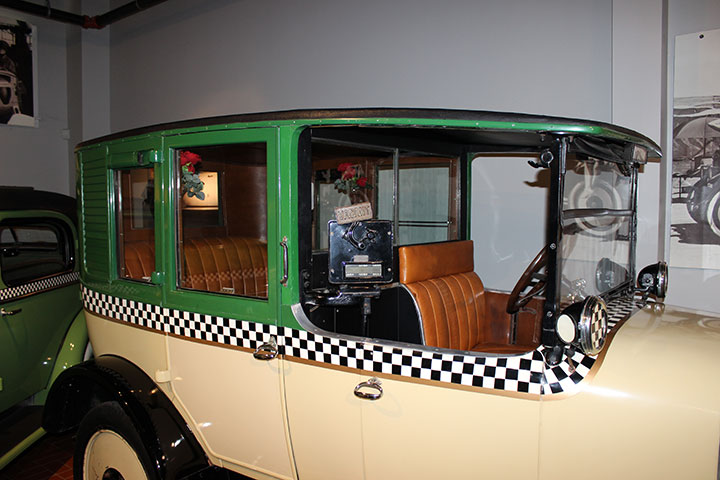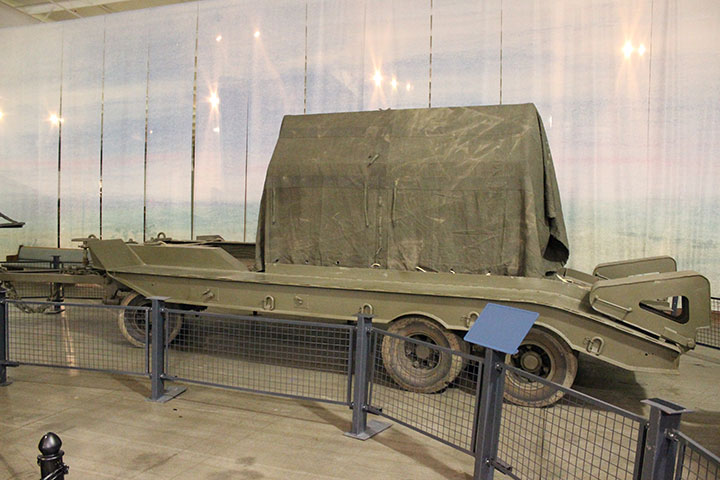 The M9, 45-ton trailer, pictured here, was designed to transport tanks over the road to the combat zone while being pulled by Diamond T M20 truck. Checker produced 344 of the 6,143 produced by five different manufacturers. This particular example, was built by one of the other companies. Author's photo added 10-22-2014.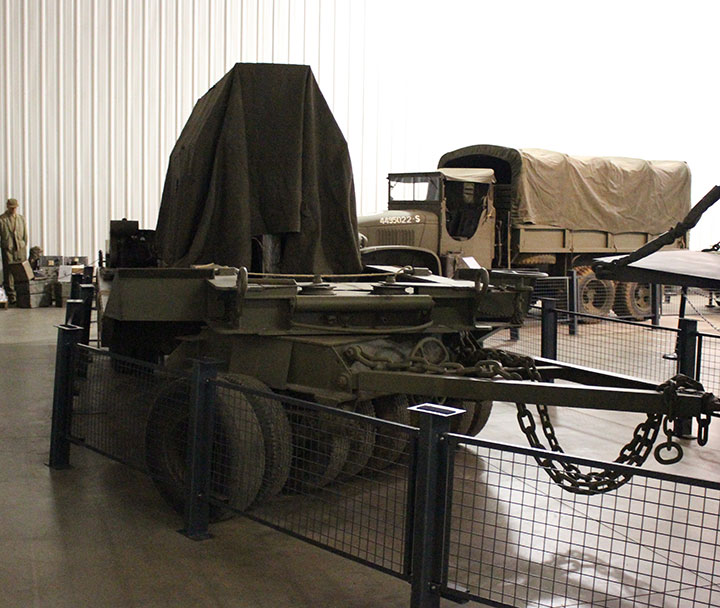 Author's photo added 10-22-2014.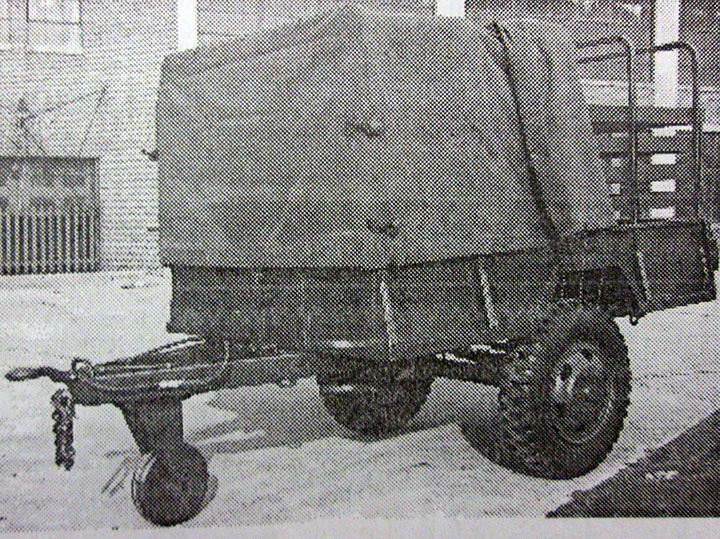 This is only one of two photos found to date depicting a Checker World War Two product. This is a CC-5 one-ton trailer.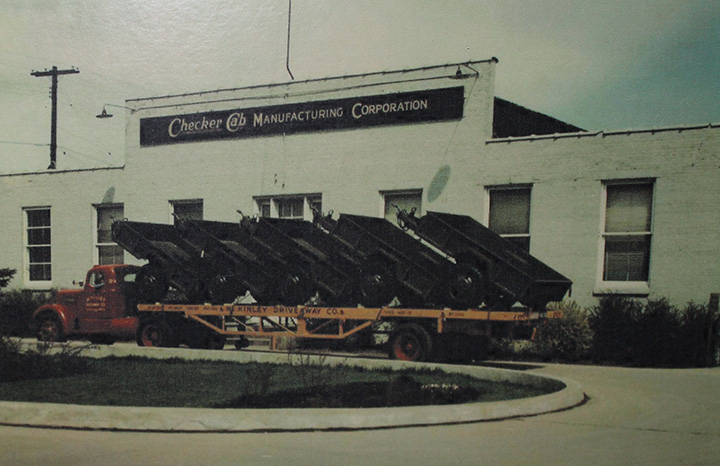 This may be a post WWII photo of one-ton trailers being shipped out. Checker also apparently made these during the Korean conflict. Author's photo from the Gilmore Car Museum.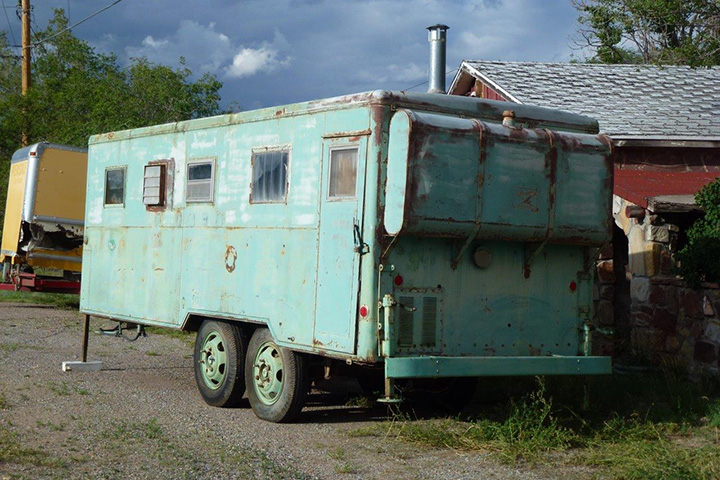 This former WWII US Army Signal Corps K-35 trailer was delivered to the US Army on 9-23-1942. As of July 2014, it is now the property of Mark Speir in New Mexico. Mark was able to purchase the trailer before it was scrapped out. Previously it had been used by the Forest Service as a command trailer. The kerosene tank and the chimney for the furnace inside were not part of the original Signal Corps trailer. Photo courtesy of Mark Speir and added 7-28-2014.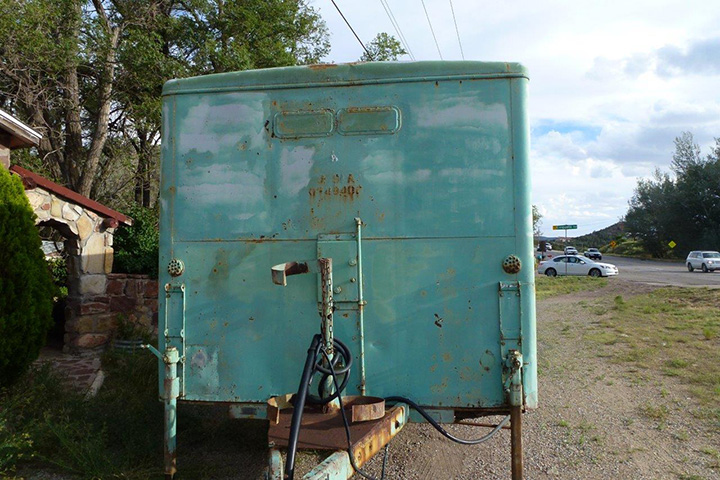 Photo courtesy of Mark Speir and added 7-28-2014.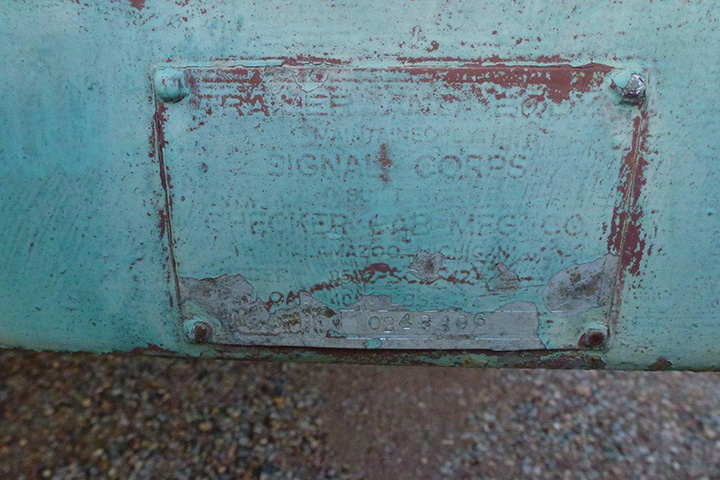 Photo courtesy of Mark Speir and added 7-28-2014.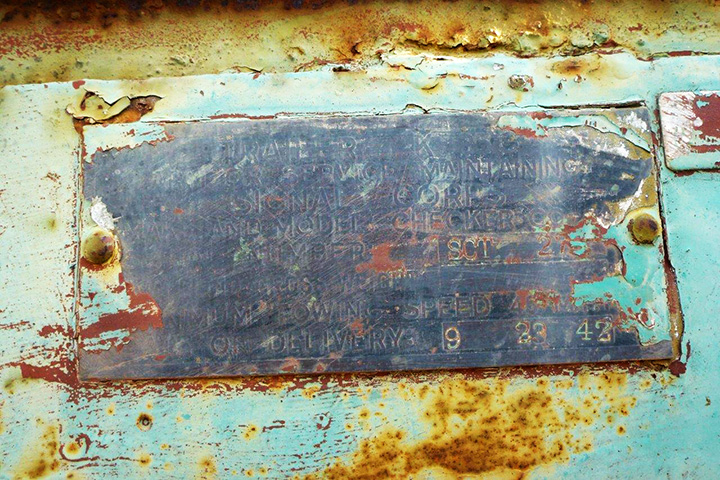 According to the above data plate, the maximum towing speed for the trailer was 45 mph. Photo courtesy of Mark Speir and added 7-28-2014.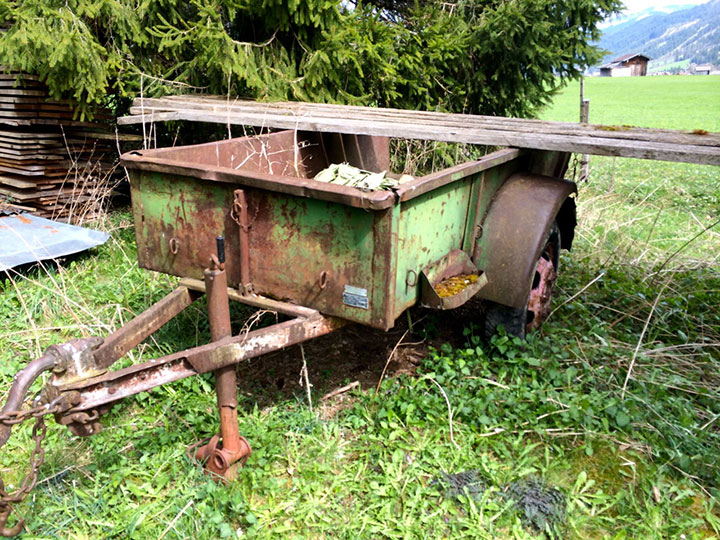 The next three photos, provided by Ian Maddock, show a well used and now dilapidated Checker one-ton CC-5A trailer. The date on the tag indicates it was built during WWII on 12-2-1943. Photo courtesy of Ian Maddock.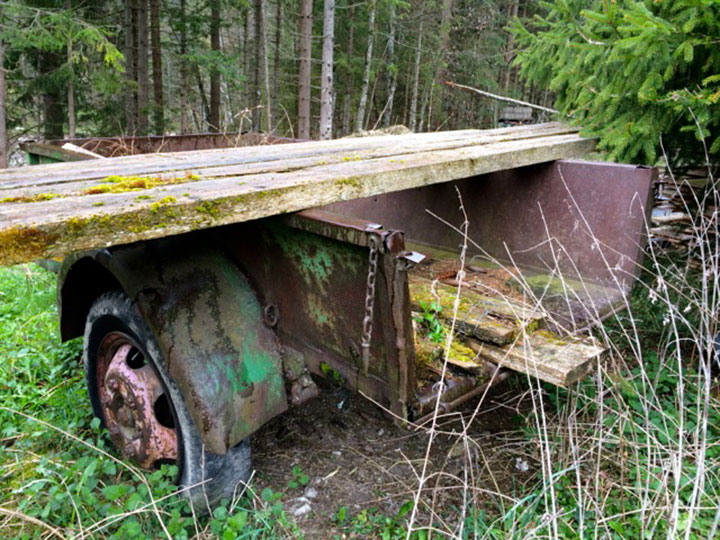 The trailer is located in the village of Achenkirch in the Austrian Tyrol, where it apparently was used to deliver cut lumber from the sawmill where it is located. Photo courtesy of Ian Maddock.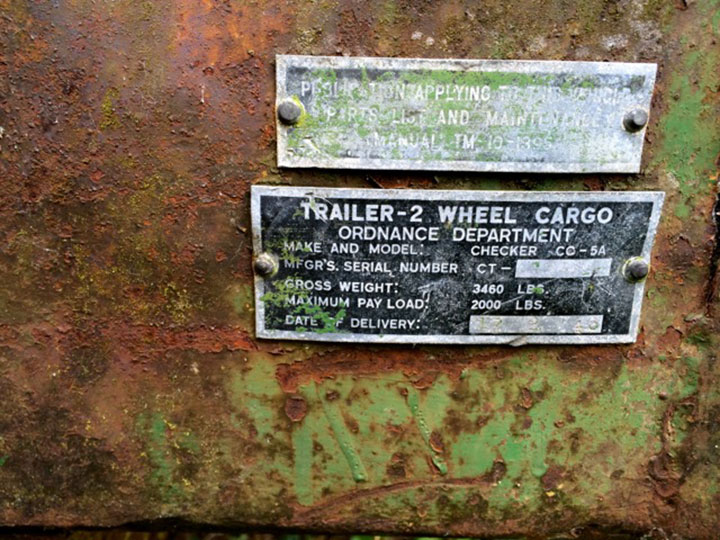 Photo courtesy of Ian Maddock.
Below are WWII technical drawings and information on the various trailers Checker built.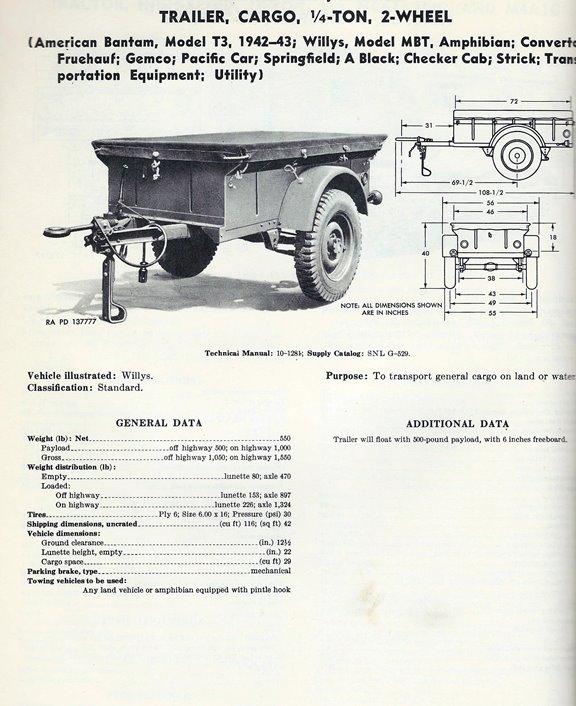 Checker had no designation for the 1/4-ton, 2-wheel trailer. It was normally pulled by a jeep. Photo added 4-30-2017.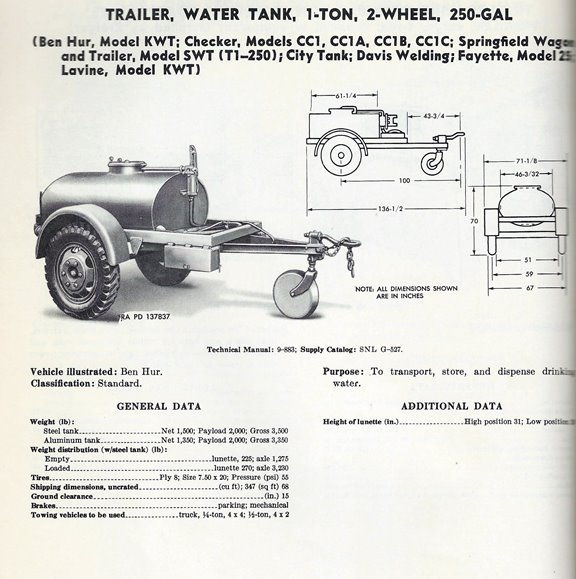 Checker built this 250-gallon tanker trailer in various models; CC1, CC1A, CC1B, and CC1C. Photo added 4-30-2017.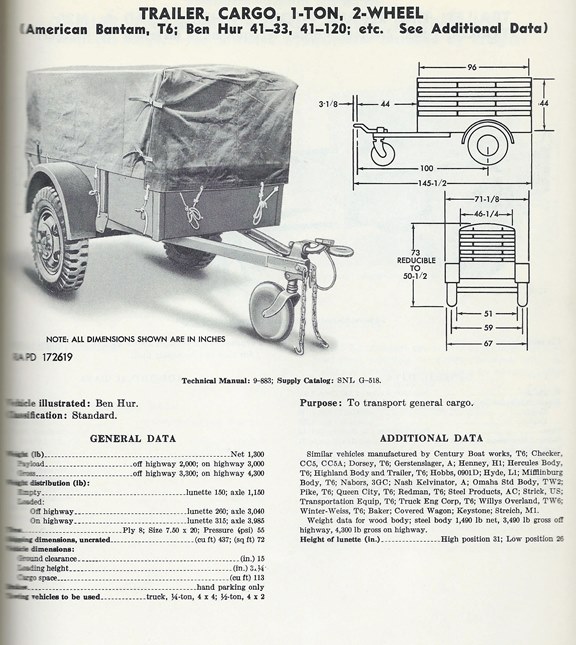 Checker's designation for the one-ton, two-wheel trailer was CC5. Photo added 4-30-2017.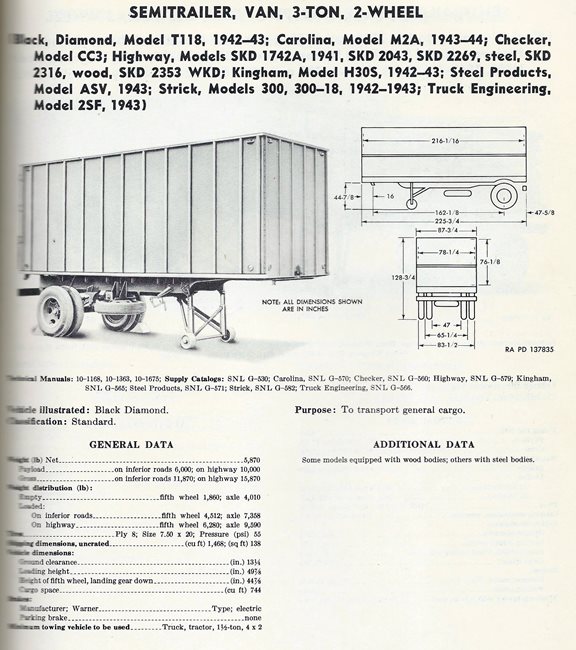 Checker designated the three-ton, two-wheel semitrailer as a Model CC3. Photo added 4-30-2017.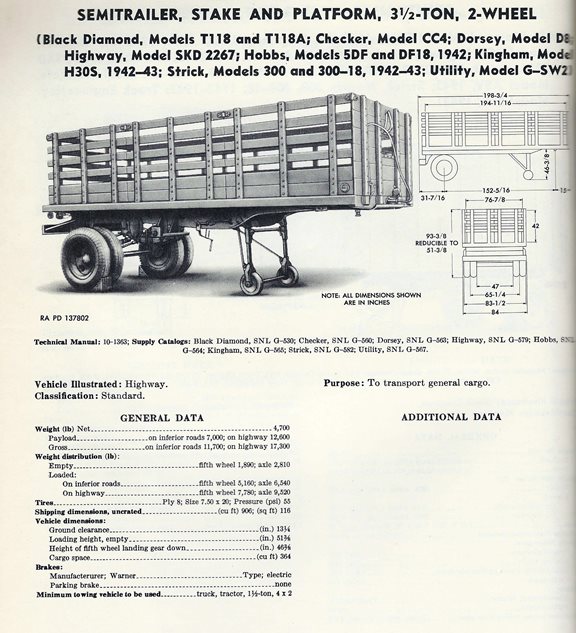 Checker designated its version of the 3.5-ton, two-wheel stake and platform trailer as a CC4. Photo added 4-30-2017.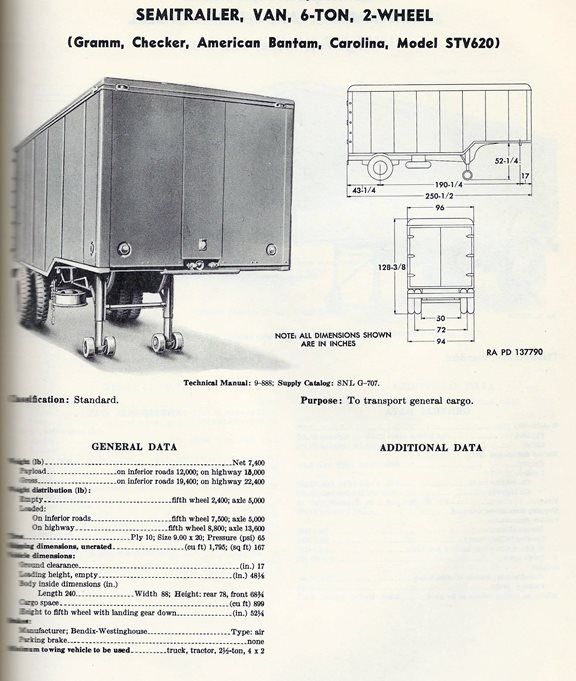 Photo added 4-30-2017.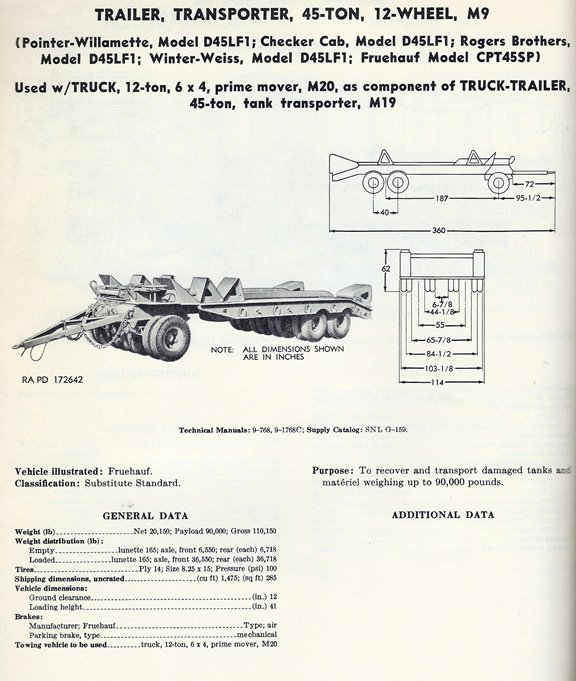 Checker built 344 M9 45-ton, 2-wheel trailers, and internally designated them D45LF1. Photo added 4-30-2017.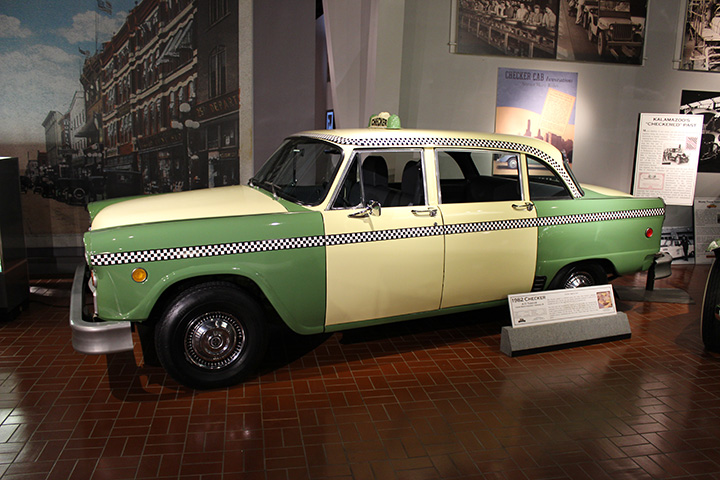 The end of the line! This is the last Checker taxicab built and was produced on July 12, 1982. Author's photo from the Gilmore Car Museum.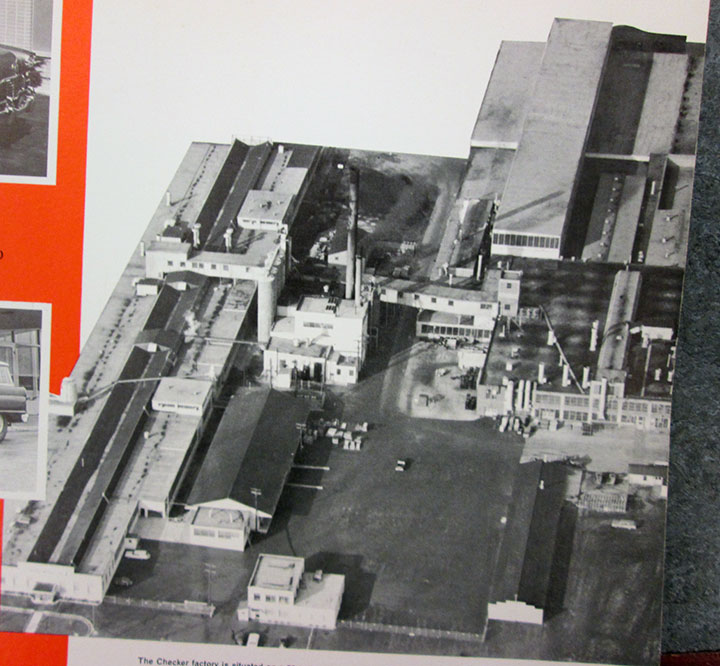 Here is an aerial photo of part of the Checker manufacturing complex on North Pitcher Street in Kalamazoo, MI after WWII. While most of the complex has been razed, a couple of the buildings were still standing when I visited on December 1, 2013. The stand-alone building at the bottom of the photo was still there as of that date, along with the one just to the northwest, and a small part of the building in the upper right. This photo is looking north.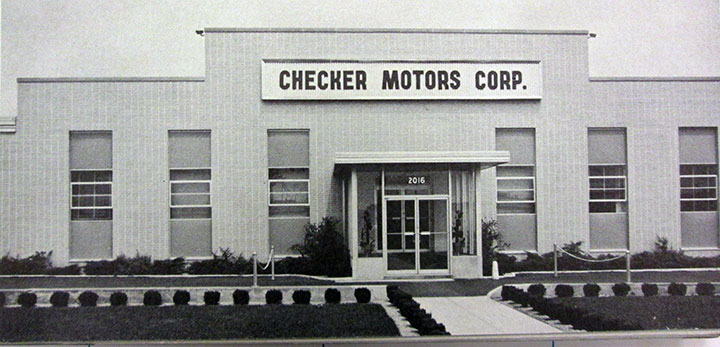 The photo above shows the south end of the long manufacturing plant that ran north just east of Pitcher Street. It is no longer there. It is the same building in front of which the Korean War trailers were parked, as shown above.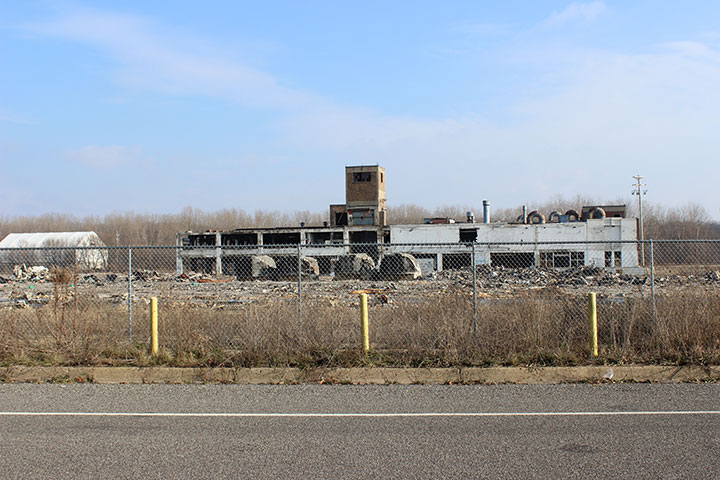 The next four photos were taken during the author's trip to Kalamazoo, MI on December 1, 2013. All photos are looking east from Pitcher Street. This was the biggest building still standing at the time, and can be identified from the aerial shot above by the brown brick tower that rises above the rest.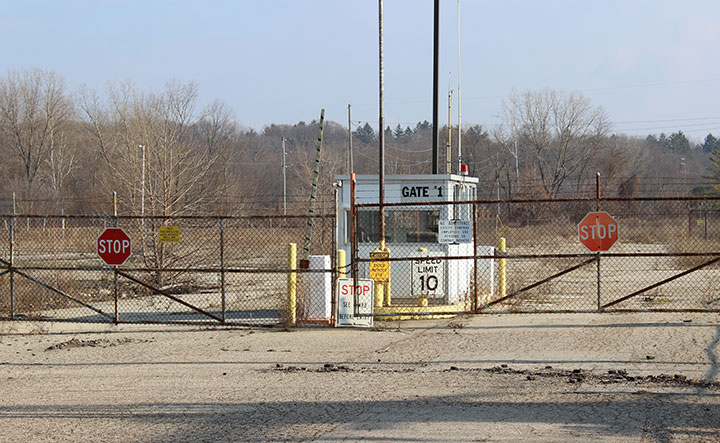 Gate 1 is at the south end of the aerial photo above, although it is not shown itself in the photo. From looking at current satellite images, it appears there may have been more buildings to the south of this gate as part of the complex, but were also razed.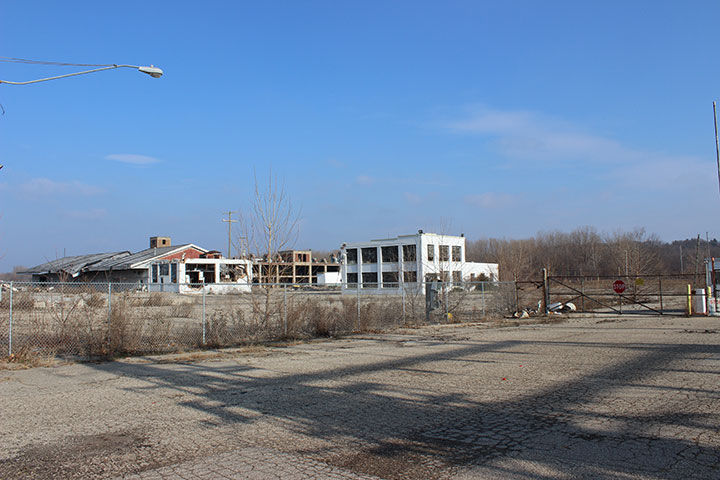 There is the stand-alone building pictured at the bottom and the one to the NW of it from the aerial photo.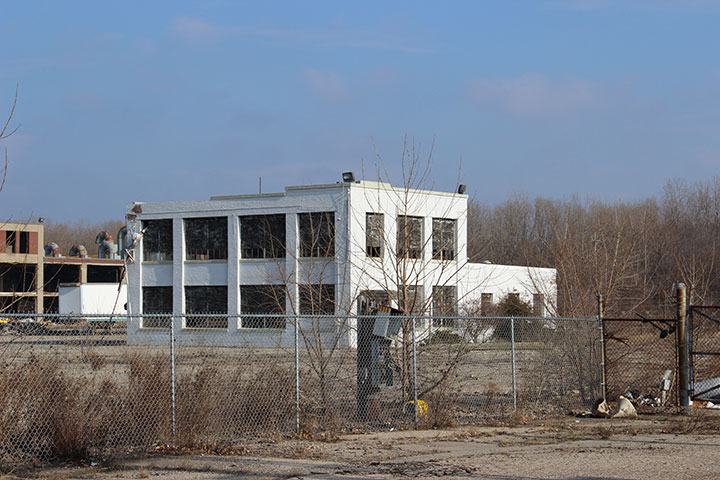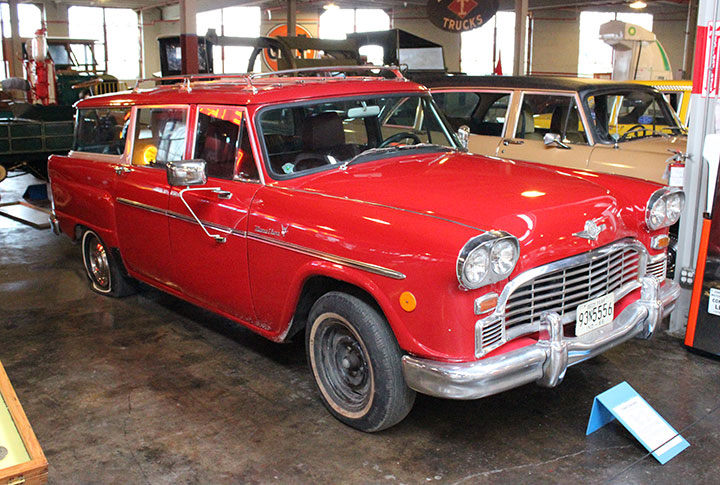 Starting in 1958, Checker started producing cars for the civilian market. This is a rare 1966 Marathon station wagon with a GM 350 V-8 engine and GM 400 transmission. As seen at the National Automotive and Truck Museum in Auburn, IN. Author's photo.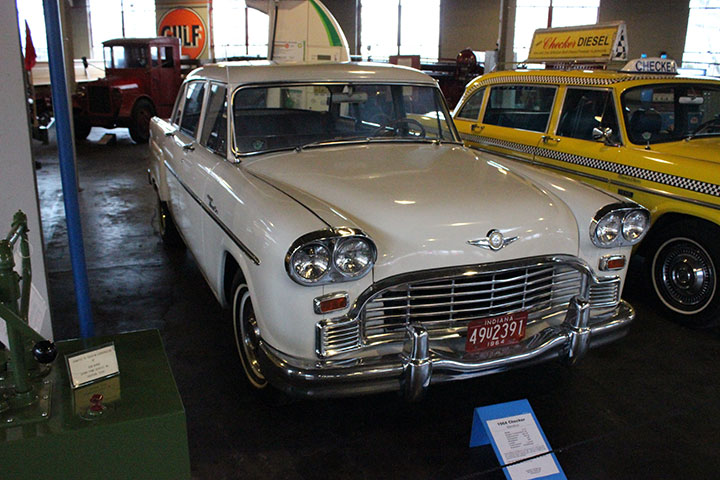 Natmus has an excellent collection of Checker cars and cabs, including this 1964 Marathon. Next to it is a diesel powered Checker cab. Author's photo.