Moraine Products Division of General Motors Corporation in World War Two / WWII
Dayton, OH
1923-1991
Rest in Peace
This page updated 10-30-2015.
The Delco Brake Division was formed as a separation from Delco Products in 1936, where the hydraulic brake product line had originated. GM decided a stand-alone division was needed to properly market and manufacture hydraulic brake components. The new division moved into an already existing factory complex on Wisconsin Blvd at Miami Chapel Road in South Dayton. In August 1942 Delco Brake Division merged into Moraine Products Division.
Moraine Products Division was created by General Motors in 1923 to be the manufacturing division for the GM Research Division, then located in Dayton. Its first product was an oil impregnated bearing named "Durex" which had its first application in Delco-Remy DC generators. When GM Research moved to Detroit, MI in 1925 the "Durex" product line moved as well, and Moraine Division also began manufacturing powder metal bearings and filters in Michigan. In 1937 Moraine returned to Dayton and occupied a new newly constructed building just south of Delco Brake in a factory complex that had begun at the turn of the 20th century.
In June 1943 the Division employed 1,541 and in April 1945 that number had grown to 2,428
Moraine Products Division won the Army-Navy "E" flag on 2-27-1943 and a star was added on 12-24-1943. The Division had a second start added at an undetermined date approximately six months later for a total of three awards.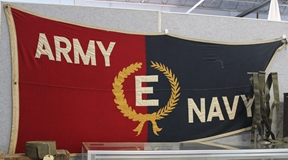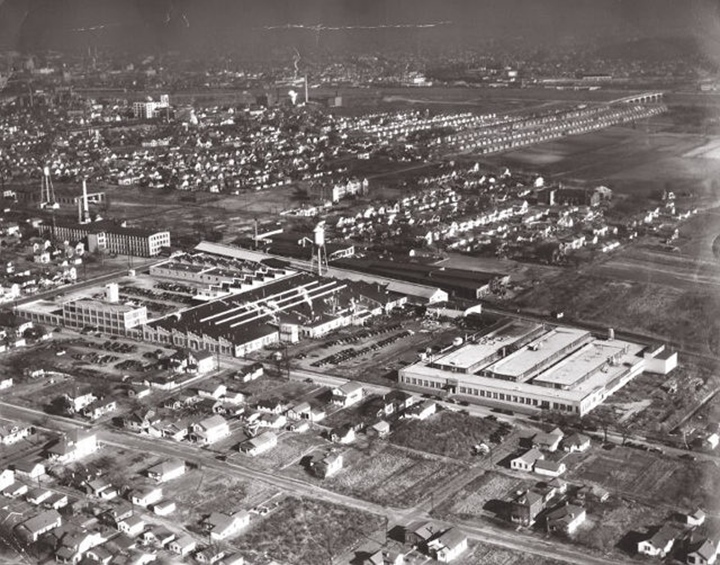 This photo shows Moraine Products as it looked during WWII and is looking northeast. In 1936 Delco Brake originally occupied the south half of the three story building with Frigidaire occupying the north half of the building. At the beginning of WWII Delco Brake would have been using the entire north complex for war production.
The separate building to the south was built specifically for Moraine Products to move into in 1937 when it returned to Dayton from Detroit. With the consolidation of the two divisions into one in August 1942 both complexes could be used to run war production in the most effective manner. Photo courtesy of Susan Crusey.
There is a lot of industrial history in the north factory complex. It originally started as the single story brick building on the corner, which was part of a four acre plot occupied by the Dayton Machine Tool Company before 1907. It is unknown when the building was originally built. It is documented that the Speedwell Motor Car Company moved into the one story building in 1907, and then two years later expanded the complex to nine buildings. Including the water tower, the complex occupied a total of six acres.
Between 1909 and 1936, several tenants occupied the factory complex after Speedwell went out of business after the 1913 flood. The most well known occupants were the Wright Brothers, who leased space in the facility from February to November 1910 while waiting for their new plant on Home Avenue to be completed. (The Wright Brothers plant on Home Avenue later became part of the Inland Division of GM. The Wright buildings still exists today, awaiting restoration to become a museum. See the photo on my Inland page.)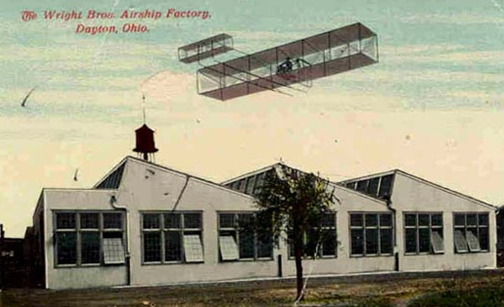 A postcard showing the section of the saw tooth complex on Wisconsin Blvd. The water tower built a year earlier is in the background. Photo courtesy of Susan Crusey.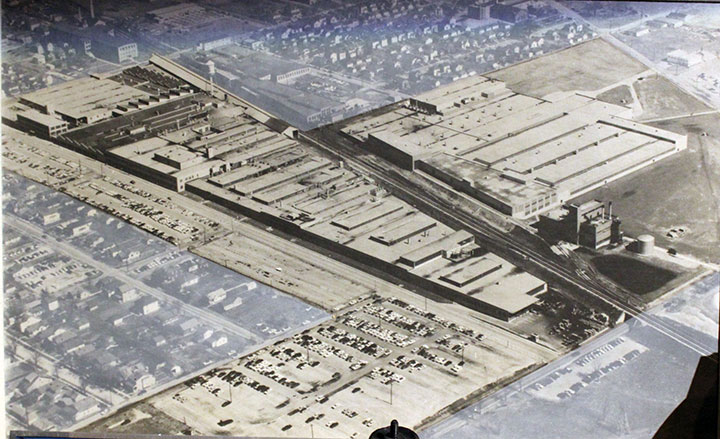 The Moraine Products Complex at a much later date but the Wright Brothers Airship plant is still present in the upper left. This aerial photo is looking north east.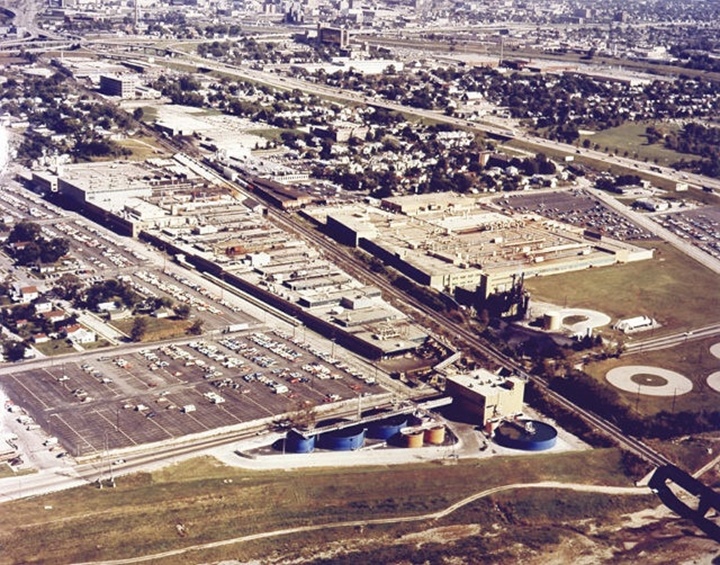 This color photo of the Moraine complex from the 1970s gives the same but somewhat different prospective of the complex. However, note that the section of the original Wright Brothers Airship Company along Wisconsin Blvd has been torn down and replaced with a modern high bay building. I-75 can be seen in the right hand side of the photo. Photo courtesy of Susan Crusey.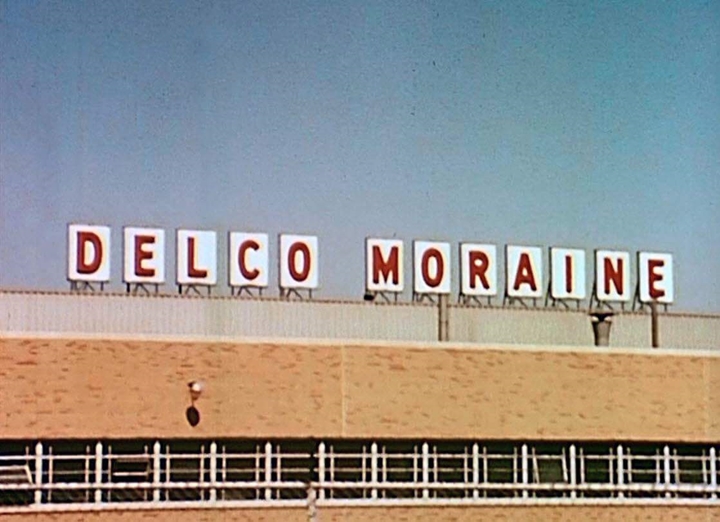 This is the late 1960's sign mounted on the east side of the plant and could also be seen from I-75. Photo courtesy of "Dayton History Books Online" via Rudy Lev.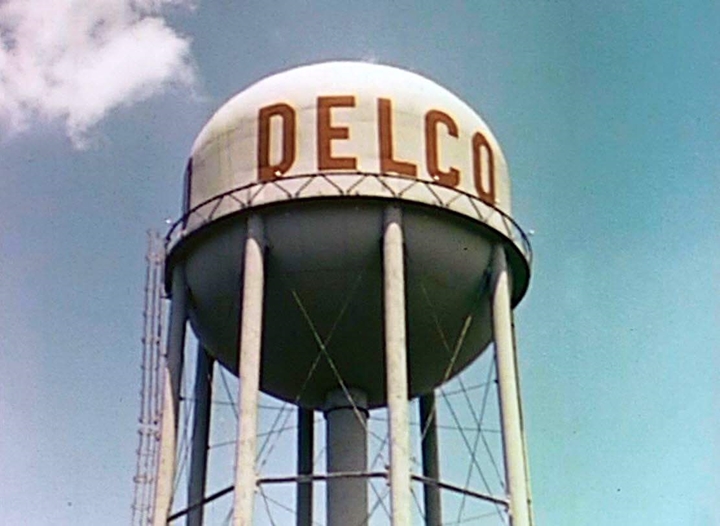 A photo of the 1909 water tower located east of the original complex and next to the railroad tracks. When this photo was taken, circa the late 1960's, the division had the name Delco Moraine. Photo courtesy of "Dayton History Books Online" via Rudy Lev.


Moraine Products in World War Two: Production numbers where they exist are up through June of 1943. These are the only published numbers available and it can be assumed that production on the parts below continued until the end of the war in 1945. Moraine products by their nature were unseen in the final war products but important to the proper operation of whatever they were used in. A few examples of the many hundreds of applications are shown below.
M-1 Anti Tank Mine Fuse: This was placed in the top of the land mine and then denoted the explosives in the mine when a tank or or heavy vehicle drove over it. Through the end of June, 1943, Moraine had produced 5.5 million for the war effort having started production in November of 1941 and was also supplying the fuse body and striker assembly to other manufacturers of the M1 Tank Mine.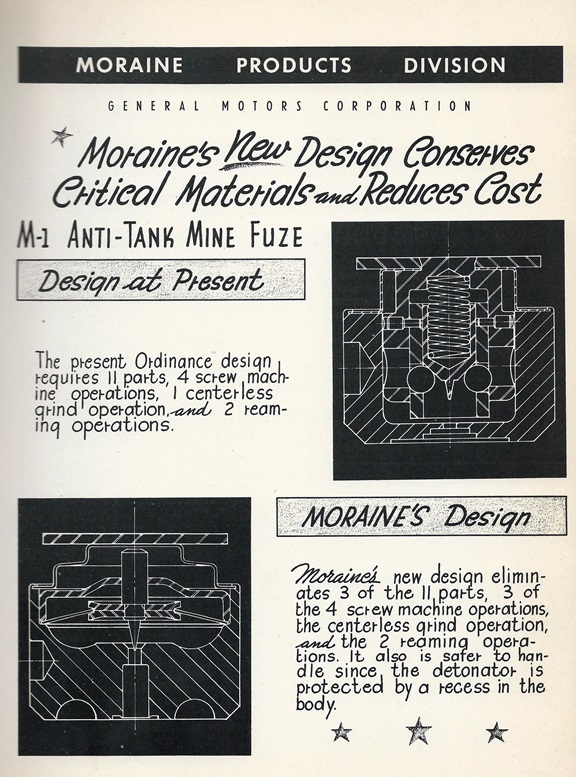 Photo from "Moraine's Participation in the War" dated 1945.

In 1943 a design change proposed by Moraine Products was accepted by the Ordinance Department and an initial order for 10,000 had been placed. As noted in the illustration, this change made it cheaper to build and safer for the American soldier to handle.
M-54 Relay Igniter Housing: This is described as "a small housing for which a powder charge which is ignited from a tracer charge in the rear of certain high explosive anti-aircraft shells." I am not quite sure if this then sets of the main charge or not but this is how it was described in "Moraine's Participation in the War". But 4 million were produced between November 1941 and February 1943.
M-20 Booster: This device contained a booster powder charge to detonate the high explosive powder in 60mm, 75mm, 90mm, 105mm and 155mm artillery shells. In July 1943 Moraine products had contracts running until October 1943. At that point in time it would have produced 8.5 million of the M-20s.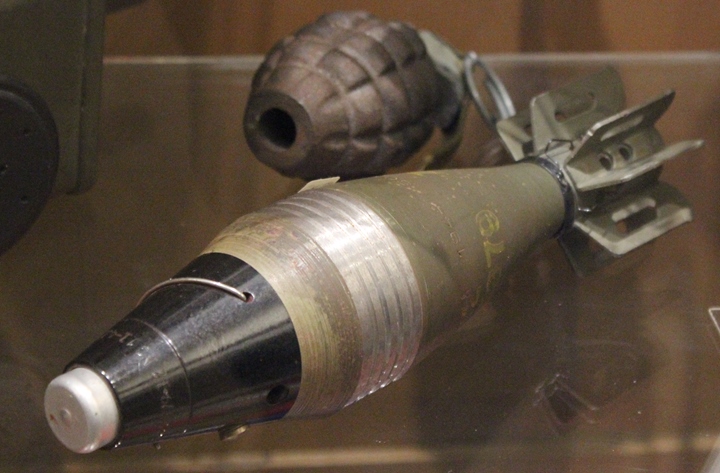 Shown here is a 60mm mortar round. The Moraine built M-20 boosters would be have been located in the black nose section of the round. Author's photo from the Vermillion County War Museum in Danville, IL and added 10-30-2015.
Tank Track Parts: Starting in May 1942, an order for 4 million light tank track parts started with no end date as of July 1943. The Moraine manufactured body tubes and end plates were then sent to Inland Division. Inland added rubber treads and then shipped the final tank track to Cadillac, for the M5 Stuart and M24 Chaffee. 138,000 of the same type parts, but for the M4 Sherman tank, were built by Moraine between January and September 1942.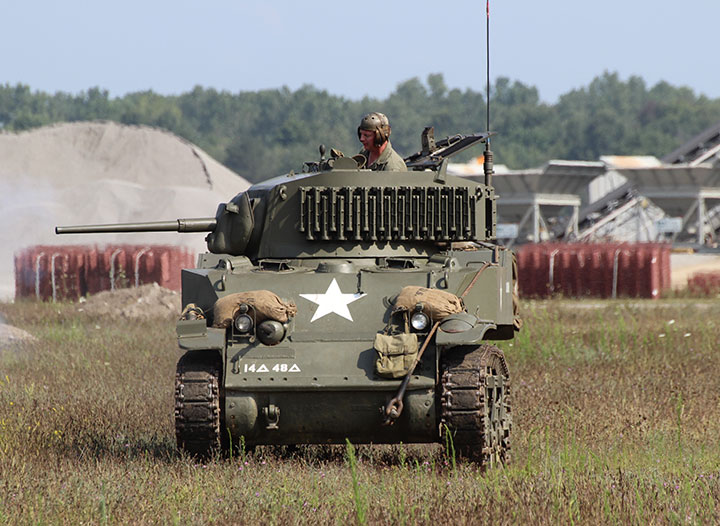 An M5 Stuart tank with rubber tracks and spare track parts that Moraine built on the side of the turret. Author's photo.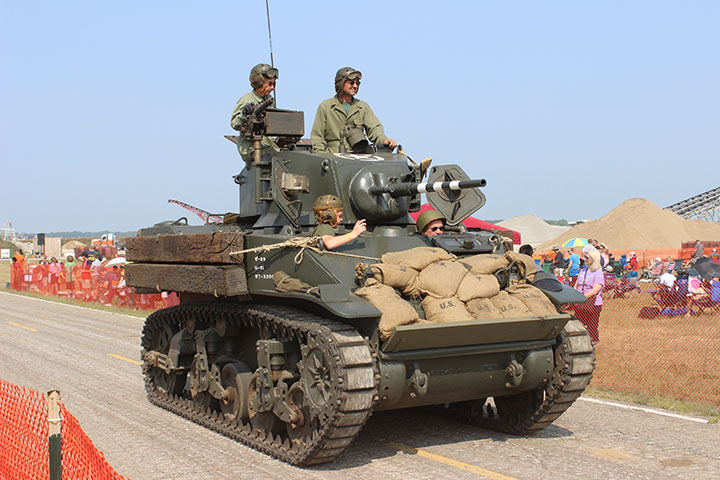 Another M5 with rubber tracks. Detroit Transmission provided the Hydro-Matic transmissions for these tanks and Moraine bearings and bushings were used in them. Author's photo.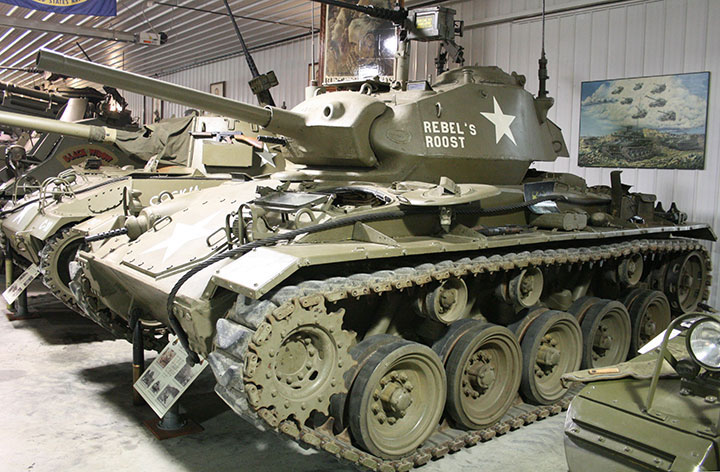 A Cadillac built M24 Chaffee light tank with rubber tracks. Author's photo from the Ropkey Armor Museum in Crawfordsville, IN.
Spinner Assembly and Adaptor: Moraine was contracted for 7,574 of these parts for the three bladed Bell P-39 Aircobra produced by the Aeroproducts Division of GM in nearby Vandalia, OH. Production started in February 1942 and was completed in June 1943. Moraine also was awarded the contract for 5,000 of the four bladed versions of these parts for the Bell P-63 in April 1943. Most of these parts ended up in the Soviet Union, as both the P-39 and P-63 were sent extensively to that country under Lend-Lease. The Guide Lamp Division of GM also built the same parts for the P-39.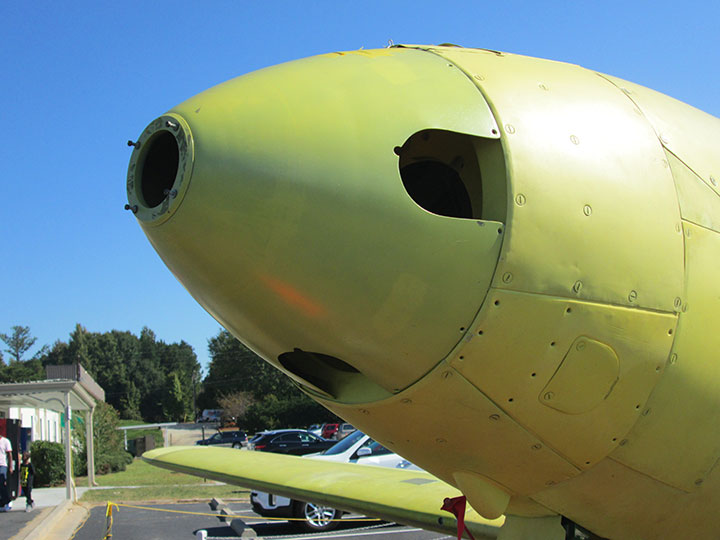 This is a Moraine built four blade P-63 spinner assembly, as seen on a King Cobra restoration owned by the Dixie Wing of the Commemorative Air Force in Peachtree City, GA. Author's photo.
Tubular Dowel Pin: This was actually the core for a .50 caliber incendiary and tracer bullets. Four million of them were manufactured by Moraine as an iron Powder Metal part staring in October 1942.
M-57 Fuse: Moraine was contracted for a half million of these point denoting fuses starting in May 1942. All contracts for this device to all manufacturers were cancelled in May 1943.
Retractor Slide Assembly for the .50 caliber machine gun: Moraine had one contract for 147,169 Assemblies for AC Sparkplug Division of GM in Flint, MI and another for 40,800 from Army Ordnance . All of the parts were produced on equipment provided by AC Sparkplug Division.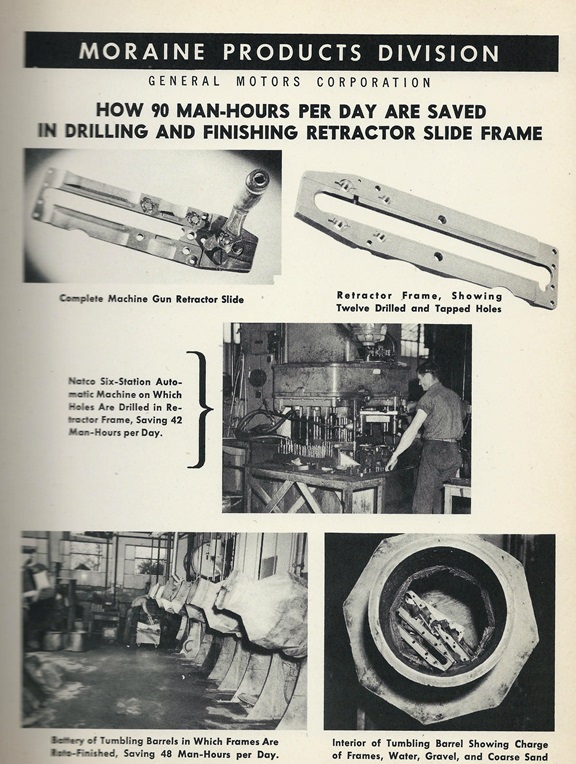 The Retractor slide armed the weapon by feeding a live round into the chamber when it was pulled all of the way to the rear. Photo from "Moraine's Participation in the War" dated 1945.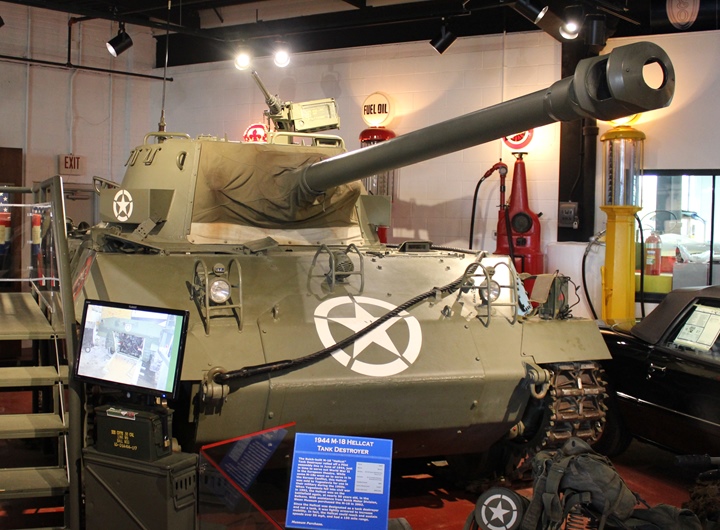 Seen here is a Buick built M18 "Hellcat" tank destroyer with a .50 caliber machine gun mounted on the top of the turret. Author's photo from the Buick Museum in Flint, MI.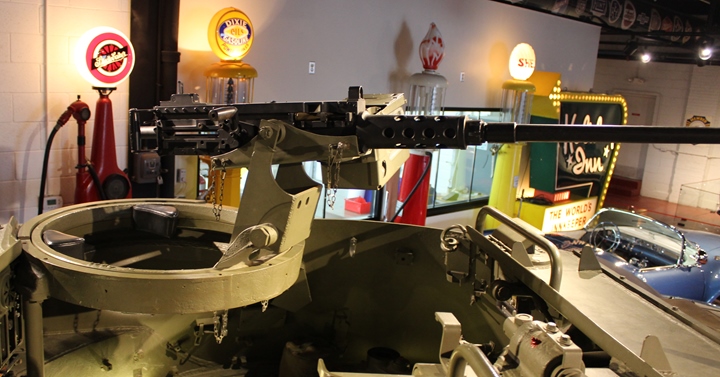 Here one can see the charging handle that is pulled back to charge the weapon. Not only did AC Sparkplug make .50 caliber machine guns, but the Frigidaire Division of GM in Dayton also produced them. Author's photo
T and L Fittings and Fork Joints: This was a Lend-Lease contract for aircraft "T" and "L" shaped fitting for aircraft oil and hydraulic lines. The fork joints were for electrical wiring in the aircraft.
Tube and Strap: There were 730,826 of these parts made for a "secret project" between June 1942 and August 1942. The historical information indicates that several other GM Divisions were involved. This leads me to believe that these parts were for the "Top Secret" FP-45 Liberator Pistol assembled by the Guide Lamp Division in three months in 1942. The FP-45 fits into the category of "it sounded like a good idea at the time". The pistols were to be given to partisans in German occupied territory to attack German soldiers. Cooler heads prevailed as firing a .45 caliber pistol is an acquired still and creates significant recoil. The light weight of the FP-45 would not have been able to absorb the amount of recoil; and firing the weapon would probably have been more dangerous to the shooter than the target. There was also the issue of what happened to the shooter if the shooter missed with the first shot, which was highly likely and then killed by return fire from the German soldier. The pistols were never used as intended and scrapped. In the end it took massive, well trained armies to end the war.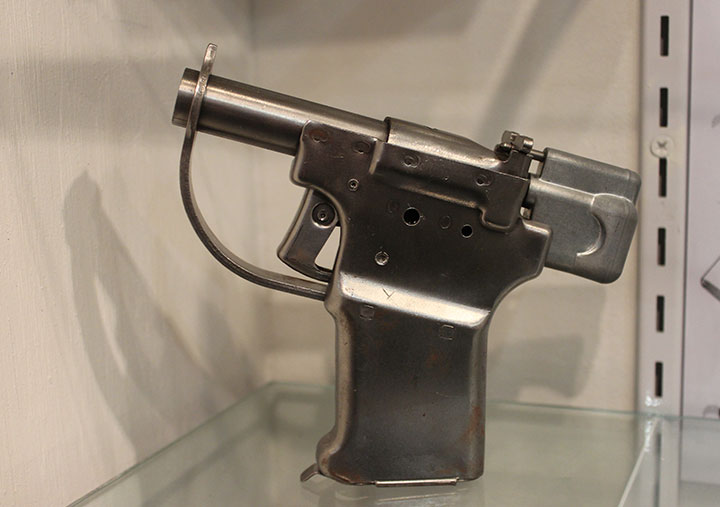 The tube was barrel for the weapon and named as tube as the real use of it was top secret. The strap is the trigger guard, also given a name not identifying it with the final end use. Author's photo.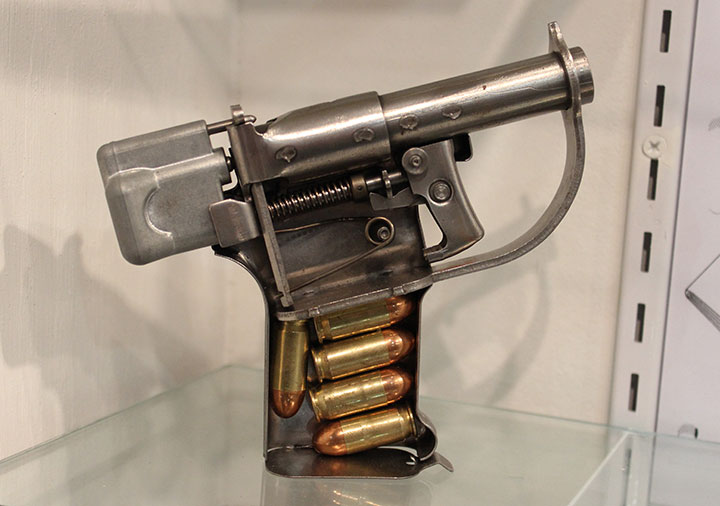 Author's photo.
Hydraulic Brake Controls: These were brake master cylinders, wheel cylinders, brake hoses and fluid that were supplied for Chevrolet 1-1/2 ton trucks and GMC 2-1/2 ton trucks. They were larger versions of what the old Delco Brake Division had built for passenger cars.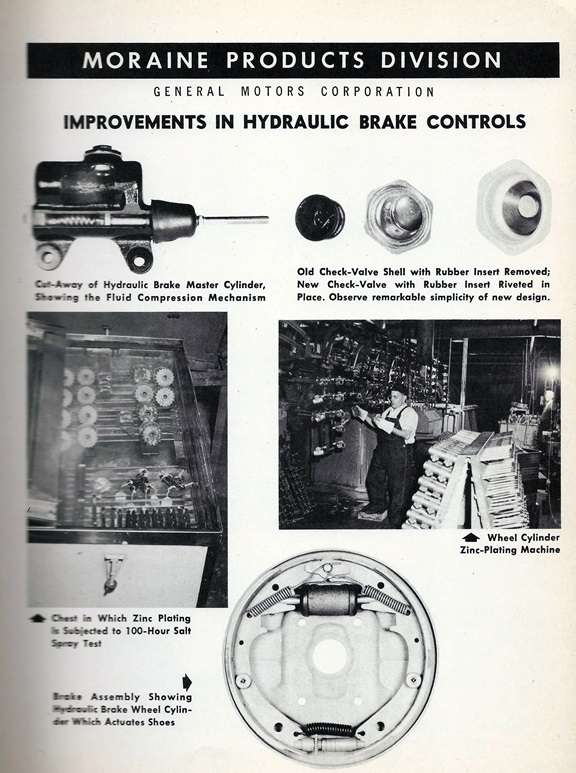 ASTM B-117 is the standard used for the salt spray testing shown here that the brake parts are being subject to. Photo from "Moraine's Participation in the War" dated 1945.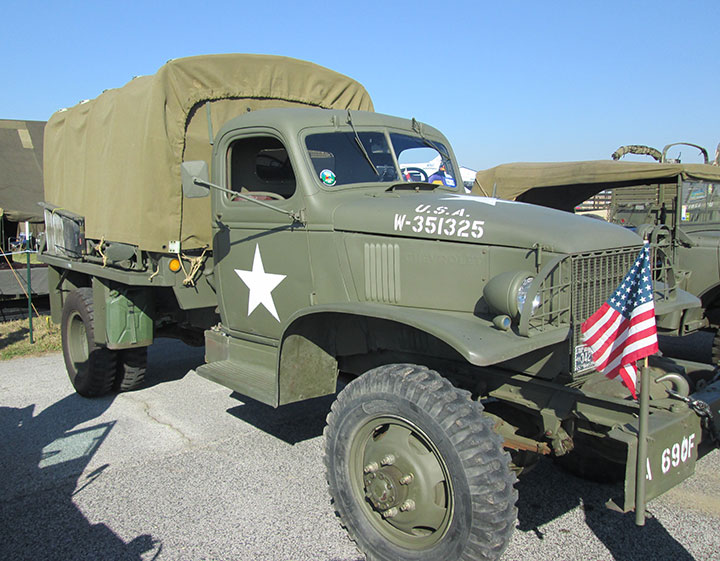 Here is one of 281,570 that Chevrolet built that was supplied with Moraine Products brake parts. The engines would also have main and connecting rod bearings made from Moraine Durex100. Author's photo.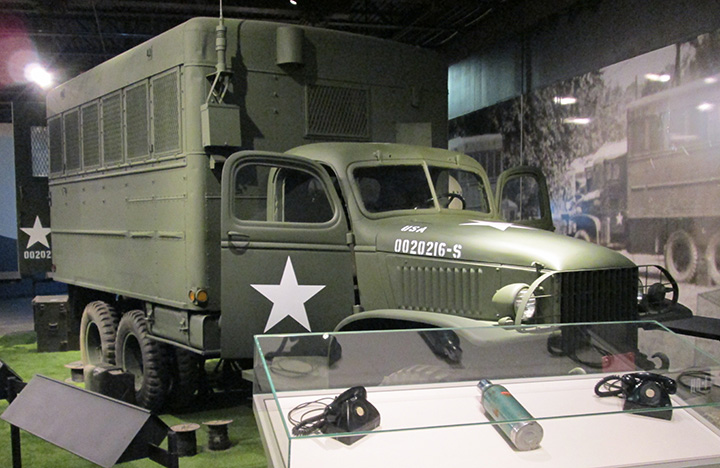 Seen here is General George Patton's GMC mobile sleeping and quarters truck that would also have had brake controls by Moraine as shown above. Author's photo from the Patton Museum at Fort Knox, KY.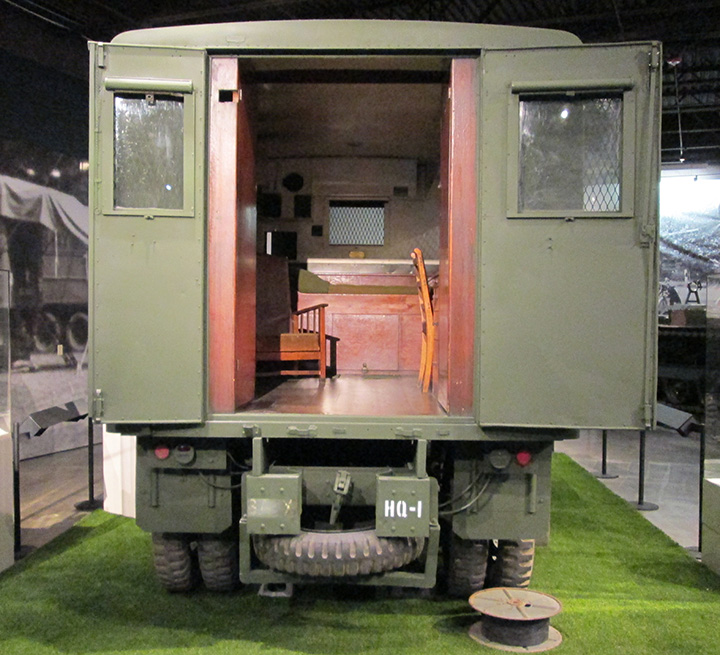 The GMC engines would also have main and connecting rod bearings made from Moraine Durex100 as shown below. Author's photo.
Main and Rod Connector Bearings: This was a huge product line for Moraine during the war. The bearing material was made out its Durex 100, which was a product of Powder Metal manufactured in continuous strip form. The process was developed just before the start of WWII and was introduced in Buick engines. The World War Two customer base included Cadillac for tank M5 and M24 tank engines, Continental for radial aircraft engines that were also used in M4 Sherman tanks and Landing Vehicle Tanks (LVT) or Amtracs, GMC and Chevrolet for trucks, and Detroit Diesel and Electro-Motive for diesel engines for tanks, tank destroyers, stationary engines and landing craft.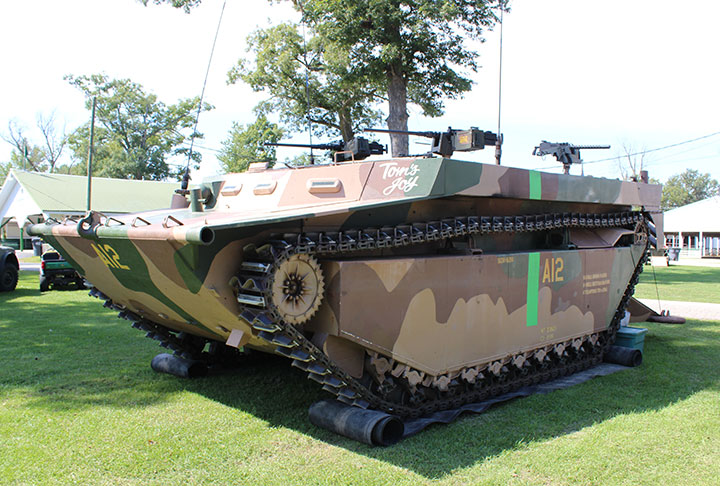 This is a LVT-4 or Amtrac that was used for landing US Marines and Soldiers on enemy beaches and for making river crossings in Europe. It was one of 12,636 LVTs that were powered by the Continental R-670 radial aircraft engine that had Moraine Durex 100 main and rod connector bearings. Author's photo.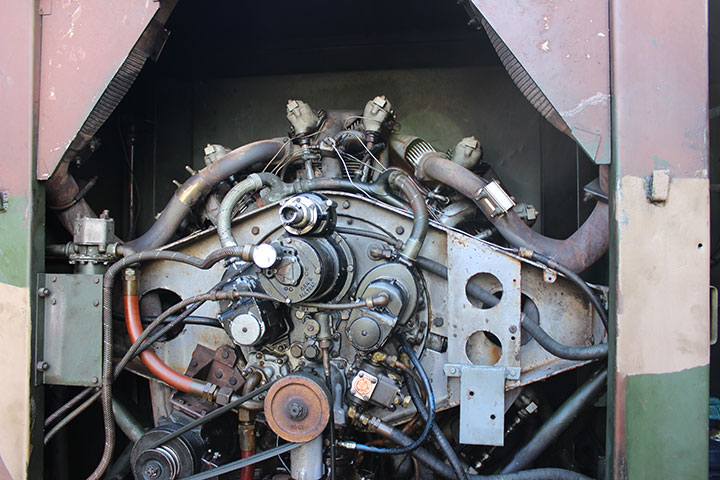 Author's photo of the R-670 engine in the Amtrac.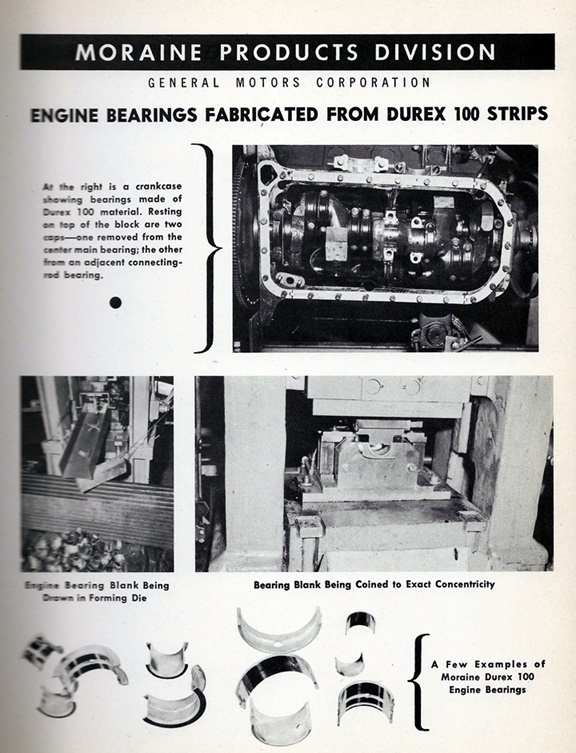 The top photo shows the bottom end of an engine crankcase with main bearings and the connecting rods. Other photos show the Durex 100 strips being turned into engine bearings. Photo from "Moraine's Participation in the War" dated 1945.
Porex Parts/Moraine Porous Metal or MPM: Originally identified as Porex by Moraine, the name was changed by 1945 to MPM. This was a three dimensional filtering material of tiny brass particles welded together and developed by Moraine Products before the war. Porex or MPM filters were used in aircraft carburetors and fuel pumps, in diesel injectors as shown below, as desiccant retainers for bomb sight lens among others. Customers included Chandler-Evans, Detroit Diesel and Electro-Motive as shown below, Bendix and Delco-Products among others.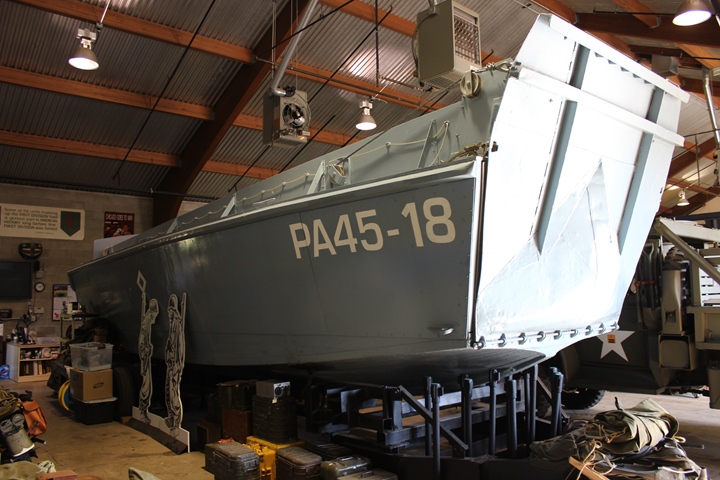 Dwight D. Eisenhower stated after WWII that this small 36 foot wooden landing craft was instrumental in helping the US win WWII because the Landing Craft, Vehicle Personnel (LCVP) or Higgins Boat, as it was also known, allowed soldiers to exit the front of the boat directly on to the beaches via the ramp on the front. Without the drop ramp, he stated we would have needed to wage the war differently in landing on enemy held beaches. Only a handful of original LCVPs exist today, of which this one is the oldest known in existence. It was photographed by the author at the First Division Museum at Cantigny in Wheaton, IL. Photo added 10-9-2015.
What was Moraine's contribution to the LCVP? Of the 23,353 built, 19,353 were built with Detroit Diesel Division of GM 6-71 engines. They came equipped with filters made of Moraine Porous Metal (MPM), assuring no fuel contaminants got into the injectors, preventing them from operating. So, while the fuel filter may have been a small part of the whole boat, the filter's function was extremely significant beyond its size. The soldiers, marines, and coast guardsmen operating the LCVPs did not need to have their engines fail due to dirty fuel while making the dangerous run in to the landing beaches.
Also in those engines were Moraine built Durex 100 engine bearings, as during the run in to the beach a rod did not start knocking because the engine spun a bearing!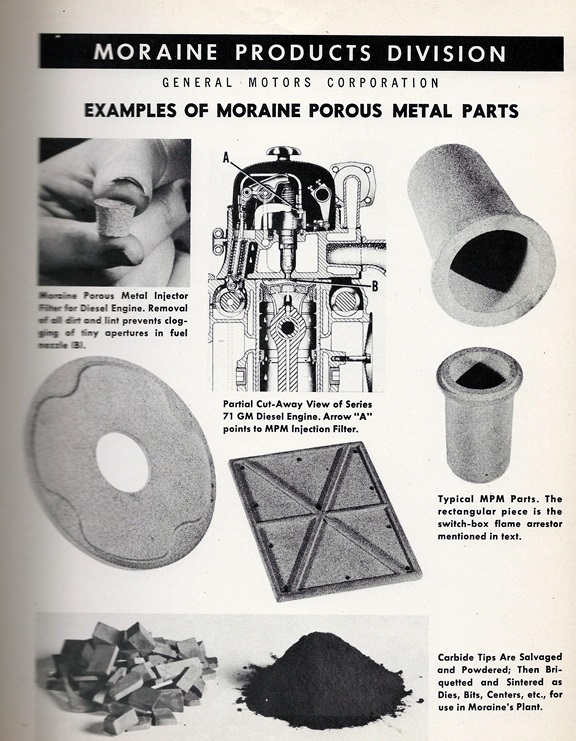 Photo from "Moraine's Participation in the War" dated 1945.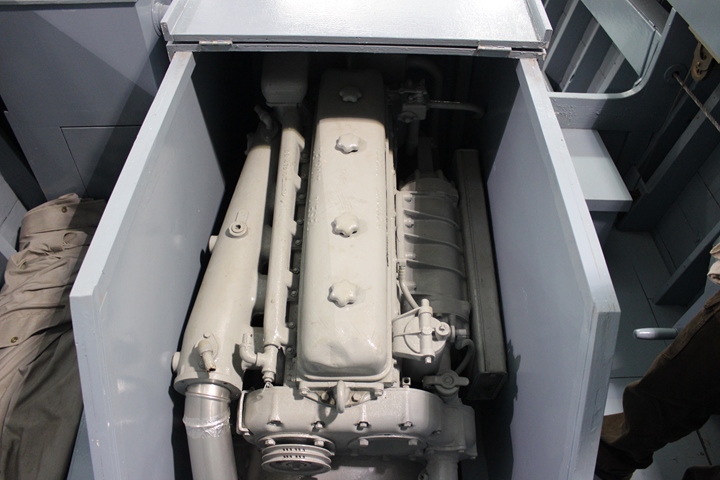 Seen here is the Detroit Diesel 6-71 engine in LCVP PA 45-18. Author's photo added 10-9-2015.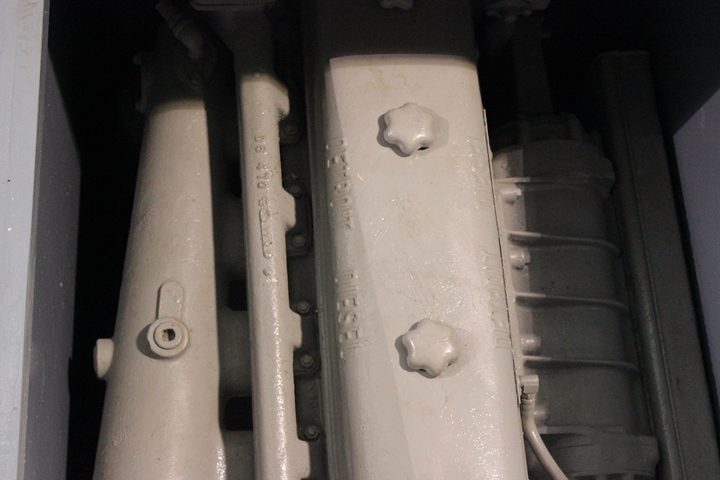 Here one can see the name Detroit Diesel and the fuel injection bar. Author's photo added 10-9-2015.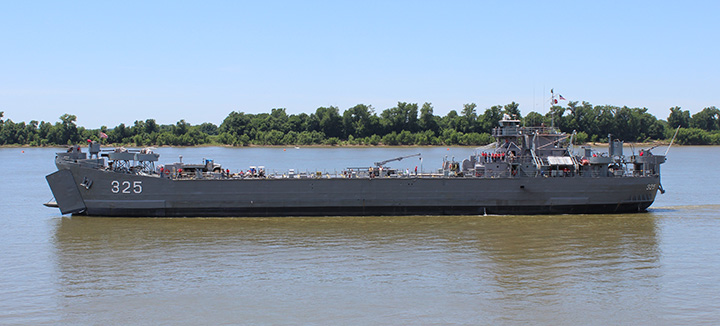 From the smallest to the largest of the WWII US landing ships, Moraine Porous Metal fuel filters were utilized. This is Landing Ship Tank LST-325, the last operating LST and it is being powered here down the Ohio River by two Electro-Motive (EM) 12-561 900 hp diesel engines. During WWII Moraine shipped fuel filters to EM not only for the 1,052 LSTs for which it provided engines, but also for engines for patrol boats, seagoing tugs and sub-chasers. The LST also had three Detroit Diesel engines on board for supplying ship's power, which would have had Moraine filters and engine bearings. Author's photo added 10-9-2015.
In between the small LCVP and the large LST were various types of landing ships powered by engines built by Detroit Diesel, which supplied 54,033 6-71 engines with Moraine Porous Metal Filters and Durex 100 engine bearings.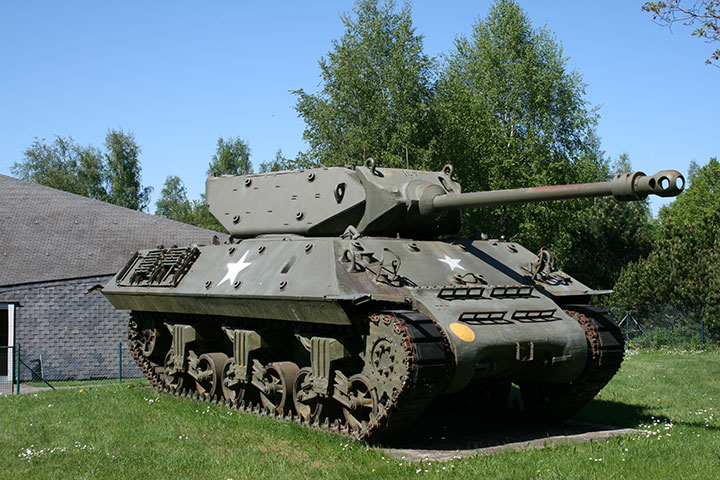 This photo shows an M10C tank destroyer that started life as a Fisher Body built M10. It was provided to the United Kingdom under Lend-Lease and converted to the new configuration of with the addition of the 17 pounder main gun (76.2mm). This M10 Wolverine Tank Destroyer was one of 6,706 built that was powered by two Detroit Diesel 6-71 engines. They would also have had their fuel filtered by Moraine Porous Metal fuel filters and Durex 100 engine bearings, along with 913 M3 Grant tanks and 8,053 M4A2 Sherman tanks that were diesel powered. The tank tracks were also on this vehicle were also produced by Moraine. Author's photo from the Bastogne Historical Center in Belgium added 10-9-2015.
Powder Metal Parts (PM): Iron, copper, and bronze Powder Metal technology is known as "near net shape forming". as the part is molded close to if not to its final dimensions, saving both material and machine over traditional machined components. While not suitable for all applications, it can be used as a more cost effective solution to producing metal parts. Powder Metal components included but were not limited to aerial cameral parts for Eastman Kodak, shim plates for Hamilton Standard propellers, collector rings used as electrical contacts on aircraft gun turrets manufactured by Bendix, magnetic pole pieces for small Bendix, Westinghouse and Globe Industries aircraft motors, firing pins made out of copper PM for firing pins that Lionel needed, oil pump gears for Continental built engines and aircraft disc brake segments for Bendix.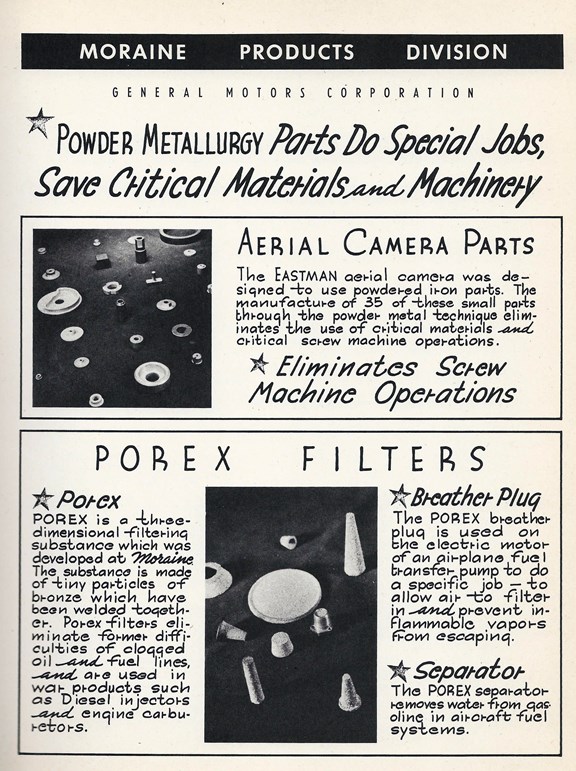 Shown here are both PM parts used for Eastman Aerial cameras, noting the advantages of the process in eliminating machine time. The bottom half shows several examples of the Porex or MPM parts made during WWII. Photo from "Moraine's Participation in the War" dated 1945.
Small Bearings and Bushings: These were small parts. Many of them self-lubricating, due to their porosity made out of powdered iron and rolled and powdered bronze. They were used in small auxiliary motors for use in tanks, aircraft, and marine vehicles. The customer base for these parts was diverse; with the bearings and bushings going to such companies as Pratt & Whitney, North American Aviation, Douglas Aviation, Cessna, Lord Manufacturing, Wico Electric, Bendix Aviation, Thompson Products, Detroit Transmission, J. I. Case, John Deere, Eclipse Aviation, Sun Shipbuilding among others.
The story of the people in a small plant doing their part in a big job...
This January 1944 publication was distributed to the Moraine employees to bring them up to date on how they were helping to win World War Two.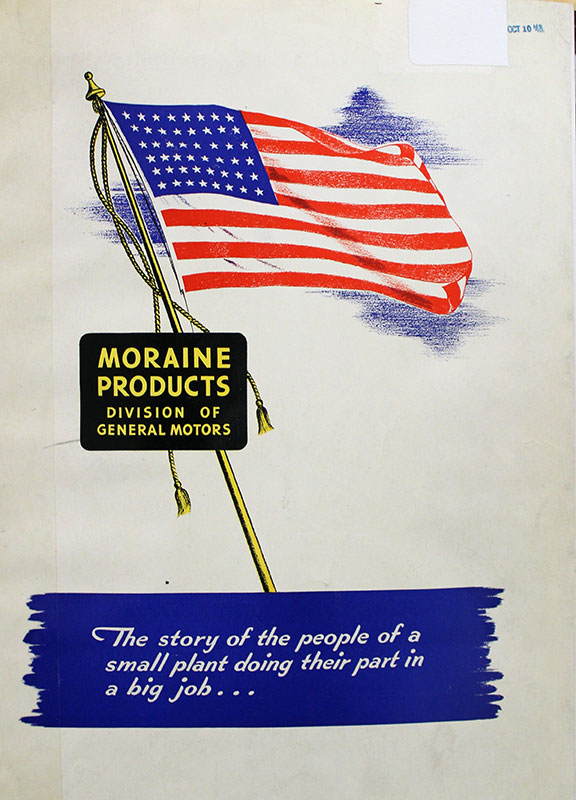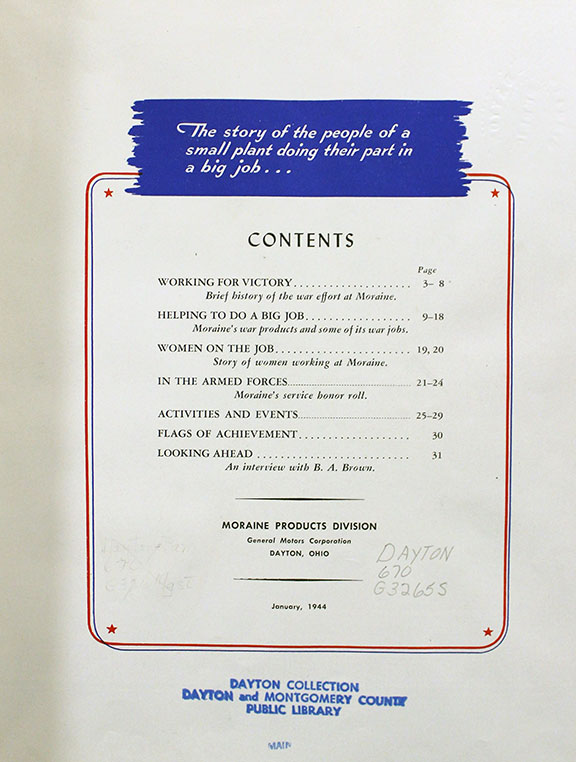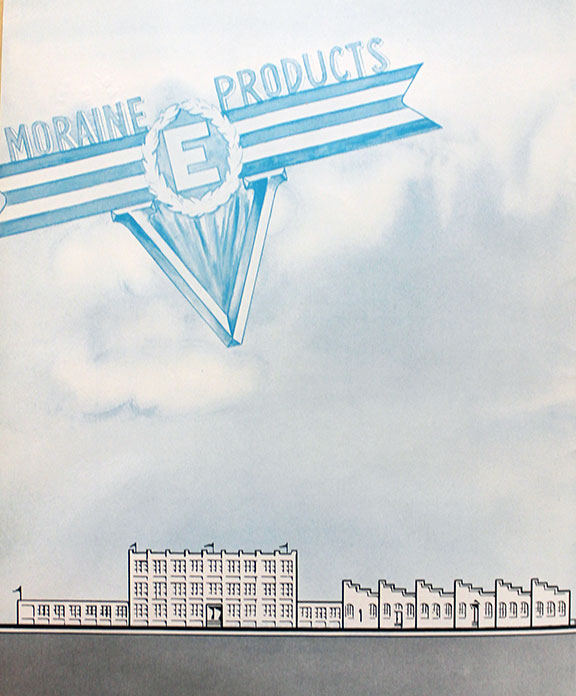 This drawing shows the original Delco-Brake complex from 1936 until it was absorbed into Moraine Products in August of 1942. The Wright Brothers occupied the saw tooth buildings on the right hand side of the drawing during 1910 for ten months. Moraine can show the "E" for Excellence insignia on its publications having won the award three times when this was published in early 1944.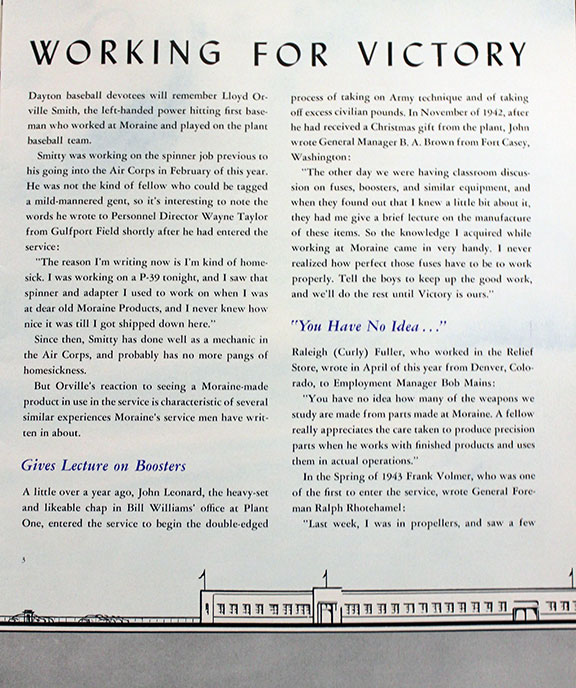 The drawing at the bottom of the page shows the building that Moraine Products moved into in 1937 when it returned from Detroit.