Hyatt Bearings Division of General Motors Corporation in World War Two / WWII
Harrison and Clark Township, NJ
1892-1965
Rest in Peace
This page added 10-2-2015.
Hyatt Bearings was started in 1892 by John Wesley Hyatt for the manufacture of roller bearings and in 1916 it became part of the General Motors. In 1965 it became it was combined with the New Departure Bearing Division of GM and became the New Departure-Hyatt Bearing Division located in a new plant in Sandusky, OH.
Hyatt Bearings Division World War Two / WWII Production Numbers / Statistics: No production numbers are available as to the number of roller bearings that the Hyatt Bearings Division made during World War Two, but the numbers were probably in the hundreds of millions if not over a billion.
Hyatt Bearings Division World War Two / WWII Roller Bearing Applications: Allison Aircraft Engines, Pratt & Whitney Aircraft Engines, Aircraft Turbo Superchargers, Hamilton Standard Propellers, Inertia Starters, Bomb Trucks, Light Trucks, Medium Trucks, Heavy Trucks, Tank Destroyers, Amphibious Tanks, Armored Cars, Army Trucks, Amphibious Trucks (DUKWs), Half Tracks, Bulldozers, 76mm cannons, 20mm Oerlikon Anti-Aircraft Guns, Six and Eight Inch Cruiser Turrets, 37mm, 40mm, 90mm and 4.7 Inch Anti-Aircraft guns, 6 inch Rapid Fire Coast Defense Guns, 75mm, 105mm, 155mm, 240mm Howitzers, Navy Fire Control Apparatus, Motor PT Boats, Landing Boats, Tank Lighters, Coastal Mine Sweepers, Mine Layers, Battleship Gun Turrets and Navy Catapults.
Bearing are ubiquitous. They are used everywhere but we don't really think about them as they are invisible in rotating and oscillating a machinery. Below are a few examples of the WWII weapons Hyatt roller bearings were used in.
Hyatt Bearings Division, Clark Township Plant, Rahway, NJ won the Army-Navy "E" award twice.
Hyatt Bearings Division, Harrison Plant, Harrison, NJ won the Army-Navy "E" award five times.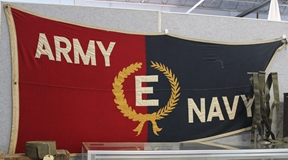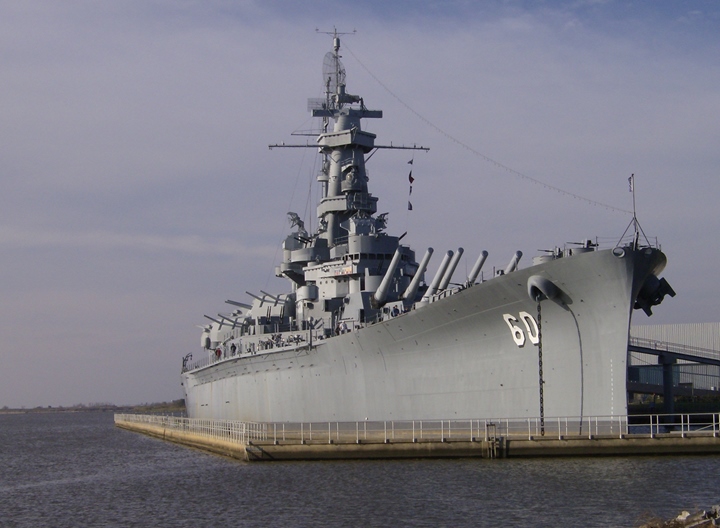 Hyatt supplied roller bearings for the sixteen inch main gun turrets such as those on the USS Alabama. Author's photo.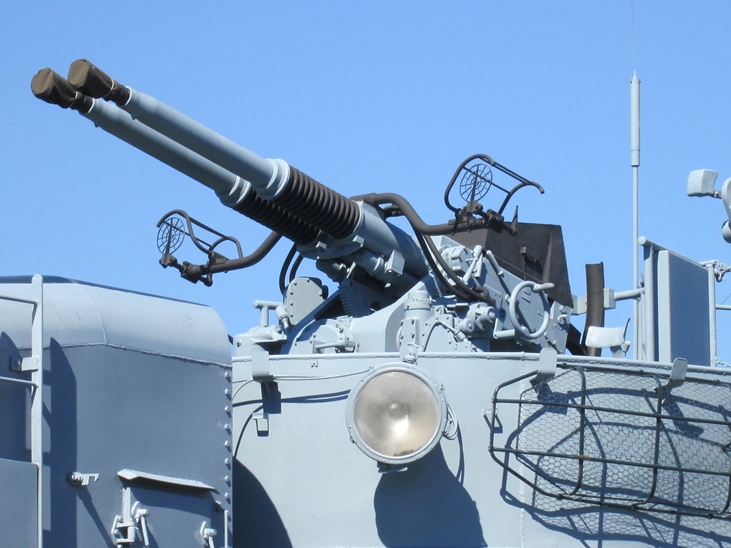 Hyatt supplied roller bearings for 40mm Bofors antiaircraft guns like these seen on the USS Kidd. Author's photo.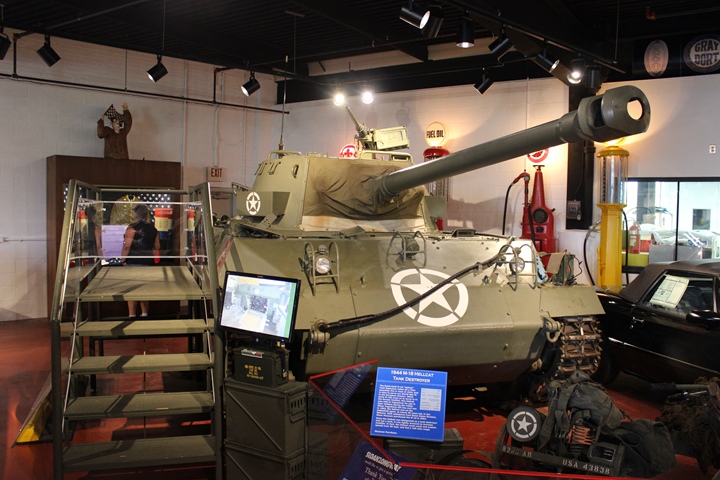 This is a Buick built M18 Hellcat tank destroyer which was armed with Oldsmobile 76mm main gun. Hyatt supplied bearings for both the main gun and the M18. Author's photo from the Buick Museum in Flint, MI.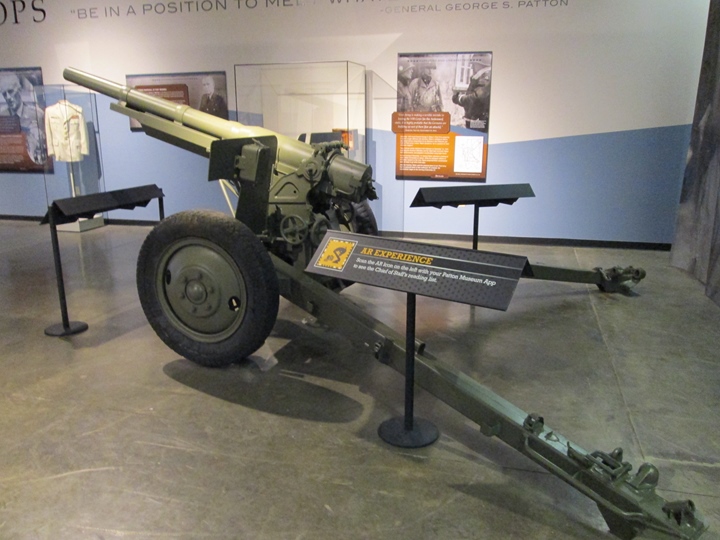 105mm howitzers along with 75mm, 105mm and 240mm howitzers were equipped with Hyatt roller bearings. Author's photo from the Patton Museum at Fort Knox, KY.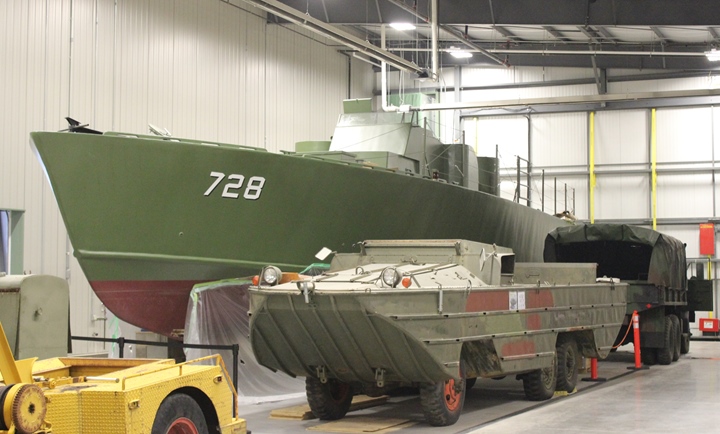 This photo shows two examples of Hyatt roller bearings usage. In the foreground is a GMC DUKW amphibious truck with a 70 foot Vospers motor PT boat as seen at the Liberty Aviation Museum in Port Clinton, OH. Author's photo.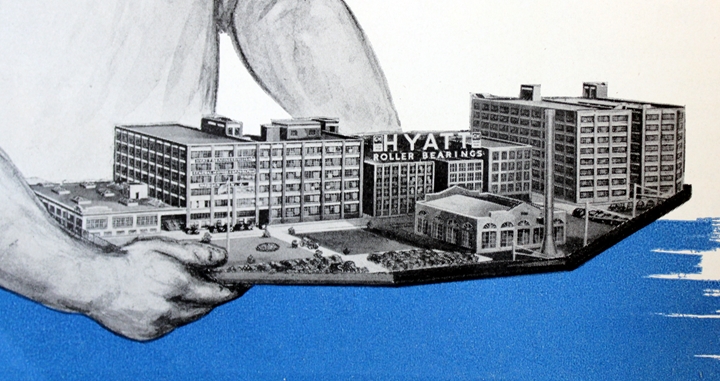 This photo shows the Hyatt Roller Bearing plant complex during WWII.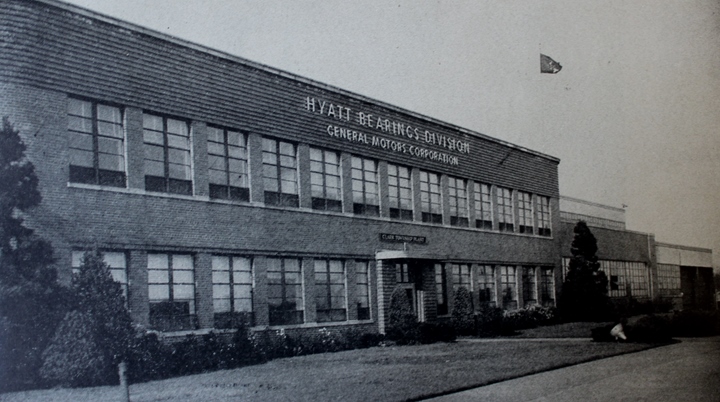 In May of 1942 Hyatt took possession of this former Inland plant in Clark Township, NJ.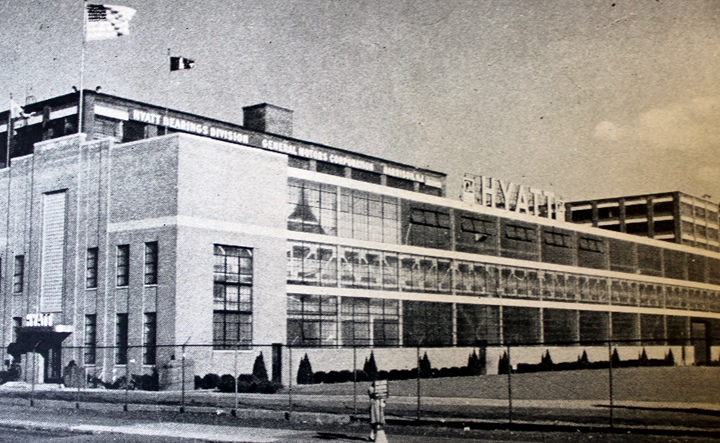 This plant was added in November of 1942 and was used for material storage and heat treat.
"Victory is our Business"
This 1944 Hyatt publication written for its employees gives a chronological review of its contribution to the war effort up through early 1944.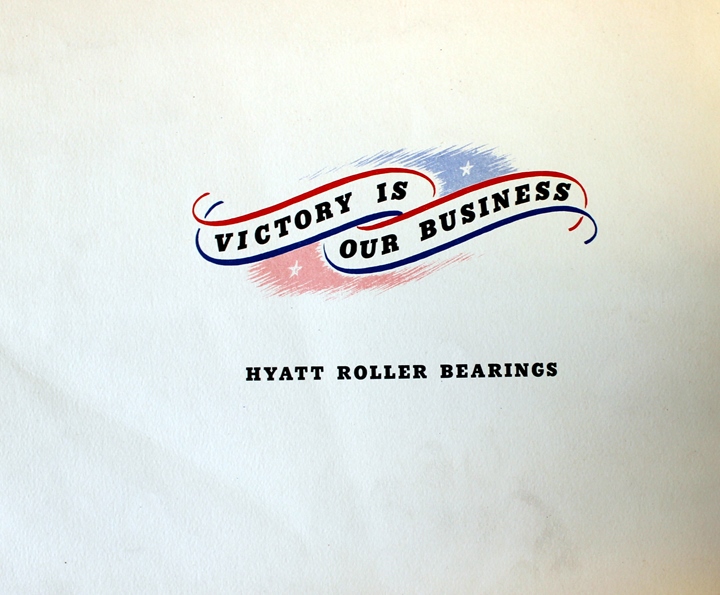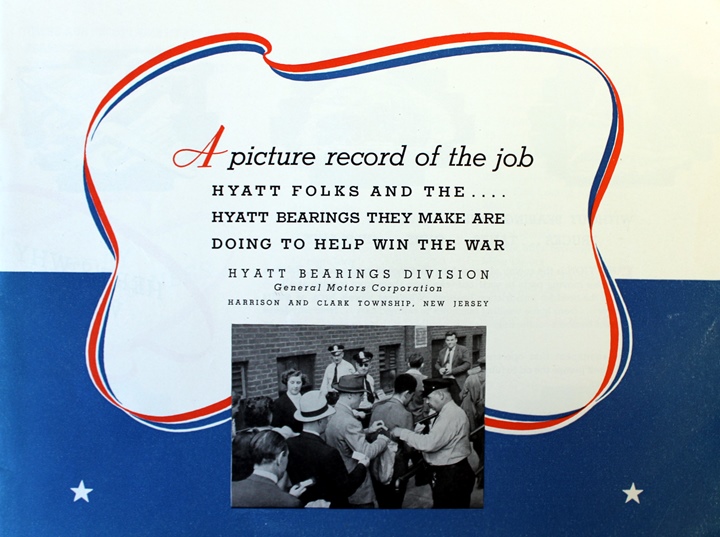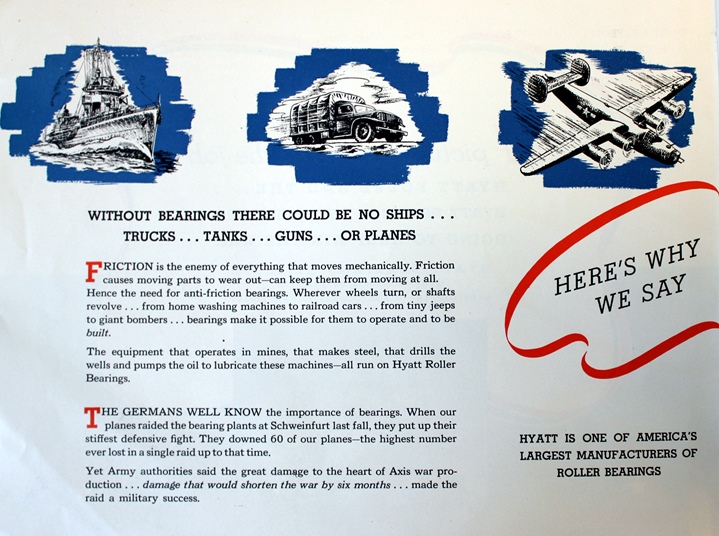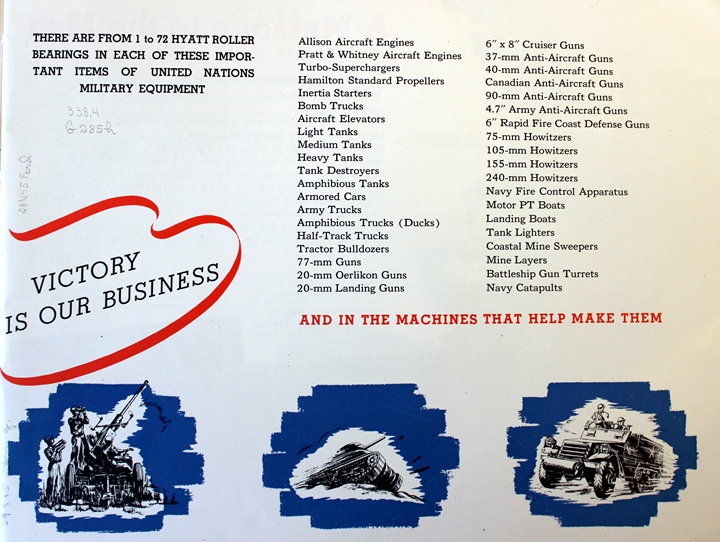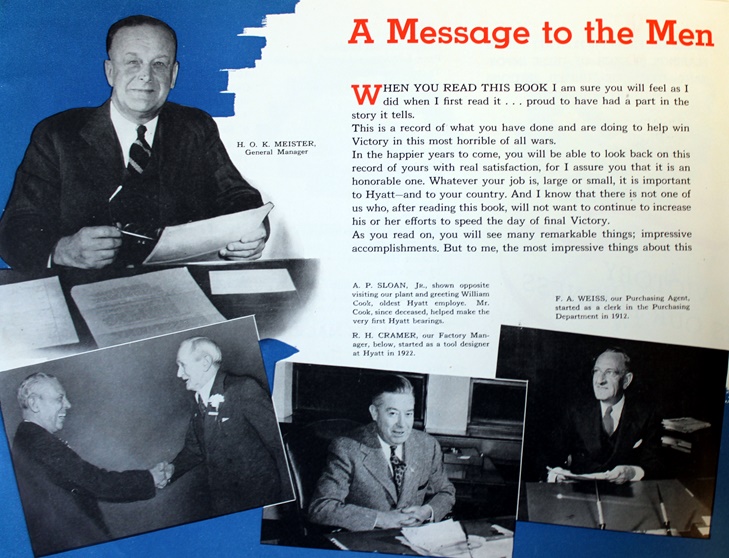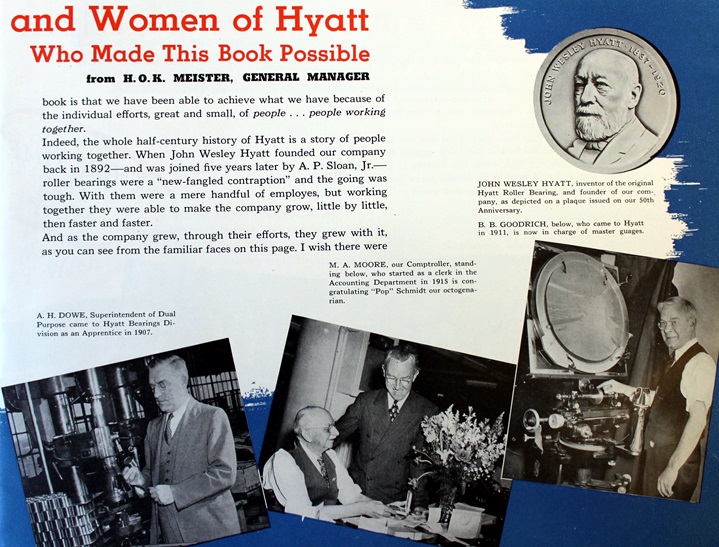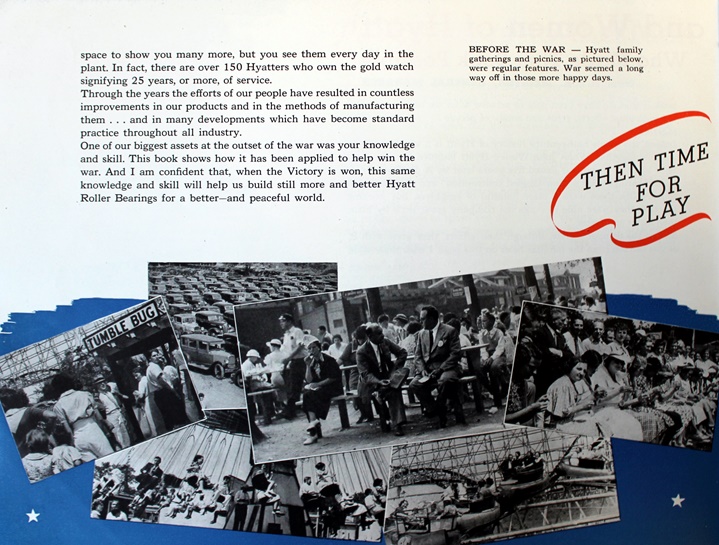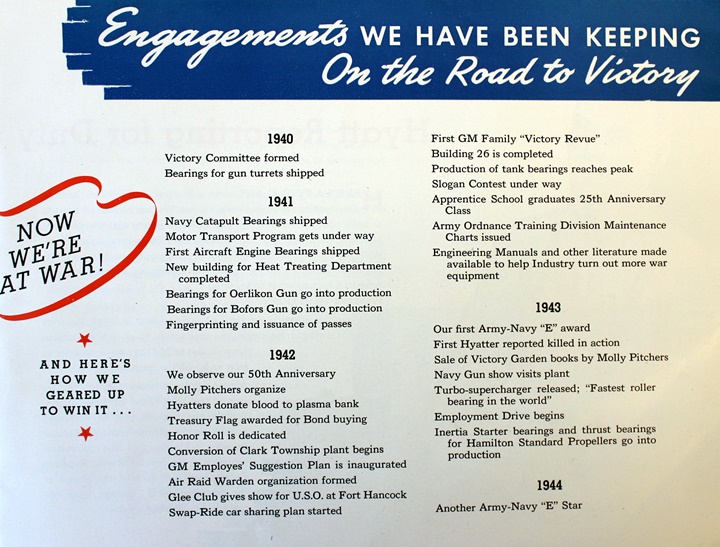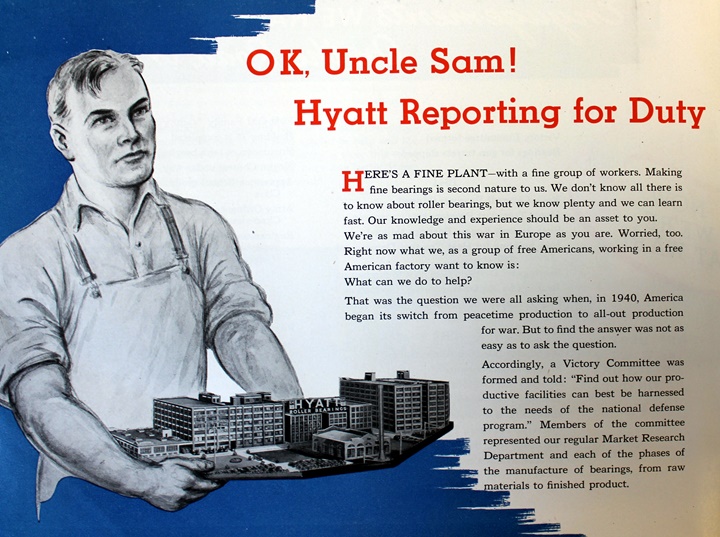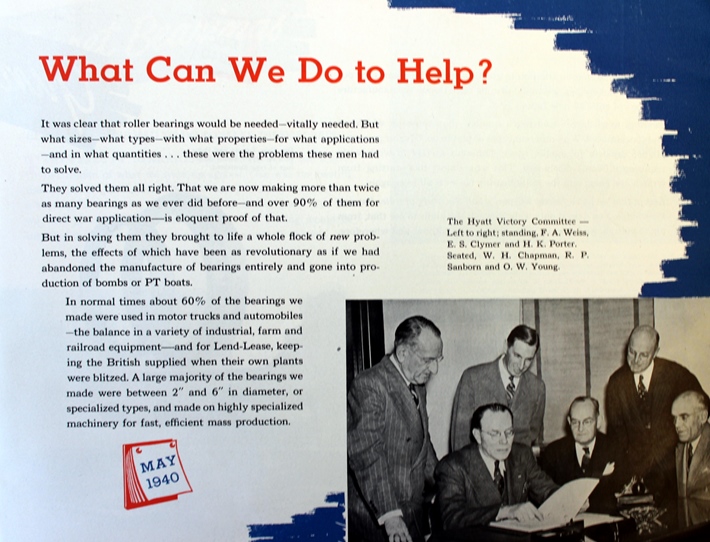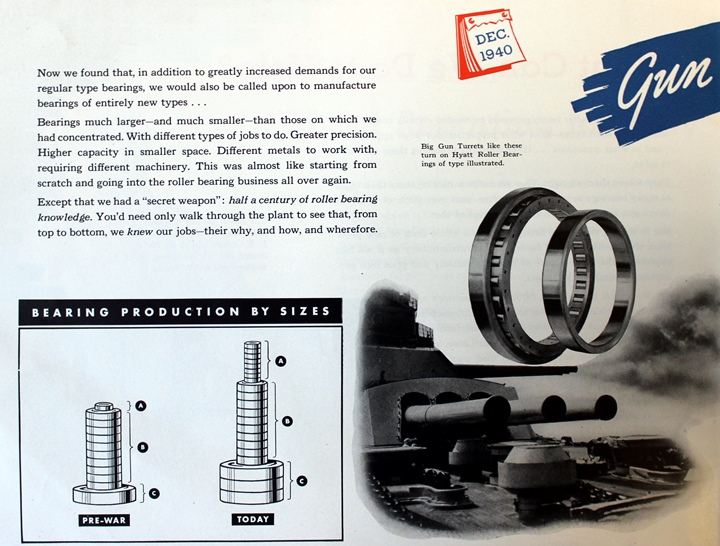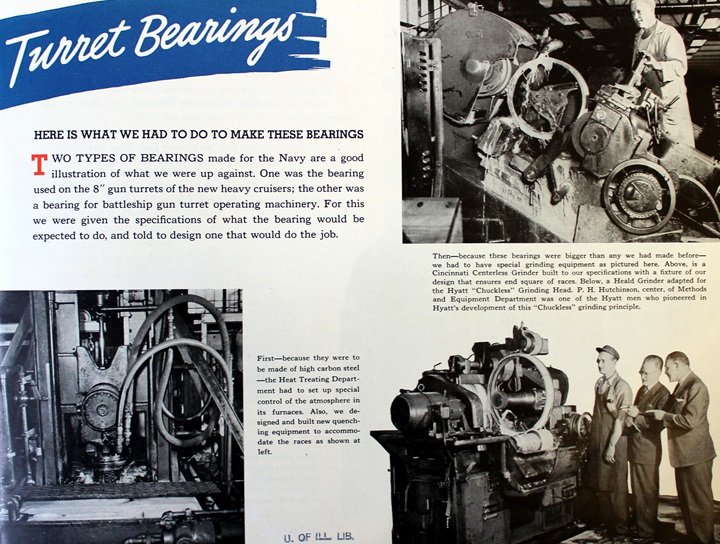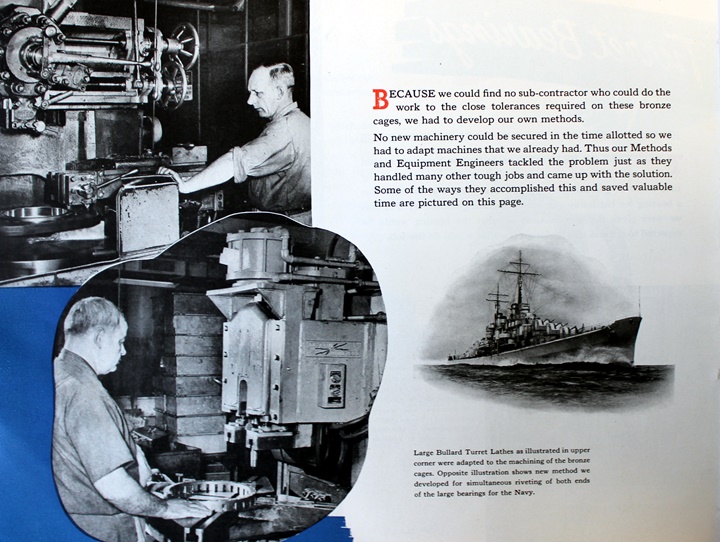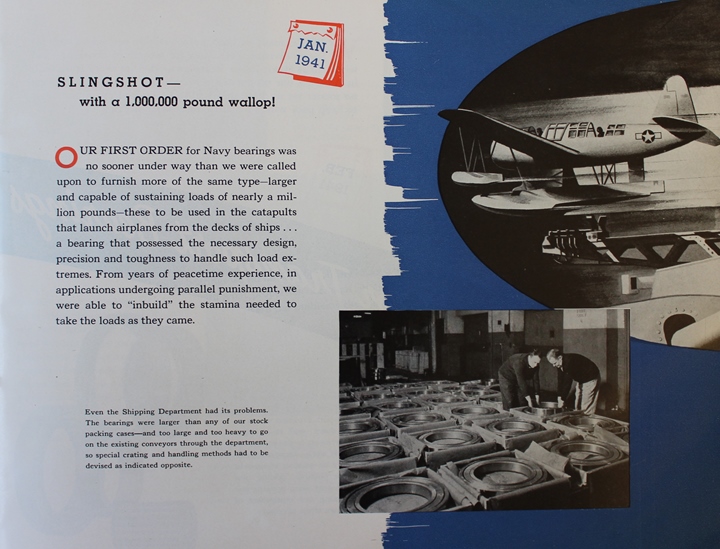 The illustration here depicts a US Navy Kingfisher launching from a cruiser or a battleship on a scouting mission.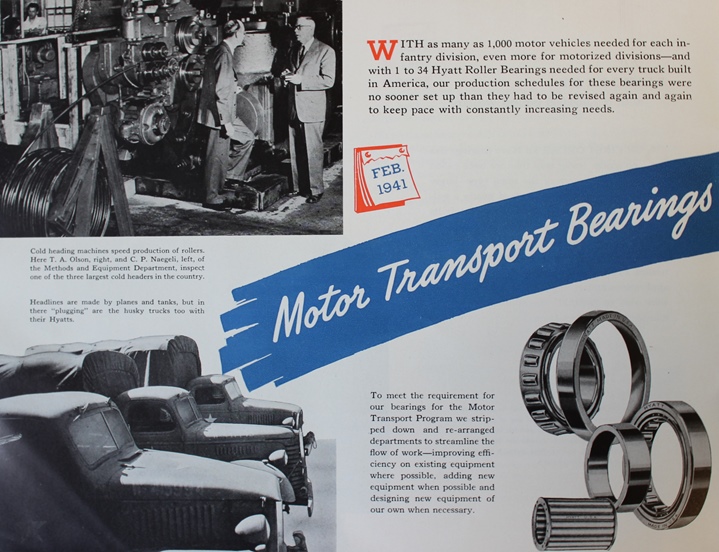 Hyatt bearings were used in GMC and Chevrolet trucks and their engines.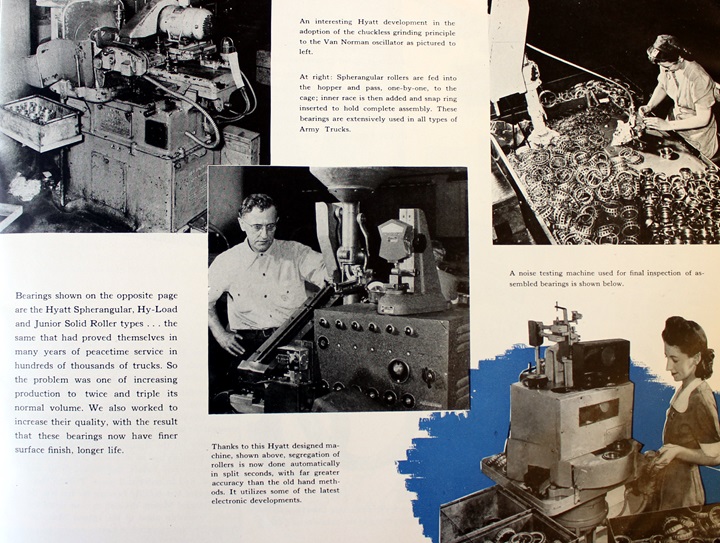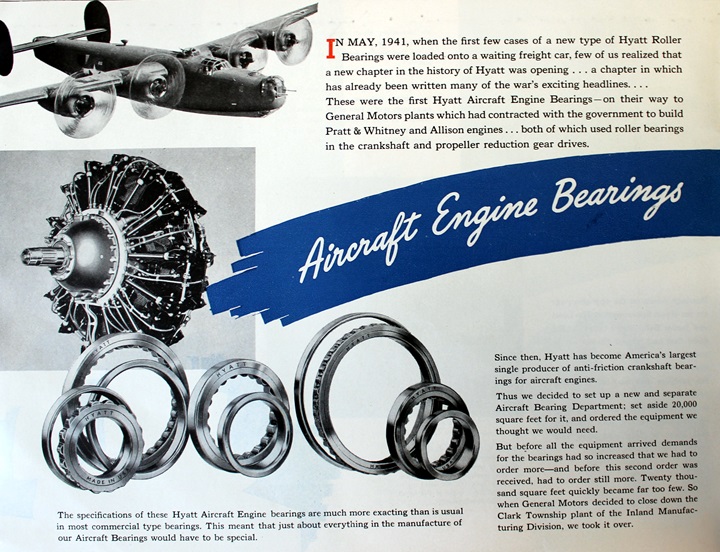 Buick and Chevrolet both built engines for the B-24 Liberator shown here with Hyatt bearings.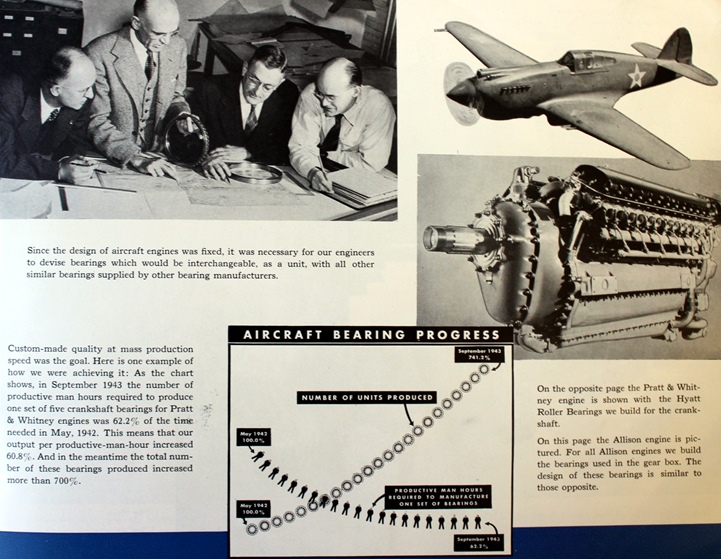 The Allison aircraft engine was used in the P-51A shown here along with the P-38 and P-40.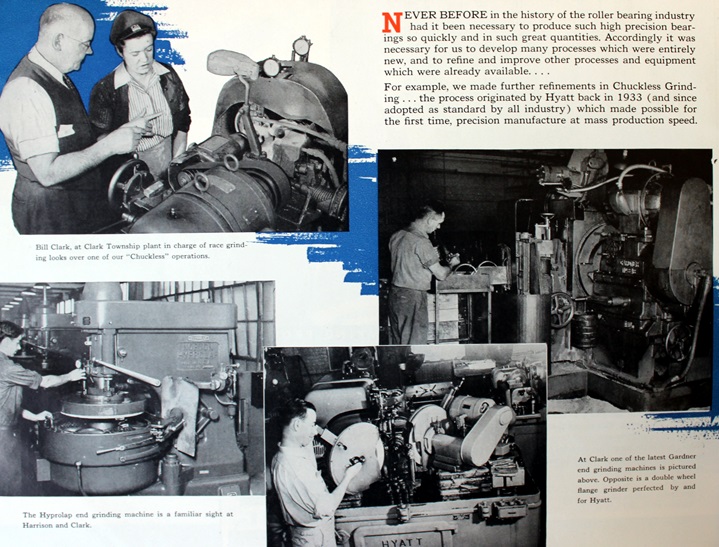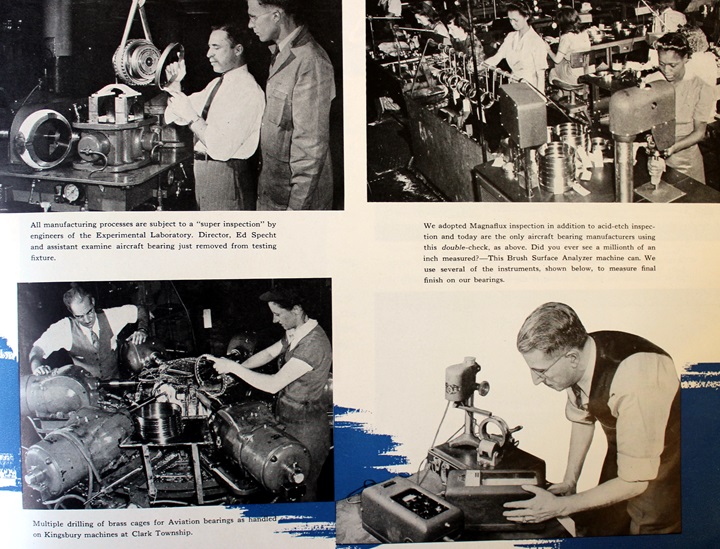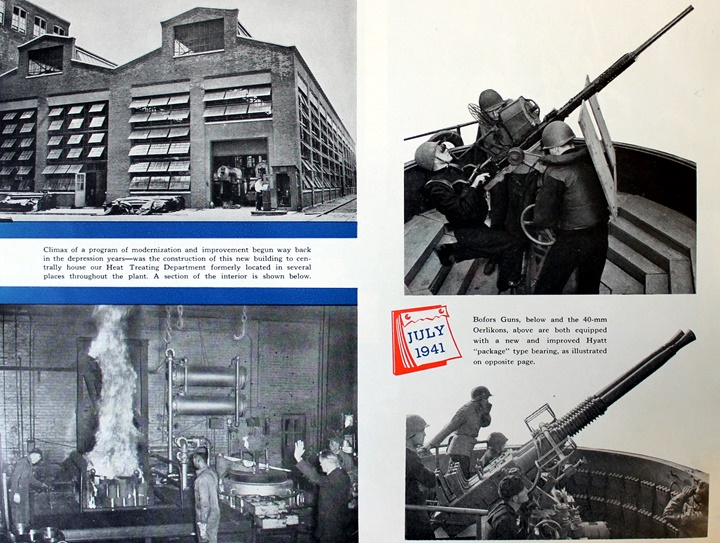 Roller bearings from Hyatt were utilized in many guns of various types, with the 20mm Oerlikon and 40mm twin Bofors shown here in use by the US Navy.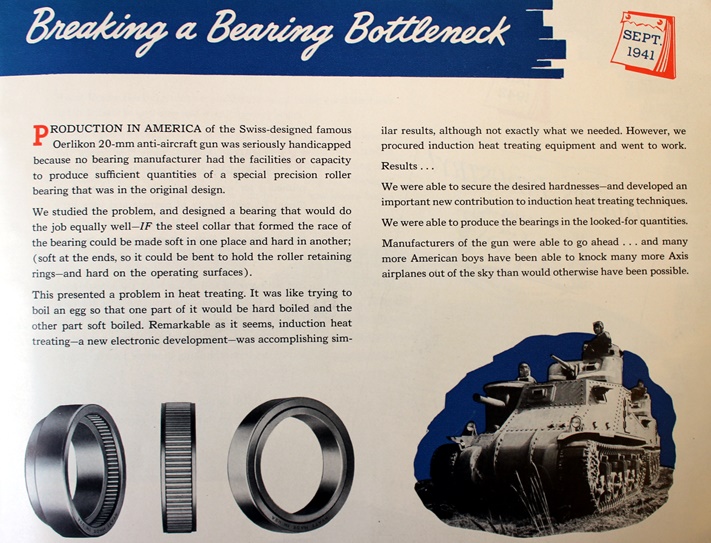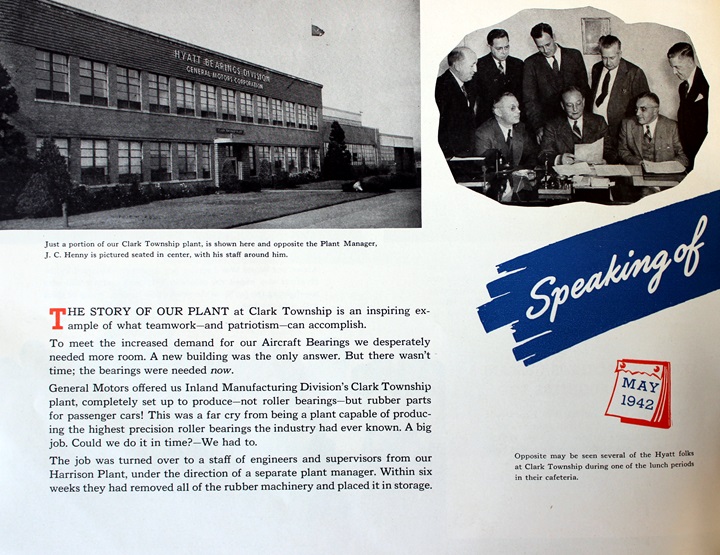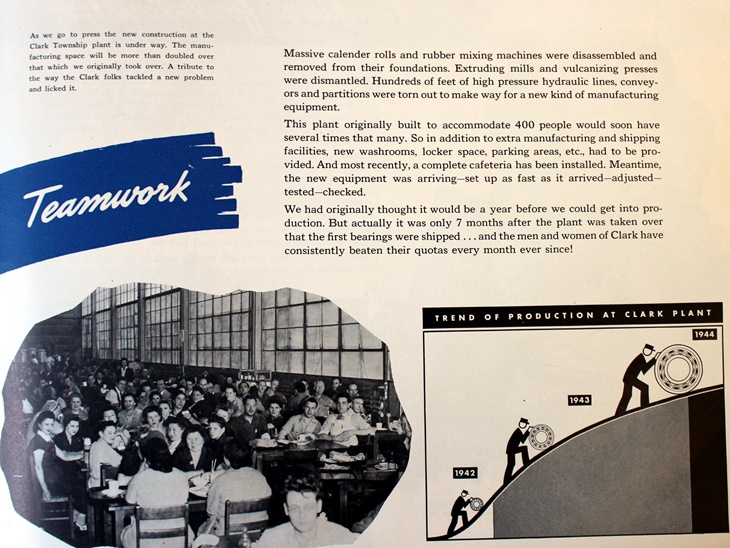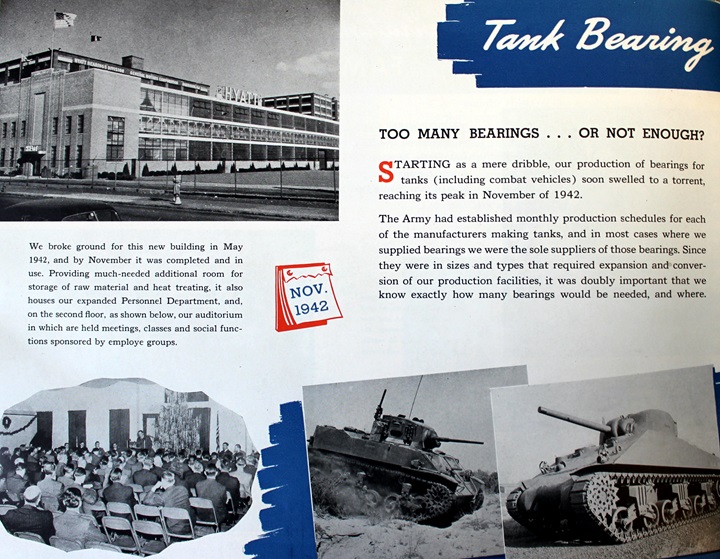 The main tank used by the US military was the M4 Sherman tank shown on the right which was built by ten different companies using Hyatt manufactured bearings.