M10, M10A1 and M36 Series Tank Destroyer World War Two Serial and Registration Numbers, and Monthly Production Statistics

This page added 4-2-2018.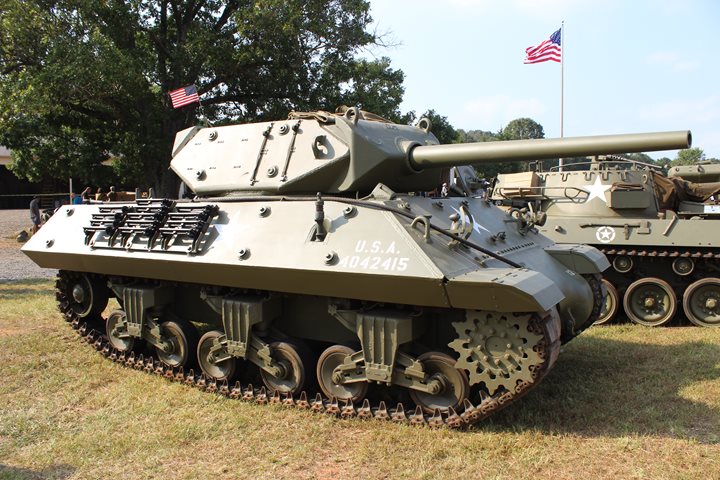 This Fisher Body built M10 of the Virginia Museum of Military Vehicles basks in the late afternoon September sun. It is serial number 1712 and was built in April 1943.
Fisher Body Grand Blanc M10 and M10A1 Production Statistics
Date
Fisher Body Grand Blanc M10
Serial Numbers
Registration numbers
Contract
Fisher Body Grand Blanc M10A1
Serial Numbers
Registration numbers
Contract
9-42
105
3-107
4040705-4040809
374-ORD-1880
10-42
170
108-277
4040810-4040980
11-42
137
278-414
4040980-4041116
12-42
199
415-613
4041117-4041315
1-43
276
614-889
4041316-4041591
2-43
340
890-1229
4041592-4041931
3-43
330
1230-1579
4041932-4042261
4-43
243
1580-1802
4042262-4042504
4-43
185
2839-3023
4081054-4081238
374-ORD-1880
5-43
416
3024-3439
4081239-4081654
6-43
400
3440-3899
4081654-4082054
7.43
199
3840-4038
4082055-4082253
7-43
203
5991-6313
40110110-40110312
374-ORD-1880
8-43
465
6214-6678
40110313-40110777
9-43
449
6679-7107
40110778-40111226
Fisher Body Grand Blanc M10A1
Serial Numbers
Registration numbers
Contract
9-43
49
7108-7176
?
5
7984-7988
40112380-40112384
374-ORD-1213
10-43
350
7157-7506
?
150
7989-8138
40112385-40112534
11-43
237
7507-7743
?
220
8139-8358
40112535-40112754
12-43
240
7744-7983
?
Total
4,993

375

Fisher Body Grand Blanc M10A1 without turrets for conversion to M36
Serial Numbers
Registration numbers
Contract
12-4 to 1/44
300
?
?
?
Total
300
Ford M10A1 Production Statistics
Date
Ford Highland Park M10A1
Serial Numbers
Registration numbers
Contract
10-42
3
1803-1805
4046509-4046511
374-ORD-1213
11-42
18
1806-1823
4046512-4046529
12-42
7
1824-1830
4046530-4046536
1-43
56
1831-1886
4046537-4046592
2-43
116
1887-2002
4046593-4046708
3-43
150
2003-2152
4046709-4046878
4-43
133
2153-2285
4046879-4046991
5-43
123
2286-2408
4046992-4047114
6-43
133
2409-2541
4047115-4047247
7.43
124
2542-2665
4047248-4047371
8-43
131
2666-2796
4047372-4047501
9-43
44
2797-2840
4047503-4047546
Total
1,308
M36 Serial Numbers by Rebuilder
Rebuilder
Number converted
Serial Numbers
Dates
Fisher Body Grand Blanc
300
1-300
Oct-Dec 1944
Massey-Harris
500
301-800
Jun-Dec 1944
ALCO
413
801-1213
Oct-Dec 1944
Montreal Locomotive Works
200
1214-1413
?-May 43
Total
1,413