M24 Chaffee Light Tank World War Two Production Statistics

This page update 3-22-2018.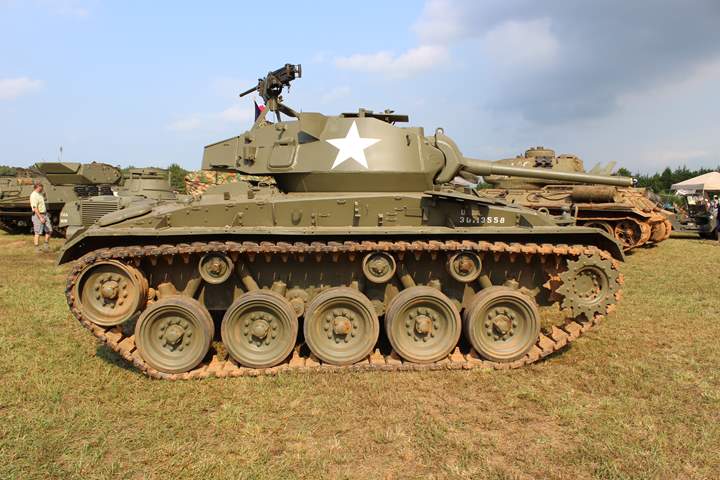 M24 serial number 965 came off the Cadillac assembly line in November 1944. Today it is owned by the Virginia Museum of Military Vehicles. Author's photo added 11-15-2017.

This Massey-Harris built M24 Chaffee is on display at the Memorial Park at Fort Polk, LA. It is serial number 3494 and was built in February 1945. Author's photo added 3-22-2018.
Cadillac Division of GM and Massey Harris M24 Production Statistics
Courtesy of Joe DeMarco

Serial numbers
Manufacturer
Date
Monthly Production
USA Registration Numbers
Purchase Order
1
Cadillac
4-1944
1
30112594
T-11120
2 - 25
5-1944
24
30112595 - 30112618
26 - 75
6-1944
50
30112619 – 30112668
76 - 17
7-1944
100
30112669 – 30112768
176 - 375
8-1944
200
30112769 – 30112968
376 – 587
9-1944
212
30112969 – 30113180
588 – 864
10-1944
277
30113181 – 30113457
865 – 1000
11-1944
136
30113458 – 30113593
1001 – 1010
Massey-Harris
7-1944
10
30119020 – 30119029
T-12367
1011 – 1026
8-1944
16
30112030 – 30119045
1027 – 1060
9-1944
34
30119046 – 30119079
1061 – 1100
10-1944
40
30119080 – 30119119
1101 – 1140
11-1944
40
30119120 – 30119159
1141 – 1190
12-1944
50
30119160 – 30119209
1191 – 1250
1-1945
60
30119210 – 30119269
1251 – 1491
Cadillac
11-1944
241
30119270 – 30119510
T-12368
1492 – 1800
12-1944
309
30119511 – 30119819
1801 – 1990
12-1944
190
30120329 – 30120518
T-13780-1
1991 – 2190
1-1945
200
30120519 – 30120718
2191 – 2490
2-1945
300
30120719 – 30121018
2491 – 2840
3-1945
350
30121019 – 30121368
2841 – 3045
4-1945
205
30121369 – 30121573
3046 – 3348
5-1945
303
30121574 – 30121876
3349 – 3413
Massey-Harris
1-1945
65
30121877 – 30121941
T-13781-1
3414 – 3568
2-1945
155
30121942 – 30122096
3569 – 3708
3-1945
140
30122097 – 30122236
3709 – 3755
Cadillac
5-1945
47
30137268 – 30137314
T-13780-2
3756 – 4035
6-1945
280
30137315 – 30137594
4036 – 4121
7-1945
86
30137595 – 30137680
4122 – 4202
8-1945
81
30137681 – 30137761
Total Cadillac M24s
3,592
5452 – 5503
Massey-Harris
3-1945
52
30139011 – 30139062
T-13781-2
5504 – 5641
4-1945
138
30139063 – 30139200
5642 – 5831
5-1945
190
30139201 – 30139390
5832 – 5866
6-1945
35
30139391 – 30139425
5867 – 5910
6-1945
44
30142464 – 30142507
T-13781-3
5911 – 5950
7-1945
40
30142508 – 30142547
5951 – 5980
8-1945
30
30142548 – 30142577
Total Massey-Harris M24
1,139
Grand Total M24
4,731