M3 Series Stuart Light Tank World War Two Serial and Registration Numbers, and Monthly Production Statistics

This page added 12-6-2017.
The M3 light tank was not built by the US auto industry. It is being included as a service to those researching the M3 Stuart light tank.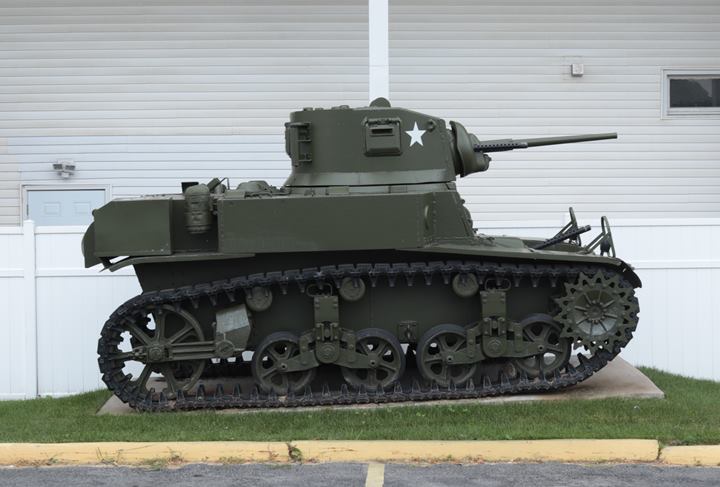 This M3A1 is on display in front of the American Legion Post 24 in Rome, NY. Author's photo.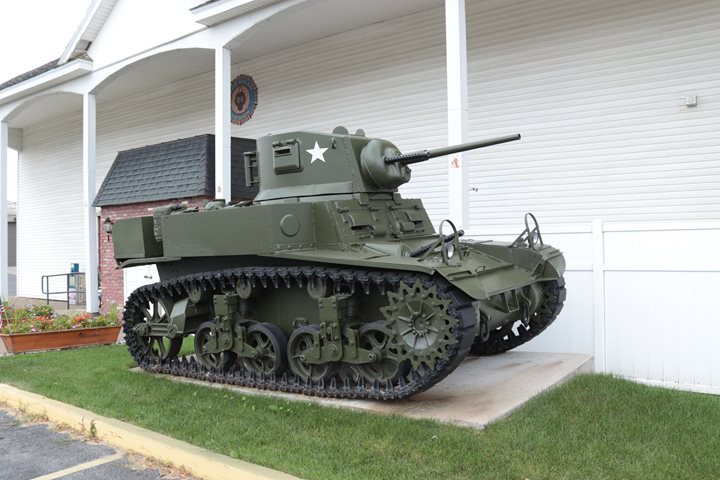 Author's photo.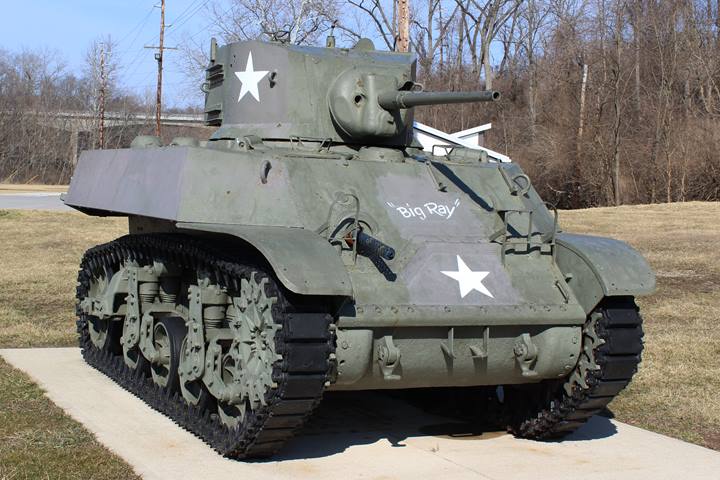 This M3A3 is located at the Veteran's Park in Richmond, IN and is serial number 13367. It was built in August of 1943. Author's photo.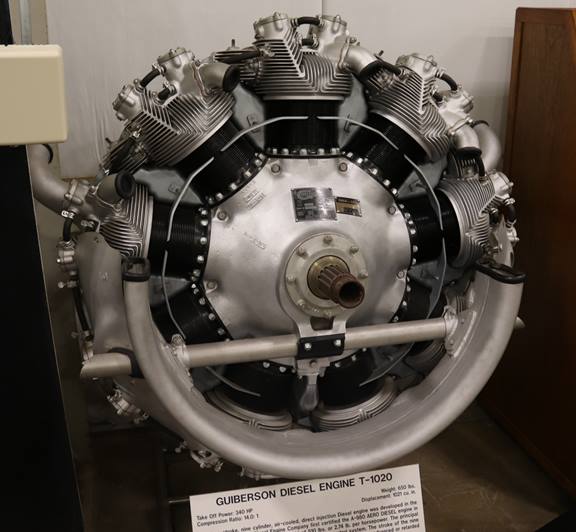 This is an aircraft version of the Guiberson Diesel engine that was used in 1,496 M3 series tanks. Author's photo from the New England Air Museum.
M3 Production Information
Courtesy of Joe DeMarco

Production is listed by ascending serial numbers as distributed by Army Ordnance.

All production of the M3 series light tank was done by the American Car and Foundry in two plants; Berwick, PA and St. Charles, MO.

Serial Numbers
Plant
Date
M3 Gas Monthly Production
M3 Diesel Monthly Production
M3A1 Gas Monthly Production
M3A1 Diesel Monthly Production
M3A3 Monthly Production
USA Registration Numbers
Purchase Order
1
Berwick
3-1941
1
30978
T-352 -1
2 - 22
Berwick
4-1941
21
30979 - 30999
23 - 128
Berwick
4-1941
106
301123 - 301228
T-352 -2
129 - 329
Berwick
5-1941
201
301229 - 301429
330 - 341
Berwick
6-1941
12
301430 - 301441
342 - 352
St. Charles
6-1941
11
301430 - 301441
353 - 395
St. Charles
7-1941
43
301453 - 301495
396 - 456
St. Charles
8-1941
61
301496 - 301556
457 - 517
St. Charles
9-1941
61
301557 - 301617
518 - 609
St. Charles
10-1941
92
301618 - 301709
610 - 627
St. Charles
11-1941
18
301710 - 301727
628 - 825
Berwick
6-1941
198
303624 - 303821
T-510
826 - 993
Berwick
7-1941
168
303822 - 303989
994 - 1075
St. Charles
11-1941
82
303990 - 304071
1076 -1186
St. Charles
12-1941
111
304072 - 304182
1187 - 1193
St. Charles
1-1942
7
304183 - 304189
1194 - 1203
Berwick
5-1941
10
301728 - 301737
T-543
1204 - 1245
Berwick
7-1941
42
301738 - 301779
1246 - 1465
Berwick
8-1941
220
301780 - 301999
1466 - 1703
Berwick
9-1941
238
302000 - 302237
1704 - 1971
Berwick
10-1941
268
302238 - 302505
1972 - 2209
Berwick
11-1941
238
302506 - 302743
2210 - 2507
Berwick
12-1941
298
302744 - 303041
2508 - 2589
Berwick
1-1942
82
303042 - 303123
2590 -2686
St. Charles
1-1942
97
303124 - 303220
2687 - 2786
St. Charles
2-1942
100
303221 - 303320
2787 - 2882
St. Charles
3-1942
96
303321 - 303416
2883 - 3028
St. Charles
4-1942
146
303417 - 303562
3029 - 3089
St. Charles
5-1942
61
303563 - 303623
3090 - 3128
Berwick
3-1942
39
Unknown
T-1320
3129 - 3162
Berwick
3-1942
34
Unknown
T-1395
3163 - 3172
Berwick
9-1941
10
306515 - 306524
T-1538
3173 - 3212
Berwick
10-1941
40
306525 - 306564
3213
Berwick
12-1941
1
306565
3214 - 3405
Berwick
1-1942
192
306566 - 306757
3406 - 3668
Berwick
2-1942
263
306758 - 307020
3669 - 3690
Berwick
3-1942
22
307021 - 307042
3691
Berwick
4-1942
1
307043
3692 - 3916
Berwick
3-1942
225
307125 - 307349
T-1926
3917 - 4313
Berwick
4-1942
397
307350 - 307746
4314 - 4320
Berwick
5-1942
6
1
307747 - 307753
4321 - 4805
Berwick
5-1942
485
307754 - 308238
T-2282
4806 - 5220
Berwick
6-1942
405
10
308239 - 308653
5221 - 5286
St. Charles
5-1942
66
308654 - 308719
5287 - 5397
St. Charles
6-1942
111
308720 - 308830
5398 - 5502
St. Charles
7-1942
105
308831 - 308935
5503 - 5516
St. Charles
8-1942
13
1
308936 - 308949
5517 - 5520
St. Charles
1-1943
4
308950 - 308953
5521 - 5522
Berwick
3-1942
2
Unknown
T-573
5523 - 5707
?
6-1942
178
7
3011159 - 3011343
T-3165
5708 - 6364
?
7-1942
122
535
3011344 - 3012000
6365 - 6969
?
8-1942
605
3012001 - 3012605
6970 - 7561
?
9-1942
592
3012606 - 3013197
7562 - 7722
?
10-1942
1
160
3013198 - 3013358
7723 - 7797
St. Charles
8-1942
75
3013359 - 3013433
7798 - 7824
St. Charles
9-1942
27
3013434 - 3013460
7825 - 7932
St. Charles
10-1942
108
3013461 - 3013568
7933 -8218
?
10-1942
286
3013569 - 3013854
8219 - 8309
?
11-1942
91
3013855 - 3013945
8310 - 8482
?
12-1942
173
3013946 - 3014118
8483 - 8499
?
1-1943
17
3014119 - 301413
8500 - 8522
?
2-1943
23
3014136 - 3014158
8523 - 8911
Berwick
10-1942
389
3023732 - 3024120
T-3345-1
8912 - 9018
Berwick
11-1942
107
3024121 - 3024227
9019 - 10432
Berwick
12-1942
1414
3024228 - 3025641
10433
Berwick
9-1942
1
3025642
T-3345-2
10434
Berwick
11-1942
1
3025643
10435 - 10517
Berwick
1-1943
83
3025644 - 3025726
10518 - 10937
Berwick
2-1943
420
3025727 - 3026146
10938 - 11412
Berwick
3-1943
475
3026147 - 3026621
11413 - 11887
Berwick
4-1943
475
3026622 - 3027096
11888 - 12362
Berwick
5-1943
475
3027097 - 3027571
12363 - 12837
Berwick
6-1943
475
3027572 - 3028046
12838 - 13312
Berwick
7-1943
475
3028047 - 302852
13313 - 13520
Berwick
8-1943
208
3028522 - 3028729
13521 - 13522
Berwick
9-1943
2
3028730 - 3028731
13523 - 13814
Berwick
8-1943
292
3062372 - 3062663
T-3930
13815 - 13859
Berwick
9-1943
45
3062664 - 3062708
4,526
1,285
4,410
211
3,427
M3 Gas Total Production
M3 Diesel Total Production
M3A1 Gas Total Production
M3A1 Diesel Total Production
M3A3 Total Production
Grand Total M3 Production
13,859