Oldsmobile Overview Page Conversion to Firepower Oldsmobile WWII Plant Tour Guide Book Firepower is Our Business
Oldsmobile in World War Two
Lansing, MI
1897-2004
Rest in Peace
"Plant Tour Guide Book of Oldsmobile during WWII"
Below is a undated but World War II visitors' guide book for what appears to be some VIP's to tour the Olds production facilities. The days starts with breakfast at the Hotel Olds and then ends back there for lunch when the tour of the Oldsmobile Plants 1 and 2 are complete. Paired with the accompanying "Conversion to Firepower" that Olds put out during the was, 70 years later the historian or family member has an excellent look into the vast contributions Oldsmobile made to the defense of the country during the Second World War. For those that may have worked there in later, years the following guide book shows them what war products were made in their departments and buildings.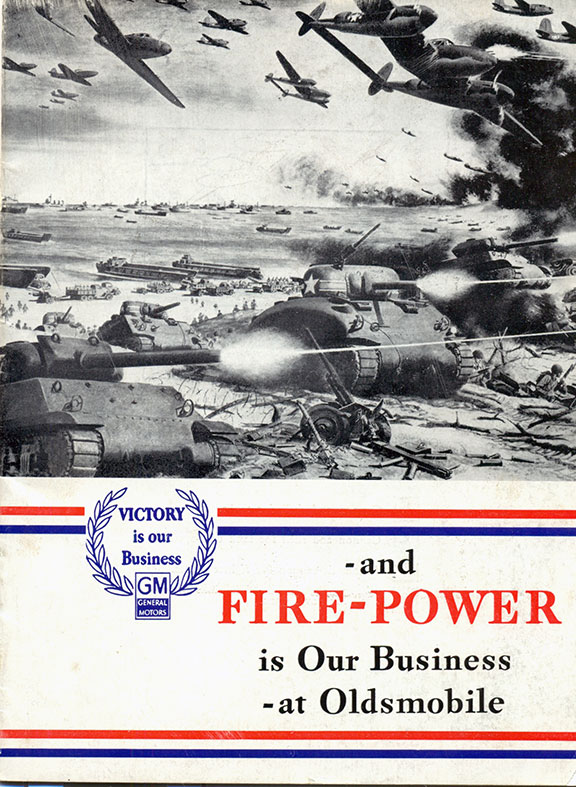 The armored vehicles on the left and far right (No. 2 below) are either a M10 or M18 tank destroyers, both General Motors products, the M10 being built by Fisher Body in Grand Blanc, MI, and the M18 by Buick in Flint, MI. Both carried cannons built by Olds. The tanks are M4 Shermans that were built by many companies to include the Fisher Body Division of GM. Again it was armed with an Oldsmobile built cannon. The twin engine fighter is a Lockheed P-38 (No. 3 below) that was equipped with a 20mm Olds cannon in the nose while the single engine fighter (No. 3 also below) is a Bell P-39, equipped with an Olds 37mm aerial cannon firing through the prop hub built by the Aeroprop Division of General Motors. Both aircraft were powered by the Allison V-1710 engine. Allison was also a GM Division so this was not only a push for Old's products but others in the GM family as well.